Police clearance is one of the important documents you'll need whether you're applying for a new job, taking the civil service exam, or other requirements completions to make sure that you, as an applicant, have no criminal records.
With the advent of technology, the Philippine National Police (PNP) now has a national database system that merges all records across the country.
On-the-loose criminals who are hiding under the radar will have to resurface at some point to apply for work. And because most employers ask for police clearances, these fugitives may sometimes unthinkably turn themselves in.
According to PNP Directorate for Investigation and Detective Management (DIDM), "some 36 wanted personalities have been arrested so far since the rollout of the said online system."
However, setting an online appointment to get a police clearance remains limited to selected police stations nationwide since not all employers require a comprehensive criminal record check. Mostly, they would only ask for a National Bureau of Investigation (NBI) clearance, which would already suffice.
So, before heading to your nearest police station, make sure to evaluate or double-check with your employer first which of the two types of police clearance they actually need:
National Police Clearance (NPC) – Similar to NBI clearance, NPC uses a national database that verifies if an individual has an existing criminal record anywhere in the Philippines. Applicants need to secure an online appointment in selected police stations to begin processing the clearance.
Local Police Clearance (LPC) – A localized version of NPC requiring a direct in-person visit at your Municipal Hall with Barangay clearance. Unlike the NPC, the details indicated in LPC are limited, checking only an individual's criminal record within the municipality's jurisdiction. Therefore, LPC is only ideal for those seeking jobs in the same area.
Once you confirm which of the two you will need, you may now proceed to the application below.
Police Clearance: Requirements
In claiming your police clearance, you'll need to present at least two (2) valid identification cards (IDs)—showing your photo, complete name, and signature on it—to the police station on the day of your appointment. Any government-issued IDs, as well as a School ID coupled with a registration form for students and PWD ID for persons with disabilities, are acceptable.
If you only have one valid ID available, you may present a certified true copy of your birth certificate issued by the Philippines Statistics Authority (PSA). Meanwhile, fresh graduates may avail of the free police clearance by presenting their First Time Job Seeker Barangay Certificate.
Applicants also need to obtain an online appointment prior to visiting the nearest police station.
Police Clearance: Application Process
Listed below are the steps to follow to get your Police Clearance.
Step 1. Register an account via the NPCS portal
Go to https://pnpclearance.ph/ via browser to start the process. Then, click the 'Register' button for first-time applicants. Otherwise, click the 'Login' button.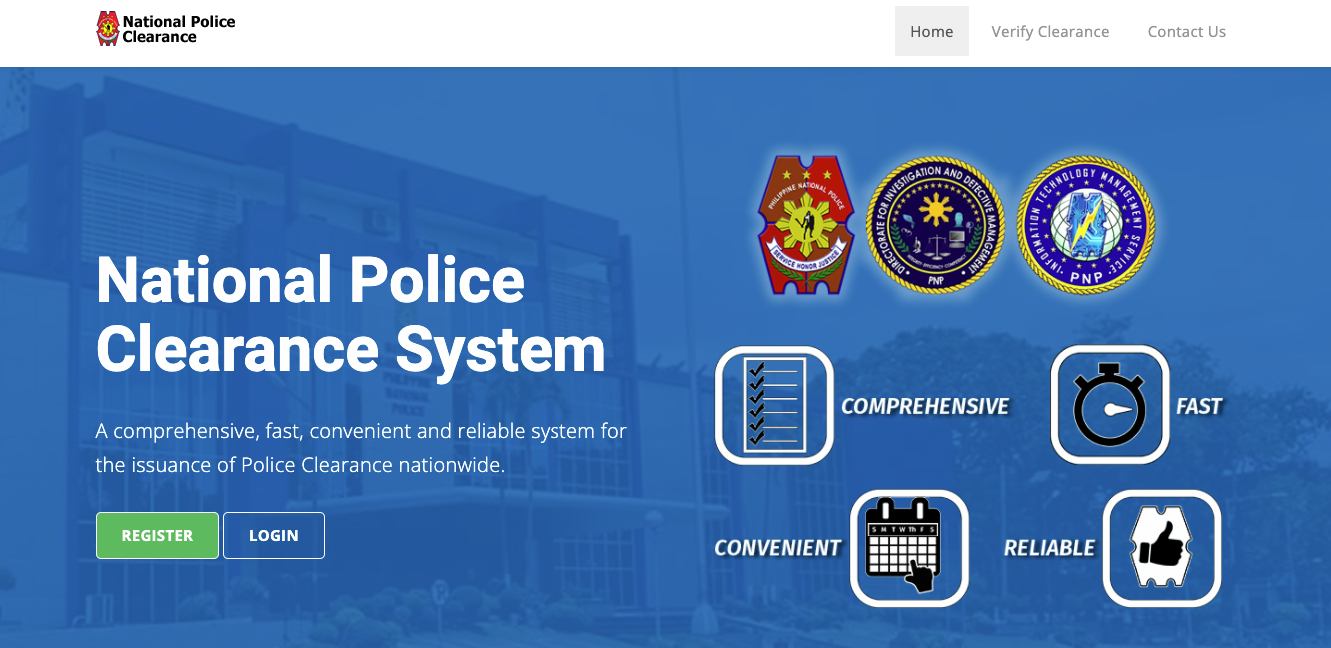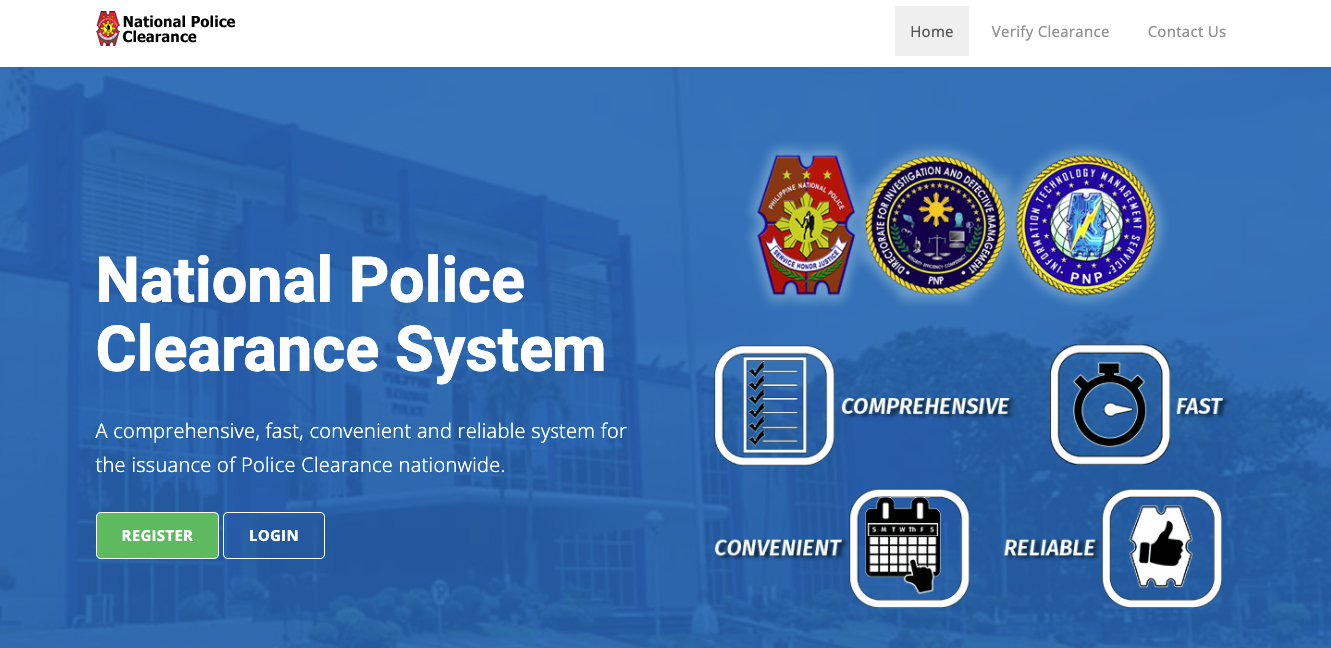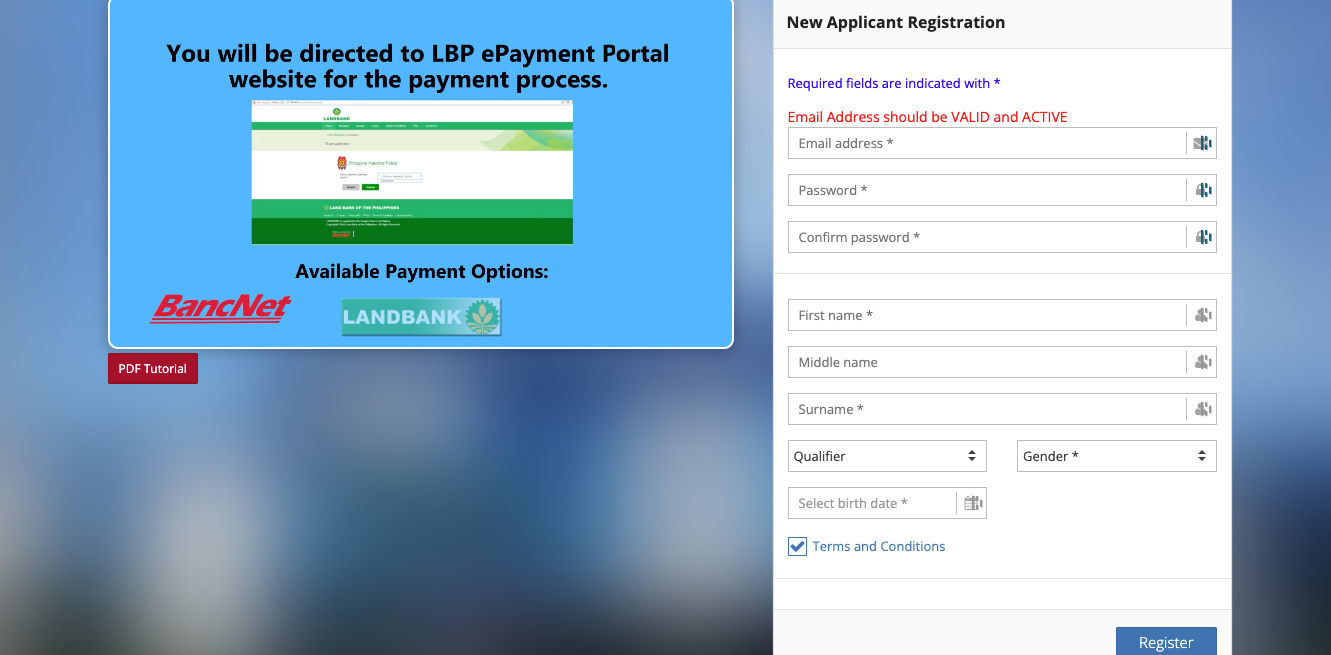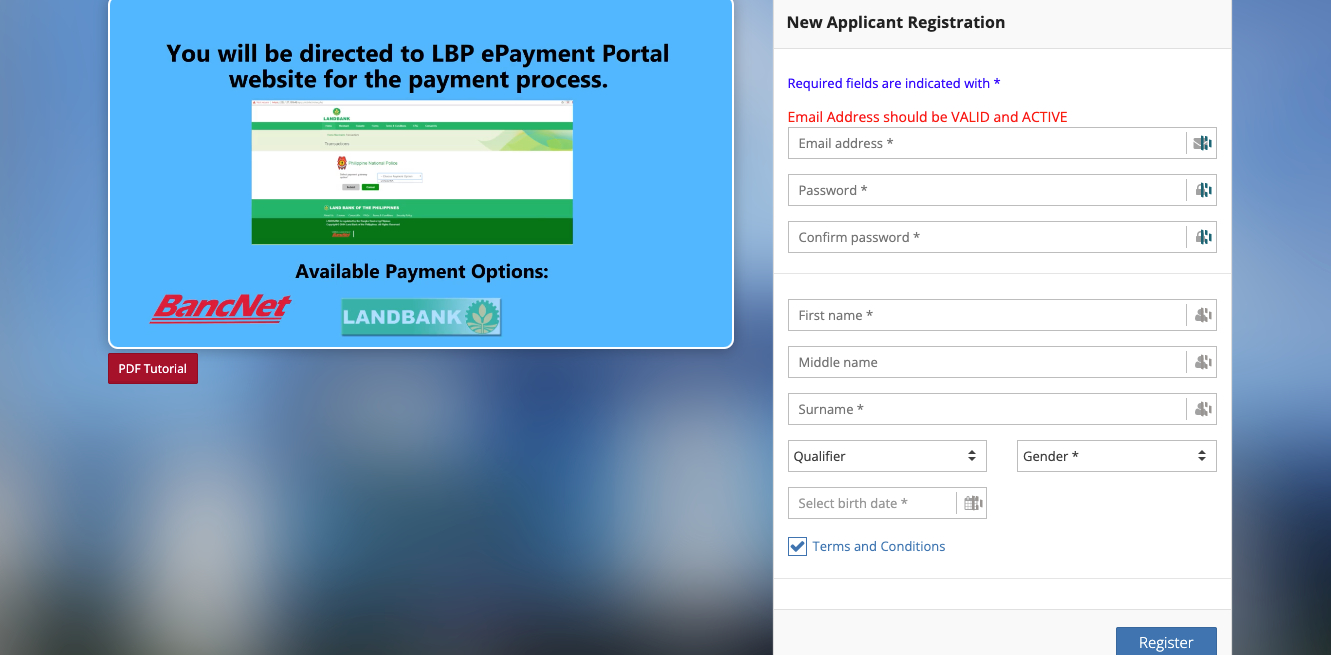 Read the Terms and Conditions and other information presented in the pop-up box before ticking the 'Agree' button to continue. Then, fill up the information required in the form to create an account. Make sure to provide an active email and take down your password. Finally, click 'Register' to complete registration.
Check your email inbox or spam folder for the confirmation message with a link that would verify your online NPCS account. Then, click on the verification link to log into your account and begin the appointment setting.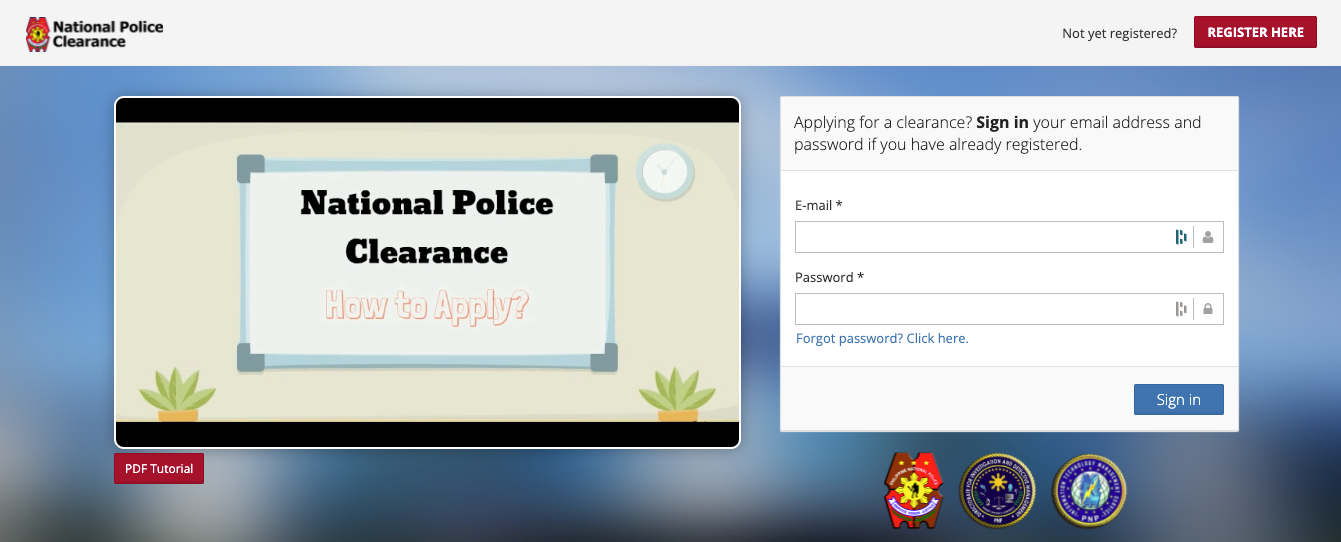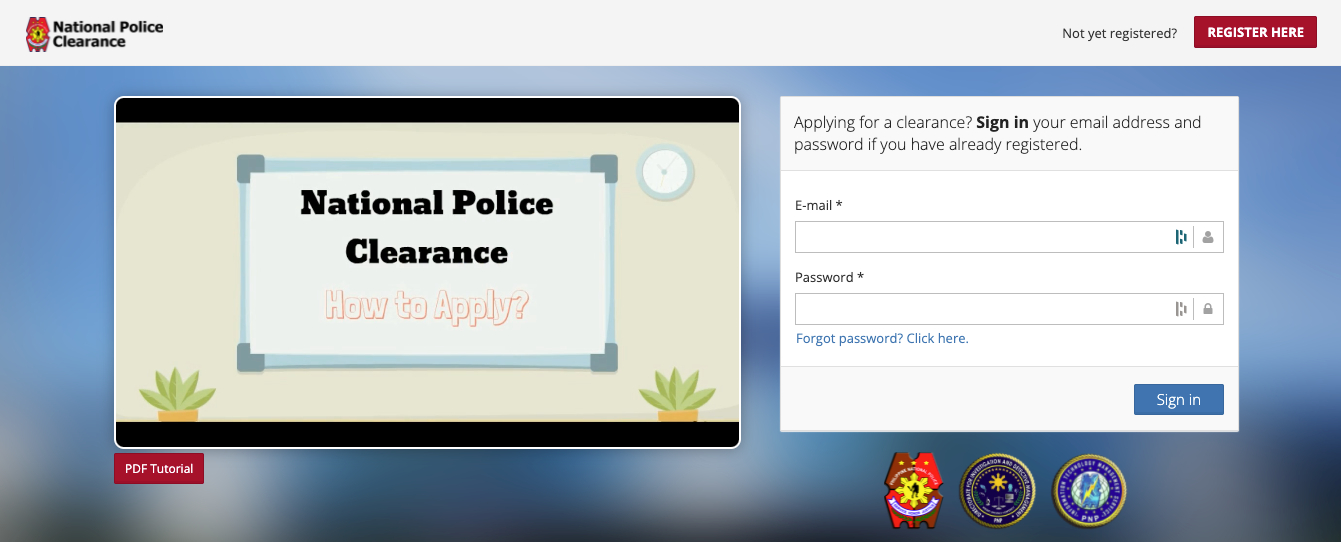 Step 2. Clearance Application and appointment setting
Upon signing in, you'll see in your profile the primary details you've initially provided. Click 'Edit Profile' to fill out the other necessary information. Once done, click the 'Save Profile' button to proceed with your appointment setting.
Click the 'Clearance Application' button and select the nearest police station available in the system. Next, choose your preferred date and time before hitting 'Next.'
You will then see the details of your online payment. Take note of the reference number issued by the system because you will need this later for the police clearance fee payment.
Step 3. Process police clearance payment
To process payment, click the 'Land Bank of the Philippines' button, which will take you to the LBP ePayment Portal. Next, choose your preferred online payment portal: LBP ATM, GCash, or BancNet Cards. Once you have selected, follow the process of each platform.
Enter the Account Number and PIN and wait for the transaction details and payment summary.
Note: Over-the-counter payment at the police station is prohibited.
If you don't have a bank account, you can pay the police clearance fee over-the-counter at the nearest 7-Eleven convenience store.
Step 4. Photo and Fingerprint Capture
Proceed to the selected police station on the day of your appointment and present the following requirements:
Two (2) Valid IDs
Appointment Reference Number
Official Receipt of payment
Before the release of clearance, the applicant must provide their biometrics, signature, and photo.
Once cleared, your police clearance will be released. For those "with Hit," wait for the advice or instructions of the Verification Officer for the verification process. Once settled, clearance will be released.
Police Clearance: Frequently Asked Questions
Below are some of the Frequently Asked Questions (FAQs) regarding the police clearance.
Is an in-person appearance needed?
Yes. This is to verify identity through presenting the two (2) valid IDs and biometrics, at the same time, to lure fugitives to unwittingly surrender.
Where can I get my police clearance?
For LPC, you can obtain your clearance from the municipal or city hall near you without having to set an online appointment. Meanwhile, NPC requires an online appointment before you can head to the nearest police station or camp available in the system. In 2020, PNP has announced that it will set up a clearance booth in SM Malls. Just check the availability of the booth in the system and pick whichever is convenient for you.
How much does a police clearance cost?
It cost around Php 160 including a Php 10 transaction fee.
How long is the validity of Police Clearance?
The validity of both NPC and LPC is up to six (6) months equipped with a quick response (QR) code to verify its authenticity.
Can I renew my police clearance?
Unfortunately, no you can't renew the clearance. Once it expires, you have to apply for a new one by following the same steps above.
How can I verify the authenticity of a police clearance?
Applicants/employers who want to verify police clearance may head to the NPCS and scroll down to the 'Verify Your Clearance' section. Simply enter the 'Surname' and 'Clearance Number' then tick the reCAPTCHA box to verify.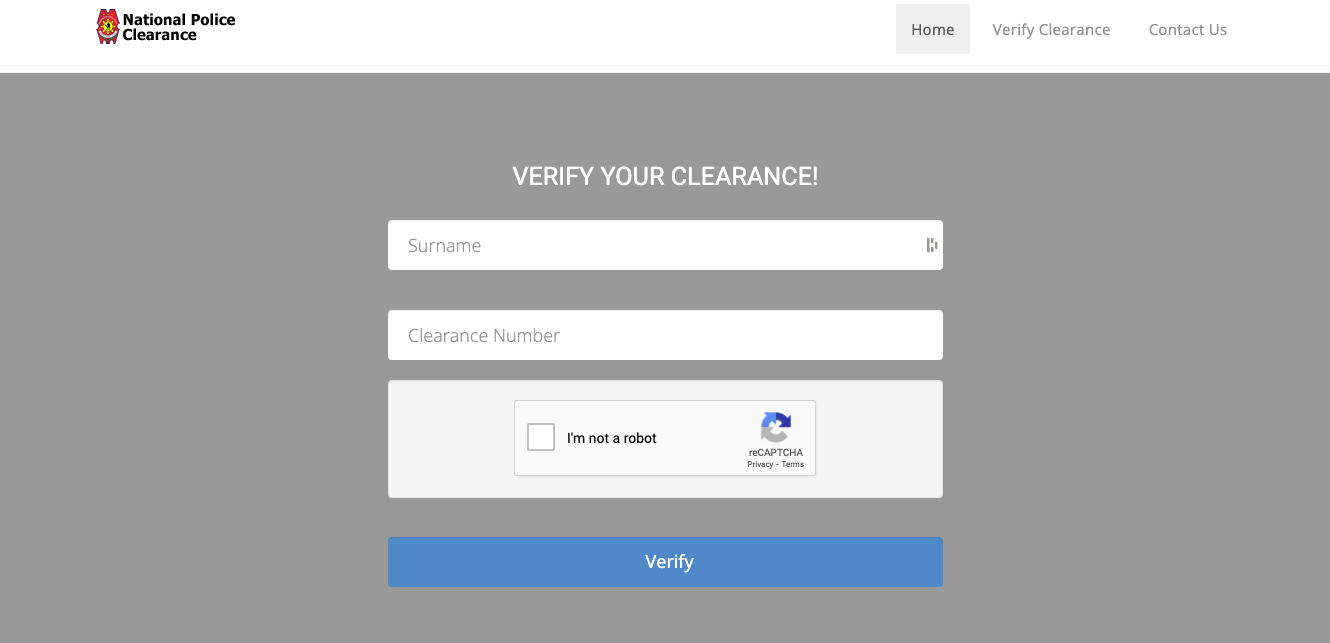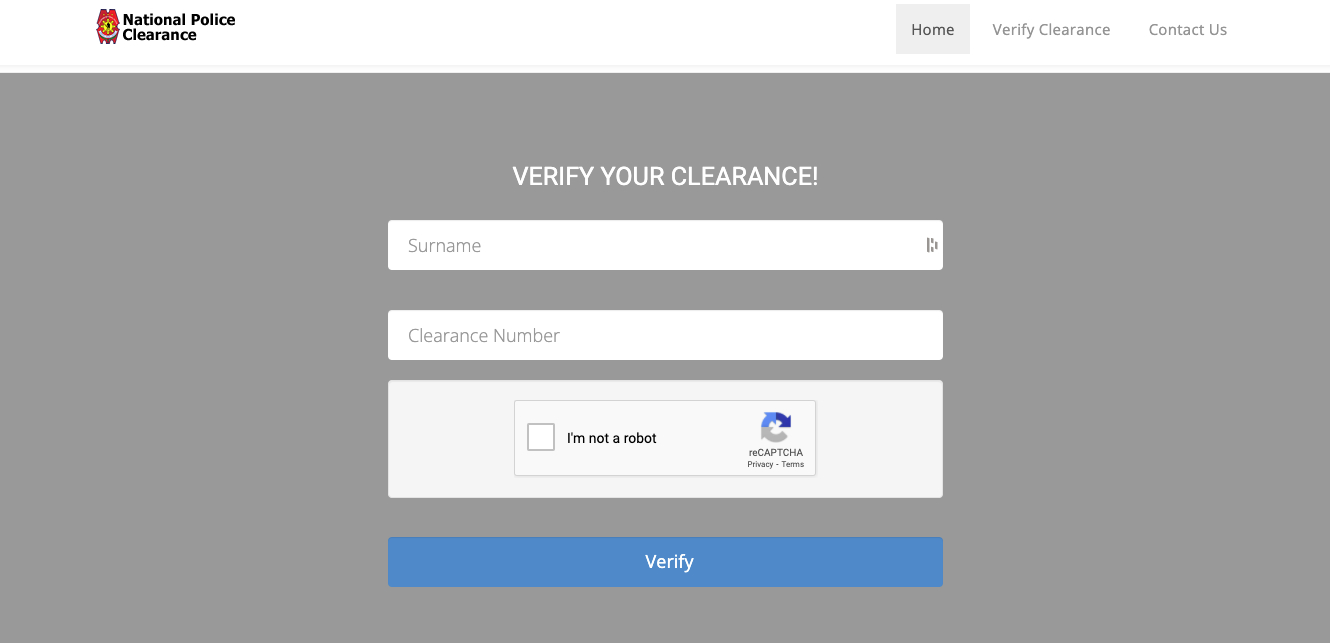 We hope this article helps you. Good luck in your job hunting or whatever you're using the clearance for!
– WhatALife.ph
---
You Might Also Want To Read: LIST: Salary Grade in the Philippines 2021