MANILA, PHILIPPINES — Pauline Carpio was a young lady who sparked some attention long ago from the Philippines with her missing case.
One of the most notable cases in the Philippines is the disappearance of Paulene Carpio, who was last seen on February 14, 1986.
There were several speculations of her sudden disappearance, but none have been confirmed.
Carpio went missing a long time ago and has never been found. Her case has gained public attention as she has just been found.
With her disappearance, people from many places were asking questions about the girl's case. People have mentioned her name is Paulene Carpio, while others say it is Pauline.
The case of Carpio has been unsolved since she went missing in 1986. Sources say that she went missing on February 14, 1986; however, there is no exact date when she was last seen.
The day that she supposedly went missing was during Valentine's Day.
The diary of Carpio has been found, and there were contents in the diary that gave people a clue about what possibly happened to the girl.
A user on Facebook called Pinoy History shared a post giving details that might help the case of her disappearance.
In the diary, there were dates with contents written on it:
February 4: E.T.'s Birthday
February 6: Glee Club Rehearsal
February 8: Visit the Hospital
February 10: Review for exam
February 13: M.D. asked me to watch a movie with him tomorrow, why not mabait naman si Sir.
Netizens have also mentioned that a movie called Dear Diary, made in 1989, was a movie that was related to this case. As the story depicts a girl suddenly disappearing, netizens believe the movie is about Pauline Carpio.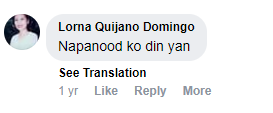 Comments were based from the Facebook post of Pinoy History as people have mentioned that it related to the movie Dear Diary.
With the post being shared, some people have shared their speculations on what might have happened to her. Some say she was killed or raped by drug addicts. As of today, there are still no verified sources on that matter. – WhatALife!/Zain
---
Also read: Misamis Oriental top cop promises to solve "crime wave" in six months