Traveling Soon? Make sure to register at S-PaSS to acquire travel requirements and monitor travel restriction status of your destination.
The Department of Science and Technology (DOST) Region VI developed a travel management system called the Safe, Swift, and Smart Passage or S-PaSS to intensify movement monitoring in the country.
The primary purpose of this innovative travel monitoring system is intended to create a hassle-free journey for local travelers returning to or visiting different localities across the country.
It also served as an aid for authorities to monitor the movement of people and make informative strategies to prevent the spread of COVID-19.
Don't know how to register? Continue reading below.
Through the application, LGUs can facilitate inbound and transient travelers in coordination with their localities. Movements of visitors who will enter a local destination registered under the S-Pass will be monitored through their uniquely generated S-PaSS QR Code. Upon scanning the QR Code, the traveler's record will automatically log into the system, serving as an electronic logbook.
However, note that the S-PaSS is not a substitute for a contact tracing system such as the StaySafe.ph. Instead, it served as its complementary application used to check travel restrictions status.
S-Pass key feature includes:
Travelers can check the travel policy of their destination LGU
Apply for a Travel Coordination Permit* (TCP) to the LGU with travel restrictions
Conveniently track travel history
Quickly access, store, and print travel documents
*TCP replaces previously requires Travel Authority
(UPDATED) How to register to S-PaSS?
Please be aware of a high number of registrants might be accessing the link at the same time. In case the registration link is unavailable, please visit the link some other time.
Step 1: Go to https://s-pass.ph/ via browser (Chrome, Mozilla, Safari, Android Browser, etc.)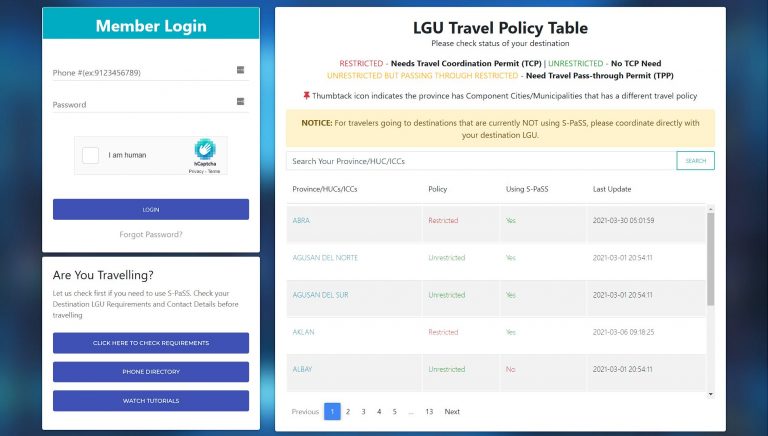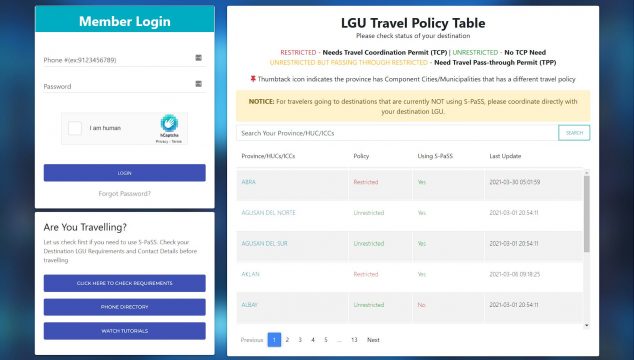 Step 2: Check your destination LGU requirements and contact details. If you're going to other province, make sure to check if you need to use S-PaSS, and your destination LGU requirements and contact details before travelling.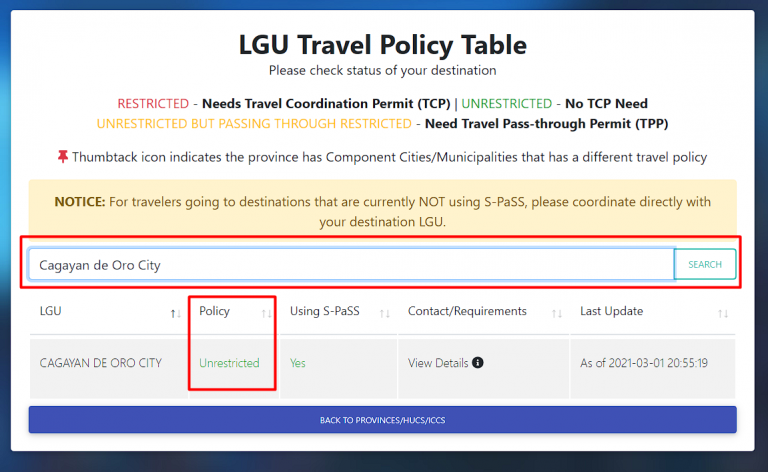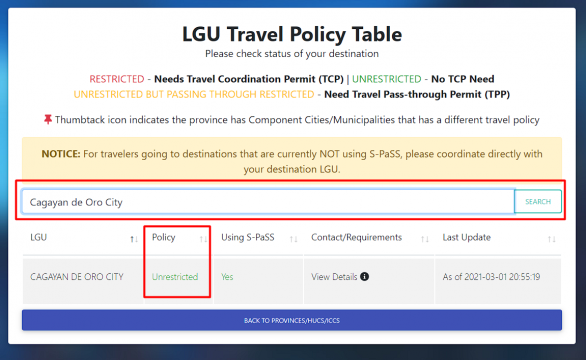 Click "View Details" to see the LGU's travel requirements (see example below).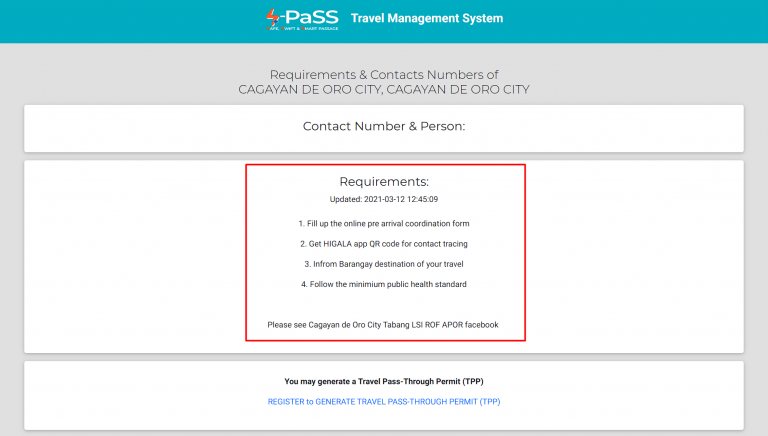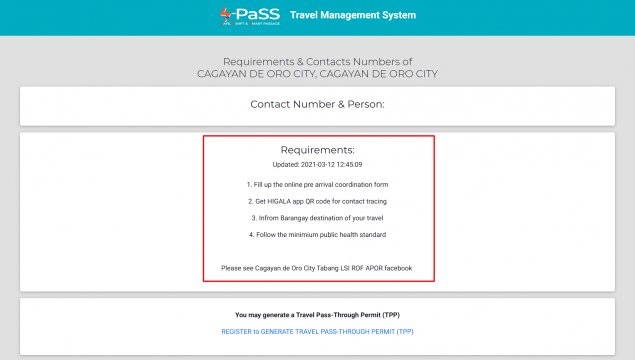 You can check out the requirements and phone directory inside the "Are You Travelling" box at the lower left of your screen (for desktop).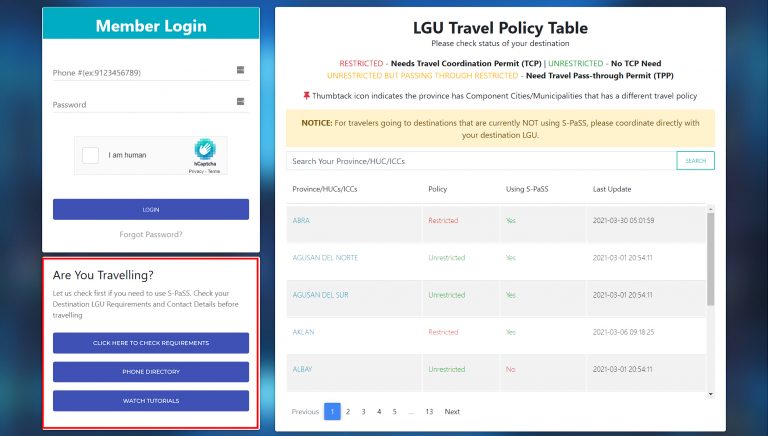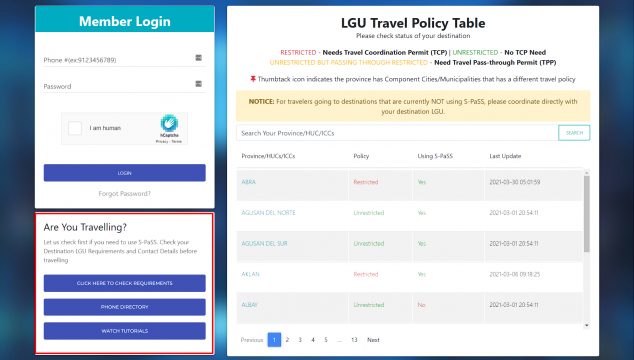 You have to register to S-PaSS to be able to generate the Travel Pass-Through Permit (TPP).
Step 4: For new users, create your personal S-PaSS account using your phone number to generate your unique quick response (QR) code. By registering you can also monitor your travel history, which is useful in case you need to conduct contact tracing.
To register, scroll down the home page and select "Create an account." Provide your phone number and fill in your personal information (see image below).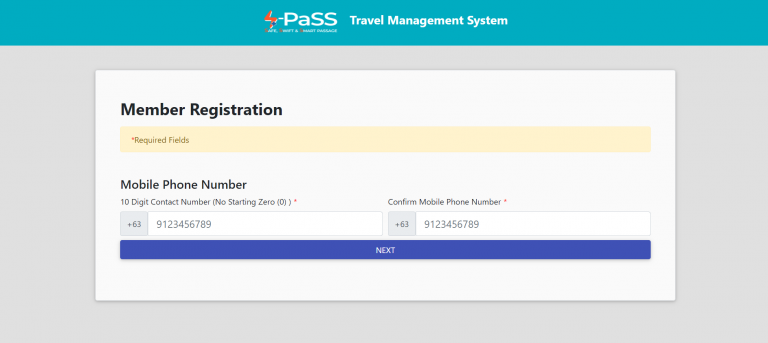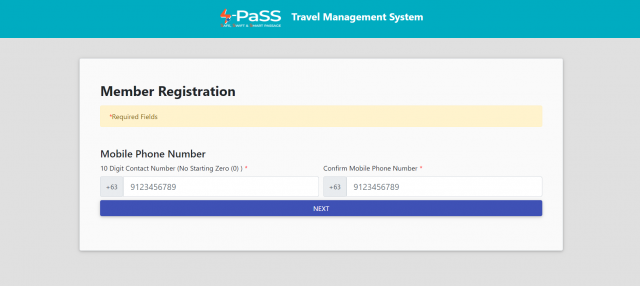 Note: Do not include the first 0 on your number, just proceed with e.g. 9057 […]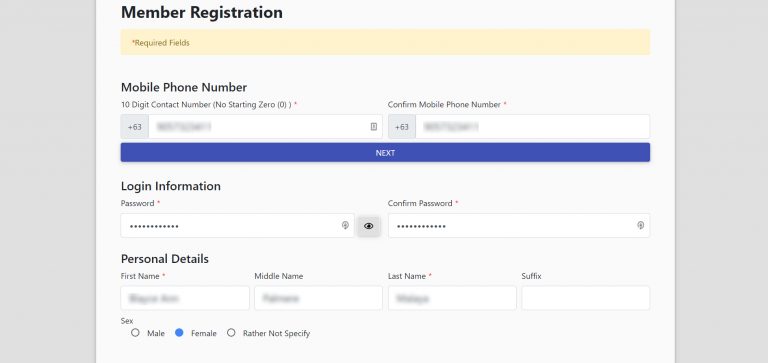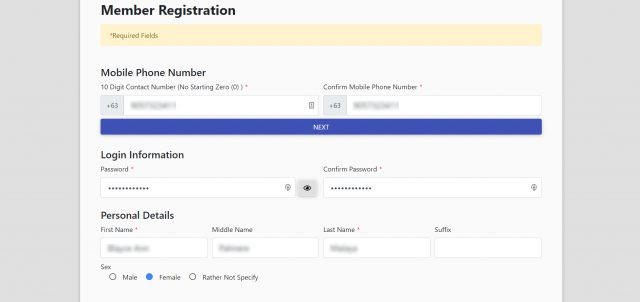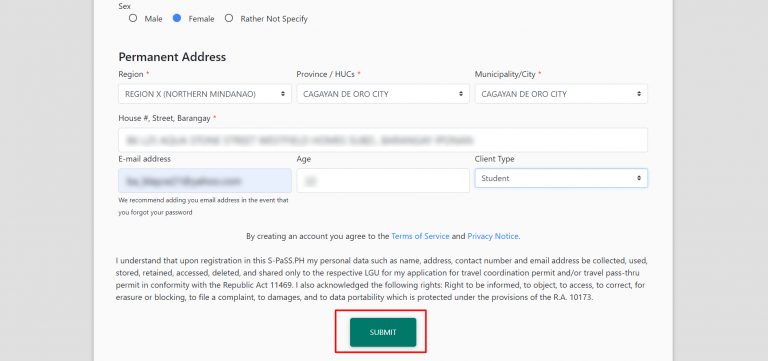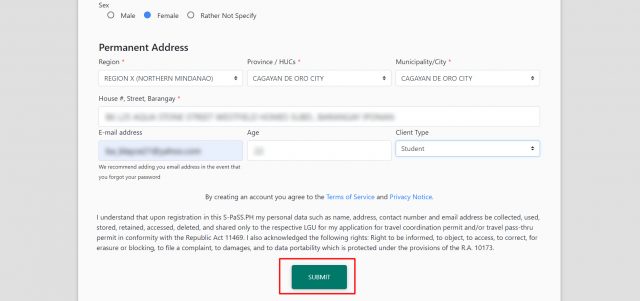 Make sure to review your information before submitting.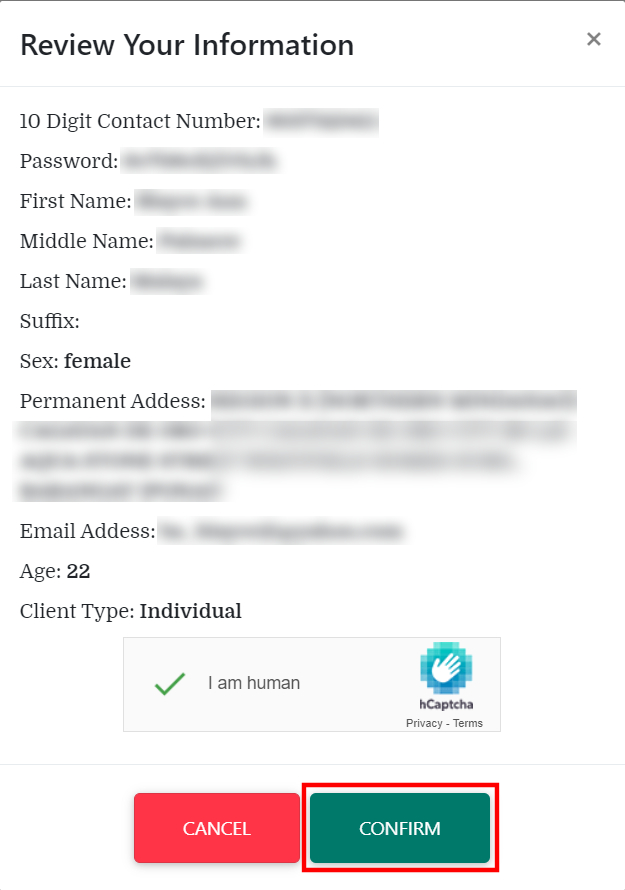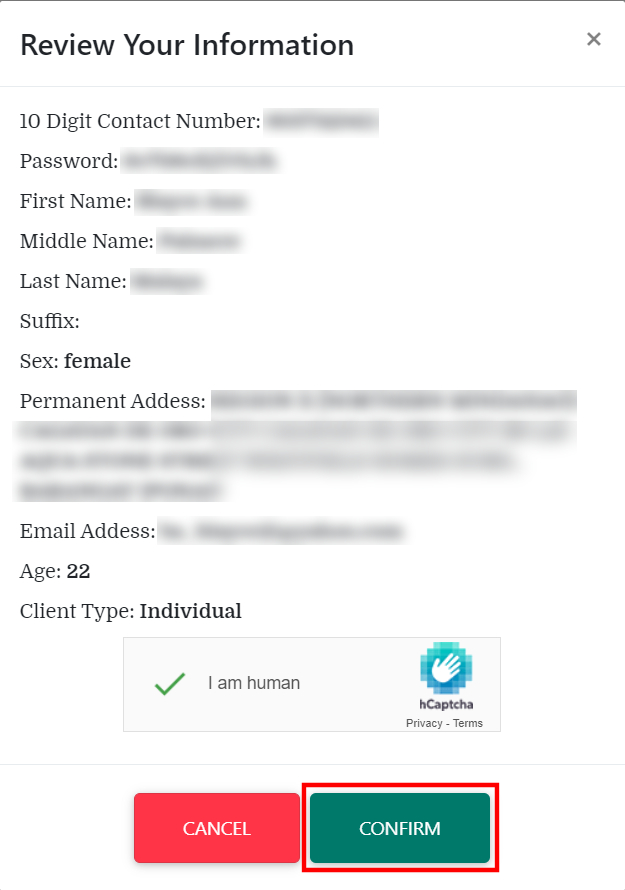 Step 5: Once registered, you can now generate your document or permit QR code. Check on whether your destination LGU requires travel documents and its current restriction status by clicking the "Are You Travelling?" found on the left menu bar on your account home page.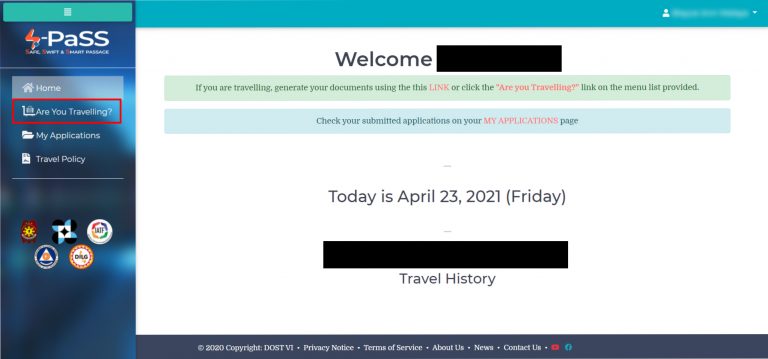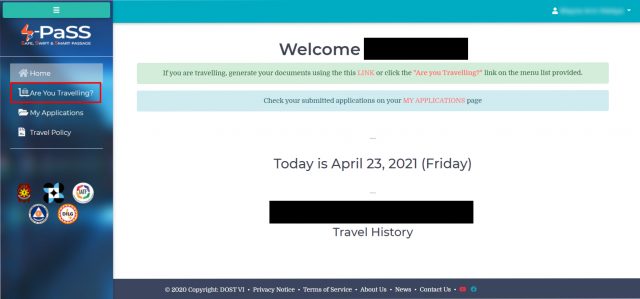 Answer the Travel Protocol questionnaire, including whether or not you are an Authorized Person Outside Residence (APOR), lived in an ECQ or MECQ area, your current location, and your destination.
If your destination LGU is unrestricted, the only travel document you will need to generate is the TPP.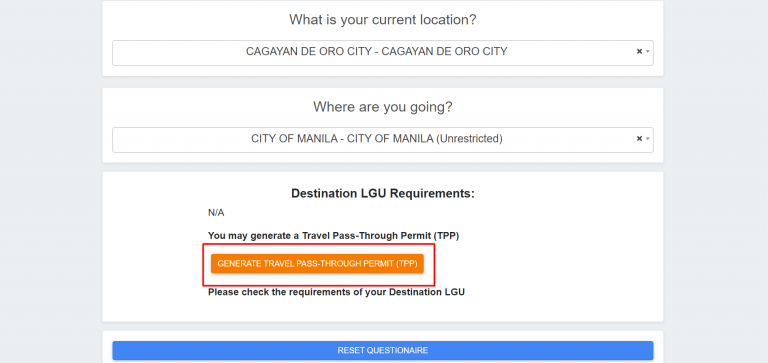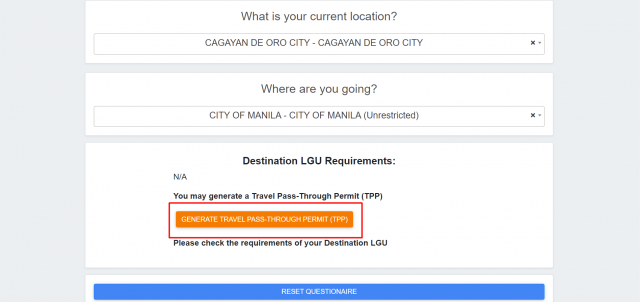 However, if you're travelling to a restricted area such as Cebu City, you will have to apply for a Travel Coordination Permit (TCP) of your destination LGU. Note: Requirements may vary depending on destination LGU.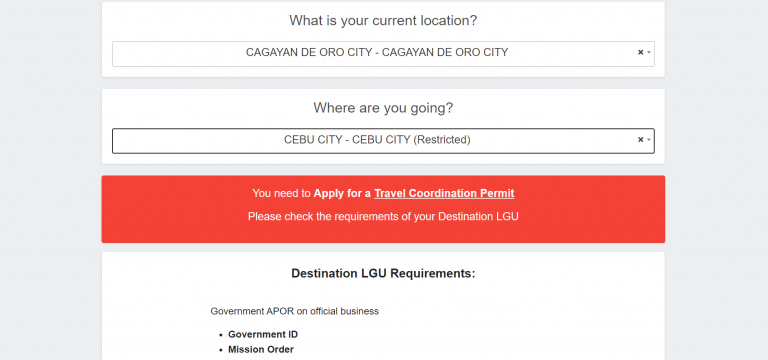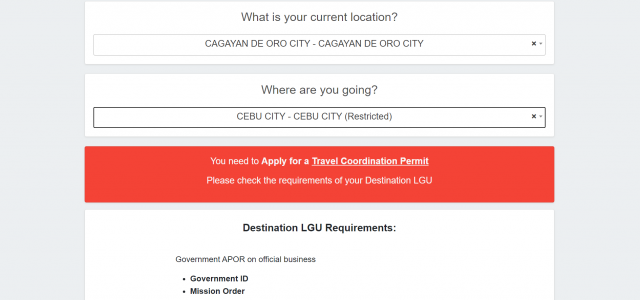 Note: The DOST is not responsible for the pacing of the LGU's approval of the traveler's TCP.
For concerns regarding your travel, see the LGU contact directory at https://s-pass.ph/visitors/contact.
Also Read: How to register to S-pass using mobile: Step-by-step Guide 2021
---
The Inter-Agency Task Force for the Management of Emerging Infectious Diseases (IATF-MEID) approved the adoption of the S-PaSS on February 26, 2021, as the one-stop-shop application and communication for travelers.
Currently, the DOST is coordinating with LGUs to activate their accounts and for the full roll-out of the management system. Moreover, user orientation is also in place in preparation for its full implementation.
S-PaSS official launching will be held on Friday, March 26 at 3:30 PM via DOST-Philippines Facebook page to be attended by high-ranking officials from the DOST, Department of Interior and Local Government, League of Provinces of the Philippines, League of Cities of the Philippines, local chief executives, the media and other partners and stakeholders.
See post below for Frequently Asked Questions (FAQs).
For more information and inquiries, visit their website or Facebook page at Facebook/SPassPH. You may also contact the following hotline numbers: 0939 606 7375 / 0998 535 4217
Don't have an account yet? Click here to register!
—(Source: DOST)
---