(UPDATED: APRIL 21, 2022) If you're planning a vacation in Baguio soon, we'll go over the Baguio COVID-19 travel requirements in 2022 that you'll need to bring and the procedures you'll need to follow. 
NOTE: The list of prerequisites has been modified over the last two years, particularly the inclusion of a negative test result, which comes and goes based on local factors and the number of instances.
BAGUIO TRAVEL REQUIREMENTS IN 2022
The following are the prerequisites for FULLY VACCINATED travelers from ALERT LEVELS 1, 2, and 3, as well as the documents needed to obtain a QR-coded Tourist Pass:
Baguio Visita QR-coded Tourist Pass (QTP)
Government-issued ID
Vaccination Card or Certificate 
Proof of accommodation
Triage upon arrival
Any of the following documents can be provided in place of a vaccination certificate for UNVACCINATED OR PARTIALLY VACCINATED travelers from locations with Alert Levels 1 and 2:
Negative Test Result
Medical Certificate
Who is eligible to visit Baguio?
All travelers from the ALERT LEVEL 1 and 2 areas.
Travelers from ALERT LEVEL 3 areas who are FULLY VACCINATED, which is defined as 2 weeks or 14 days after having your second dose of 2-dose immunizations (only shot for one-dose vaccines).
Travelers aged 17 and under do not need to show proof of vaccination or testing if they are accompanied by an adult who has been vaccinated or tested.
Who is NOT ALLOWED to visit Baguio?
ALERT LEVEL 4 and ALERT LEVEL 5 area travelers.
ALERT LEVEL 3 travelers who are unvaccinated or only partially vaccinated.
Steps that you need to take before your trip to Baguio.
1. Create a BAGUIO VISITA account.
Go to the official website of BAGUIO VISITA at visita.baguio.gov.ph and sign up for an account.
2. Schedule a visit.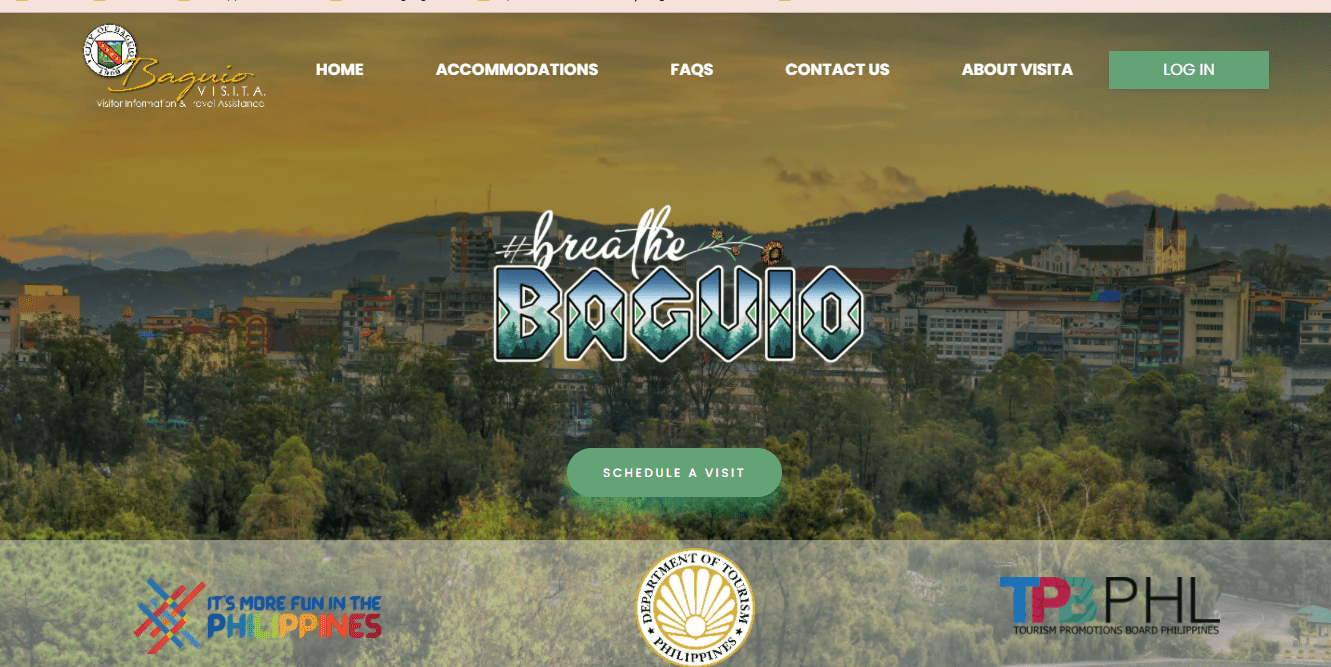 Log in to your account.
Click on SCHEDULE A VISIT.
Fill out the schedule form.

Required information includes: Starting location, destination, mode of transportation, travel dates, travel agency, hotel, or contact person in Baguio.

Completing the Health Declaration Form.
Upload a copy of your VACCINATION CARD/CERTIFICATE or NEGATIVE TEST RESULT.

Although your registration can still be processed if you omit this step, it is strongly advised that you do so.

Complete the application.

Your application will be considered when you complete the Health Declaration Form, which could take up to 24 hours.

Make contact with the establishment you reserved.

Tell them you've already booked a trip through the Baguio Visita website and are waiting for their approval. Send them your entire name and the names of all your companions. It could take up to 24 hours to complete.

Check your email for a confirmation link to a QR Coded Tourist Pass after your application has been approved (QTP).

The status can also be checked on the VISITA dashboard.

Download (or print) your QR Coded Tourist Pass (QTP).
3. When you arrive, go straight to TRIAGE.
When tourists arrive in Baguio City, they must go through a triage process. Although there are central triage areas, certain hotels and transport terminals have their own triage areas.
The triage area for yellow QTP is at Central Triage.
For blue QTP, you may go to your hotel or bus terminal for triage
4. Follow all of these health and safety rules within the city.
Wear a face mask.
Observe physical distance of one meter.
Wash or sanitize your hands.
Try to avoid crowded places as much as you can.
Always bring your vaccination cards.
Above are the most updated Baguio Travel Requirements in 2022. For additional information, check out this post by Baguio Tourism below:
– WhatALife!
Source: (visita.baguio.gov.ph)
---
Also Read: Boracay COVID-19 Travel Requirements for tourists 2022