If you're a foreign or local tourist getting ready for your trip to Boracay in 2022, here are the basic COVID-19 travel requirements, including securing a AkQuiRe OHDC QR Code.
PRIMARY REQUIREMENT: Secure AkQuiRe OHDC QR Code
When visiting Boracay, tourists are required to acquire the AkQuiRe OHDC QR Code. To do this, you need to accomplish the OHDC Form. However, before filling in the form, you need to also secure digital copies of the following documents.
01 A copy of your proof of identification
Make sure to have your ID with you when you travel.
For Philippine residents, bring an ID with your Philippine residency.
For foreign travelers and OFWs, bring your passport.
02 A copy of confirmed booking slip/form from a DOT – Accredited Boracay Island accommodation/establishment
Make sure to only secure bookings with DOT-accredited accommodation/establishment in Boracay islands and get a copy of your confirmed booking slip/form.
See the full updated list for DOT Accredited Accommodation Establishments in Boracay Island for 2022 here.
03 A copy of round trip flight/travel details
For tourists traveling by air, please note that only Caticlan Airport is available for traveling.
On the other hand, if you are traveling from Western Visayas or you are an Aklanon Tourist, please take a photo of your car plate if you are using a private vehicle.
Or, if you are using public transportation to travel, you are required to have a copy of the Certificate of Undertaking for Travel Details.
For international/foreign visitors, please prepare a copy of your World Health Organization International Certificates of Vaccination and Prophylaxis. You may also use a National/State digital certificate of the foreign government, which has accepted VaxCertPH under a reciprocal arrangement. You can see the full list here.
For local visitors, please prepare a copy of your VaxCertPH COVID-19 Vaccination Certificate with full vaccination status. You may also use a locally-issued Vaccination Card with full vaccination status and with a verifiable QR Code.
---
Also Read: VaxCertPH: How to get your digital vaccination certificate.
---
05 RT-PCR Negative Result Certificate for Unvaccinated Individuals
In the absence of documents required above, or if you are unvaccinated, you need to secure an RT-PCR Negative Result Certificate. Moreover, the date of extraction should be within 72 hours of travel.
See the full list of licensed COVID-19 testing facilities here.
06 Certificate of Undertaking Travelling with Minors
If you are traveling with kids under 12 years old, accomplish the Certificate of Undertaking Travelling with Minors form.
Now that you have all the requirements ready, you may now start filling in the OHDC Form.
How to get AkQuiRe OHDC QR Code for Boracay COVID-19 travel requirements
01 Fill in your arrival date (which is a date within 3 days from the current date) and contact details.

02 Make sure to identify the correct visitor type.
Foreign – "Foreign nationals arriving from abroad and entering the Philippines for business and/or tourism purposes as per IATF Resolution No. 160-B, S2022."
Domestic – "Aklanon tourists coming from outside Aklan and Non-Aklanon tourists"
OFW/OF – "Overseas Filipino Workers (OFWs) and Overseas Filipino (OF)'
Aklanon – "Tourists CURRENTLY RESIDING in Aklan with one night stay or more in Boracay Island."

03 Fill in personal details then your proof of identification and residency.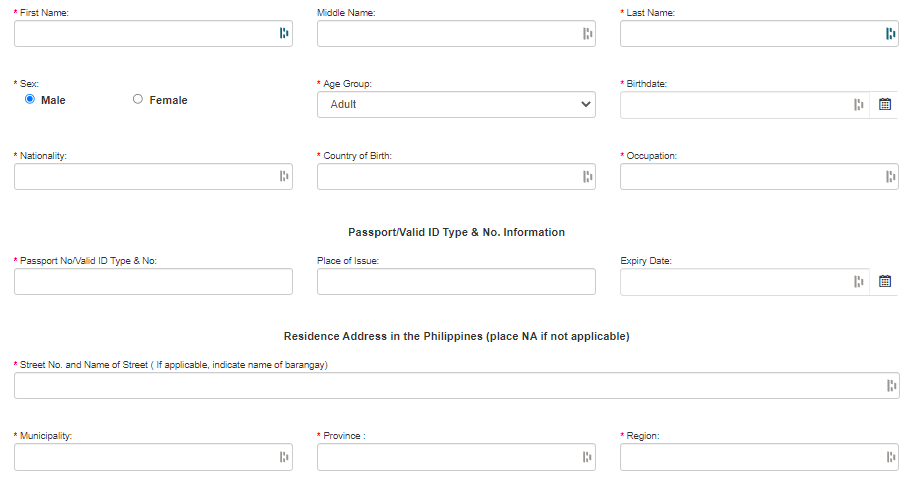 04 Truthfully answer the health information section.
05 Fill in travel details.

06 Fill in booking and accommodation details.

07 Share your travel itinerary

08 Upload all digital copies of your requirements.

There are a few instructions on the website that you must note so you can upload all files successfully.
If attachment upload takes longer than usual, please click "submit" to check the remaining files to attach. Repeat until all attachments are successfully uploaded.
If you receive a message saying "size validation failed," the attached file exceeded 2MB, and you need to resize the file.

To resize the file, there are plenty of websites that you can use online such as reduceimages.com.

If you receive a message saying "extension validation failed," convert your digital copy to jpg, jpeg, png, or pdf with a maximum size of 2MB per file.

To convert the file, you may also use reduceimages.com, which was jpg and png options.

If unable to attach or is unsuccessful, please click the "clear form" button.
Of course, make sure that all your digital copies are complete, correct, clear, and authentic so they will not be invalidated.
09 Enter the captcha code and submit.

If unable to submit, review the form and make sure you have filled in all the required fields and all the attachments are uploaded successfully.
10 Download your AkQuiRe OHDC QR Code from the confirmation page.
Click the preview and download button. Then, either save, print, or screenshot to get a copy. Additionally, you need to keep the AkQuiRe OHDC QR Code with you at all times to gain access to ports (air, land, or sea) and establishments in Boracay Islands.
A few things to remember:
You may only apply for an AkQuiRe OHDC QR Code ONCE.
Falsification of documents is punishable by law.
The AkQuiRe OHDC QR Code has an expiry of 12 hours from your accommodation check-out time.

If extending stay in Boracay Island, please send an email of a new booking slip to touristboracay@gmail.com.

Notify the validator of changes in your Boracay Island stay to avoid delays in accessing services and exiting the ports.
If there are issues in your attachments, validators will notify you via SMS or PHONE CALL, so keep track of your mobile devices.
If asked for compliance requirements emailed to touristboracay@gmail.com, the subject should be: COMPLIANCE-LASTNAME,FIRSTNAME-DATEOFTRAVEL
AkQuiRe OHDC QR Code Validator Details
For any issues in your OHDC QR Code, you may:
Send an email to: travelinfo@aklan.gov.ph or touristboracay@gmail.com; or
Contact the following the Travel Info Aklan Assistance Center:

09398780715
09755809013
09958500585
After following all these steps, you are now ready to enjoy your stay at Boracay Island! – WhatALife!
Source: (aklan.gov.ph)
---
Also Read: Updated COVID-19 Travel Requirements to the Philippines in 2022