According to its home page, Nas Academy "is a platform for world-class learning: global classmates, live sessions, and practical tips to help you in the 21st century."
However, it isn't quite so sincere.
The commotion started when Nuseir Yassin's Nas Academy announced it would be offering a class on traditional tattooing, headed by none other than Apo Whang-od herself. The course would "reveal all the rituals, tools, and methods for making tattoos."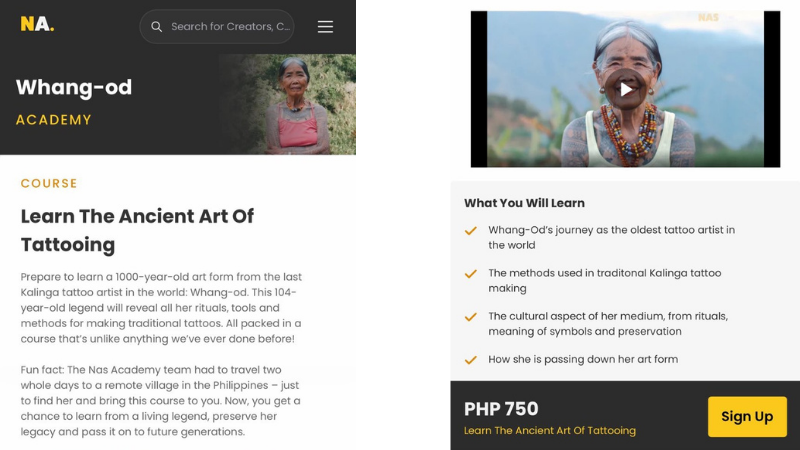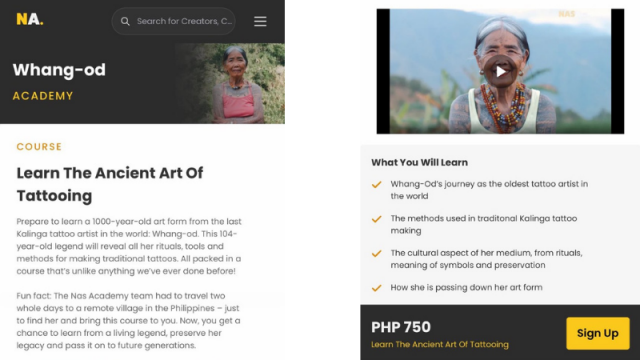 And it all went downhill from there.
Whang-od Academy went live in early August. On the 4th, Gracia Palicas, Whang-od's grand-niece, went to Facebook to cry scam.
WARNING!!! Whang Od Academy is a scam. My grandmother did not sign any contract with @NasDaily to do any academy. Some people are taking advantage of our culture. PLEASE HELP US STOP this disrespect to the legacy of Apo Whang Od and the Butbot Tribe.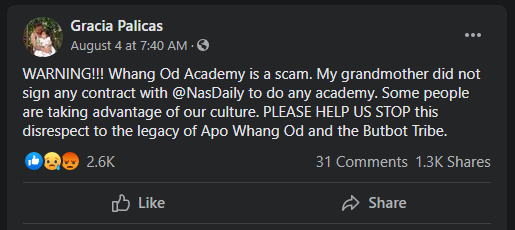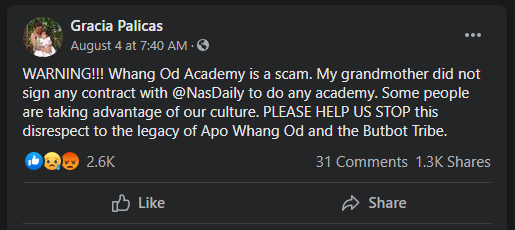 Not very long after this, the Cacao Project's Louise Mabulo posted on Facebook about the many disrespectful actions Nas did while shooting a video on her farm. Things like mocking the local language, rejecting greetings and hospitality, and calling Filipinos poor.
Most importantly, Nas claimed that there was no story to be found. Before he arrived at the farm, he wanted to frame Louise as "The Chocolate Lady from the Philippines."
However, when he got there, the cacao trees were still propagating, and Louise suggested that Nas focus on the farmers instead. Nas exclaimed, "Who cares about the farmers? "
Her father, Mayor Fermin Mabulo of San Fernando, Camarines Sur, backs up her statement.
On another note, Lost Juan, a fellow vlogger like Nas Daily, threw his own card into the pile.
He wasn't very popular in 2017, but he was friends with Nas. Lost Juan volunteered to help Nas out for a project-based around Smokey Mountain. They worked on several videos together, even while Juan was still going to college. Juan asked for no compensation, not even when he was asked to leave his apartment.
However, according to Juan via a translation from Coconuts: "But everything changed when he became famous. He changed from a simple person to someone whose agenda I no longer know… I've been slowly disappointed whenever I ask for help or support when I started out [as a vlogger] and he never lent a hand.
"I don't demand a debt of gratitude, but really—? The first million views in the Philippines was for the 'How Cheap is the Philippines' and I helped him out a lot [for that]. And there were a lot of viral videos that followed. All in all, he changed a lot, and I don't recognize him as the friend I knew before."
Nuseir Yassin's track record hasn't exactly been spotless, either. He's done a couple of things owing to his privilege as a Palestinian Arab. The history is pretty long, and it will take a while to get the full context, but this article from Dina Rezk should give some insight.
Apo Whang-od
Apo Whang-od, also known as Whang-od Oggay, is the last mambabatok of the Butbut Tribe. She garnered the Dangal ng Haraya Award in 2018.
The award "is given to living Filipino artists, cultural workers, and historians, artistic or cultural groups, historical societies, institutions, foundations, and councils, for outstanding achievements in relevant fields that have made an impact and significant contribution to Philippine culture and arts," according to The Philippines Today.
She is from Kalinga, a place that takes its name from the Ibanag and Gaddang word for enemy. Whang-od has been a mambabatok (tattoo artist) ever since she was 15. Interestingly, mambabatok was traditionally a males-only profession, but her father mentored her after seeing her incredible talent. According to this video:
—the centenarian recalled that when she and her friends were tattooing each other, her tattoos always looked the best.
Now Whang-od has several apprentices, all women. Chief among them are Gracia Palicas and Ilyang Wigan, another relative. The word 'chief' is vital because, as tradition goes, knowledge of the craft should only be passed down through the bloodline.
Currently, the centenarian's resolution to become a National Living Treasure is still underway. Twitter netizens originally started it, but the late Senator Miriam Defensor Santiago brought it up with the Senate in 2015. Senator Nancy Binay continued the movement a year later.
Nas Academy: A lesson in modern-day exploitation
On Nas Academy's page concerning all Philippines-based lessons, it says: "We started Nas Academy because we think everybody should become a teacher."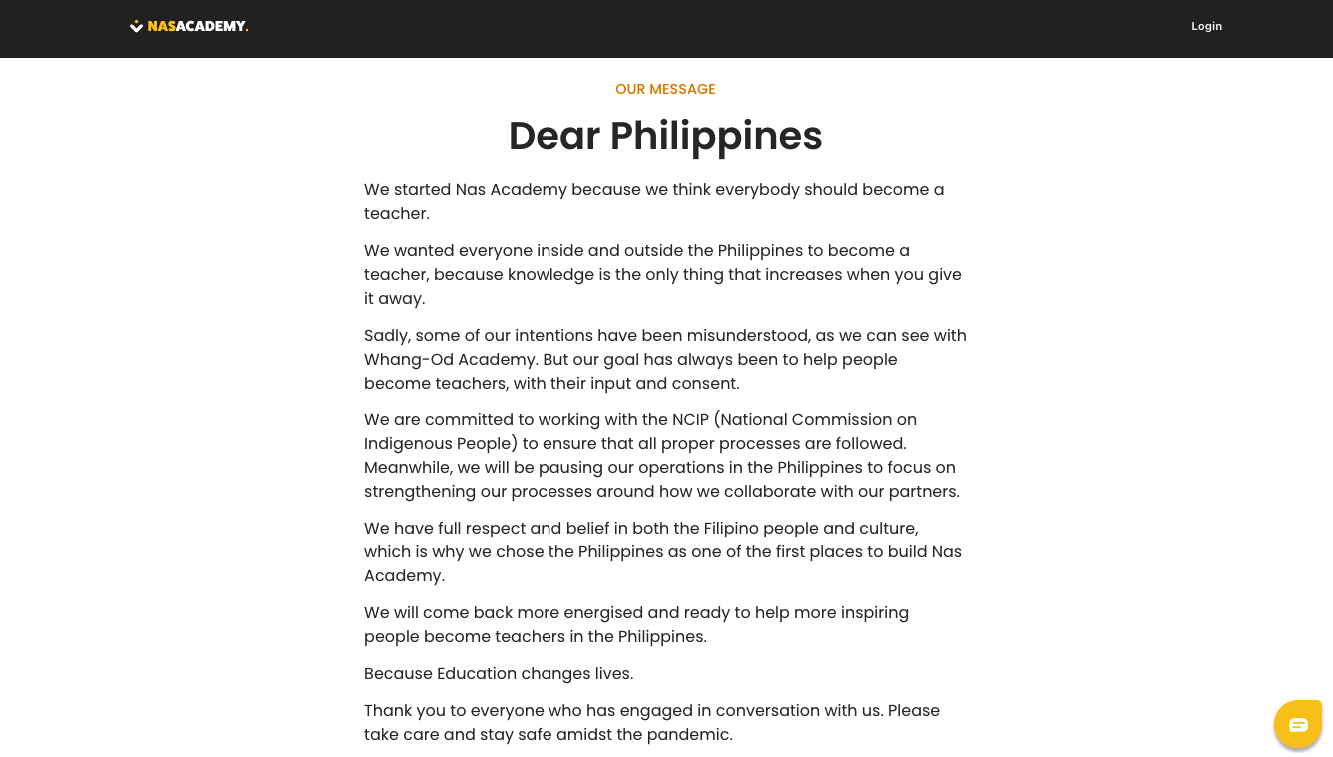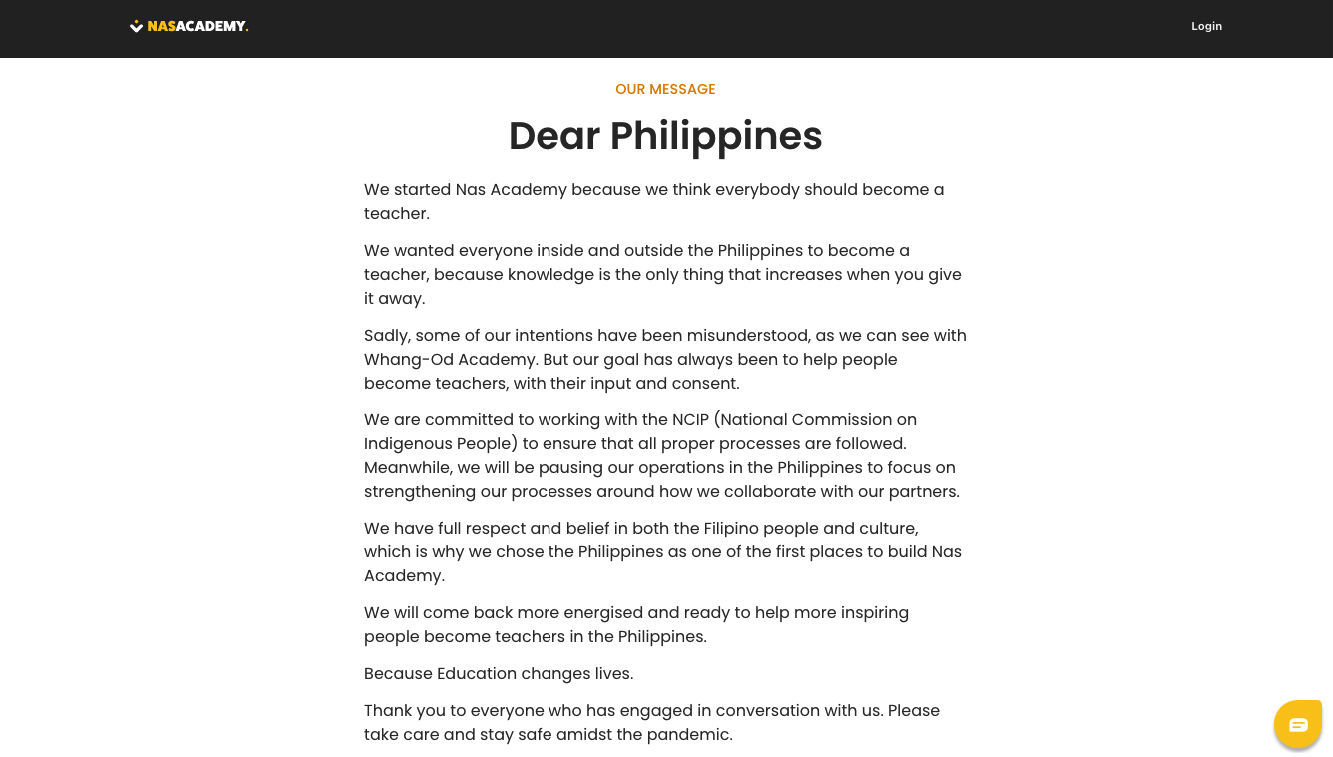 The idea of learning how to do tribal tattoos seems exciting and helpful in keeping past traditions alive. Yet, the way Nas Academy promotes their tribal tattoo course makes it seem like an indigenous cultural art can be taught to people who are not part of the tribe or even the country of its origin. This course, presumably upon completion, can turn anyone into a tribal tattoo artist for ₱750, the equivalent of $15.
For some netizens, it's infuriating that someone can just waltz into the country, hoodwink someone who's made significant contributions to preserving indigenous practices, and share her skills with outsiders who do not have a deep understanding of her tribe's customs and traditions.
Enter the NCIP
There is footage of Apo Whang-od signing a contract. She's seated next to her grandniece, signing a document by pressing her thumb into an ink pad, then on the paper.
However, it's still not entirely valid.
Several factors make it so that she might as well have not affixed her thumbprint in the first place! First, Palicas, Whang-od's grandniece, stated that her grandaunt could not understand what the translator was saying.
So this calls into question the tattoo artist's consent.
Then, Attorney Marlon P. Bosantog announced via a Facebook post that "attempts to monetize without consent, diminish, and demean such practices and even its [Indigenous] Peoples, will be dealt with harshly by appropriate penal laws."
Additionally, he stated:
Certainly, we celebrate the artistic expression of Apo Whang-od and will not stand in her capacity to enter into private contracts. However, recently, the Kalinga community had made known their claim on certain tattoo designs as belonging to the entire Indigenous Community being an expression of their culture and traditions, and such they opposed the usage of the same by a well-known clothing brand. Indigenous Peoples have Intellectual Property claims to cultural expressions and there are issues of cultural intellectual property that intersect in the art of Apo Whang-od.

Bandying on social media a contract is not a proof of compliance. The NCIP will make our review and onsite validation and interview, whether the Free, Prior, and Informed Consent process should have then implemented on this incident.

Attorney Marlon P. Bosantog
Professor Nestor Castro, PhD, concurred with Attorney Bosantog. Professor Castro made his take on the controversy in a Facebook post. He broke it down further:
First, Nas Daily does not understand Kalinga culture. Whang-od is not just an individual artist but she is also a member of the Butbut Tribe of Kalinga. Her skill on the art of traditional tattooing is derived from the indigenous knowledge of generations of Kalinga ancestors. Thus, this indigenous knowledge is collectively owned (although it may be individually practiced) by the Butbut. Thus, the consent of the members of the Butbut is necessary if this knowledge is to be shared to outsiders. Getting the permission of one individual is not enough.

Secondly, Nas Daily does not know Philippine law, more particularly Republic Act No. 8371 or the Indigenous Peoples Rights Act (IPRA) and its Implementing Rules and Regulations. Free and prior informed consent (FPIC) is required when the knowledge of indigenous peoples is used for commercial purposes. This consent is secured from the members of the ancestral domain, in this case the members of the Butbut Tribe and not from just one individual or her family. This is especially true of the Whang-od Academy will reveal to outsiders about the indigenous community's rituals. The agreement between the parties should also be written in English and the local Kinalingga language and witnessed by the National Commission for Indigenous Peoples (NCIP).

Professor Nestor Castro, PhD
"Pinoy Baiting"
M.A. Buendia defined Pinoy Baiting on Twitter:
Pinoybaiting is a marketing strategy used by creators to attract Filipino audience & fans. Foreign youtubers exagge reaction videos to our singers; series, tv shows and films involving the Philippines in their plotline. It's effective coz our thirst for global validation is real.

M.A. Buendia
You've seen it — the gimmicks the Pinoy Baiters go through to get the attention of Filipinos. The overly saturated thumbnails. Sometimes they have the Philippine flag in it. The all-caps titles, the keywords a Filipino can spot from a mile away. The exaggerated reactions to Philippines-based content.
Well, pretty much anyone who wants to monetize themselves seeing something new is guilty of this.
However, one must watch out for overt pandering to Filipino tastes. Pinoy Baiters tend to be foreign content creators with a massive streak, if not an entire channel, dedicated to content that involves the Philippines and/or its people. These content creators do whatever they can to bring all Filipinos ready to comment "Pinoy Pride." They make nice, and they soothe Filipinos' need for validation from outsiders.
Twitter user @maroontito tweeted:
Nagugulat pa ba kayo kay Nas Daily? Lol he has been milking our culture since day 1.
(Are you still shocked by Nas Daily? Lol he has been milking our culture since day 1.)
Nas Daily was one of these Pinoy Baiters.
What can we learn from Nas Academy?
While it is well and good to see people (read: foreigners) appreciating our culture, it's also essential to support creators that aren't exploiting Pinoys for views. For instance, creators that are actually Filipino.
The world is a vast place filled with many different cultures. People, customs, rituals, and practices are different with every pin on the map. So it's good to learn more about them! Exchanges of culture broaden everyone's horizons. They remind you that the world isn't just limited to what you see around you.
But, you have to distance yourself from those with malicious motives.
Hopefully, with this incident, more people will be wary of content creators who post videos that seem to celebrate our country, our people, and our culture. So when you find a YouTuber whose video, captions, or demeanour look a little too excited, maybe hold back that "Pinoy Pride" comment.
– Alex/WhatALife.ph
---
Also Read: Is P-Pop group SB19 worth following?