It's been four years since SB19 debuted. Ever since then, the group has become a household name, making strides and gaining more and more traction. SB19 hasn't stopped their fame train and many adore them for their dedication, knowing that happiness can be in scarce supply especially during these hard times.
So is SB19 worth following?
Some love them, some dislike them, some only like them for their music, and others remain indifferent. There are as many points of view as there are people in the world — yes, you heard right, the world! The boys have gone global, and it's only been proven by their recent nomination from the 2021 Billboard Music Awards. But that's for later. First, some background on: drumroll please, SB19!
Who or What is SB19?
SB19 is a P-Pop band composed of five members, all trained by the agency ShowBT Philippines, a subsidiary of SBT Group from South Korea:
Pablo (formerly called Sejun). Leader, songwriter, and rapper. His real name is John Paulo Nase.
Stell. Vocalist, and dance choreographer. His real name is Stellvester Ajero.
Josh. Rapper and Vocalist. Real name: Josh Cullen Santos
Justin. Vocalist and "baby of the bunch." Real name: Justin de Dios
Ken. Dancer vocalist. Real name: Felip Jhon Suson
The boys took the first half of their group name from the first two letters of their agency, but another meaning of SB is 'Sound Break.' Pablo, then called Sejun at the time, explained it best in an interview with K Street Manila: "As a group, our main goal is to break into the music scene and to raise the bar for all the boy groups here in the Philippines."
The second half of their name, 19, cleverly comes from the difference when subtracting the country codes of Korea and the Philippines (82-63) as well as the sum of each individual number (8+2+6+3).
Seong Han Geong is the founder of the ShowBT Group — the Philippine subsidiary handling SB19. Geong is also lovingly called 'Tatang Robin' by the A'Tin, SB19's fandom. Tatang Robin expressed in a Forbes interview that "the advantage of them being fluent in English, opened an opportunity and possibility for overcoming K-pop's weaknesses. Although the K-pop model is already well established, I wanted to create a new culture mixed with P-pop. So, SB19 is a new idol group with a unique style that is a result of localization."
Background
According to KProfiles, Pablo comes from Imus, Cavite. Before he became a trainee, he was a call center agent and a data analyst.
Stell is from Las Piñas City, on the other hand, and studied Hotel and Restaurant Management at STI. He used to also work as a fast food chain employee. He was in the dance cover group SE-EON with Josh, and they won seven competitions.
Josh is from Pasig City and did not go to college, but took an acceleration test and now has a high school diploma. He used to be in SE-EON alongside Stell. Josh entered the Dance Dance Revolution regionals competition and won first place.
Ken comes from Pagadian City in Zamboanga del Sur. He hasn't graduated as of this writing, but he is studying at the Technological Institute of the Philippines for a degree in Architecture. He was raised by his grandparents and sang for the church his grandfather was a pastor at.
And lastly, Justin is from Malabon and graduated with honors at De La Salle College of Saint Benilde Manila.
Their training was unorthodox for a local band. It saw Tatang Robin testing to see if the blueprints for K-Pop stars could apply in a Filipino market. The K-Pop formula perfected overseas was applied to SB19, and considering the leaps and bounds SB19 made, it seems to have worked wonders. Yet, the point wasn't to go to South Korea and get famous there; the boys are here to stay.
Though training was a completely new and, well, foreign venture, the group has nothing but high praise for it. The exchange of Filipino and Korean culture was a high point, as through it, they were able to learn, and grow as persons and idols, and make bonds with their Korean superiors.
The training period lasted three years.
However, Pablo's training lasted the longest of all the members. He trained under Adie Hong, a Korean singer and musical actress — she was referred to as Teacher Hong (though she's lovingly called Hongganda by A'Tin). He called himself Sejun as a nod to his real name, and so that Hong could have an easier time referring to him by name.
Stell and Josh were dancers-turned-hopefuls after they met BTS in South Korea as part of a dance crew. The experience was so stellar that they ended up being inspired to audition to become idols themselves
Meanwhile, Justin and Ken arrived during a tumultuous time where ShowBT's trainees were leaving the company in droves. At the time, Stell was the only one who was still present, with Josh and Pablo having left — but only very briefly. They returned, however, and kept going. Together. As a team.
Debut
The group debuted in 2018, on October 26th. The first song SB19 released was a ballad titled "Tilaluha," that spoke of unrequited love. Though the song is relatable for anyone who's ever mourned a love that may never be, this wasn't enough to make their mark on the Filipino soundwaves.
Their beginning was riddled with lukewarm receptions and barely-willing ears. It wore on them to the point that they made plans to disband if they did not take off.
But in September 2019 one of their songs went viral.
The song "Go Up," to be exact. Just as the title suggests, the song's lyrics speak of "go[ing] up," but for each of the members their reasons for doing so differ. "Justin goes up for himself first so that he can start helping others. Ken goes up for his goals, while Stell said he goes up for his family because of their unending support," according to Inquirer Lifestyle.
They got famous after Twitter user @BAE_Sodu saw one of their dance practice videos and shared it online, saying "she didn't feel any cringe." The thread is composed of several replies from her adding more of the group's content. The video that started it all, however, has reached 4 million views on Twitter.
And the rest is history.
After going viral, they were able to achieve success after such hard times.
For sure, all their efforts paid off, but it is bittersweet to them knowing that they lost several idol hopefuls and friends on their path to success.
Music
The boys generally have free rein when crafting their music. Though they receive tracks from their producer from Korea, they handle lyrics — Pablo chiefly, with the other four helping out when he asks.
Alongside choreography — which is also a collaborative effort led by Stell — it's a group effort, with every contribution from every person being added to the mix, and creating something all their own. "Maganda po niyan, every time magre-release ng kanta, gusto namin bagong flavor or masu-surprise 'yung mga tao. Hindi 'yung katunog ng before or parang ganitong kanta," said Sejun during a CNN interview.
One of their more recent standouts is the song "Mapa" — a unique and heartrending song that's a message of familial love and wanting to repay the great debt a child has to their parents. The lyric video was released on May 16 — between Father's Day and Mother's Day. It has, as of this writing, surpassed 20 million views on YouTube. It also boasts an alternate version, where SB19 collaborated with fellow local band Ben&Ben. Fans call this mashup of two genre worlds, SBen19.
Fandom: A'Tin
SB19's fandom is called A'Tin, pronounced 'eighteen', as a reference to the number 19 in the group's name They have stated that the reasoning behind the name is, as 18 comes before 19. The group wouldn't be where it is today, further cemented by Justin during an MTV interview, "They are like superheroes. They make impossible things possible for us. The awards we receive are because of them." And how!
According to metrics taken from the Daily Tribune for 2021's Billboard Music Awards, votes for SB19 clocked in at nearly 5.9 million. The group did not win the award, which is disappointing, but they placed third. Regardless of the result, it's a historic moment considering they're the very first Southeast Asian and Filipino artists to be on the board! It wasn't all Filipino fans supporting them — about 1.3 million votes were tallied from the Philippines, meaning more than 4.5 million A'Tin are global.
As proof, there is an abundance of videos reacting to SB19's performances by people from all walks of life.
Recently, the A'Tin agreed on a fandom logo. Here it is, in all its glory: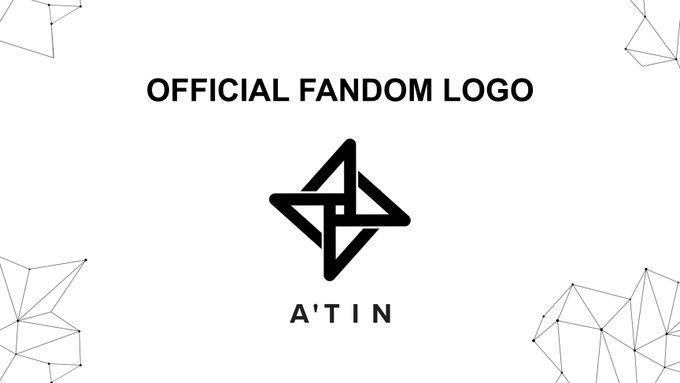 Achievements, Accolades, and Records Set
SB19 themselves is an achievement, as they are the first of their kind — a Filipino group trained by the Korean industry.
The group is credited with reviving the P-Pop industry.
SB19 made waves as it was revealed that they were nominated for the 2021 Billboard Music Awards. Though the group wasn't able to bag the Top Social Artist Award they still expressed pride at being one of the nominees.
And the sentiment is valid, as fellow nominees were BTS, Blackpink, Seventeen, and Ariana Grande.
Here are several other awards they've garnered throughout their career:
Aliw Awards
Favorite Entertainer of the Year (2020)
Box Office Entertainment Awards
Most Promising Recording/Performing Group (2020)
Music Rank Extra Awards
Next Big Thing (2020)
Top Social Artist (2020)
CICP Spotlight Awards
Facebook Superstars (2020)
Myx Music Awards
Song of the Year for Go Up (2020)
Artist of the Year (2020)
New Artist of the Year (2020)
Nylon Manila BBB Awards
Favorite P-pop Group (2021)
Gen-Z Approved Hit for What (2021)
PH TikTok Awards
Top Celebrity Award (2021)
P-Pop Awards for Young Artists
Most Favorite Pop Boy Group of the Year (2019)
Performing Group of the Year (2020)
Pop Inspirational Song of the Year for Ikako (2020)
RAWR Awards
Favorite Group of the Year (2019)
Breakthrough Artist of the Year (2020)
Favorite Group of the Year (2020)
Favorite Performer of the Year (2020)
Fan Club of the Year (2020)
Song of the Year for Alab (2020)
89.5 Star FM Baguio Best of 2020
P-pop Group of the Year (2020)
OPM Song of the Year for Hanggang sa Huli (2020)
TV Series Craze Awards
Breakthrough Artist of the Year (2020)
Fastest Rising Boy Group (2020)
Village Pipol Choice Awards
Group Performer of the Year (2020)
Group Performer of the Year (2021)
* Though not strictly the boys, it is noteworthy that the A'Tin won Fandom of the Year in 2020 and 2021!
Breakthrough Artist of the Year (2020)
Wisher's Choice Award (2020)
Wishclusive Pop Performance of the Year for Go Up (2020)
Wish Group of the Year (2021)
Wisher's Choice Award (2021)
WIsh Pop Song of the Year for Love Goes (2021)
PMPC Star Awards for Music
New Group Artist of the Year
Should Filipino youth see them as role models?
"Are they worth following?" is the question. Do they contribute to the overall development of the youth? Are they capable of captaining a generation of determined, strong-hearted Pinoys that makes their country proud?
The answer is YES.
There is no set path a person can take. Not everyone can be like SB19 — not everyone can do what they do, nor is everyone fated to be international pop artists. But they can follow the example that SB19 set. With their tenacity and determination to make their dreams come true, the group was able to become a trailblazer in the Philippine music industry. They were able to gain international acclaim and give the Filipino youth something to be proud of.
Why should Filipinos support their music? What is their significance to the Filipino Music scene?
Though SB19 has its K-Pop influences, the group is undeniably Filipino in nature. They sing in Tagalog, the national language, and they add concepts that are so uniquely Filipino. While they pay the respect that's due to their Korean trainers and superiors, they have carved for themselves and for the Philippines a path that can only, as their breakout hit says, go up.
Now, we know that not everyone has the same taste in music, or a love for particular songs. Everyone is entitled to their opinion.
So, is SB19 worth following?
– Alex/WhatALife.ph
---
Also Read: Complete your Higalaay 2021 celebration with these local food delivery services