One of PLDT's official Twitter accounts, PLDT Cares, got hacked by what appears to be the hacking group Anonymous Philippines on Thursday, May 28.
They changed the account name from "PLDT Care" to "PLDT Doesn't Care", and posted a tweet calling out the company.
"As the pandemic arises, Filipinos need fast internet to communicate with their loved ones. Do your job. The corrupt fear us, the honest support us, the heroic join us. We are Anonymous. We are Legion. We do not forgive. We do not forget. Expect us," the tweet read.
The post also included a photo of a Guy Fawkes mask—a symbol of rebellion made famous by the film "V for Vendetta"—and the hashtag #PLDTHacked.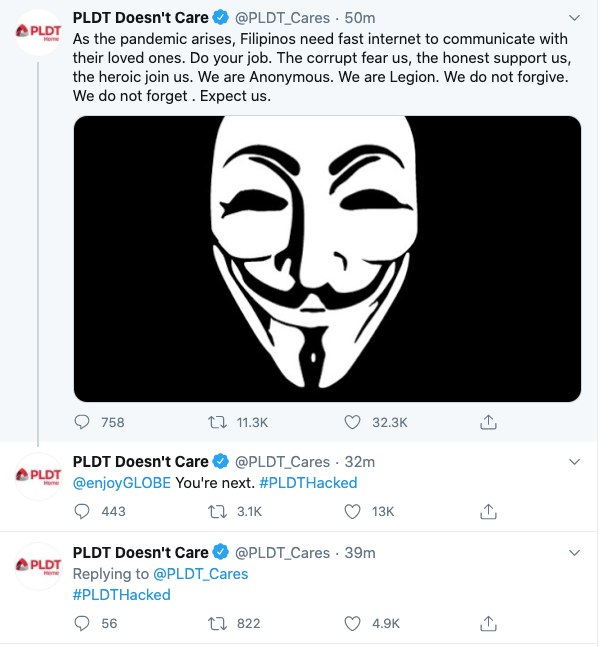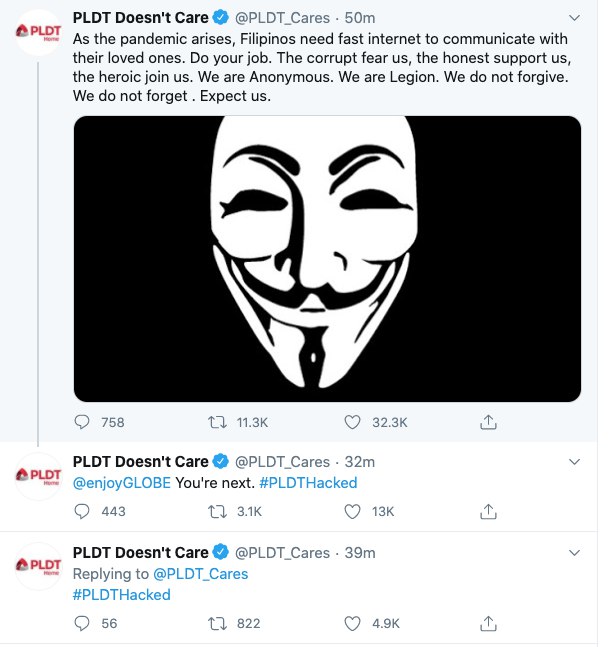 After 20 minutes, Anonymous posted a new tweet, this time threatening another telecommunication giant, Globe, that their Twitter account may soon be hacked too.
Netizens caught on with the contradicting tweet Thursday noon, which made #PLDTHacked appeared on Philippines' top trends on Twitter, landing at 2nd place with 21.8K tweets.
Here are some of the netizens' hilarious reactions regarding the hacking incident.
✨✨ Appreciation for the absolute mad lads that is Anonymous PH ✨✨#PLDTHacked pic.twitter.com/eK0WLWSk9Z

— maria. #blacklivesmatter (@xakuyuuki) May 28, 2020




Omg. Sounds like from a Netflix suspense/thriller series. #pldthacked pic.twitter.com/VjTnNHREEu

— ♛ (@brylwldr) May 28, 2020
Globe changing their twitter password every minute after getting a warning from Anonymous#PLDTHacked pic.twitter.com/22nVDoDcAc

— Kevin ➐ (@radwimmps) May 28, 2020
Globe security team having an emergency meeting securing their firewall and website #PLDThacked pic.twitter.com/KuVkm4X1EK

— ??? ⁷ (@iamsupercassie) May 28, 2020
As of 3:45 PM today, the PLDT Cares Twitter account seems to have been restored and fully recovered.
And we're back!

Hacking can happen to anyone. That's why we should change our passwords regularly to prevent unauthorized access to your accounts.

We're ready to serve you again. ?

— PLDT Cares (@PLDT_Cares) May 28, 2020
—(Source: Rappler)