The PhilSys Step 2 registration is the capturing of biometrics
Registrants for the Philippine Identification System (PhilSys) continue to increase amid quarantine restrictions across the country.
The Philippine Statistics Authority (PSA) reminds those who will proceed to the Step 2 face-to-face biometrics registration to follow the standard health and safety protocols. Moreover, registrants must comply with their scheduled appointment to limit the number of individuals at registration centers and maintain physical distancing. Wearing of face masks and face shields, as well as regular disinfection, are also mandatory.
PhilSys Step 2 registration includes the capturing of iris scans, fingerprints, and front-facing photographs.
How to book an appointment for PhilSys Step 2 registration?
On your browser, enter the PhilSys Online Registration link at https://register.philsys.gov.ph and click PROCEED.
Make sure to complete and review the Step 1 registration before proceeding with Step 2: Biometrics registration. If you haven't registered yet, check out How to Register for Philippine National (PhilSys) ID Online to learn more.
Proceed to the Book Appointment section for existing registrants.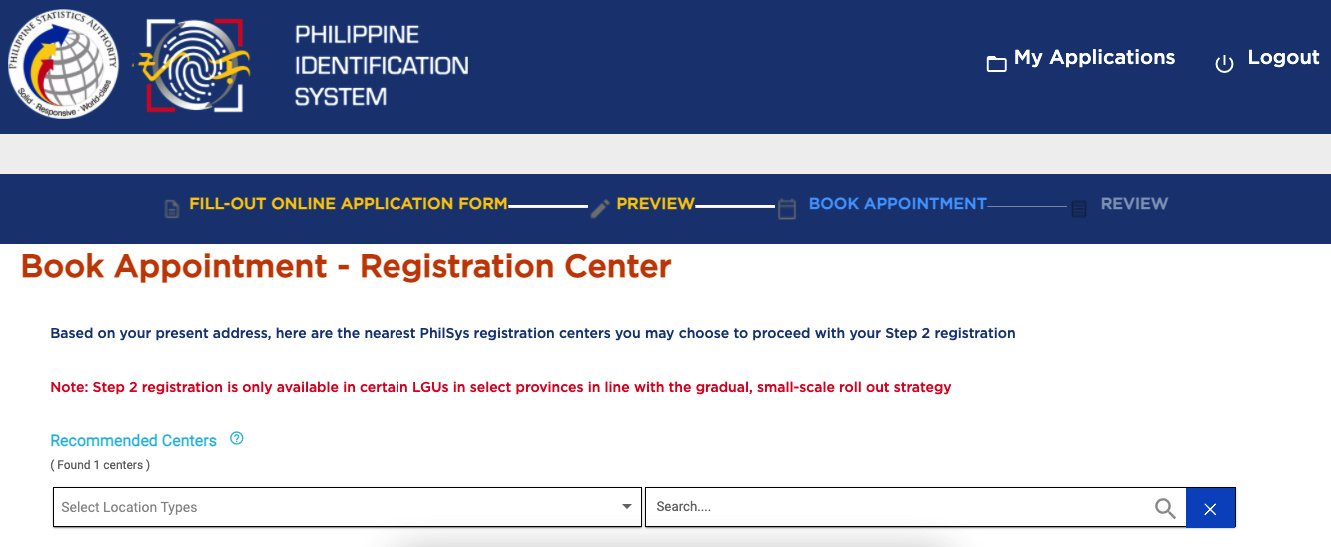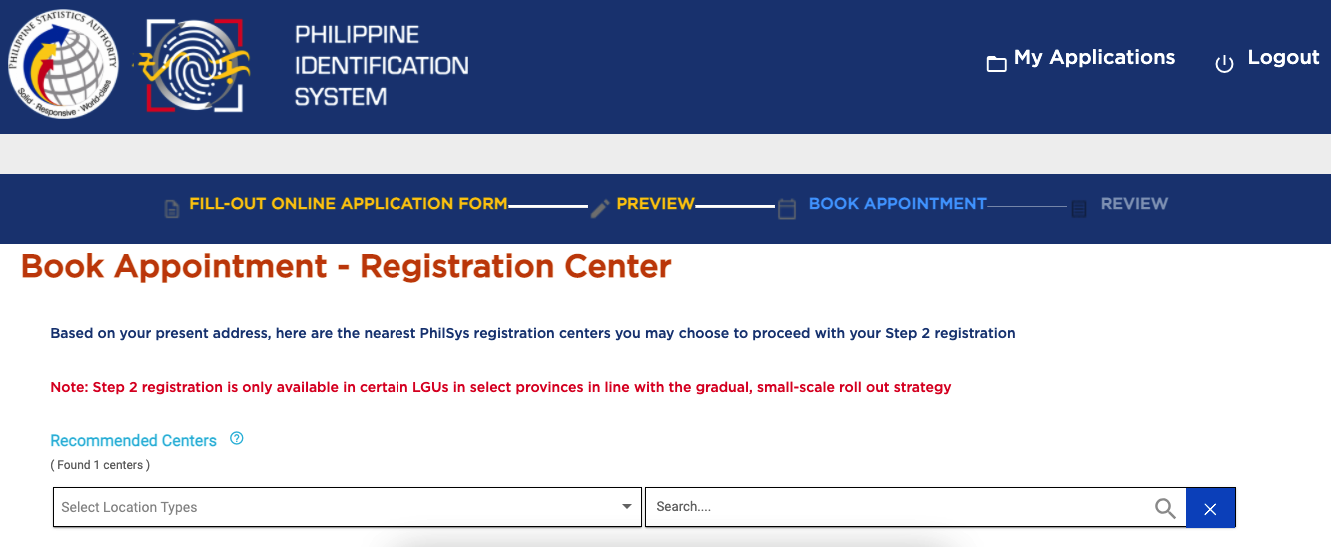 Choose the nearest PhilSys registration centers based on your present address. Note: Step 2 registration is only available in certain local government units (LGUs) in select provinces in line with the gradual, small-scale rollout strategy. For the latest update on registration centers, follow @PSAPhilSysOfficial on Facebook.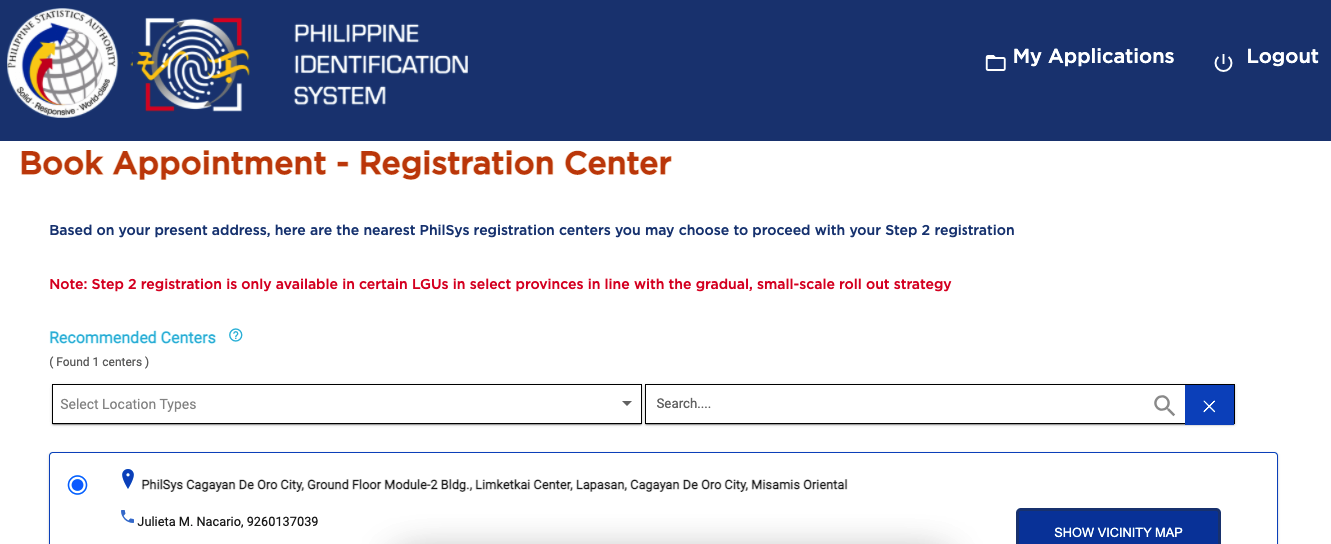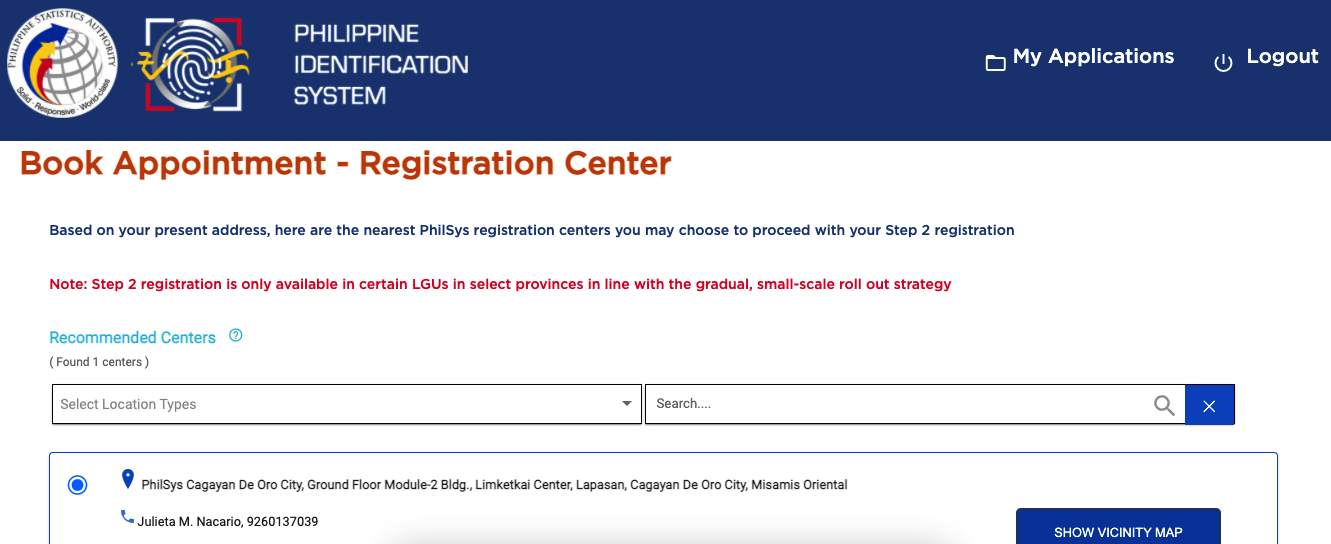 Proceed to your designated registration center on the day of your appointment schedule and present your Appointment Reference Number (ARN) and/or QR Code, and bring the original copy of your supporting documents.
List of Supporting Documents
Primary supporting documents
The registrant is encouraged to bring any of the following primary documents (both original and photocopies):
DFA-issued Philippine Passport or ePassport
GSIS or SSS-issued Unified Multi-purpose Identification Card (UMID)
Land Transportation Office (LTO)-issued Student's License Permit or Non-Professional/Professional Driver's License
PSA-issued Certificate of Live Birth AND one (1) government-issued identification document which bears full name, front-facing photograph, and signature or thumb mark
(If there are discrepancies between the PSA-issued Certificate of Live Birth and the government-issued ID presented, the PSA-issued Certificate of Live Birth would be considered as a secondary supporting document)
Secondary supporting documents
If the registrant does not have any of the above-mentioned documents, he/she may bring the following secondary documents:
PSA-issued Certificate of Live Birth/NSO-issued Certificate of Live Birth with Birth Reference Number (BreN)
LCRO-issued Certificate of Live Birth
PSA-issued Report of Birth
PSA-issued Certificate of Foundling
Integrated Bar of the Philippines (IBP) Identification Card
Professional Regulatory Commission (PRC) ID
Seaman's Book
Overseas Workers Welfare Administration (OWWA) ID
Senior Citizen's ID
SSS ID
Pantawid Pamilyang Pilipino Program (4Ps) ID
License to Own or Possess Firearms (LTOPF) ID
NBI Clearance
Police Clearance/ID
Solo Parent's ID
PWD ID
Voter's ID
Postal ID
Taxpayer Identification Number (TIN) ID
Philhealth ID
Philippine Retirement Authority (PRA)-issued Special Resident Retiree's Visa (SRRV)
National ID from other countries
Residence ID from other countries
The following identification documents shall be accepted as secondary supporting documents provided that they have a front-facing photograph, signature/thumbmark, full name, permanent address, and date of birth.
Employee ID
School ID
Barangay Clearance/Certificate
Barangay ID
City/Municipal ID
Important Note! Besides securing the appropriate supporting documents, make sure to follow the proper dress code. Avoid wearing shorts, sleeveless, light-colored clothing, and remove accessories such as earrings, necklace, contact lens, and false eyelashes. Wearing heavy or dark makeup is also prohibited.
Once done, they will give you a transaction slip that will serve as proof once your PhilSys ID is delivered (an estimated 2-3 months) to your preferred address.
Some registration centers accept walk-in registrants, however, will prioritize those with appointments.
For inquiries and concerns, contact m.me/PSAPhilSysOfficial or email at info@philsys.gov.ph. You may also reach them via the PhilSys hotline 1388. – WhatALife.ph
---