Publicus Asia Inc, an independent, non-commissioned poll body, released its latest May 2022 Elections survey on Friday.
The independent, non-commissioned survey body released its latest May 2022 Elections poll results on Friday, November 19.
The poll was conducted from November 16-18, sampling 1,500 registered voters nationwide after the deadline of substitution last November 15.
The poll includes a random selection of valid respondents curated by PURESPECTRUM, a US-based firm that maintains a market research panel of over 200,000 Filipinos.
Publicus Asia Inc: BBM leads presidential bet
According to the results, Marcos was the top choice for president with 56.7 percent of the total voter preference, followed by VP Leni Robredo at 15.4 percent. Manila Mayor Francisco "Isko Moreno" Domagoso (6.9%) and Senator Christopher "Bong" Go (4.1) placed third and fourth, respectively. Meanwhile, 8.8 percent of the respondents remained undecided.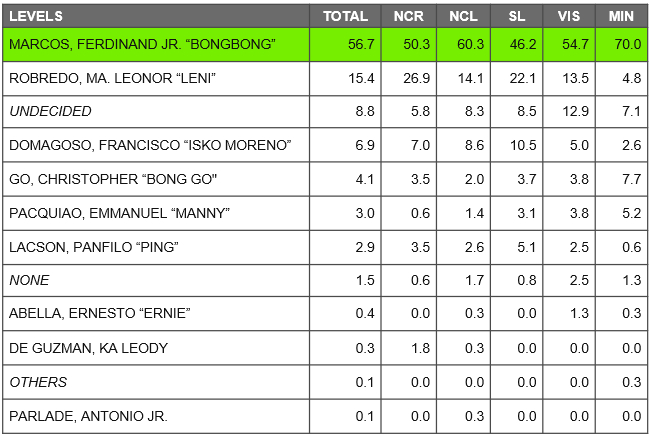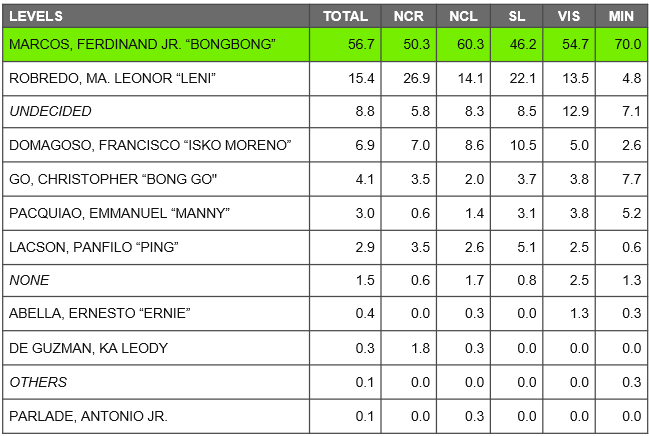 Publicus Asia said Marcos held a "commanding" lead across all regional groups–50.3 percent in Metro Manila, 60.3 percent in Northern and Central Luzon, 46.2 percent in Southern Luzon, 54.7 percent in the Visayas, and 70 percent in Mindanao.
Moreover, the poll body noted that Marcos also recorded the highest share of respondents who indicated that they "will definitely not change their choice."
"Approximately 80% of respondents who chose BBM can be viewed as firm in their choice," it said.
Meanwhile, VP Robredo "posted similar numbers with close to 60 percent of the respondents who chose her indicating that they are set with their choice, and another 18% indicating that they will likely not change their choice."
"The other candidates polling on or above the 3% mark notched markedly lower "firmness" shares than the aforementioned two candidates," it added.
Davao Mayor is the top preferred candidate for VP
Mayor Duterte top-ranked the preferred candidate for vice president "across all regional groups" with 54.4 percent of the total voter preference.
"Her lead over the rest of the field is especially massive in MIN (Mindanao). Her lead is narrowest in NCR and SL (Southern Luzon)," it said.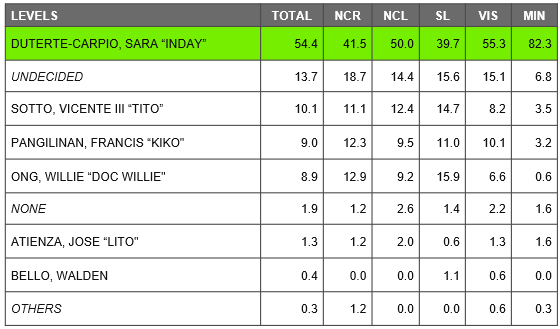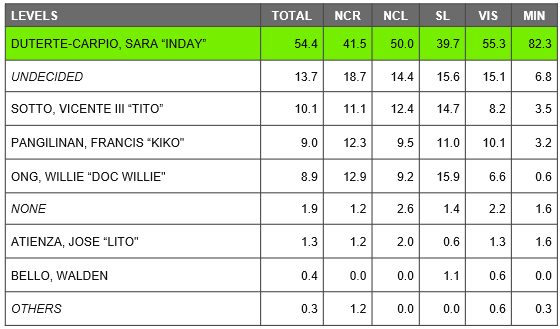 Senate President Vicente "Tito" Sotto III placed second with 10 percent – "a sizeable drop from his numbers in PAHAYAG: Q3."
Sotto also virtual ties with Senator Francis "Kiko" Pangilinan (9.0) and Willie "Doc Willie" Ong (8.9) – "with all three polling close to 10 percent."
Meanwhile, 13.7 percent of the respondents remained undecided.
Preferred Tandem Bets
Nearly 42 percent of the respondents chose the Marcos-Duterte tandem, followed by Robredo-Pangilinan (7.3 percent) and Moreno-Ong (2.9 percent).


Over 42 percent of the respondents, on the other hand, said to be "indifferent to tandems or prefer split tickets."
– WhatALife.ph
Who's your preferred president and vice president candidates? tandem? Let us know in the comments below!
---
You Might Also Want To Read: Over 32M Filipinos now fully vaxxed against COVID-19: NTF