Along with a large number of Filipino internet users, we have become one of the favorite cyber victims of cybercriminals.
According to the latest data released by the cybersecurity firm Kaspersky on Monday, the Philippines ranked seventh in the most attacked country list. This was in terms of Internet-borne web threats during the fourth quarter of 2019.
In the report, it shows around 3.9 million web threats were found in the devices of Kaspersky users alone from October to December 2019. That's equivalent to 31.6 percent of the overall.
Nepal remains at the topmost vulnerable global list with 37.7 percent, followed by Algeria (37.4%), Albania (37.3%), Belarus (35.0%), Republic of Moldova (33.4%), and Tunisia (33.4%).
"The significant drop in local threat infections tells us that there's good news here. Filipinos are slowly understanding the risks, which the numbers reflect. We recognize the challenges which are almost similar across the region," said Southeast Asia Kaspersky General Manager Yeo Siang Tiong.
As you can recall, during the first nine months of 2019, the Philippines placed third among the most-attacked country in Southeast Asia in terms of Android mobile malware.
With the growing number of Filipino internet users, it is clear that the call for practicing so-called cyber hygiene is now a necessity.
Cyber hygiene is about training yourself to think proactively about your cybersecurity — as you do with your daily personal hygiene — to resist cyber threats and online security issues. Unfortunately, cybersecurity still isn't taken as seriously as cavities and root canals […] A Good cyber hygiene is a general practice that can help keep you safe and secure online. (NortonLifeLock)




PRACTICE CYBER HYGIENE
1| Antivirus software
The most important component of cyber hygiene is the installation of antivirus software. This program protects your devices by scanning and eradicating computer viruses and other malicious software/malware. It steers users away from threats such as security breaches and phishing. Moreover, antivirus identifies malicious files and codes. It also checks in with the current health status of a device—just make sure to install reputable antivirus and malware software.
Additionally, a reliable network firewall will also help protect all your personal data. A firewall is the frontline defense in network security. It prevents unauthorized users from accessing websites, mail servers, and other sources of information that are accessible through the web.
2 | Strong password
Another habit you need to include is a frequently changing password. Use unique variations of alphanumeric keys along with upper and lower cases to create strong passwords. Forbes wrote that breached and hacked accounts were mostly using easy-to-crack passwords such as "123456" and "111111".
If you're using one of the passwords down below, we urge you to immediately change it: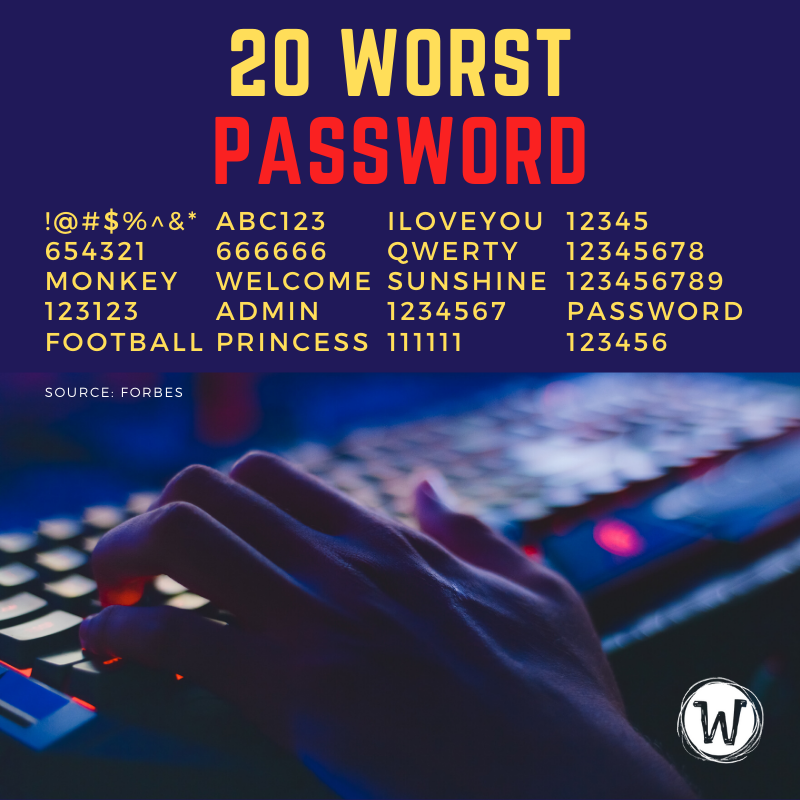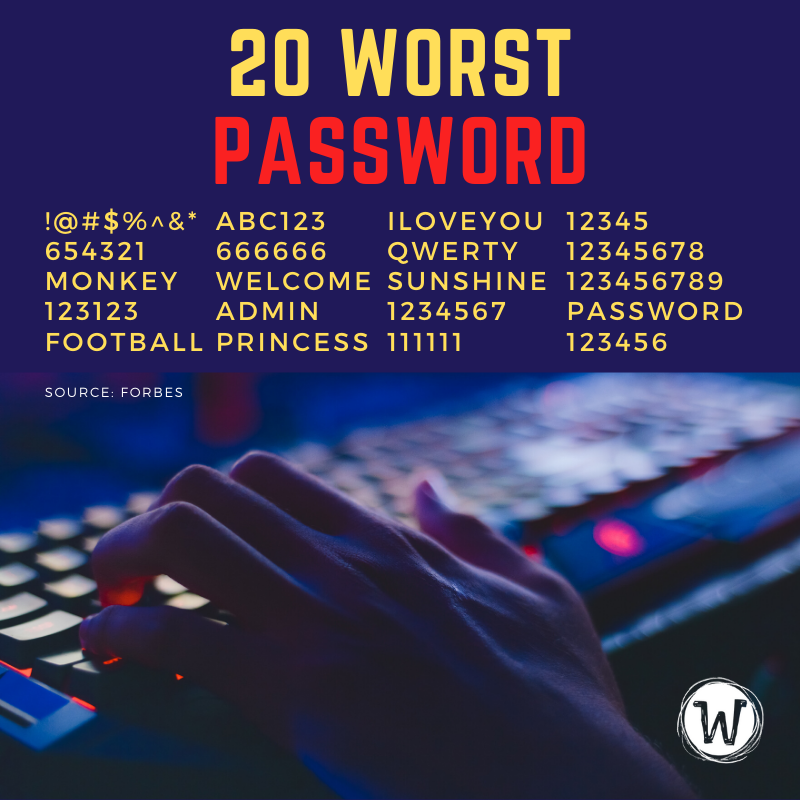 3 | Update software regularly
Regularly updating applications, as well as web browsers and operating systems, can also ensure the security of the users. Keeping software up to date means users are using the latest versions that have eliminated or patched potential holes/glitches.
4 | Multi-factor authentication
Another practice to include in cybersecurity, especially for social media accounts, is the Multi-factor authentication. This feature offers an additional layer of protection. Usually, the Two-factor authentication will require users to submit a password and username together with a unique code sent to the user's cell phone.
5 | Device encryption
This is essential especially in securing files that contain sensitive data. Encryption is a type of security method that encodes information and can only be accessed or decrypted by using the correct encryption key. Most apps are already using end-to-end encryption, while others encrypt data on the device and uploads a back up in the cloud. Another option for user's to use is an encrypted USB memory stick that enables protection to sensitive data.
6 | Maintain hard drive clean
If you're planning to sell your device to second-hand users, it's highly important to ensure the permanent deletion of your personal and sensitive data to avoid passing this information along. Because, for example, if you've used your laptop before in online banking you'll want to consider disk-wiping it before selling to remove software and data from your hard drive. Through this, the retrieval of information won't be possible.
Reformat and cleaning up hard drive is part of good cyber hygiene.
7 | Secure your router
Securing your wireless connection is also important. Turn off your routers when not in use and update the default name and password to clear off unknown connections. Furthermore, make sure to set your routers to WPA2 or WPA3 encryption to maintain a high level of privacy information sent via your network.
—
The goal here is to have a secured online presence, and practicing good cyber hygiene habits will definitely do the trick.
Reference
Esmael, L. (2020, January 28). PH vulnerable to cybercriminals. The Manila Times. Retrieved on January 27, 2020, from www.manilatimes.net
Johansen, A. (n.d). Good cyber hygiene habits to help stay safe online. Norton. Retrieved on January 28, 2020, from us.norton.com