Where halfway 2021 already?
With the new month coming, Netflix is once again set to release new titles from the highly anticipated Netflix Original Filipino series Trese to the heartwarming story of Fatherhood. Check out below the titles coming on Netflix this June!
What's coming to Netflix this June 2021?
June 3: Maledicto – Baffled by the case of a possessed teenager, the psychologist-turned-priest has teamed up with a clairvoyant nun. Released in 2019, the film was the first FOX Philippines produced directed by Mark Meily.
Starring Tom Rodriguez, Jasmine Curtis-Smith, Miles Ocampo
June 3: Pretty Guardian Sailor Moon Eternal The Movie: Part 1 & 2 – The 2021 Japanese two-part anime film is based on the Dream arc of the Sailor Moon manga by Naoko Takeuchi. Scattered Sailor Guardians reunite to restore light back after a dark power has taken over the Earth.
June 3: Babae at Baril (The Girl and the Gun) – Directed by Rae Red, one of the promising independent directors in the Philippines, Babae at Baril depicts the world of violent, creepy men through the lens of a girl who has to deal with the terrifying, never-ending cycle of sexual harassment and physical threat in and out of her work.
Starring Janine Gutierrez, Felix Roco, JC Santos
June 3: Cara x Jagger – The film follows the love story of a couple in an extraordinary circumstance. Directed by Ice Idanan.
Starring Jasmine Curtis-Smith, Ruru Madrid, Dino Pastrano
June 4: Sweet Tooth is an upcoming American fantasy series based on the comic book of the same name by Jeff Lemire.
Starring Christian Convery, Nonso Anozie, Adeel Akhtar
June 4: Sweet & Sour – An upcoming South Korean film that follows the love story of a couple who fell in love at first sight, however, drifted due to stress at work.
Starring Jang Ki-yong, Chae Soo-bin, Krystal Jung
June 4: Feel Good: Season 2 is back for its second installment of laughter and drama, created by Mae Martin and Joe Hampson, set in contemporary London. The show follows the development of a couple where one struggles to recover from drug addiction and the other struggles to tell friends and family about her same-sex relationship.
Starring Mae Martin, Charlotte Ritchie, Lisa Kudrow
June 11: Trese Season 1 is an upcoming Netflix Original Filipino anime series based on the popular Filipino komik of the same name by Budjette Tan and Kajo Baldisimo.
Starring (voice) Shay Mitchell, Liza Soberano, Jon Jon Briones
June 11: Lupin: Part 2 – The second half of the highly-anticipated five-episode hit French series which picks up after Part 1's cliffhanger finale.
Starring Omar Sy, Shirine Boutella, Ludivine Sagnier
June 17: Hospital Playlist Season 2 follows the life of doctors and nurses, as well as patients, at the Yulje Medical Center.
Starring Jo Jung-suk, Yoo Yeon-seok, Jung Kyung-ho
June 18: Fatherhood follows a heartwarming journey of a widowed man into fatherhood and raise his daughter on his own, based on a true story.
Starring Kevin Hart, Aldre Woodard, Lil Rel Howery
June 18: Elite: Season 4 – The fourth season of the franchise, opening a new year at Las Encinas.
Starring Maria Pedraza, Itzan Escamilla, Miguel Bernardeau
June 18: Rurouni Kenshin: The Final is a 2021 Japanese live-action film based on the final arc of the manga series with the same name, but with a little twist from its original narrative.
Starring Takeru Satoh, Emi Takei, Mackenyu Arata
June 18: So Not Worth It is an upcoming K-drama series that follows the life of students who reside at an international university dormitory.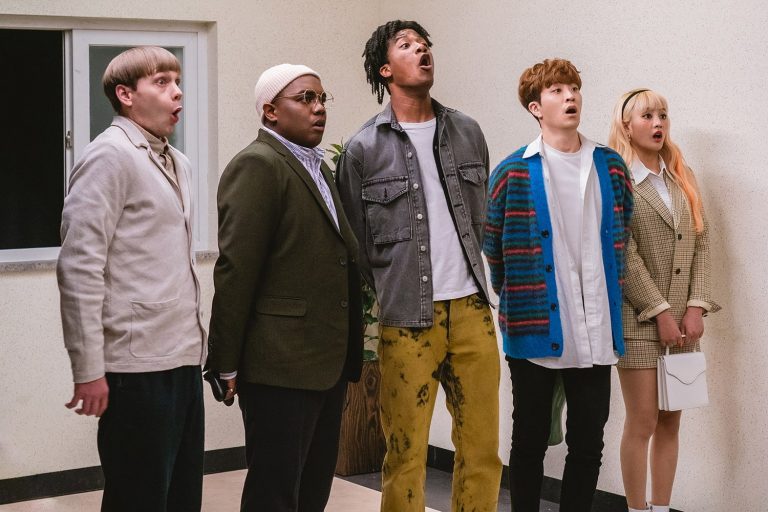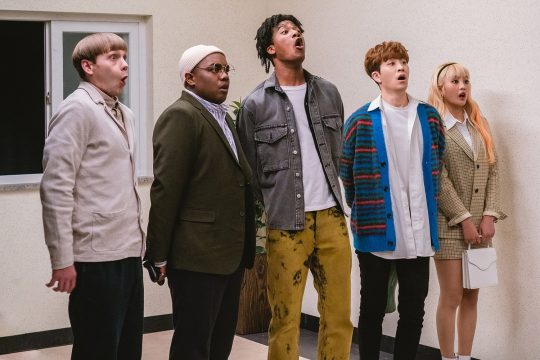 Starring Park Se-Wan, Shin Hyun-Seung, Choi Young-Jae
June 20: Nevertheless is based on a popular South Korean webtoon of the same name. The series follows a hyper-realistic romance between a man who dislikes relationships but likes to flirt and a woman who wants a date but doesn't believe in love.
Starring Song Kang, Han So-hee
June 23: Too Hot To Handle: Season 2 – The second season of the American-British reality television dating game show.
June 24: Godzilla Singular Point is a Japanese animated series set in Nigashio City, Chiba Prefecture in the year 2030.
June 30: America: The Motion Picture – A chain-weilding George Washington teams with beer-loving bro Sam Adams to take down the Brits in a tongue-in-cheek riff on the American Revolution.
Channing Tatum is George Washington!
Olivia Munn is Thomas Edison!
Other actors are other characters!

Time to officially reveal the cast of AMERICA: THE MOTION PICTURE, crossing rivers to deliver you to a prosperous new horizon on June 30. pic.twitter.com/PWy1Yo62ms

— NetflixFilm (@NetflixFilm) April 27, 2021
Starring (voice) Channing Tatum, Oliva Munn, Simon Pegg
Coming Soon: Record of Ragnarok – With over six million copies sold in print, Record of Ragnarok finally receives an anime adaptation.
Note: Dates and title are subject to change.
—(Source: Netflix Philippines)
---
See More Netflix Shows here