MANILA, PHILIPPINES — Today, October 18, 2022, President Ferdinand Marcos Jr. has signed a document declaring October 31 as a special nonworking holiday.
"The President has signed the Proclamation declaring October 31 as a special non-working holiday, para na rin po marami tayong time kasama ang ating pamilya at para ma-promote na rin po ang ating local tourism," said Office of the Press Secretary officer-in-charge Cheloy Garafil at a press briefing on Tuesday.
See copy of the proclamation below: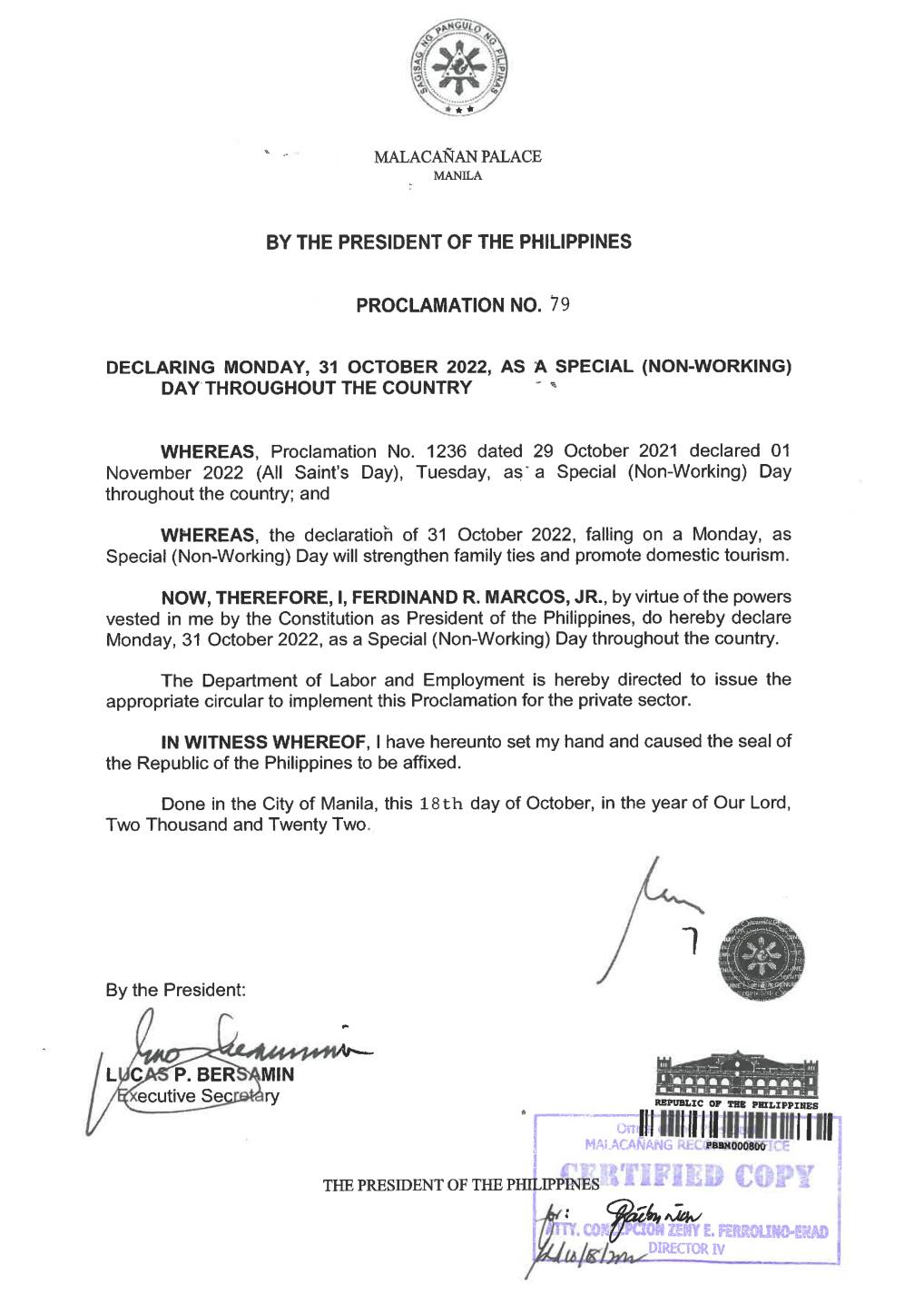 This means that Filipinos will have a long weekend from October 29 to November 1, 2022.
November 2, 2022 has been declared as a special working holiday according to Proclamation 1236 signed by former president Rodrigo Duterte in October 2021.
On August 23, Malacañang made public the list of regular holidays and special non-working days for 2023 in the Philippines. President Ferdinand "Bongbong" Marcos Jr. signed Proclamation 42, which included the list. of 2023 holidays in the Philippines.
The days listed below have been designated as regular holidays and special non-working days for 2023:
Regular Holidays
January 1 (Sun) – New Year's Day
April 9 (Sun) – Araw ng Kagitingan (Day of Valor)
April 6 – Maundy Thursday
April 7 – Good Friday
May 1 (Mon) – Labor Day
June 12 (Mon) – Independence Day
August 28 (Month's Last Monday) – National Heroes Day
November 30 (Thu) – Bonifacio Day
December 25 (Mon) – Christmas Day
December 30 (Sat) – Rizal Day
Special Non-Working Days
February 1 (Tue) – Chinese New Year
February 25 (Sat) – EDSA People Power Revolution Anniversary
April 8 – Black Saturday
August 21 (Mon) – Ninoy Aquino Day
November 1 (Wed) – All Saint's Day
December 8 (Fri) – Feast of the Immaculate Conception of Mary
December 31 (Sun) – Last Day of the Year
Additional Special Non-Working Day
November 2 (Thu) – All Soul's Day
The document states that separate proclamations announcing national holidays for the observance of Eidul Fitr and Eidul Adha must be issued after the approximate dates of the Islamic holidays have been established using the lunar calendar or Islamic astronomical calculations. Depending on what is feasible or convenient. – WhatALife!
Source: (1)
---
Also read: LIST: 2023 Holidays in the Philippines