Estimated reading time: 4 minutes
Recently, the Philippine Statistics Authority (PSA) has allowed the use and printing of a digital version of the Philippine Identification System (PhilSys) National ID. This is a solution for those who have yet to receive their physical National ID Card. Find out how to print your ePhilID or digital National ID here.
What is an ePhilID?
In a public advisory released by the PSA, the ePhilID is another format of the PhilSys digital ID.
The ePhilID contains the following information:
PhilSys Card Number (PCN)
Last name, given name, middle, and suffix (if available)
Sex
Blood type
Marital Status (if declared)
Date and place of birth
Front-facing photograph
Address
Generation date
QR Code
How to print your ePhilID?
The following are the steps on how to get your printed ePhilID:
Click the check box to agree to the website's Privacy Notice, then click Next.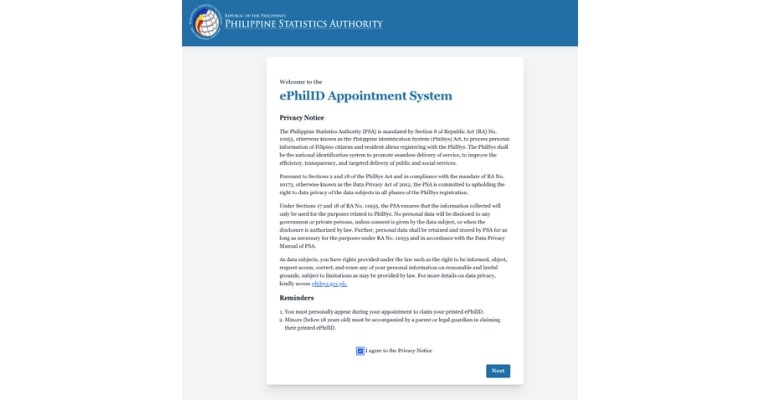 Step 2. Enter your Transaction Reference Number (TRN).
On the Verification page, type in your Transaction Reference Number. This is a 29-digit number found in your transaction slip provided to you after your Step 2 registration.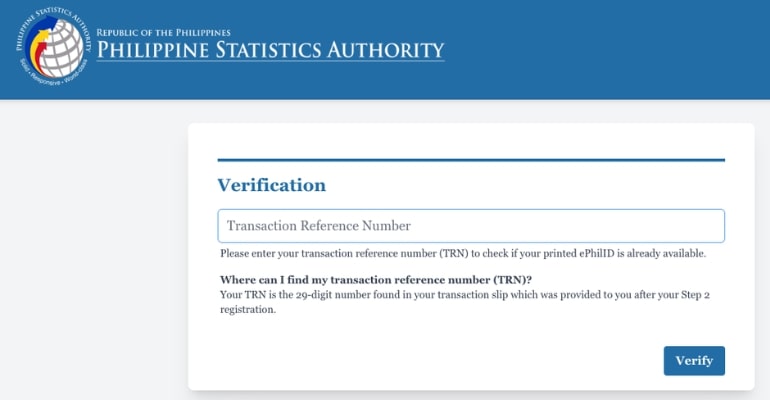 Note: Please be advised that the printing of ePhilID is not available to all registered users, nor is it available all over the country. It is initially available in Metro Manila, Bulacan, and Pampanga.
Therefore, when you type in your TRN and click Verify, it may show the same issue below, which states that the system cannot verify your TRN and suggest retrying later.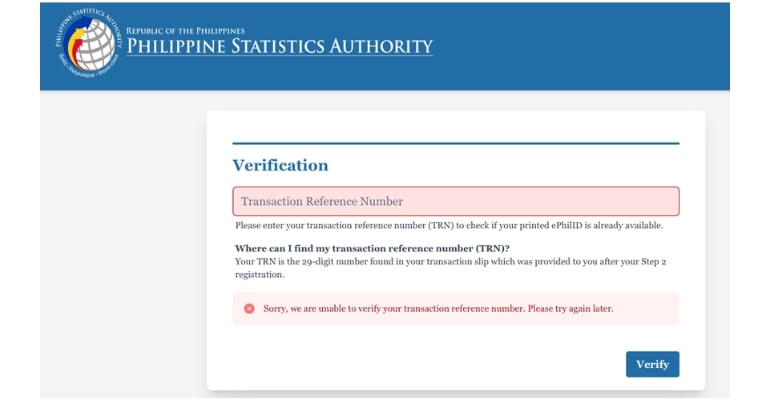 You may also see issues such as "Your printed ePhilID is not yet available. This means that your registration is still being processed, and your unique PhilSys Number (PSN) has not been generated yet." This may mean that your PhilSys ID is still being processed.
Those who are located in Metro Manila, Bulacan, and Pampanga and registered early but have yet to receive their physical ID may have better chances of printing their ePhilID.
Step 3. Input your name, e-mail address, and contact number.
Make sure your e-mail address and contact number are active since PhilSys will send a One-Time Password (OTP) code, which you will need later.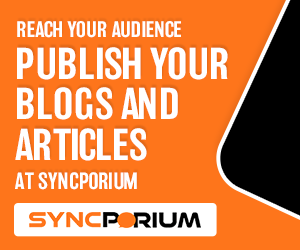 Step 4. Choose a registration center where you can claim your ePhilID.
This includes the date and time to set up your appointment on where to pick up your printed ePhilID.
Input the OTP sent to your e-mail address or number.
Step 5. Save the appointment slip sent to your e-mail address.
You may also print the appointment slip for convenience.
Step 6. Visit the registration center on your appointment schedule.
Make sure to bring your appointment slip, transaction slip, and one valid ID.
Step 7. Receive your printed ePhilID.
Congratulations, you now have an ePhilID! You may laminate your printed ePhilID to protect the QR Code, which is important in checking the ID's validity.
How to verify ePhilID validity?
The ePhilID is authenticated by scanning the QR code via the PhilSys Check (https://verify.philsys.gov.ph/QrScan/).
"If the ePhilID is authentic, the PhilSys Check will display a successful verification message and should match the demographic information found in the printed, as well as a front-facing photo of the person," read the PSA Public Advisory released on September 30, 2022.
The QR code also uses public-private key cryptography, ensuring it cannot be tampered with.
Is a PhilSys ePhilID valid?
Yes. The ePhilID is a "valid and sufficient proof of identity and age, subject to authentication," as per Undersecretary Dennis S. Mapa.
It shall be honored and accepted as the official government-issued identification document of a person for their transactions in all national government agencies, local government units (LGUs), government-owned and controlled corporations (GOCCs), government financial institutions (GFIs), financial institutions, and private sector.
Those who refuse to accept, acknowledge, and/or recognize the printed ePhilID without just and sufficient cause shall be penalized per Section 19 of RA No. 11055. – WhatALife!
---
Also read: How to track your Philippine National ID