Want to check the status of your National ID? Here is a guide on how to track your Philippine national ID through the PHLPost Website.
Filipino nationals and qualified residents who have fulfilled all registration requirements for their PhilID cards can now track the status of their delivery on the Philippine Postal Corporation (PHLPost) website.
The physical ID has a Philippine System Card Number (PCN), which could be used as legitimate proof of identity for transactions even if the card itself is not present.
After you've completed all of the registration stages, here are the instructions on how to claim your National ID.
Requirements:
After completing the registration, you have two options for receiving your physical: door-to-door delivery or pick-up at the PHLPost Office.
The following are acceptable documents for obtaining your physical ID:
Issued by DFA – Philippine Passport or ePassport
Issued by SSS OR GSIS – Unified Multi-purpose Identification Card (UMID)
Issued by LTO – Student's License Permit
Issued by PSA – A certificate of live birth as well as one other government-issued identification paper
If you do not have the primary documents listed above, you may provide any of the supplementary documents listed below:
Report of Birth
Solo Parent's ID
School ID
Employee ID
Police/NBI/Barangay Clearance
Person with Disabilities (PWD) ID
Taxpayer Identification (TIN) ID
Taxpayer Identification (TIN) ID
Postal ID
Social Security System (SSS) ID
Senior Citizen's ID
Pantawid Pamilyang Pilipino Program (4Ps) ID
Special Resident Retiree's Visa (SRRV) – PSA Issued
Overseas Workers Welfare Administration (OWWA) ID
Philhealth ID
Professional Regulatory Commission (PRC) ID
Integrated Bar of the Philippines (IBP) ID
IDs Possessed from other countries
Seaman's Book
License to Own/Possess Firearms (LTOPF) ID
VOTER's ID
How to Check the Status of PhilID Deliveries Online
Here are the following steps on how to track your national ID online:
Step 1: Visit tracking.phlpost.gov.ph.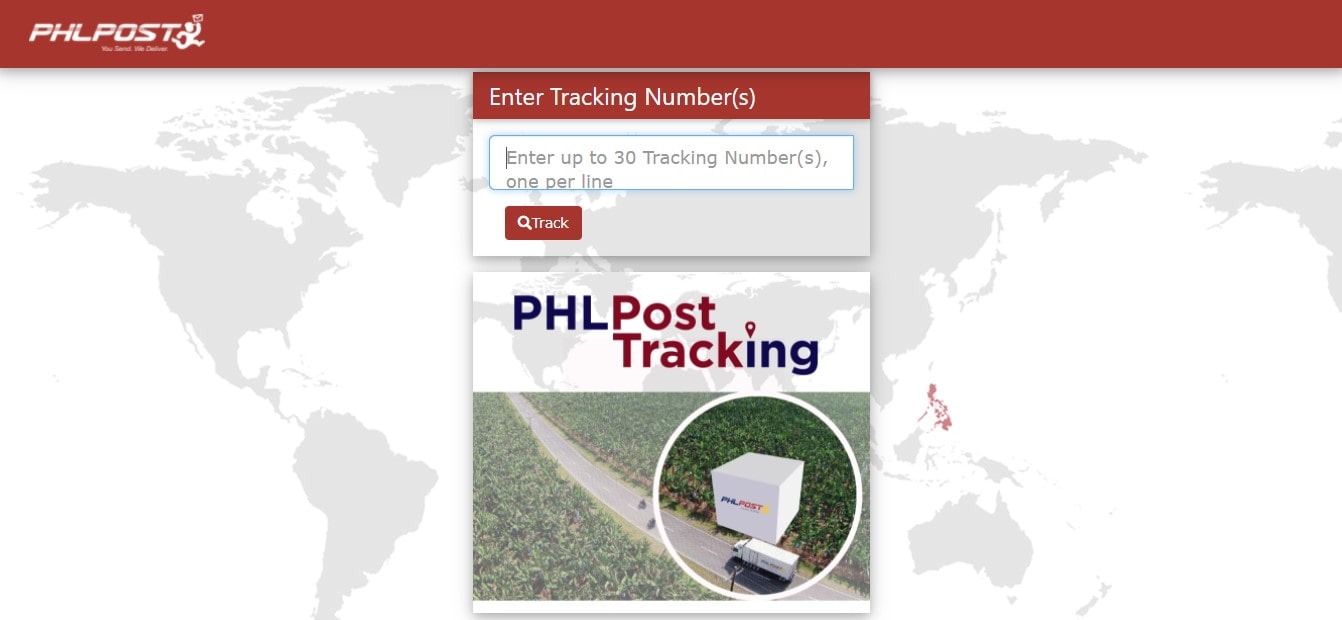 Step 2: Input the tracking number from the transaction slip you received after completing Step 2 Registration.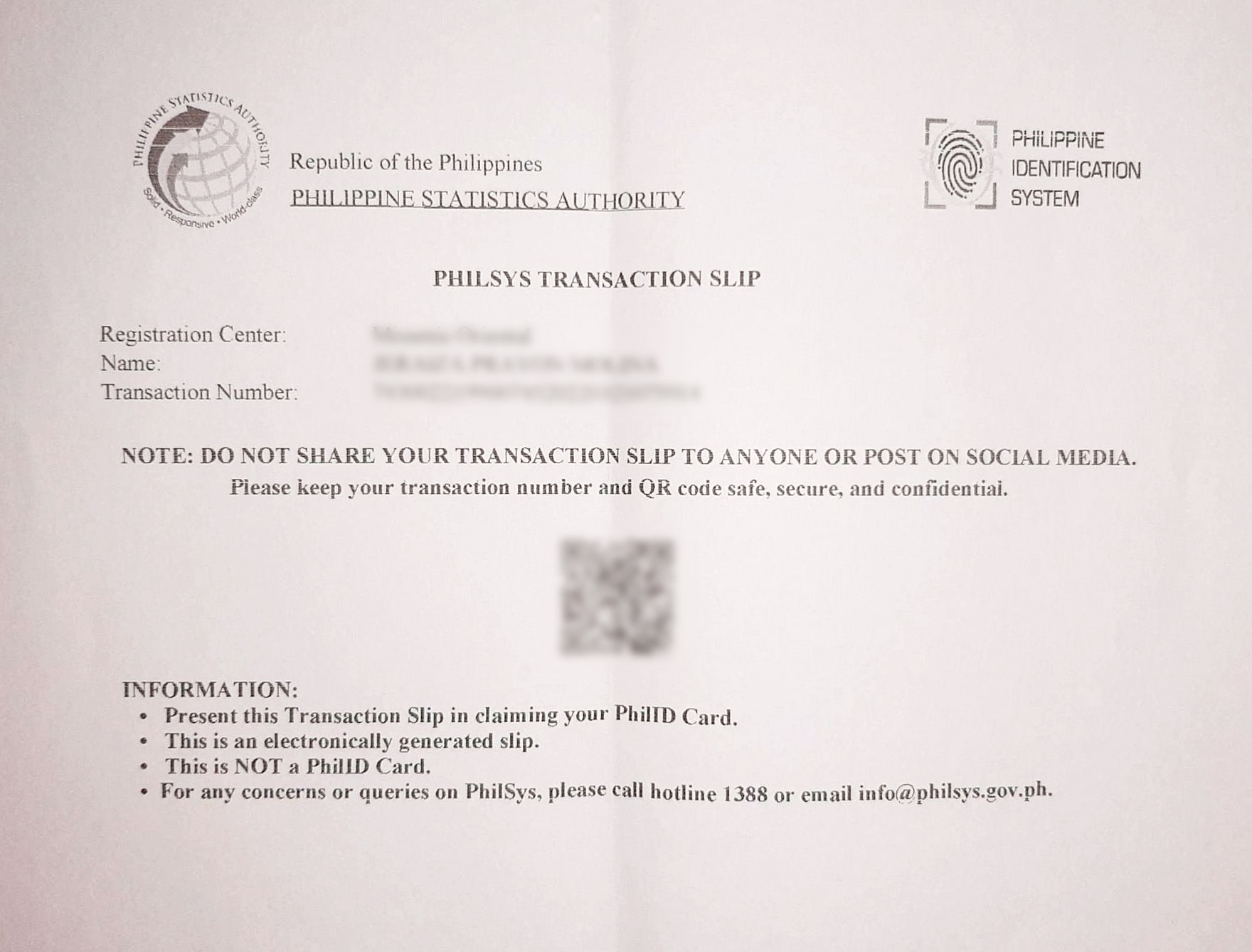 Step 3: The status of your ID will be displayed if you click the "Track" button. There are three status available: In Transit, Delivered, or Not Found.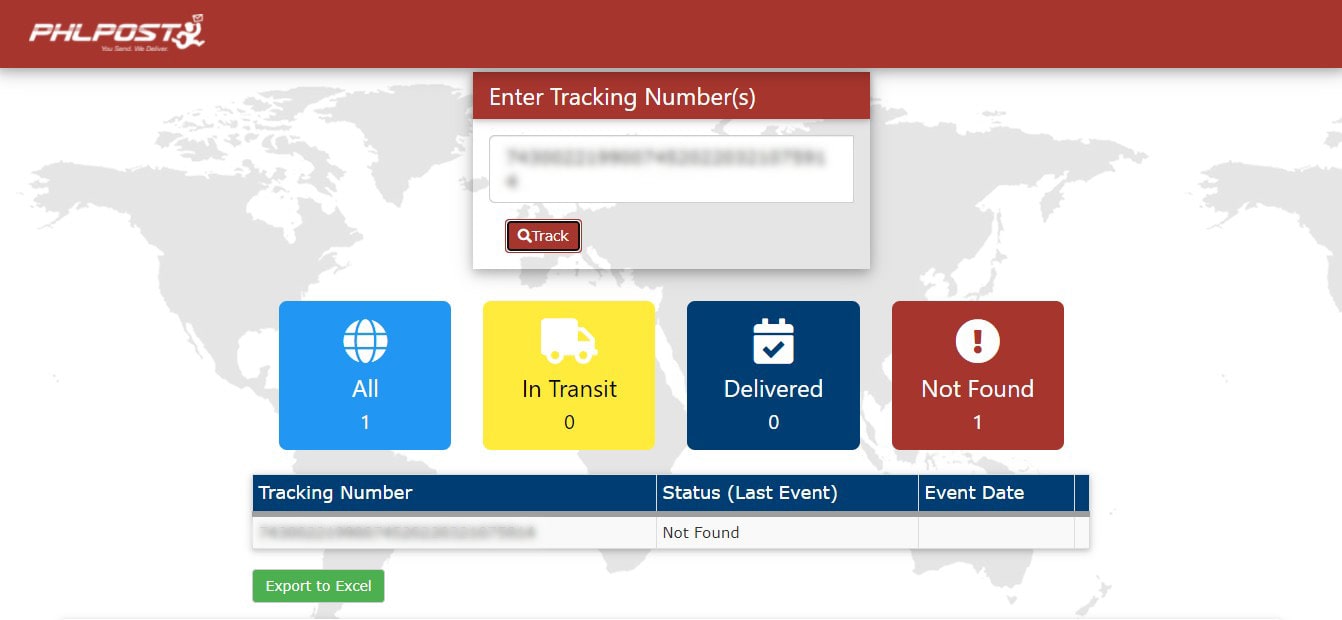 If the status reads "Not Found," your ID is currently being processed. If "In Transit," then your ID is currently being delivered.
If no further information is provided, it means that your ID has not yet been processed.
Philippine National ID Delivery
PHLPost is responsible for delivering your Philippine National ID to the postal address you provided. Simply show the courier your "Transaction Slip" and any "Supporting documents" when claiming your ID.
You may have an authorized person claim your Philippine National ID on your behalf if it is delivered on a day when you are not available. Before acquiring your physical ID, your agent should produce the following documents:
Authorization Letter
Valid ID or any supporting documents of Authorized Representative
Valid ID or any supporting documents of Registrant
Transaction Slip of Registration
Philippines National ID FAQs
What if I lost my transaction slip? What should I do?
Except for your barangay certificate, you may only present any valid ID on the delivery date of your national ID, according to PSA.
What if I want to collect my ID right now instead of waiting for it to arrive after checking the status of my National ID?
If you can't wait for your national ID to come, you can go to your local post office. By producing your transaction slip and any acceptable ID, you can get your ID if it is accessible.
What happens if I don't get my National ID on my location?
If you do not get your ID at the address provided, you may pick it up at the Post Office, closest to your location.
My representative and I were unable to get or claim my National ID. What options do I have?
Your National ID will be retained at the selected Post Office for 30 calendar days if both you and your appointee fail to obtain or claim it. Except for the barangay certificate, all you need is your "Transaction Slip" and a valid ID.
We hope that this guide on how to track your national ID will help you get a good idea on when EXACTLY your ID will arrive. For more guides like this, follow WhatALife today! – WhatALife! / Francis
Source: (tracking.phlpost.gov.ph)
---
Also Read: PhilID cards issued to over 8 million Filipinos