Death — an inevitable event for the living. To ease up the financial responsibility of those left by their deceased loved ones, the Philippine Social Security System (SSS) grants financial aid up to Php 40,000 to whoever paid for the burial expenses of its qualified deceased member.
Read on to learn more about the Funeral Benefit Claim Application (FBCA) and its process.
Pre-requisites for Online Application
To make things more accessible and convenient, the SSS Funeral Benefit can now be filed online by the SSS member claimant.
In order to proceed with the application process, the member-claimant must be:
Issued an SSS member and registered in SSS Website to be able to apply for funeral benefit; and

Have a disbursement account enrolled with SSS through the Disbursement Account Enrollment Module (DAEM)
Under Social Security Commission resolution No. 293-s.2021 dated June 9, 2021, having an issued SSS Unified Multi-Purpose ID (UMID) or SSS Digitalized ID, or application for UMID card, will no longer be part of the pre-requisite for online filing.
In addition, if the "claimant is the dependent legal spouse of the deceased member, an online certification with undertaking on their defrayal/payment of funeral expense will now be required instead of uploading and submitting other documents as proof," the commission resolution read.
Non-SSS members, without UMID_ATM card
For non-SSS members and SSS members without UMID-ATM card, FBCA can still be filed at the nearest SSS branch (over-the-counter or dropbox). Moreover, an FBCA form may be downloaded via the SSS website. Click here for quick access. Submit the duly-accomplished FBCA form at the nearest SSS branch together with the following required documents:
Proof of SSS membership of the deceased
Death certificate duly registered with the Local Civil Registry or issued by the Philippines Statistics Authority
Official Receipt or proof of claimant's payment of funeral expenses
Claimant's two (2) valid IDs
Disbursement details
Claimants may then choose their preferred disbursement account from any of the following payment channels:

SSS UMID card enrolled as ATM*;
Bank Account in PESONet participating banks;
Union Bank of the Philippines (UBP) Quick Card;
Electronic wallet (E-wallet);
Pick-up arrangement with remittance transfer companies/cash payout outlets
*Payment of funeral benefit shall be credited by default to the claimant's UMID card enrolled as ATM
How to file for Funeral Benefit online
STEP 1: Log in to My.SSS Online Portal
Go to https://www.sss.gov.ph/ and tick the box under the "I'm not a robot" pop-up.
Step 2: Select Member's Log in
Select the 'Member' button to access the member's login page. Once directed, type in your My.SSS User ID and password. Don't forget to tick the "I'm not a robot" box before hitting the 'Submit' button.
In case you forgot your user ID and/or password, simply select the "Forgot User ID or Password?" link under the 'Submit' button. Once clicked, you will be directed to a page where you'll have to enter your user ID (if you forgot only your password) or your email address (if you forgot both your user ID and password). Click 'Submit' and check your email for instructions from SSS about the retrieval or reset of your My.SSS account login details.
RELATED: How to Register to My.SSS Online: Your Ultimate Guide 2021
STEP 3: Submit Funeral Claim Application
Hover over the Menu > Select E-Services tab > "Submit Funeral Claim Application" and fill in all required information. Then, click "Proceed" for SSS validation of provided information and confirmation of deceased member's eligibility to Funeral Benefits.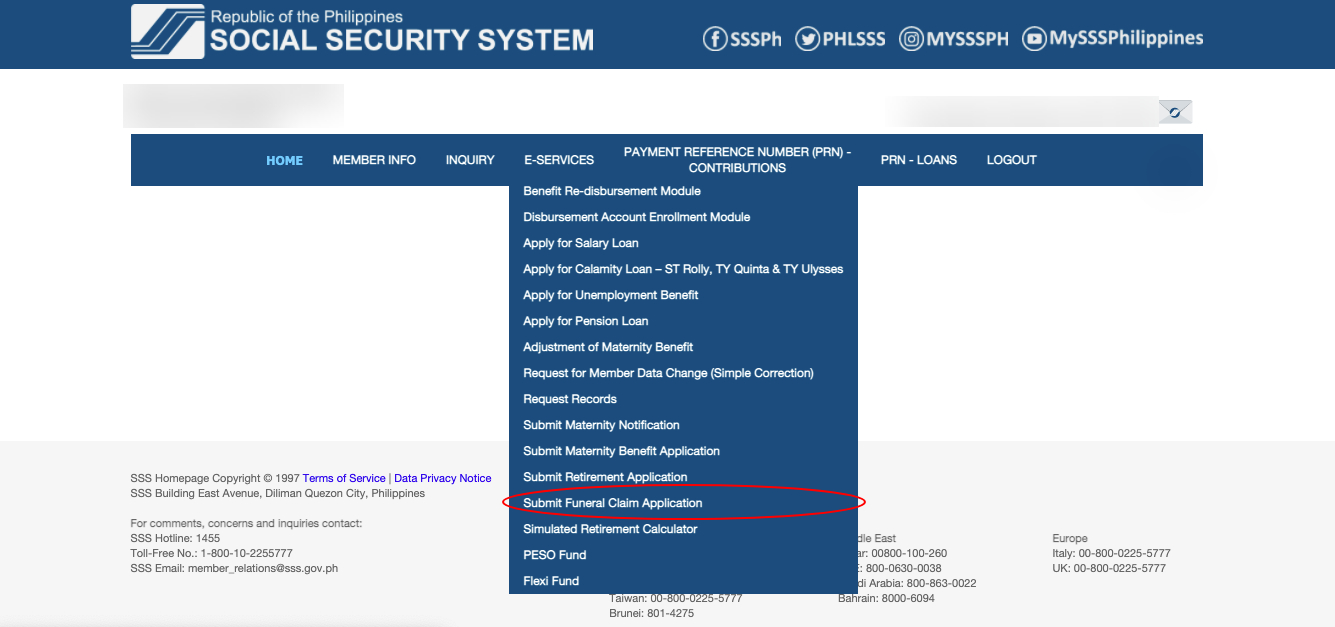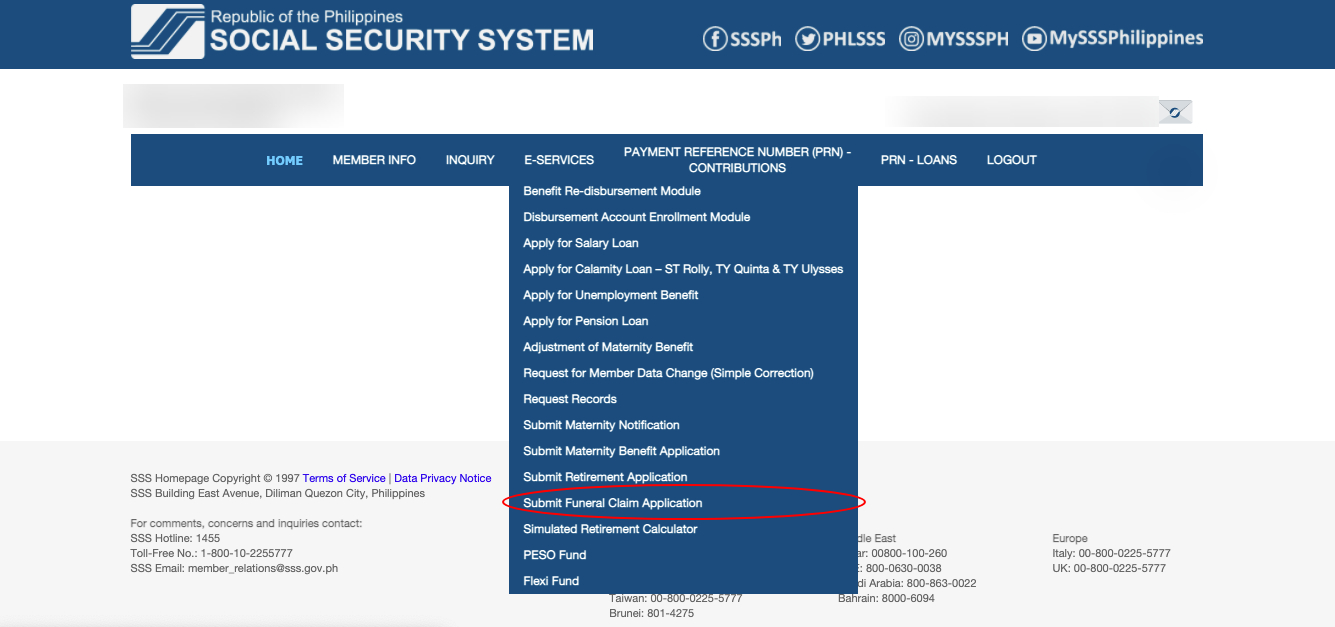 STEP 4: Provide Deceased Member Information
Provided the Civil Status of the deceased member and additional claimant information, such as relationship with deceased member and disbursement account enrolled in the DAEM.
STEP 5: Upload Supporting Documents
Upload the required supporting documents, including proof of SSS membership of the deceased, certified true copy of PSA of the Death Certificate, and proof of claimant's payment of funeral expenses.
Step 7: Read Certification
Read and understand the Certification portion and if you agree, click "Submit" to proceed.
Step 6: Check Inbox for Email Notification
Check your inbox for an email notification from SSS about your FBCA.
For any concerns and inquiries contact the SSS hotline 1455 / Toll-Free No. 1-800-10-2255777 / SSS email at member_relations@sss.gov.ph – WhatALife.ph
---
Also Read: How to apply for SSS Salary Loan Online 2021