Are you a new Philippine Social Security System (SSS) member? Are you an old member but don't have any My.SSS account yet? Forget the stressful commute and the health risk of waiting in the long line at your nearest SSS branch because you can now access the SSS portal at home!
In this time of the pandemic, SSS heightened its campaign to encourage all members to complete their SSS online registration from the My.SSS Portal, especially those under the following categories:
Employees with SSS Coverage
Self-employed or voluntary members
Overseas Filipino Workers (OFWs)
Unemployed spouses with at least one month posted SSS contribution
Kasambahays and other household employees
Employers
SSS is a state-run social insurance program in the Philippines for workers in the private, professional, and informal sectors, established under Republic Act No. 1161, better known as the Social Security Act of 1954. This law was later amended by Republic Act No. 8282 in 1997.
See below how to create and register to SSS online portal.
Step 1: Visit the My.SSS Portal
Go to https://www.sss.gov.ph/ and tick the box under the "I'm not a robot" pop-up.
Step 2: Go to Member's Login page
Select the 'Member' button to access the member's login page. Once directed, click the "Not yet registered in My.SSS?' and tick the "I certify that…" box below after reading the SSS terms and policies to proceed.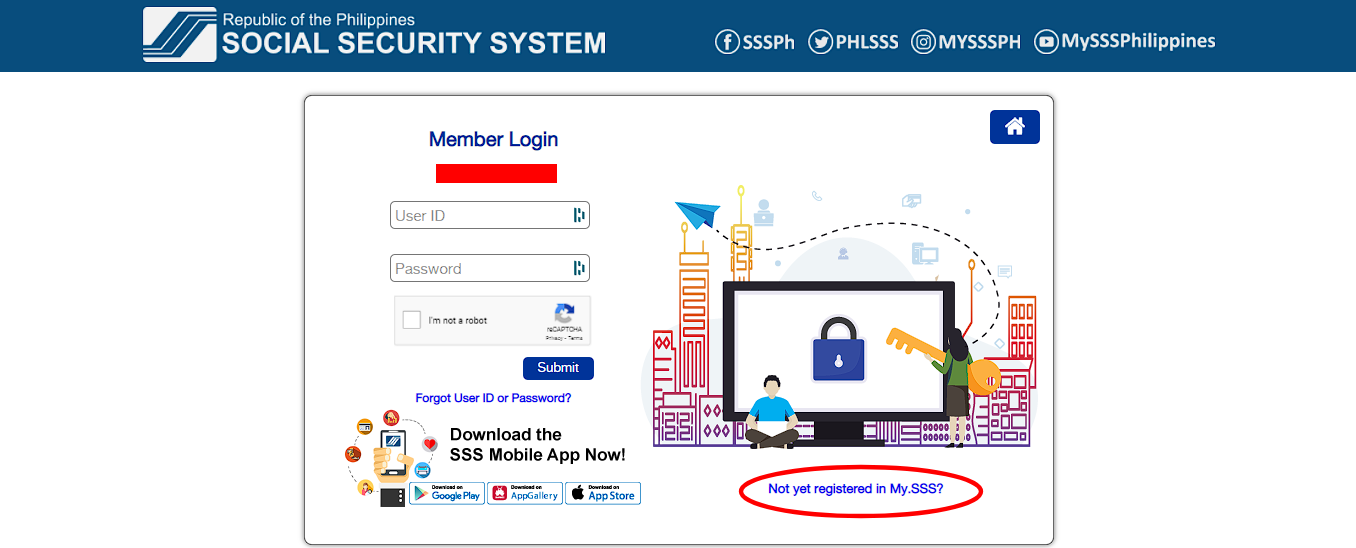 Step 3: Provide your personal information
Fill in all the required fields under the Online Member form such as your SS Number, Email Address, Preferred User ID, etc. Make sure to select your Registration Preference (Savings Account, Mobile Number Registration in SSS, UMID Card, Date of Last Loan, etc.). Tick the 'I accept the Terms of Service' before hitting the 'Submit' button.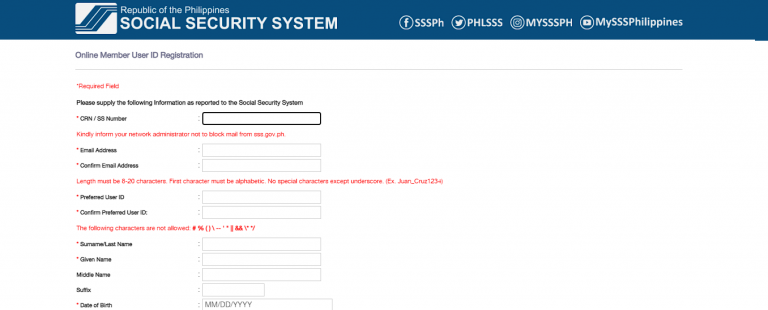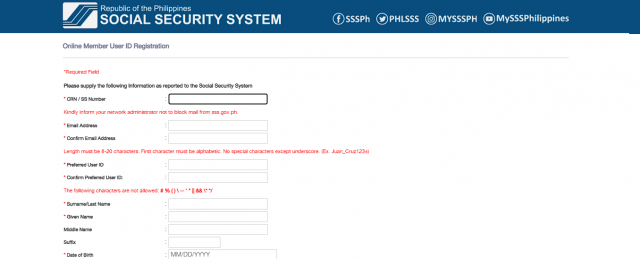 A pop-up will then ask ''This action will send the supplied information to SSS. Do you want to continue?' Just click 'Ok' to receive the 'Thank You' page.
Step 4: Check account activation via email
SSS will send your account activation via the email you have provided in the online membership form. Once received, read through the email and click the embedded link along with the "Please activate your account by clicking here." Make sure to activate your account within five (5) working days, otherwise, the link will expire and you will need to repeat the registration process.
Note: Be cautious about keeping your User ID and Password. Keep them away from unauthorized persons.
Step 5: Activate your My.SSS account
Activate your account by typing in the last six (6) digits of your CRN / SS Number and hit 'Submit.'
Step 6: Create a strong password
Create a strong password with a length of at least eight (8) and a maximum of 12 (twelve) alphanumeric characters. The online portal recommends that the first character must be alphabetic, with no special characters, and must be different from the User ID. (Ex. JDCruz21)
Click 'Submit' to conclude the registration process.
Log In (Member / Employee)
Head to https://www.sss.gov.ph/ once again to log in. Type in your My.SSS User ID and password. Don't forget to tick the "I'm not a robot" box before hitting the 'Submit' button.
Forgot password?
In case you forgot your user ID and/or password, simply select the "Forgot User ID or Password?" link under the 'Submit' button. Once clicked, you will be directed to a page where you'll have to enter your user ID (if you forgot only your password) or your email address (if you forgot both your user ID and password). Click 'Submit' and check your email for instructions from SSS about the retrieval or reset of your My.SSS account login details.
Need further assistance? You may email them at onlineserviceassistance@sss.gov.ph, indicating your Common Reference Number (CRM) / SSS Number and complete name. Moreover, any other concerns and inquiries contact the SSS hotline 1455 / Toll-Free No. 1-800-10-2255777 / SSS email at member_relations@sss.gov.ph – WhatALife.ph
---
Also Read: How to Check Your SSS Contributions Online (browser version)