Estimated reading time: 6 minutes
Starting a business can be a thrilling but also overwhelming experience. There are many steps that need to be taken to ensure that the business is set up correctly and legally. One of the crucial steps in establishing a business is registering the business name. In the Philippines, the Department of Trade and Industry (DTI) is the government agency responsible for the registration of business names.
Registering a business name with DTI is essential to avoid legal complications that may arise in the future. This process helps business owners to secure their business names and avoid duplication with other businesses. The DTI Business Name Registration also helps in ensuring that the company is legitimate and recognized by the government.
How to Check Your Business Name during DTI Registration
The business name registration check is an important step when you register your business in DTI. Through it, you can identify whether your business name is not being used by other business owners. A unique business name with no duplicates makes it legal to use in the Philippines.
To check your business name in DTI, simple visit the BNRS search page.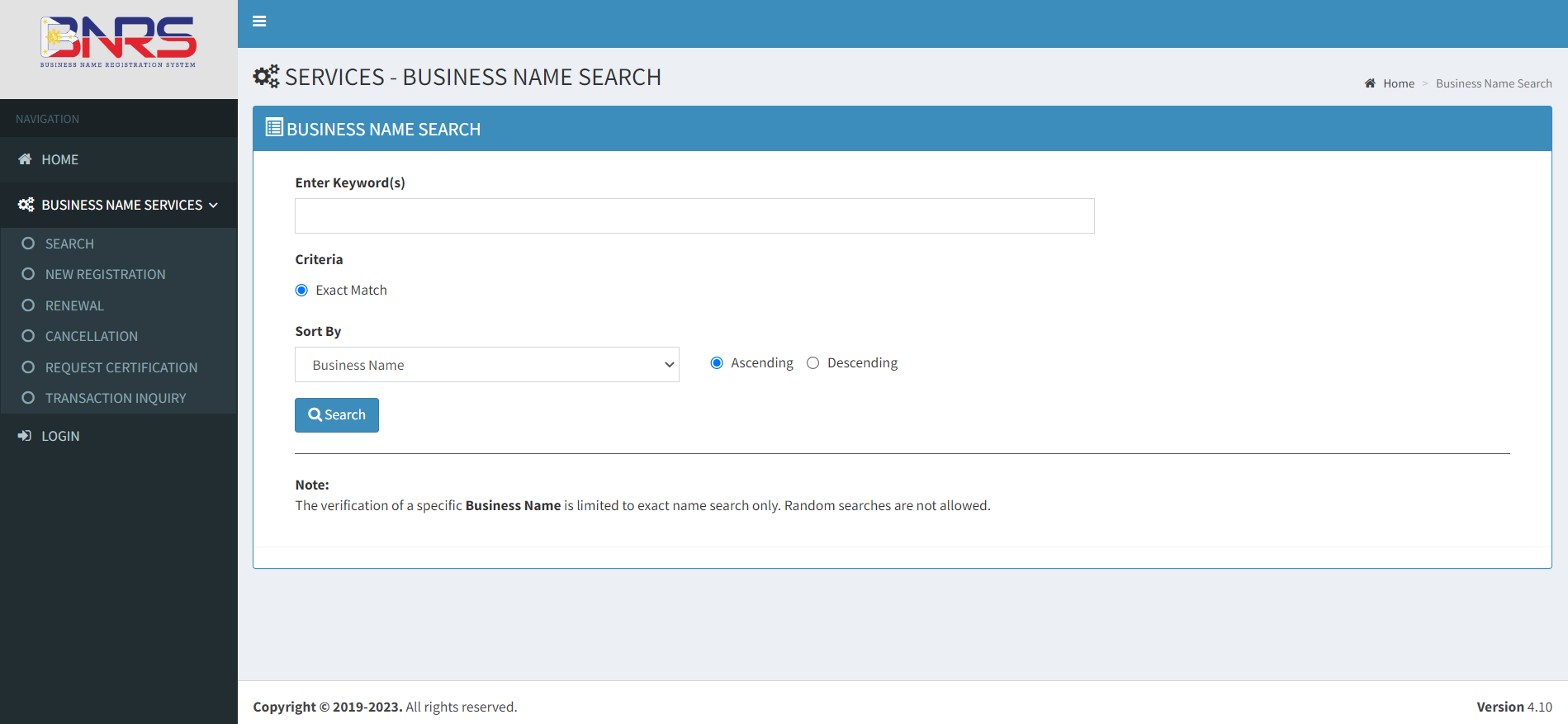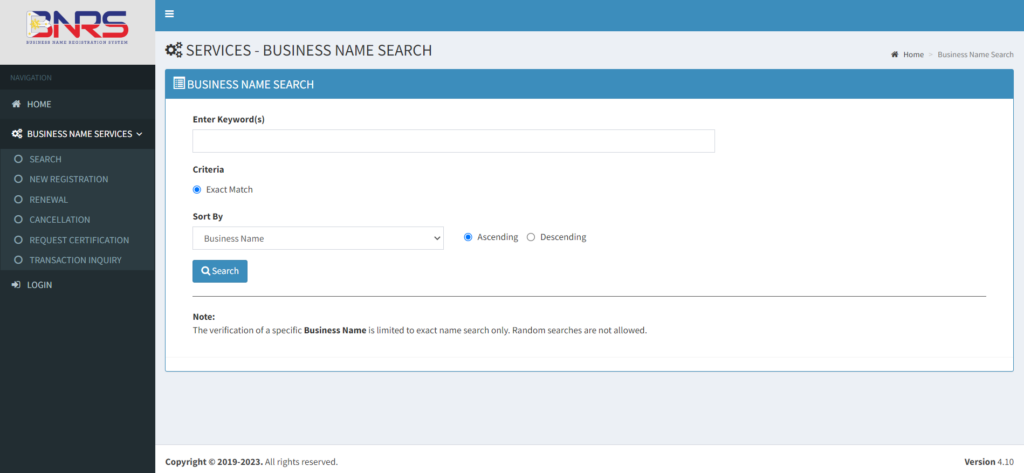 Then type in your business name and press enter or click the "Search" button. It will reveal the results whether there are already registered businesses with your chosen business name.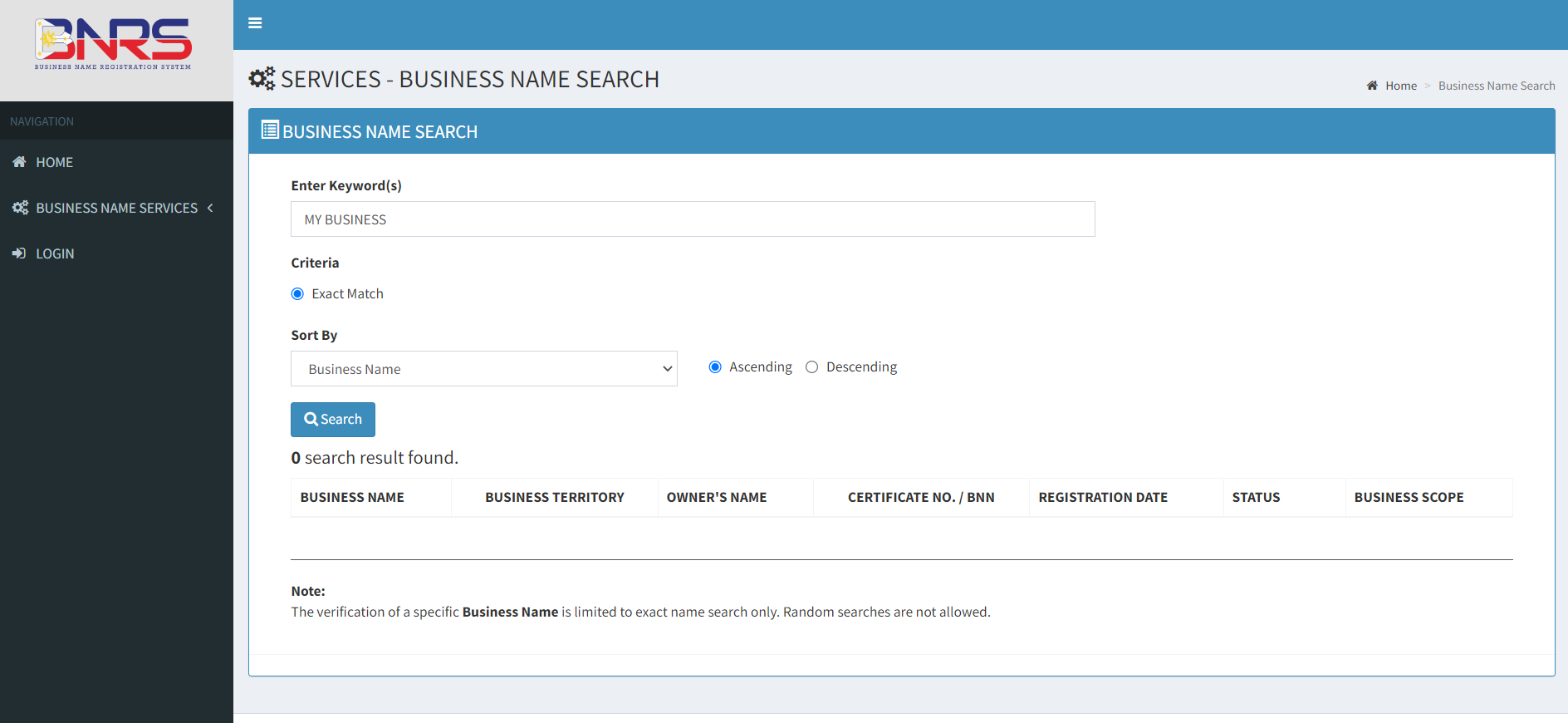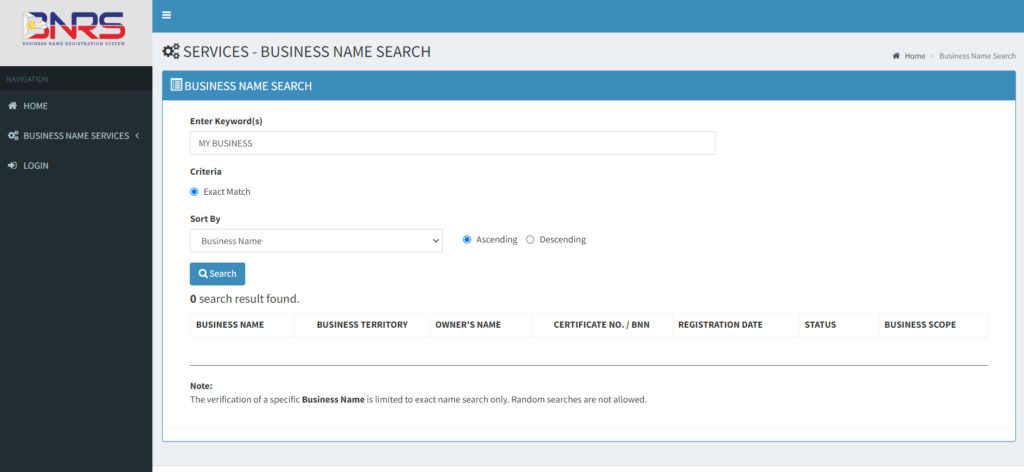 If it reveals 0 search results, then your business name is good to go.
Register your business name in the Department of Trade and Industry (DTI)
How to Register Your Business Name with DTI
For Online Registration:
1. Prepare your business name. Your business name (BN), according to DTI, is any name you plan to use in connection with your business that is different from your real name.
2. Confirm the availability of your business name. After coming up with your potential company names, visit the  DTI's website to conduct a business name registration check.
3. Fill up the online registration form. You can proceed and complete  DTI's online registration form using their Business Name Registration System if your business name is accessible. You will need to use the reference code that will be given to you in any transactions with BNRS, so make a note of it.
This part will also ask for the following details:
Proprietors information
Business scope
Dominant name
Business descriptor
Name availability
Confirmation of details and reference code
Business details
4. Pay the registration fee. Follow the instructions after completing your online registration form, and within seven calendar days of the application date, pay the required registration cost. Paying the charge is possible using GCash, PayMaya, or a credit/debit card.
Registration fee:
| | |
| --- | --- |
| Territorial Scope | Fee |
| Barangay | Php 200 |
| City/Municipality | Php 500 |
| Regional | Php 1,000 |
5. Download your certificate. Your Company Name will be successfully registered after payment confirmation. Accept the Terms and Conditions, then go to Transaction Inquiry and enter the reference code you were given when you filled out the registration form.
For In-Person Registration:
Proceed to any DTI office or Negosyo centers near you
Submit all the documentary prerequisites. Have multiple business name options in case the one you picked is already unavailable
Pay for the registration fee
Once your business name is approved, wait for the Certificate of Business Name Registration issued by DTI
Importance of Registering With DTI
It is prohibited by Republic Act (RA) 3883 to use a business name without first registering it with the DTI. Your right to use your company name will be protected by registration for five years, after which it must be renewed to maintain its legal validity. Failure to do so will result in a penalty equal to an extra 50% of the registration price.
Also, it's crucial to understand that choosing a business name is only one of the documentation needed when registering a company in the Philippines. It's not a license to operate.
Eligibility for Business Registration
Anybody who satisfies the requirements established by DTI may submit an application for company registration:
Those who are at least 18 years old. Non-Filipino nationals under 18 must provide documentation from their country of residence, where the legal age is lower than 18.
Filipino National
Non-citizens who possess a sole proprietorship certificate or a certificate of authorization to do business in the Philippines
Stateless Person
The BN application form, a valid photo ID, and an authorization letter signed by the business owner are all necessary papers that must be provided in order for an authorized representative to register your business on your behalf.
DTI Registration Requirements
DTI requires applicants to provide the following documents upon registering their business in the Philippines. You must provide the following:
General Requirements:
Present any of the following government-issued valid ID:

Passport
Driver's license
UMID
PRC ID
NBI Clearance
Police Clearance (in ID form)
Postal ID
Voter's ID
OWWA ID
Seaman's Book
IBP ID
Senior citizen ID
PWD ID
Government office ID
Validated state college/university ID
Requirements for Foreign Nationals:
Certified copy of Alien Certificate of Registration
Certificate of Registration for Sole Proprietorship/Certificate of Authority to engage in business in the Philippines
Requirements for Recognized Stateless Person:
Clear certified copy of the Certificate of Recognition issued by the DOJ-RSPPU or presentation of the original Certificate of Recognition and submission of a duplicate copy.
Benefits of DTI Business Name Registration
There are many benefits to registering your business name with DTI. Here are some of the most significant benefits:
Legal protection for the business name – Registering your business name with DTI provides legal protection against unauthorized use by other individuals or companies.
Allows businesses to transact with government agencies – DTI Business Name Registration is required when dealing with government agencies, such as the Bureau of Internal Revenue (BIR) and Social Security System (SSS).
Legitimizes the business in the eyes of customers – DTI Business Name Registration is an excellent way to increase the credibility and legitimacy of your business.
Tips to Remember for a Successful DTI Registration
Here are some tips to remember when it comes to DTI Business Name Registration Check:
Always do a DTI Business Name Registration Check before registering a business name with DTI. This will help you avoid using a name that is already registered, preventing legal complications in the future.
When registering a business name with DTI, make sure that the name is not too generic or similar to an existing business name. This can cause confusion among customers and result in legal issues.
Keep your Certificate of Registration safe and secure as proof of ownership of the business name.
Remember to renew your business name registration every five years to avoid losing ownership of the business name.
DTI Business Name Registration is required when dealing with government agencies, so make sure to register your business name to avoid any delays or issues when transacting with these agencies.
DTI Business Name Registration is a crucial step in setting up a business. It helps to ensure that the business is legitimate and recognized by the government. Doing a DTI Business Name Registration Check is also essential to avoid legal complications in the future. – WhatALife!/Jayve
---
Also read: