Gaisano has announced that it will offer an incentive to its employees, "especially those belonging to the A4 category (Frontline personnel in essential sectors)," who have received the COVID-19 vaccine.
"As some employees were undecided to get their COVID-19 vaccine shots, the company has launched a series of Information Campaigns to help eliminate MISINFORMATION regarding COVID-19 vaccine," the company said in a statement.
For the incentive, Gaisano will offer all employees "a chance to win 2.65 million pesos of cash once they are fully vaccinated."
"There will be a P250,000 (1 winner), P100,000 (2 winners), P50,000 (4 winners), P20,000 (50 winners), and P10,000 (100 winners) via raffle draw for those who got vaccinated, but what's more important is that an employee can win MORE THAN ONCE," Lovin Naive stated, Gaisano Operations Manager. "That means, the earlier they get vaccinated, the bigger their chances of winning!"
The first batch of vaccines privately procured by the company, good for more than 1,000 employees, will be arriving this month.
Gaisano deemed such campaign will educate others on how vaccination can help prevent severe symptoms of COVID-19, minimize the virus from spreading, and protecting oneself and the community.
"More importantly, we hope this will help us get a step closer towards 'back-to-normal life' thru herd immunity," it added.
See full company statement below.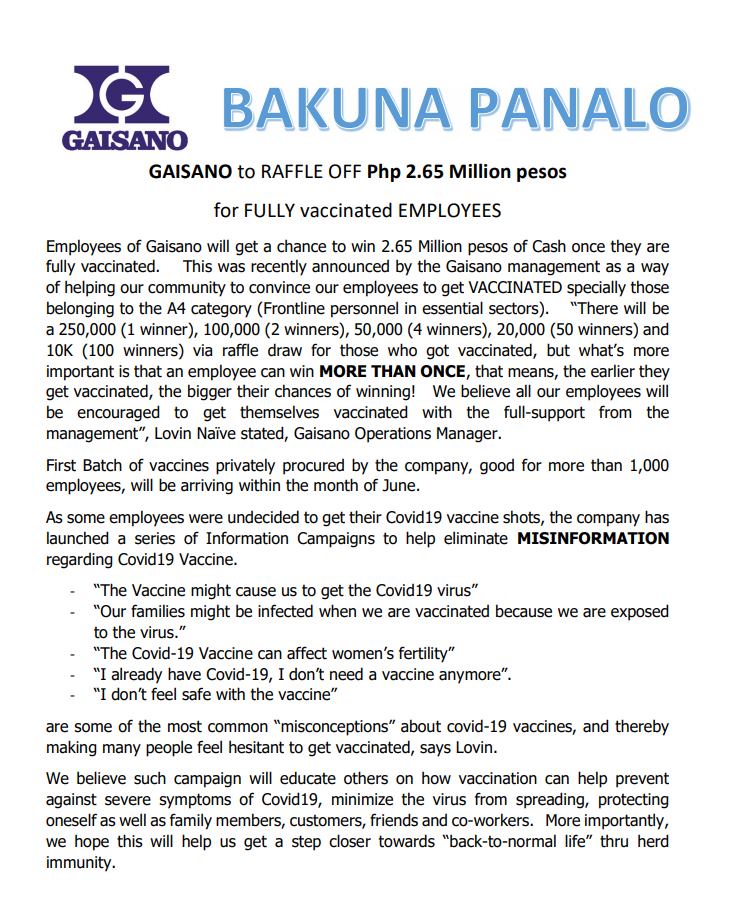 —(Source: Gaisano)
---
Also Read: CdeO residents can now pre-register for COVID-19 vaccine