Good News! The local government of Cagayan de Oro now open its pre-registration for the COVID-19 vaccine to all its residents, including Priority Groups A1 to C.
Visit https://services.cagayandeoro.gov.ph/vaccprereg/ to register today!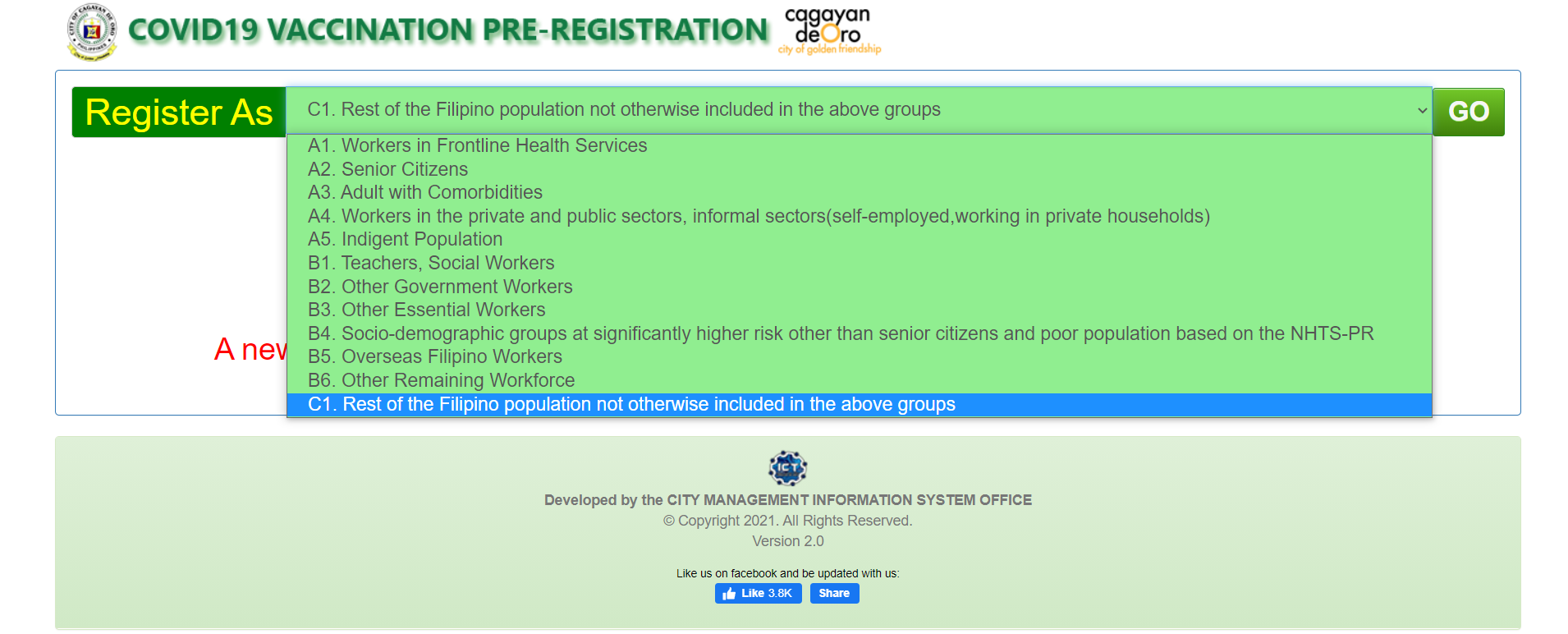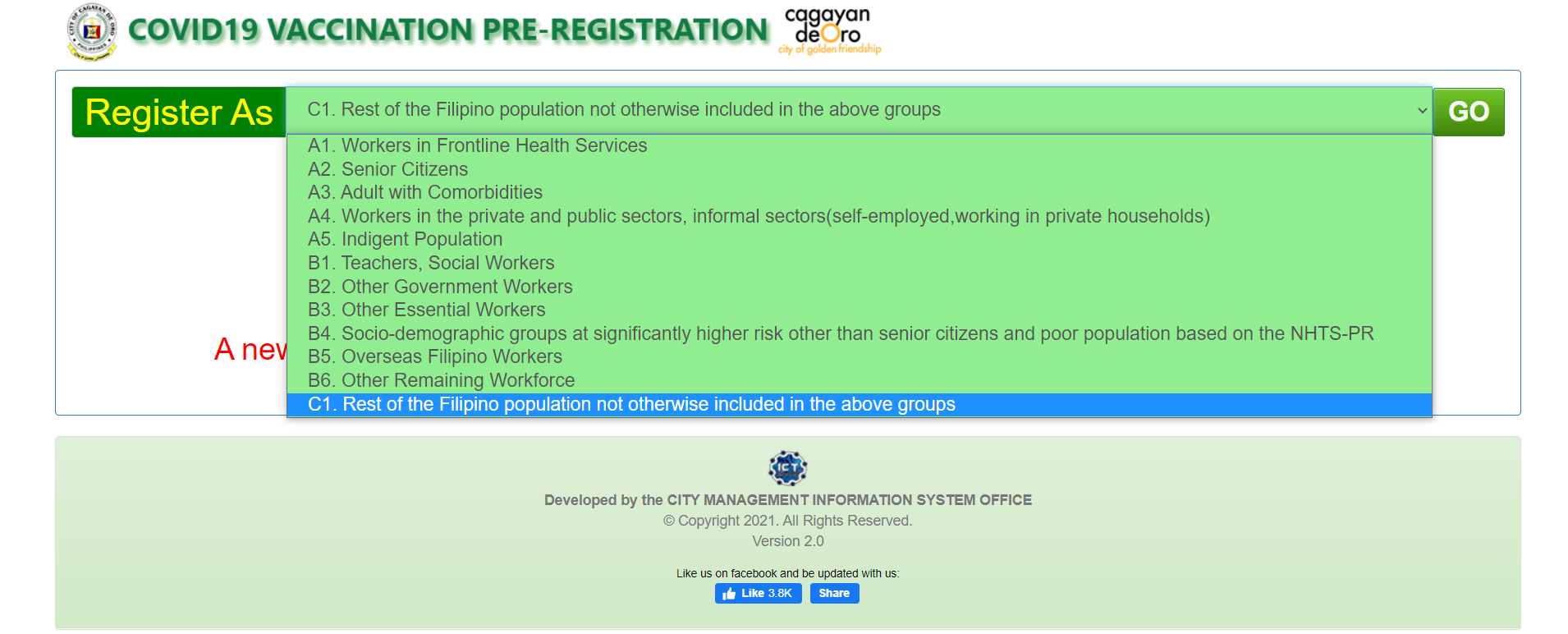 See below the different priority groups and subgroups.
A1. Workers in Frontline Health Services
Frontline workers in health facilities in both local and national, private and public, professional and non-professional—such as nursing aides, students, janitors, barangay health workers, BHERTS, and others.
A1.1 Immediate Family members of healthcare workers

Requirements:

Valid Company ID of HCW
Valid ID of Family member
Marriage / Birth Certificate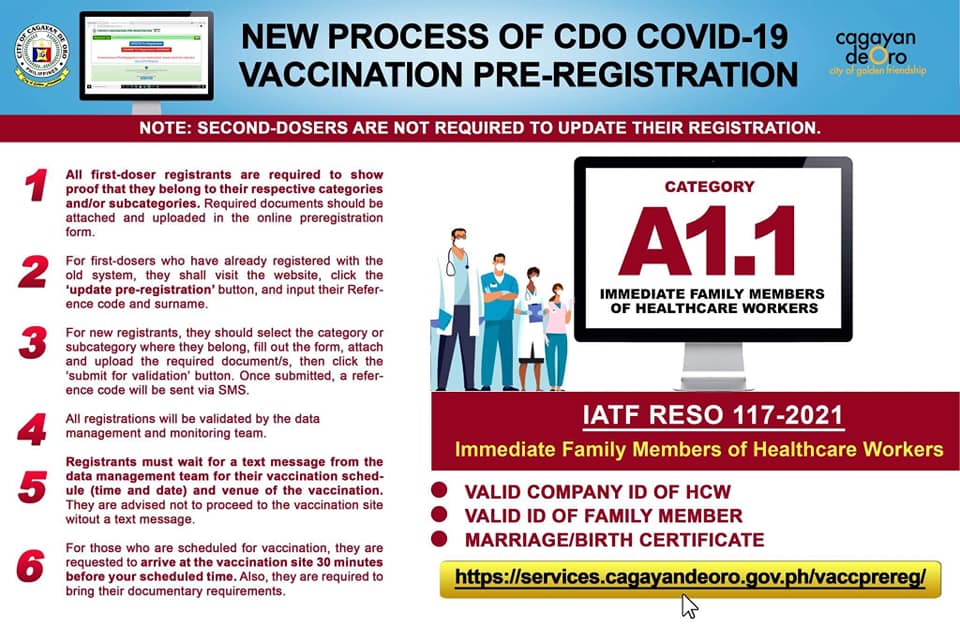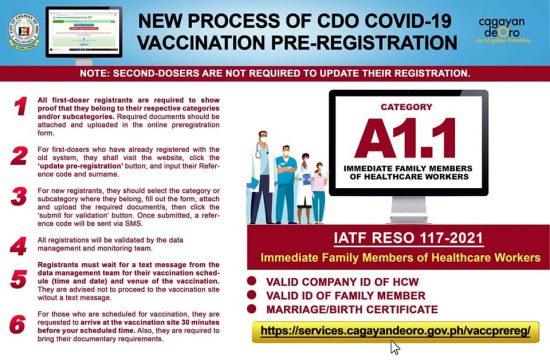 A1.2 OFWs for deployment within 4 months

Requirements

Valid ID
Document showing deployment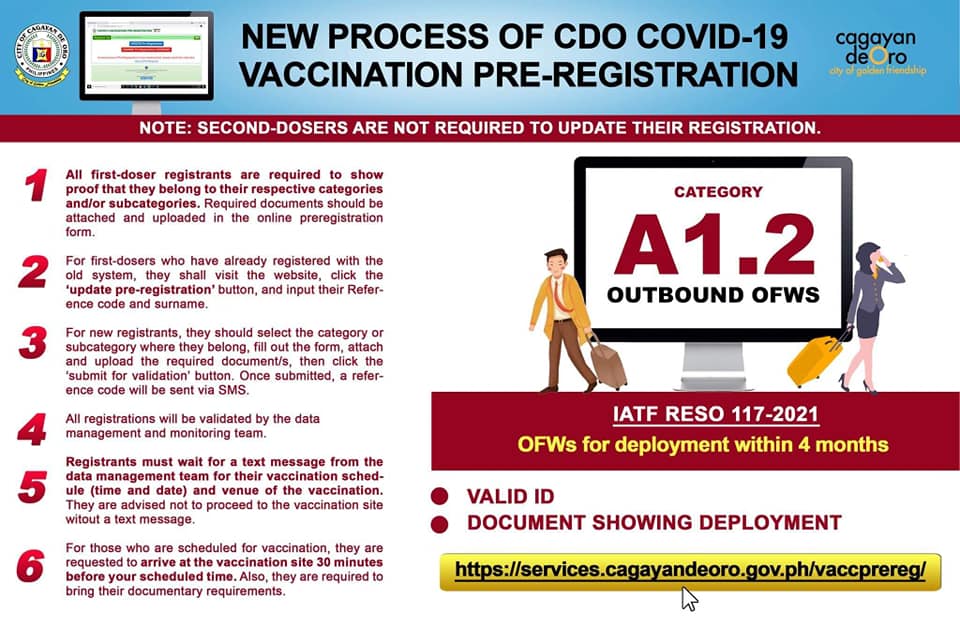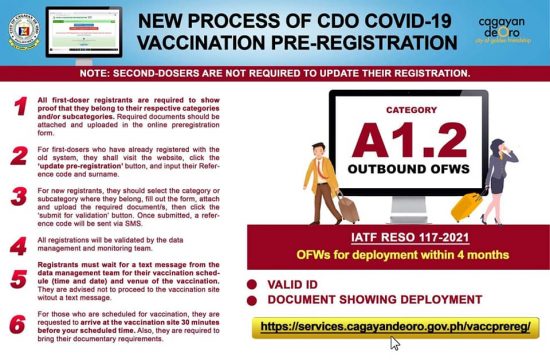 A2. Senior Citizens (60 years old and above)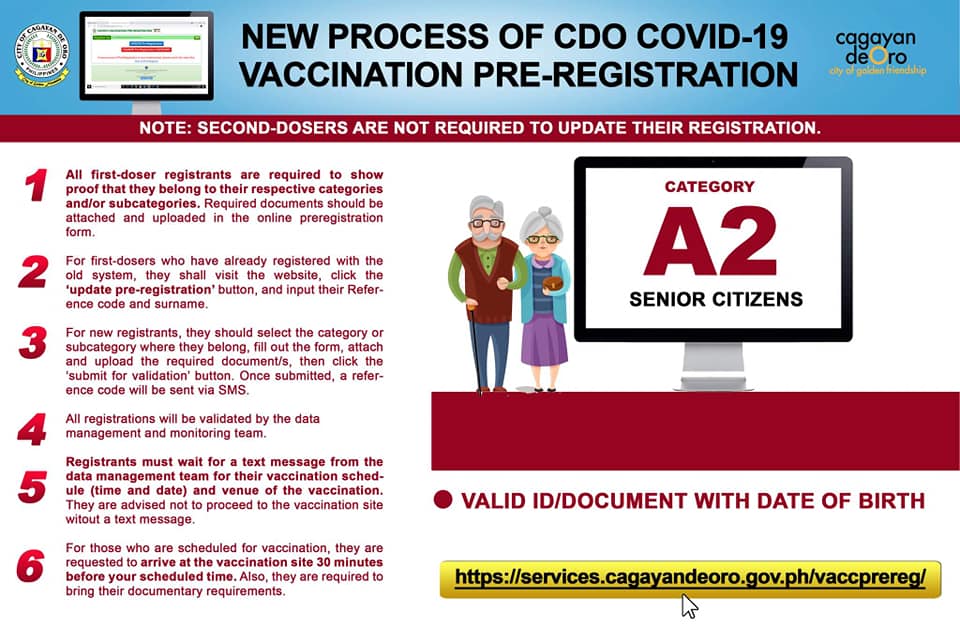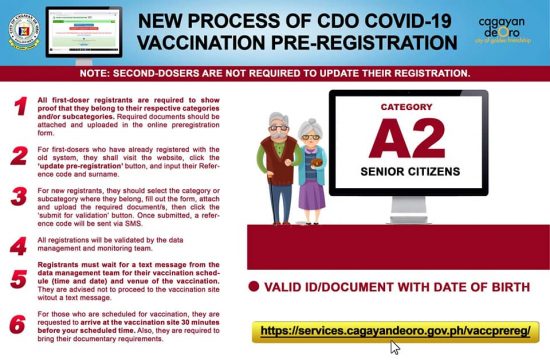 READ: How to register for COVID-19 vaccine for Senior Citizens in Cagayan de Oro
A3. Adult with Comorbidities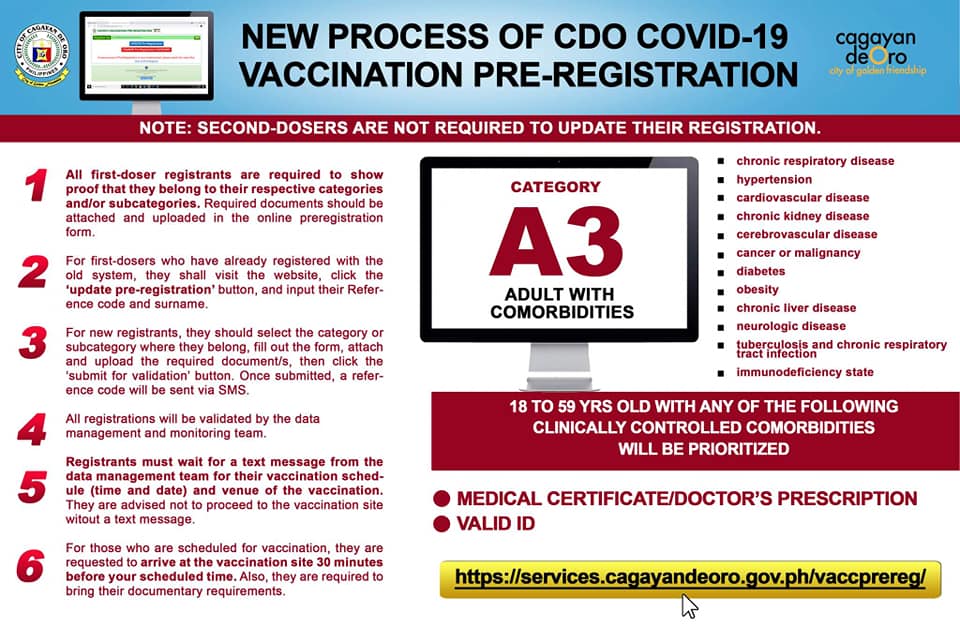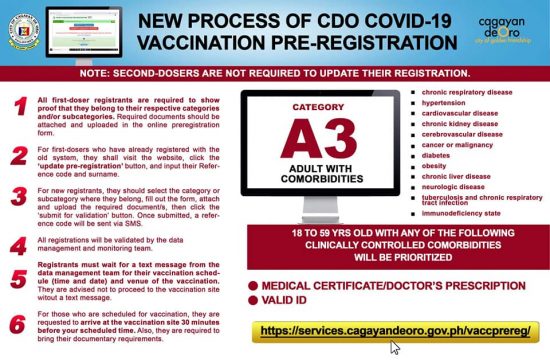 REQUIREMENTS
Bring medical clearance for vaccination from your doctor/any latest medical records to those with comorbidities during vaccination.
COMORBIDITIES
CHRONIC RESPIRATORY DISEASE

Asthma and respiratory Allergies
Chronic obstructive pulmunary disease
Interstital lung disease
Cystic Fibrosis
Pulmonary hypertension
CARDIOVASCULAR DISEASE

Hypertension
Coronary heart disease
Cardiomyopathies
Peripheral artery disease
Aortic diseases
Rheumatic heart disease
Congenital heart disease
CEREBROVASCULAR DISEASE

Stroke and transient ischemic attack
CHRONIC LIVER DISEASE

Hepatits
Cirrhosis
Non-alcoholic fatty liver disease
NEUROLOGIC DISEASE

Dementia
Alzheimer's Disease
Parkinson's Disease
Epilepsy and Seizures
Bell's palsy
Guillan-Barre Syndrome
Acute spinal cord injury
CHRONIC RESPIRATORY TRACT INFECTION

Pulmonary Tuberculosis
Chronic bronchitis
Histoplasmosis
Bronchiectasis
IMMUNODEFICIENCY STATE

Primary immunodeficiencies (genetic)
Secondary or acquired (prolonged use of corticosteroids)
HIV Infection
Solid organ or blood transplant patients
OTHER DISEASES

Sickle Cell Disease or Thalassemia
Down Syndrome
A4. Workers in the private and public sectors, informal sectors (self-employed, working in private households)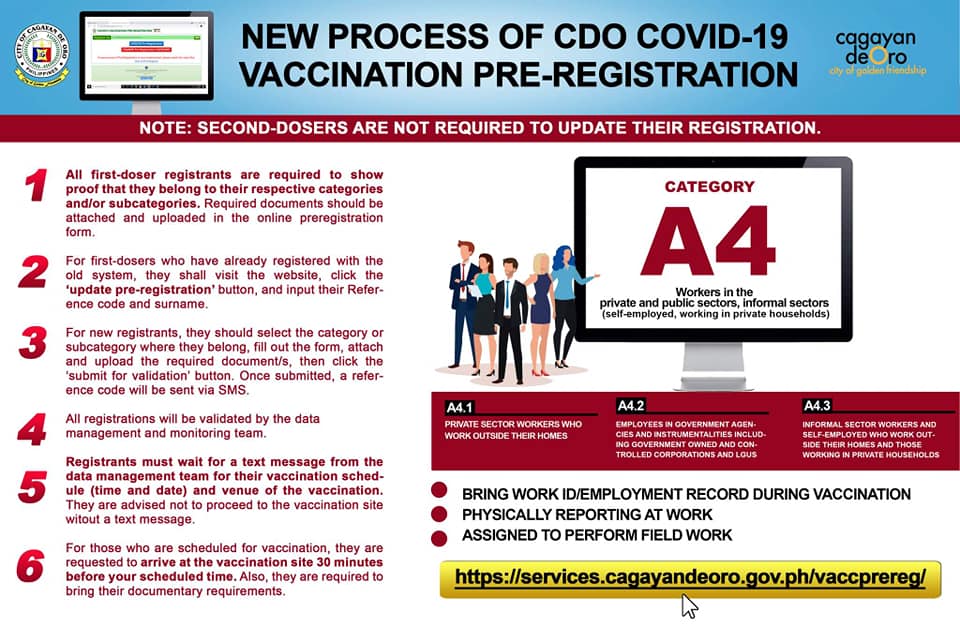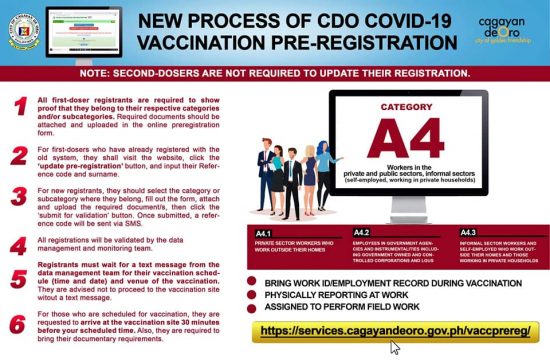 REQUIREMENTS
Bring work ID / employment record during vaccination
Physically reporting at work
Assigned to perform fieldwork
SELECT WHICH SUB-CATEGORY WHERE YOU BELONG
A4.1 Private sector workers who work outside their homes
A4.2 Employees in government agencies and instrumentalities including gov't own and controlled corporations and LGUs
A4.3 Informal sector workers and self-employed who work outside their homes and those working in private households
Vaccination rollout for the following categories below are not yet announced. Stay tuned for updates!
A5. Indigent Population
REQUIREMENTS
Beneficiaries of 4Ps / NHTS / SAP
Bring beneficiary ID / documents during vaccination
B1. Teachers, Social Workers
REQUIREMENTS
Private and government not included in the previous categories
Bring work ID / employment record during vaccination
B2. Other Government Workers
REQUIREMENTS
Local and national government offices with home residence at Cagayan de Oro city
Bring work ID/employment record during vaccination
B3. Other Essential Workers
REQUIREMENTS
Those not covered by A4 category
Private, NGOs
Bring work ID/employment record during vaccination
B4. Socio-demographic groups at significantly higher risk other than senior citizens and poor population based on the NHTS-PR
REQUIREMENTS
PWDs, Single parents, IPs, agricultural groups, fishing groups
Bring organization ID
B5. Overseas Filipino Workers
REQUIREMENTS
Not covered by A44
Not scheduled to leave the country within 2 months
Bring passport and working documents
B6. Other Remaining Workforce
REQUIREMENTS
Other workers not included in the previous categories
Bring valid ID
C1. Rest of the Filipino population not otherwise included in the above groups
REQUIREMENTS
Bring documentary proof that you are above 18 years old
---
How to Register?
Step 1: Simply go to https://services.cagayandeoro.gov.ph/vaccprereg/ then select the category where you belong.
Step 2: Fill-up the information form and upload your required documents.
Step 3: Once submitted, you will receive a TEXT message through your provided contact number on when and where is your scheduled vaccination. Also, save your Reference Code so you can update your Pre-registration details.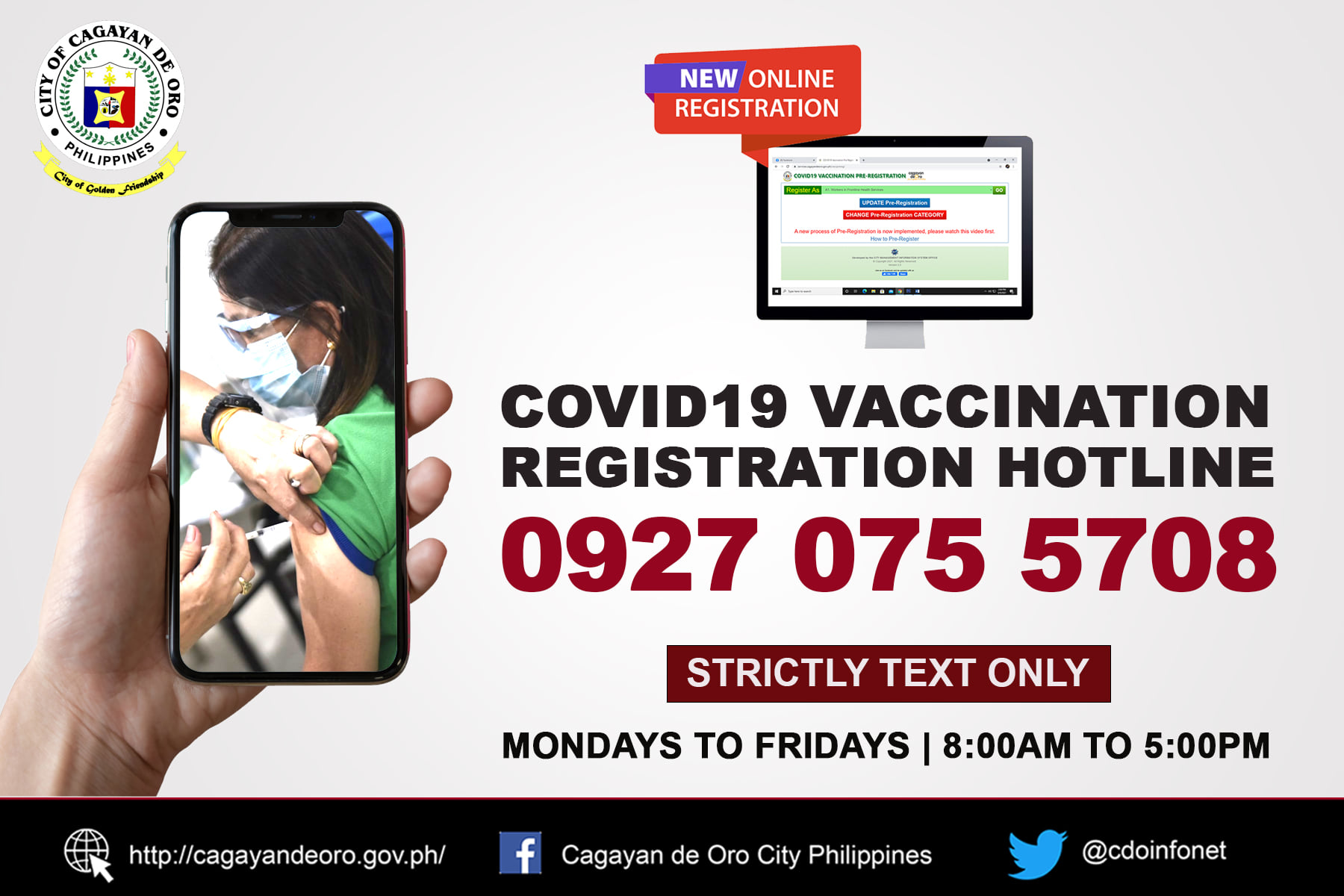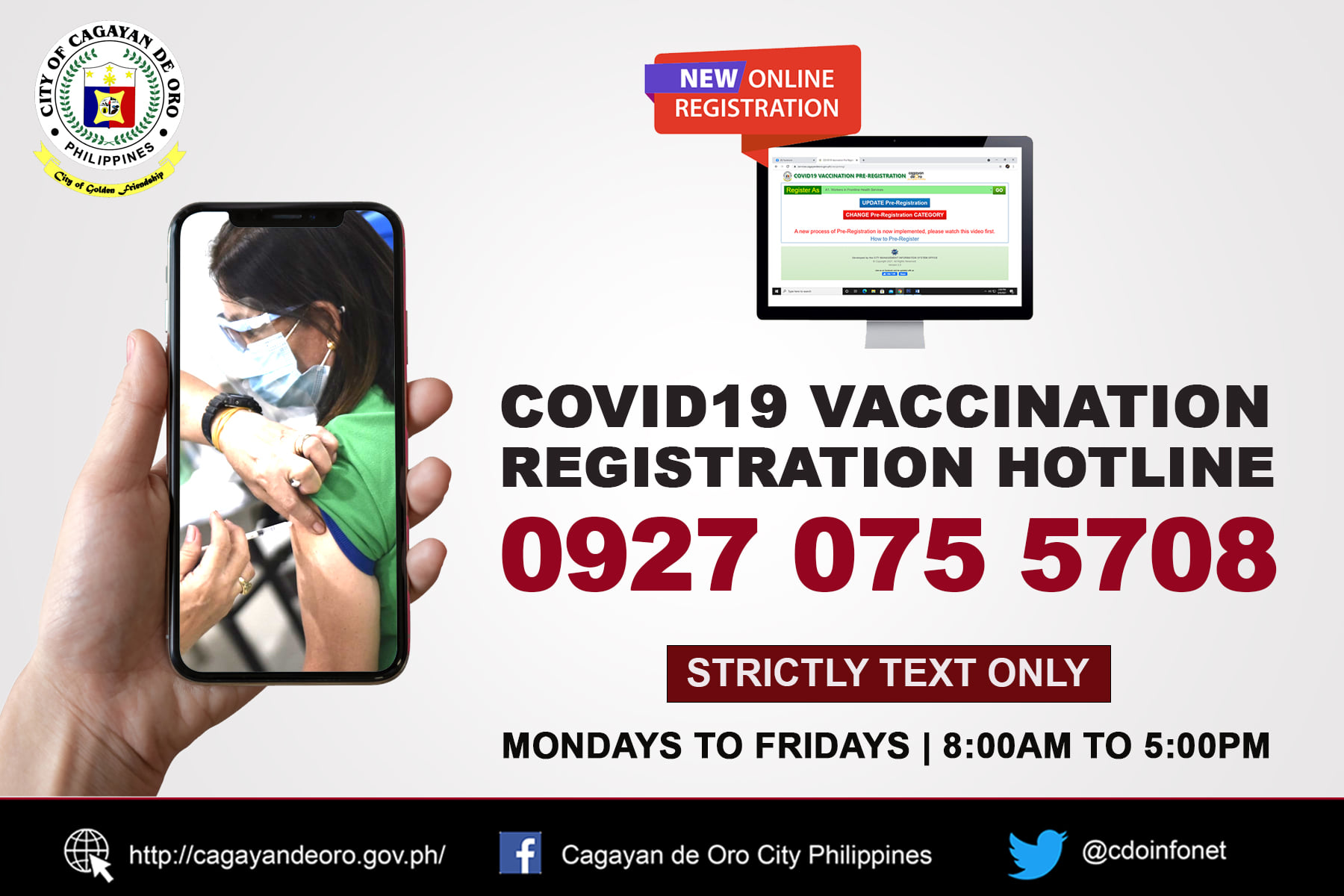 For a visual step-by-step guide, check out this video.
---