Below are the frequently asked questions on priority eligible group A3 based on DM 2021-0157: Implementing guidelines for priority group A3 and further clarification of the national deployment and vaccination plan for COVID-19 vaccines.
Who are included in Priority Eligible Group A3?
This group includes adults 18 to 59 years old with controlled comorbidities not included in A1 (frontline workers in health facilities) and A2 (senior citizens).
How do you know that certain comorbidity is controlled?
Persons with controlled comorbidities are those who:
Have no symptoms
Have stable vital signs
Have had no attacks, admissions, or changes in medication for the past three months
Currently not hospitalized
Who should be prioritized among A3 adults with comorbidities?
Filipinos 18 to 59 years old with any of the following clinically controlled comorbidities will be prioritized:
Chronic respiratory disease
Hypertension
Cardiovascular disease
Chronic kidney disease
Cerebrovascular disease
Cancer or malignancy
Diabetes
Obesity
Chronic liver disease
Neurologic disease
Tuberculosis and chronic respiratory tract infection
Immunodeficiency state
Why do we need to prioritize persons with these controlled comorbidities?
Persons with these comorbidities are prioritized because they are among the top cause of morbidity and mortality in the Philippines and would have higher risk of having severe COVID-19 if infected.
Can other comorbidities not stated in the list also be categorized under A3?
Yes, the group includes ALL adults with controlled comorbidities. However, with supply coming in batches, we need to prioritize and protect those with a higher risk of getting severe COVID-19 if infected. Once additional supplies arrived, those with comorbidities not on the list will be scheduled for vaccination.
Who among group A3 will need medical clearance?
Persons with any of the following comorbidities will need a physical or electronic medical clearance from their attending physician:
Autoimmune disease
Human Immunodeficiency Virus
Cancer / Malignancy
Transplant patients
Undergoing steroid treatment
Patients with poor prognosis / bed-ridden
Those persons with other comorbidities not mentioned above do NOT need a medical clearance before vaccination, but should show any proof of comorbidity and undergo screening on vaccination day.
Where can I get medical clearance?
You can get your medical clearance from your attending physician through:
Teleconsultation
Consultation at designated facilities
Rural Health Units or other primary care centers designated by the LGU
LGUs shall ensure that mechanisms to provide medical clearances to A3 are accessible and available to all members who need it.
If I don't need medical clearance, do I need any other documents?
Yes, those persons with other comorbidities not needing medical clearance should now show any proof of comorbidity. This is to certain their eligibility as part of A3.
What can I present as proof of comorbidity?
Proof of comorbidity can be any of the following:
Medical certificate from an attending physician
Prescription for medicines
Hospital records (such as discharge summary, medical abstract, surgical records, and pathology reports, etc.)
Medical clearance is NOT necessary prior to vaccination for this subgroup.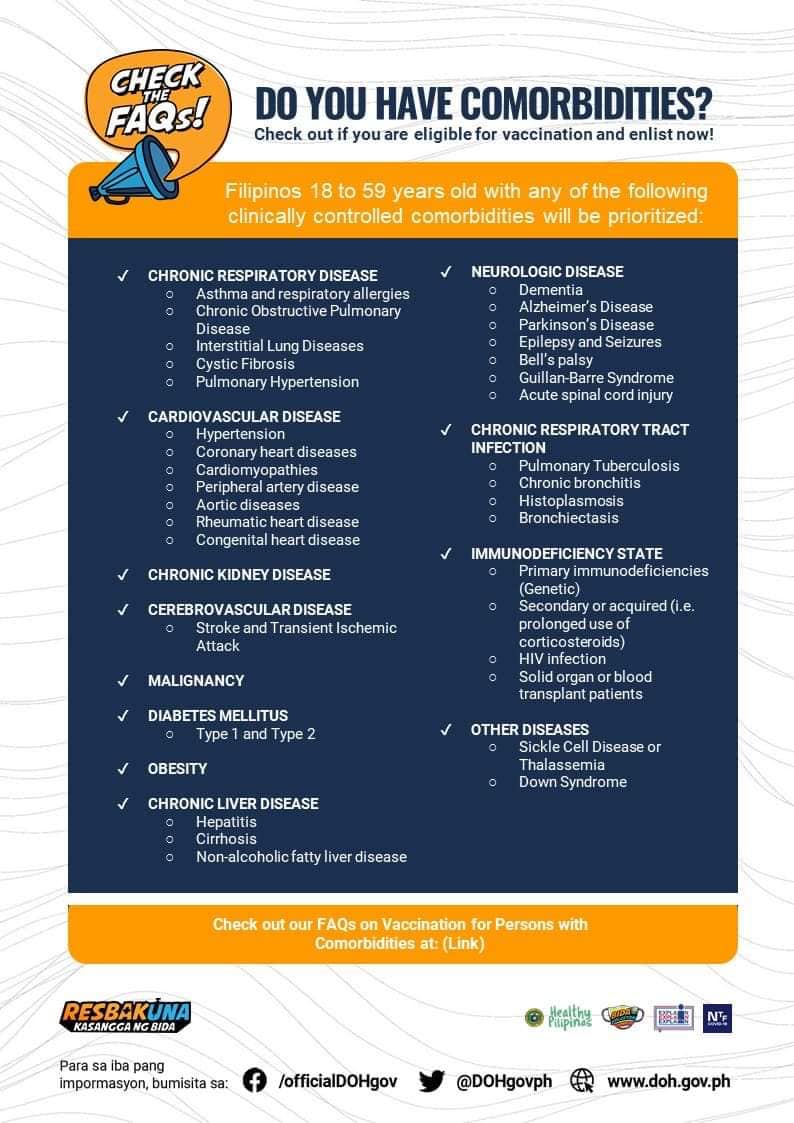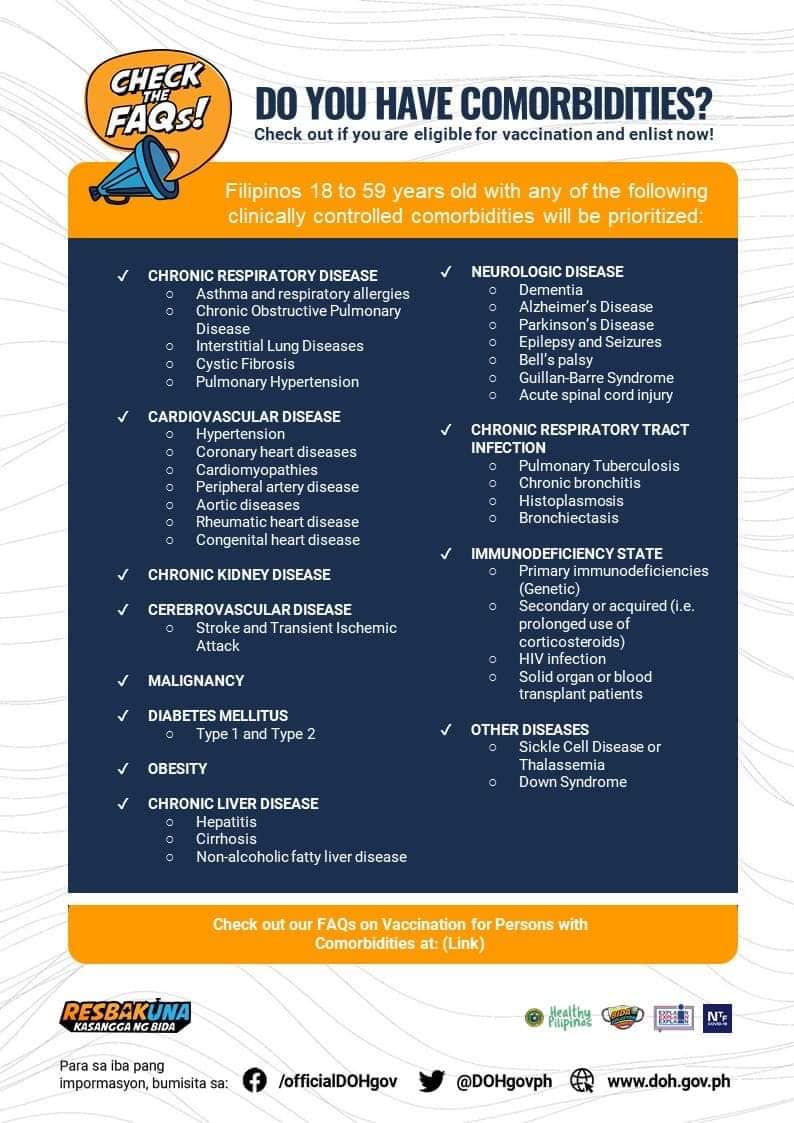 Where will I register for vaccination?
All Filipinos shall register through their LGUs, based on the address of their permanent residence, current residence, or workplace.
For Kagay-anons, you can pre-register now online at https://services.cagayandeoro.gov.ph/vaccprereg/
—(Source: Department of Health)
---