The holiday season is just around the corner, but because of the pandemic, festivities this year will undoubtedly be different. As the traditional Noche Buena and Media Noche fast approaches, the Department of Health (DOH) has issued guidelines on how we can celebrate safely and responsibly. DOH has warned against singing karaoke with people other than those you live with at home. They also advised limiting social interaction to less than 15 minutes, based on a recent study that suggests that even 15 minutes of interaction can result in the coronavirus disease (COVID-19) infection. "So
kung hindi naman natin magagawa yan
,
kailangan lang magkaroon ng pag
-avoid
sa mga ganitong
gatherings.
O di kaya
if we can maintain social distancing or physical distancing during this gathering," Health Undersecretary Maria Rosario Vergeire said during an interview on "
Unang Hirit
" on Tuesday, November 10. DOH has also recommended for celebrations to be held in well-ventilated areas or open spaces.
Vergeire said that in areas under general community quarantine (GCQ), up to 10 people are allowed in a gathering. Those under modified GCQ could have until 50 guests. "That is still a lot of people and infection may occur," she said. "
Kaya nga po sinasabi natin baka naman pwede na ma-
avoid
na lang natin 'yung mga ganitong pagkakataon
during the holidays,
talagang
within the households muna ang magsaya.
Ang mga ibang kamaganak, maaari naman
through social media o
mga
Zoom
na tinatawag natin ngayon
," she added. Another thing to avoid is buffets. Vergeire advised to opt for plated foods, and if families insist on gatherings, to stick to packaged meals. "
Para hindi na tayo nagsasabay-sabay sa pagkuha ng pagkain, hindi rin tayo nagkakasalo-salo sa pagkain
," she said.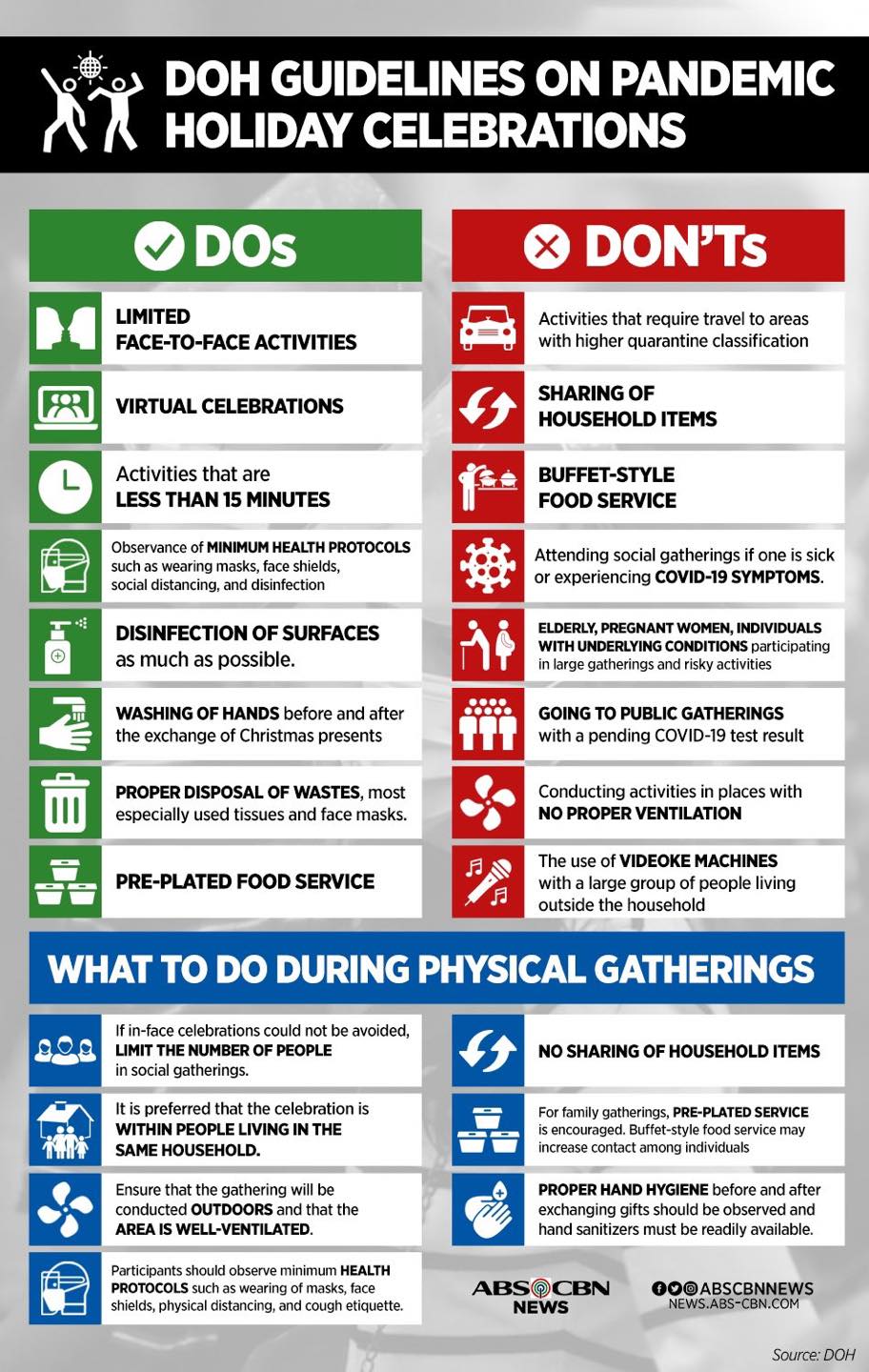 See below the DOH Health Tips for this holiday season.
1. Plan Christmas activities for yourself and your family to prevent tension and stress. 2. Take care of yourself and your family against changes in temperature. Children and adults may become susceptible to cough, colds, and fever. If your cough, colds, and fever are more than five days, consult your nearest health station. 3. Prepare a well-balanced Noche Buena and Media Noche meals. Make sure that vegetable and fruits are on the table together with your traditional ham and queso de bola. 4. Be kind to your heart. Eat a moderate amount of nutritious foods to sustain your daily activities. 5. Drink plenty of liquids. Drink plenty of water and fruit juices to facilitate excretion. 6. Have enough sleep. Give yourself enough sleep so that the mind and body can rest. 7. Avoid crowded areas because bacteria that cause diseases multiply and spread easily. Airy and well- ventilated areas are essential to healthy living. 8. Use environment-friendly Christmas decors that cost less and are not fire hazards. Save decors for next year and store them in a safe place. 9. Buy toys with no pointed or sharp edges; nor too small toys that can cause choking. 10. Do not use fireworks and firecrackers during the Holidays. Make some noise even without fireworks and firecrackers. As of Wednesday, the Philippines has a total COVID-19 confirmed cases of 401,416, with 31,489 active cases, 362,217 recoveries, and 7,710 deaths.