PRESS RELEASE: From May 10 to 16, shoppers can look forward to up to 30% off on select local products
As entrepreneurs continue to find ways to thrive amidst the challenges posed by health and safety protocols, Shopee, the leading e-commerce platform in Southeast Asia and Taiwan, partners with the Department of Trade and Industry (DTI) to support local businesses through the National Food Fair 2021.
Following its first successful run in May of 2020, Shopee and DTI are relaunching the National Food Fair this year to give micro, small and medium enterprises (MSMEs) an online platform to showcase their products during these trying times. This year's National Food Fair will follow last year's online set-up, which was the first of its kind. From May 10-16, buyers can find products such as jams, pastries, condiments, and more from local sellers at the National Food Fair.
"We recognize the impact this pandemic has had on our local businesses. Now more than ever, it is crucial that we provide our local businesses with opportunities to bounce back and stay afloat," said Shopee Philippines Director Martin Yu.
He added: "Shopee will continue to ramp up its efforts to plan initiatives that support local MSMEs and help them thrive on our platform. We invite our shoppers to support our local entrepreneurs this May 10-16 at the National Food Fair."
Meanwhile, DTI – Bureau of Domestic Trade Promotion Marievic M. Bonoan said they are working towards empowering MSMEs by expanding and increasing their access to economic opportunities.
"We have partnered with Shopee to further bolster our support for Filipino MSMEs, especially during this pandemic," Bonoan continued. "With the Online National Food Fair, local businesses can promote their products on a larger scale and help them grow in the long run."
Shopee aims to provide sellers with a platform that fosters growth and sustainability for their businesses in response to these challenging times. Through various initiatives in partnership with the DTI and local government units, the transition from a physical to an online setting is easier and more convenient.
Just last February, Shopee launched #TatakPinoy: Buy Local, Support Local, a campaign that empowered local MSMEs by giving their products a spotlight on the platform. In addition to these campaigns, there are also initiatives focused on online sellers to equip them with the necessary tools to monitor their business growth and development while providing them with knowledge on e-commerce and digital marketing.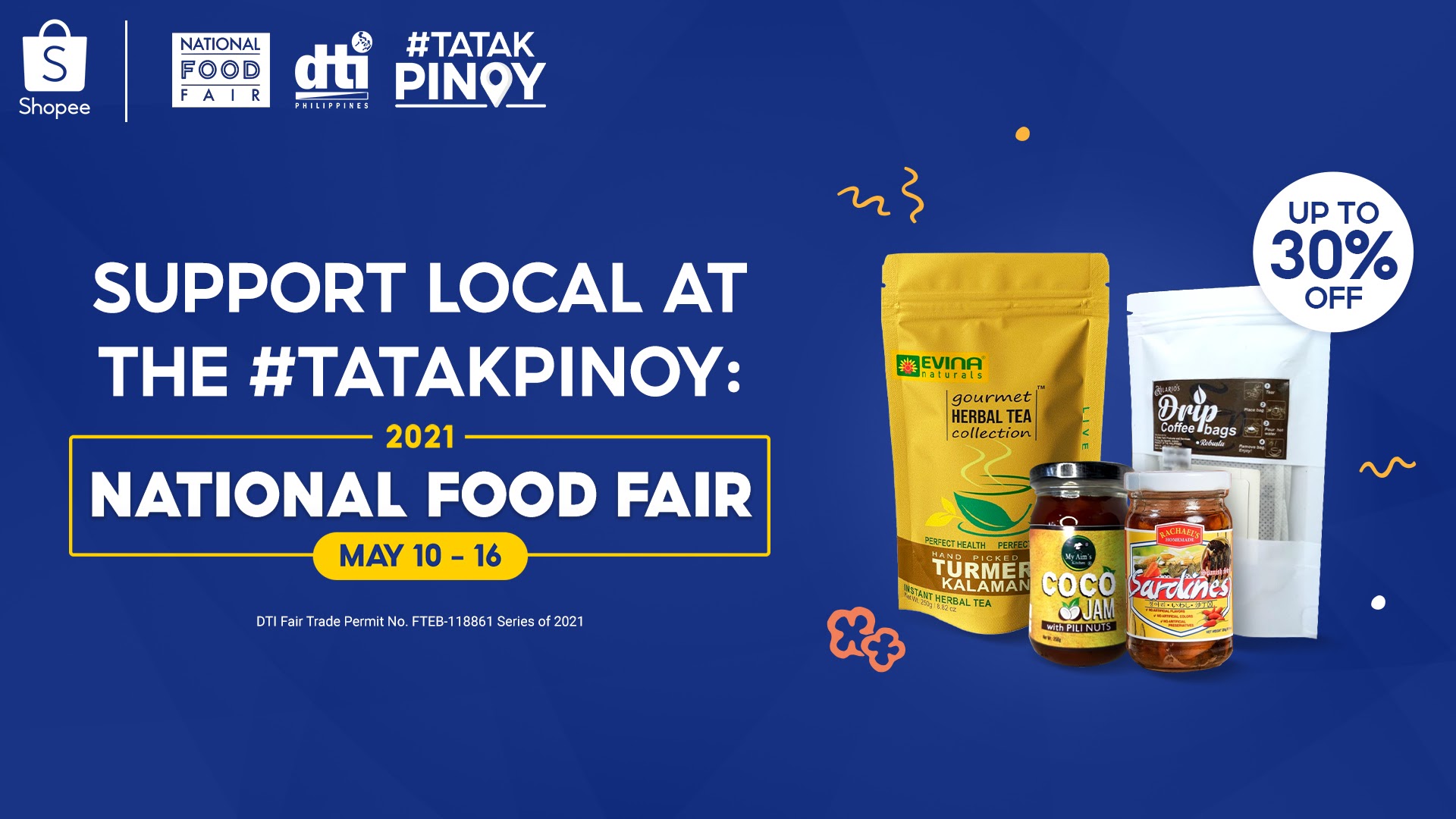 For more information about the National Food Fair, visit https://shopee.ph/m/2021-national-food-fair (PR)
---
Links are affiliates which means we earn a small percentage of every sale made through these links.
Also Check Out: Get your 'Creamy Espesyal' Summer Treat at Uno Halo Tablon