We're almost out of April, but the hot summer breeze will remain upon us as we enter May. Ohh, those sticky sweat and parched throats, how sexy! Besides, we all have to stay indoors to keep ourselves and our loved ones from catching COVID-19, right?
This is why cool backyard activities are perfect this time around, along with cold beverages and desserts that would help quench our thirst and keep us from dehydration. And speaking of cold desserts, have you tried one of the best Halo-halos in the city?
Check out Uno Halo, the home of the creamiest Halo-halo in Barangay Tablon!
Continue reading below to know more.
Did You Know: Halo-halo is a well-known Filipino cold dessert made up of crushed ice, evaporated milk or condensed, and various ingredients such as ice cream, sweetened beans, sago—thus the name, which translates to "mixture." Its origin can be traced back to the pre-war Japanese Filipinos and recognized as part of the Kakigori (shaved ice) class of desserts.

Inquirer.net, 2012
Mix and match
Uno Halo is a little ice cream shop that can be easily found along the highway of Barangay Tablon, across the Petron gas station. The shop may be small, but its patrons come all the way across the city and its nearby provinces just to get a taste of its specialty, Halo-halo.
Like other humble beginnings of small-medium enterprises (SMEs), Uno Halo began as an idea that sparked from wanting to create an original mixture of the famous dessert, Mrs. Vivian Jomuad said in an interview with WhatALife!
Mrs. Jomuad said it was her son who started out the business back in 2019, concocting his own recipe and sending it out to friends and neighbors for taste testing. Upon receiving positive feedback, and with the help of a family friend who owned a building, they were able to open up a physical shop.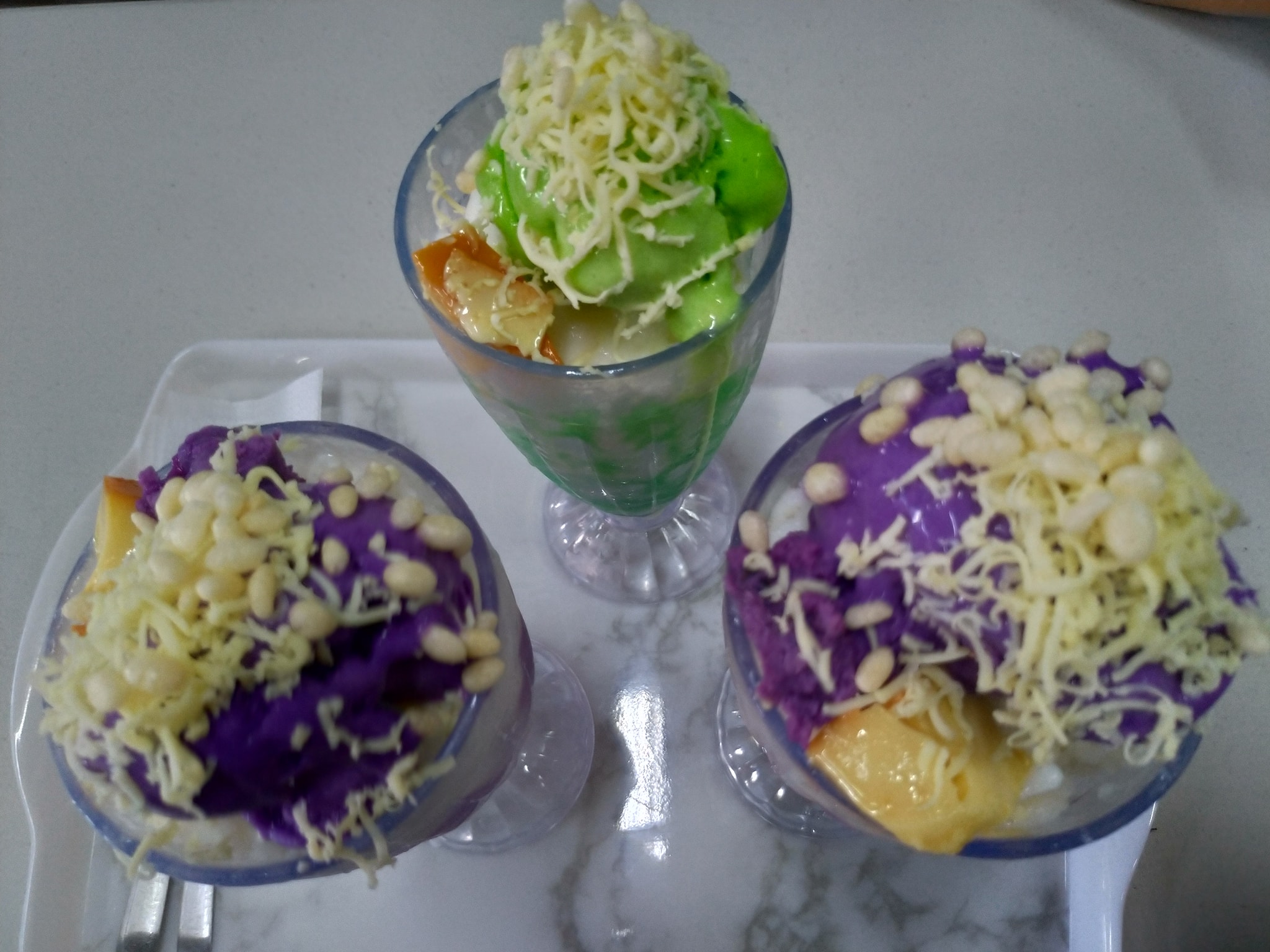 At first, it was quiet—too quiet—that doubts came and had the family questioning whether they made the right decision to put up the business.
Fortunately, people gradually noticed the shop, especially the signature taste of its creamy Halo-halo. From neighbors to the community of Tablon to nearby and distant barangays, the word of mouth that Uno Halo's Halo-halo was a must-try had spread out.
Challenges from lockdown restrictions
Uno Halo had barely gone through its infancy phase when they faced their first, and probably the biggest challenge of all time—the COVID-19 pandemic.
Like most businesses that heavily rely on foot traffic, Uno Halo was affected by the lockdown restrictions. Sadly, they had to close down for months. And as we all know, the end of the pandemic is nowhere to be found, and Mrs. Vivian, who took over the business from her son, considered permanently shutting down its operations after feeling discouraged by the bad economic situation.
"Ni abot pod gyud ko sa point nga na discourage pod ko (there came a point that I got discouraged)," she said, recalling that the revenue was barely enough to buy ingredients.
"[But] if we were to close down, where would our employees go?" she added. Even though the store would earn little and loss would definitely be on their plate, she decided to continue to help her employees by providing them livelihood.
"Bahalag ginagmay, basta naa (No matter how small as long as there is income)," Mrs. Vivian said.
Unfortunately, it was inevitable to let go of an employee or two. Still, Uno Halo reopened its doors as soon as the restrictions in the city eased and is up to serve you their creamy Halo-halo today.
What's on their menu?
You can choose between their three available flavors: Durian Mais, Buko Pandan, and Ube, all of which can satisfy your halo-halo cravings!
If you're into burgers and fries, try out their tasty ChickBun and Crispy Fries!
Other in-house specialties include Beef Batchoy, Palabok, Vegetable Lumpia, Siomai, Spaghetti, and Rice toppings (Humba, Chicken, and Bihon) sold at very affordable prices.
Uno Halo also recently added an all-day Breakfast rice toppings menu featuring meals such as Cornsilog, Tocilog, and more, perfect for those who want to make a quick stop for breakfast.
Visit them today at Zone 3, Tablon Highway (fronting Petron Gas Station), Cagayan de Oro City. Dine-in (limited) and pick-up are available, as well as deliveries, however, only within the areas of Tablon, Agusan, and Cugman.
For inquiries, you can send them a message at FB/UnoHaloCDO or through call/text at 0906 504 0895.
---
This 2021, WhatALife! takes on the initiative to feature different Kagay-anon SMEs to support and help promote local products. Check out here for more SME Featured stories!