ICYDK. The Philippine Health Insurance Corporation (PhilHealth) offers membership registration online for a faster, convenient, and contactless registration. Want to register as a new member? Here's what new members need to know.
PhilHealth Membership Eligibility & Benefits
As soon as you enter your first job, one of the primary benefits companies offer is a premium membership of PhilHealth to cover the financial health and well-being of their employees.
PhilHealth is a tax-exempt Government Corporation affiliated with the Department of Health that will help administer the National Health Insurance Program. The agency is also responsible for supervising the health benefits in the country, among many others.
Aside from formally-employed individuals, voluntary members (such as self-employed, OFWs, etc.) and retirees (also called lifetime members) may enroll for membership.
PhilHealth membership benefits includes the following healthcare costs:
Hospitalization
Outpatient services (laboratory tests, day surgery, hemodialysis, etc.)
Treatment for certain types of cancer (leukemia, breast cancer, etc.)
Treatment for animal bites, malaria, HIV-AIDS, tuberculosis, and other diseases
Pre-natal, child delivery, and post-natal services
COVID-19 testing and hospitalization
PhilHealth New Member Requirements
Usually, formally-employed individuals will receive the PhilHealth Member Registration Form (PMRF) from their respective employer, and the rest of the registration process will be done by the HR Department. But in case you will have to enroll on your own or voluntarily apply as a member, below are the requirements you have to prepare and the steps you have to follow.
Two (2) duly-accomplished copies of PMRF;
At least one (1) valid government-issued ID or birth certificate issued by the Philippine Statistics Authority (PSA)
For online enrollees, provide a copy of your valid ID as well as an active email address where PhilHealth will send you the confirmation, transaction number, and other relevant details regarding your online membership registration.
Philhealth Membership Online Registration Guide
Step 1. Go to https://eregister.philhealth.gov.ph/ to start the registration process. Alternative: Visit PhilHealth's official website at https://www.philhealth.gov.ph/ and click on Electronic Registration under the Online Services menu tab.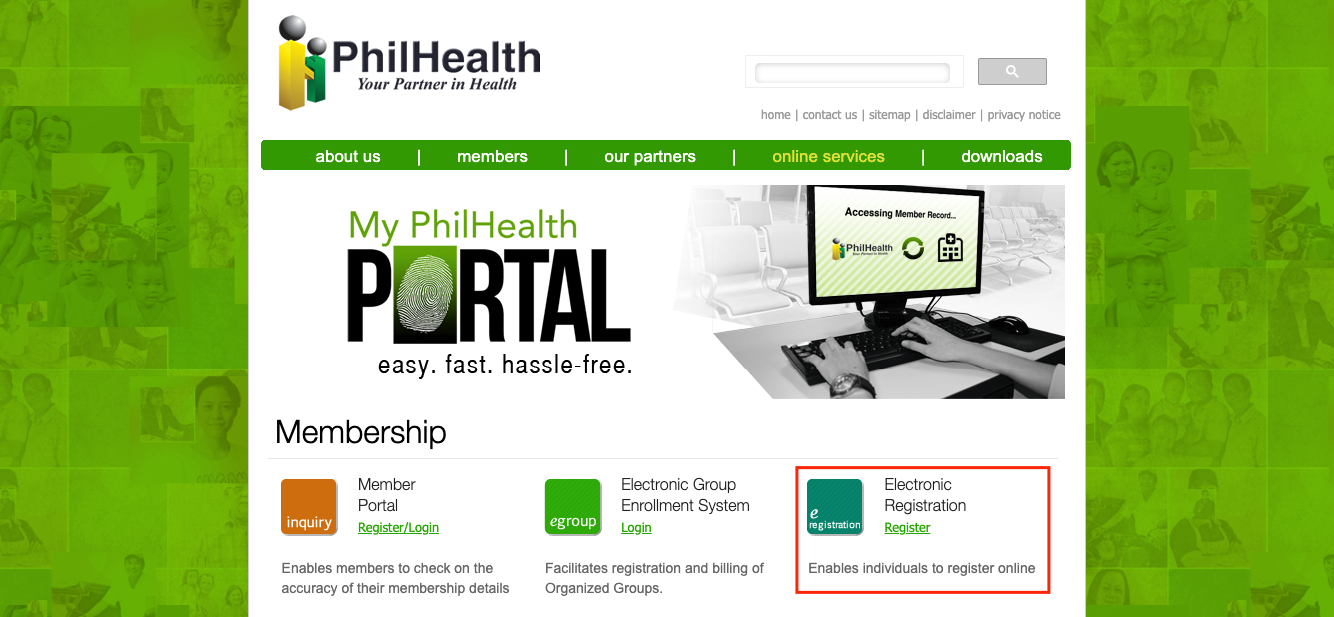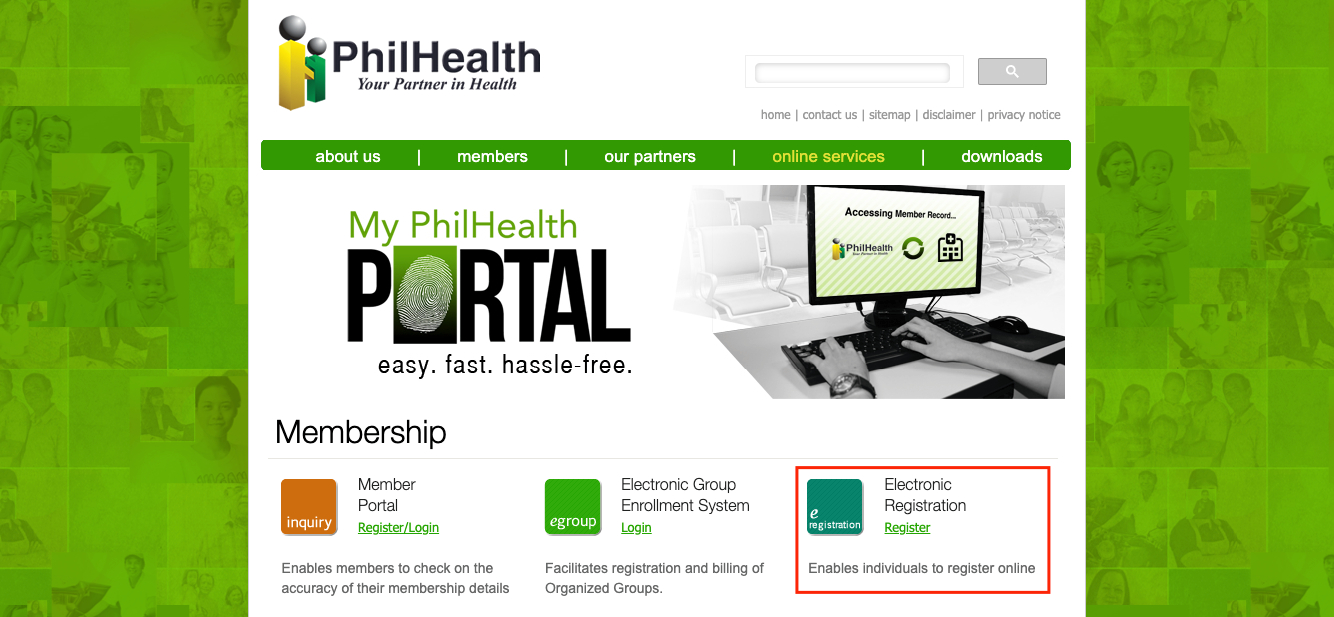 Read the Terms and Conditions before hitting the Accept button to proceed.
Step 2. Fill out the personal and contact information form. Then, upload a clear photo or a scanned copy of your valid government-issued ID (e.g., passport, driver's license, SSS UMID, birth certificate, etc.)*. Enter the CAPTCHA code before clicking the Submit Registration button.
*You may skip the uploading of the photo (optional) step if you prefer to send a photocopy of your ID to PhilHealth via mail. When submitting your supporting document via snail mail (postal), include a printed copy of the confirmation email or indicate your transaction number. PhilHealth's requirements must be delivered within 30 days from your online registration to complete your membership enrollment. See PhilHealth Office Directory here.
Step 3. Check your inbox for a confirmation email from PhilHealth Member Information System containing your transaction number and instructions on the next steps to complete your online registration. One of which is to click on the link provided in the email to activate your PhilHealth number.
Wait for another email containing your PhilHealth Identification Number (PIN) within three weeks.
NOTE: As of writing, the Philhealth Electronic Registration System is unfortunately Under Maintenance. The agency advises applicants to proceed to the nearest PhilHealth Office.
Manual PhilHealth Registration Guide
Step 1. Go to the nearest Local Health Insurance Office or PhilHealth Express outlet in your area.
Senior citizens may apply through the Office for the Senior Citizens Affairs (OSCA) in their city or municipal hall. Meanwhile, OFWs who are currently abroad may visit any iRemit or Ventaja Corporation branch.
Step 2. Fill out two copies of the PMRF form. You can download it and fill it out in advance prior to your branch visitation for faster registration.
Step 3. Submit your accomplished PMRF along with your valid ID. Again, you may present your certified true copy of your birth certificate in lieu of an ID.
Step 4. Receive your Member Data Record (MDR) and PhilHealth ID.
PhilHealth Membership Registration FAQs
The online portal is down. What should I do?
When the system is not working, you can either try again later or visit the nearest PhilHealth office in your area for manual registration.
What is a PhilHealth Number?
Also called the PhilHealth Identification Number (PIN) is a unique and lifetime 12-digit number assigned to every PhilHealth member upon membership registration and can be used to identify existing members.
I lost my PhilHealth Number. Where can I request a copy?
If you're an existing member and you lost your PhilHealth number, you may request it through the PhilHealth Action Center at (02) 8441-7442 or email (actioncenter@philhealth.gov.ph). You may also contact its text hotline at (0917-898-7442).
– WhatALife.ph
---
You Might Also Want To Read: Need a police clearance for work? Here's how to get it