Cagayan de Oro's Nikki de Moura, 19, made an early exit in the Miss Grand International pageant held at Ho Chi Minh City, Vietnam on Wednesday.
At the coronation held at the Phú Tho Indoor Stadium, Nikki failed to make it to the Top 20 finalists.
The countries that have made if to the list are the following:

Myanmar
USA
Puerto Rico
Nigeria
Czech Republic
Indonesia
Honduras
Laos
Dominican Republic
Colombia
India
Ukraine
Thailand
Peru
Angola
Netherlands
Uzbekistan
France
Spain
Vietnam
The final results showed Peru as the crowned winner for Miss Grand International 2023, succeeding Isabella Menin of Brazil after besting 69 other candidates for the title.
The runners, on the other hand, include Ni Ni Lin Eain of Myanmar, Maria Alejandra Lopez of Colombia, Sthephanie Marie of the United States of America, and Le Hoang Phuong of Vietnam.
The Philippines has yet to win the Miss Grand International title. For the record, two Filipinas have only finished first runner-up: Nicole Cordoves in 2016 and Samantha Bernardo in 2020/2021.
Meanwhile, Roberta Tamondong, De Moura's predecessor, finished in the Top 20 in 2022. Subsequently, she received the title of fifth runner-up, joining the ranks of the other Top 10 finalists.
However, Filipino fans still showed love and cheers for De Moura despite losing in the competition.
TV and Radio Host Tim Yap and beauty queen MJ Lastimosa, in particular, expressed their support for Nikki via Instagram.

"You represented the Philippines extremely well. Mabuhay ka Nikki!" Tim wrote.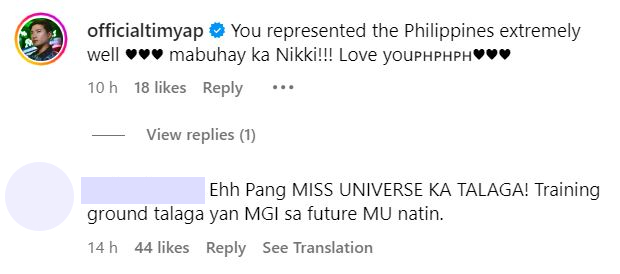 On social media, another fan also reached out to De Moura for a heartwarming message
"You deserve more. […] Life has another plan for you. So much love from Peru…," the comment read.
Lately, Nikki de Moura admitted that she was feeling disappointed after departing early from the Miss Grand International.
De Moura went to Instagram to write about her feelings, saying her "heart aches with disappointment."
I poured my heart and soul into representing the Philippines," Nikki said.
However, the beauty queen expressed her optimism despite the unsuccessful attempt.
In the face of this heartache, I choose gratitude." she stated.
Through the ups and downs in life, De Moura said she remains "determined to make the most of every moment."
"I understand I may still be young, I will continue to work hard, learn, and grow, because I believe that disappointment is only a stepping stone to future success." she added.
De Moura says that this is still the beginning of something greater for her, "and I'm excited to see where life's adventures will take me."
"Now, I stand before you, not as a part of the top 20, but as someone who gave her all," Nikki said.
---
Also Read: Jinkee Pacquiao faces mockery from netizens, says too much enhancements