This is a press release from the Philippine Airlines.
Due to the evolving COVID-19 situation, the Philippine Airlines (PAL) and the Philippine Government have issued precautionary measures, mandatory protocols and requirements for travelers.
For passengers in international flights to the Philippines, please be guided on the new arrival and quarantine procedures in Manila, Cebu, and Clark starting February 1, 2021.
Check out the infographics below.
For Non-OFWs and Eligible Non-Filipinos arriving in Manila:

For OFWs arriving in Manila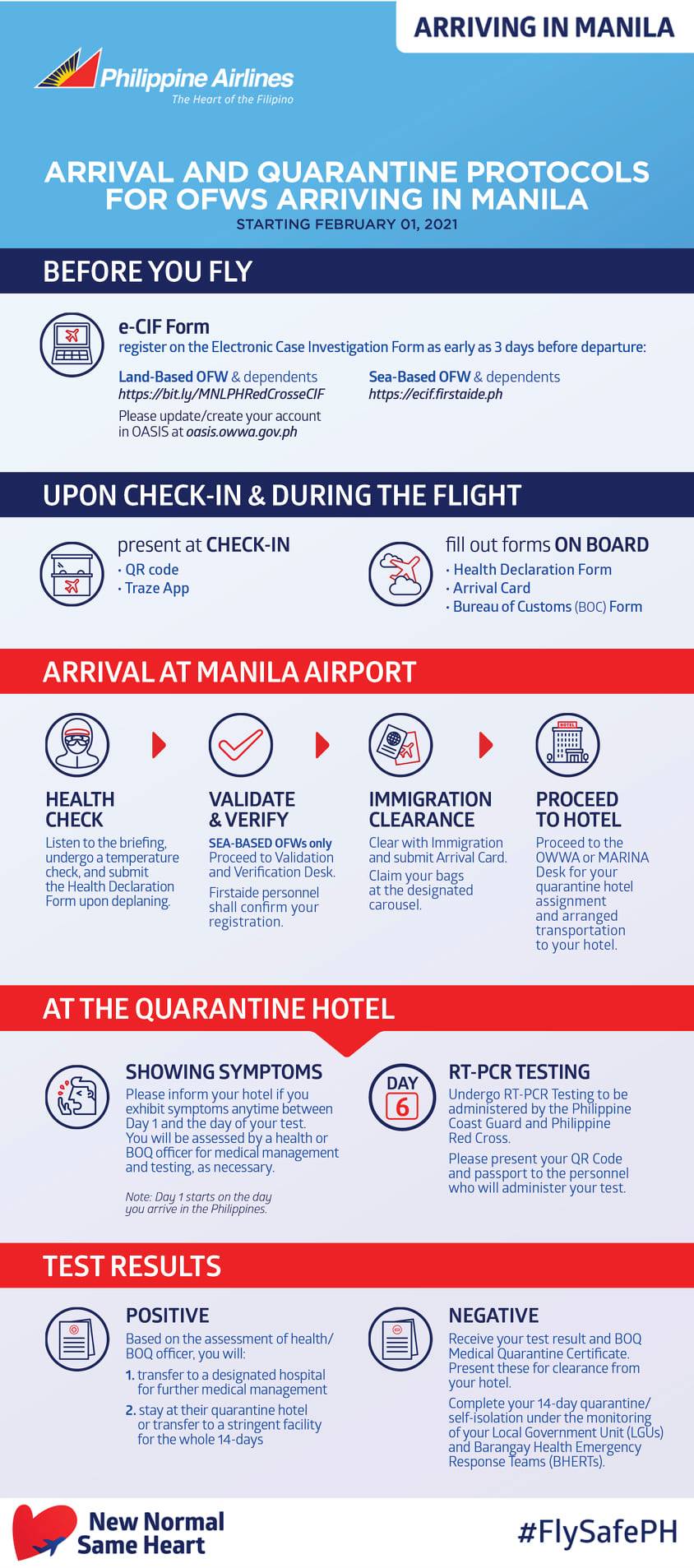 PAL encouraged its passengers to follow the guide, register in advance, and pre-book their hotels as necessary to avoid any inconvenience and experience faster processing upon arrival. 
Moreover, to ensure everyone's health and safety, PAL and its passengers must strictly observe the following in all airport facilities and onboard the aircraft:
To ensure everyone's health and safety, Philippine Airlines and its passengers must strictly observe the following in all airport facilities and onboard the aircraft:
Mandatory wearing of face masks and face shields.
Mandatory registration to Case Investigation Forms depending on the traveler's type and port of entry (Manila, Cebu, Clark).
Mandatory use of the Traze Mobile Application to generate and scan their QR code when entering in, boarding from, and upon arriving in all Philippine Airports starting November 28, 2020, as mandated by the Philippine Department of Transportation. Click here to download and know more about the Traze App.
Mandatory temperature checks, use of foot baths, and disinfection/sanitation facilities.
Mandatory physical and social distancing and minimum contact at all times and in all places within the airport premises, and during all procedures, from check-in, boarding, inflight, disembarking to retrieving of check-in baggage.
Mandatory public safety announcements before closing of doors and during flight for cabin and health security protocols.
Strict compliance with safety procedures on handling of suspected/ill passengers on board, which include keeping the last three (3) seat rows of the plane vacant as isolation area for suspected ill passengers already on board.
Regular sanitation and disinfection of all airline facilities and equipment, and in coordination with the airport authorities, all airport facilities and equipment, including lavatories, frequently touched surfaces, wheelchairs, trolleys, countertops, etc.; Daily first aid stocks available on board the aircraft.
PAL assured its passengers that it will do its best to observe social distancing measures inside the aircraft, subject to space availability. Meanwhile, family members and individuals travelling together as part of the same household may still choose to be seated together.
Check out this link for the list of Eligible Passengers For Travel To The Philippines.
(Source: Philippine Airlines)