CAGAYAN DE ORO, PHILIPPINES — The Region 10 Office of the Land Transportation Franchising and Regulatory Board, has released the new passenger fare rates for Modern PUJ services in Cagayan de Oro. See new rates below: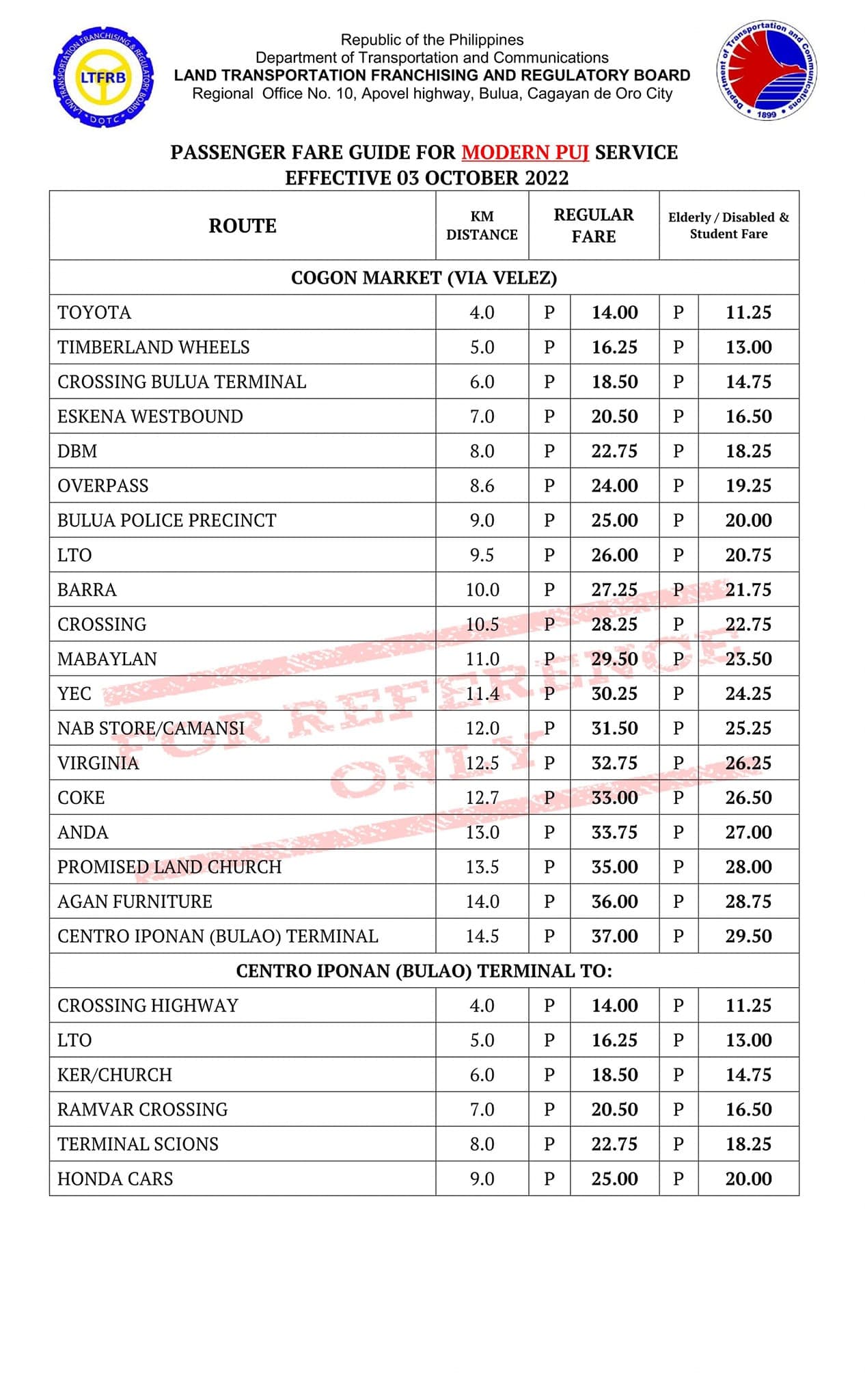 The new fare rates are effective starting October 3, 2022.
New fare hike approved by LTFRB
In September, the LTFRB approved the fare hikes for different modes of public transport, with changes taking effect on October 1, 2022.
The approved increase for Traditional and Modern PUJ fares is Php 1, making the minimum fare Php 12 and Php 14, respectively. An additional Php 0.30 per succeeding kilometer for TPUJ and Php 0.40 for MPUJ has also been approved.
Meanwhile, the Board has approved a Php 2 fare increase for PUBs and Php 0.35 to Php 0.50 for the succeeding kilometers, depending on the bus type.
Taxis and transport network vehicle services (TVNS) will increase their flag-down rates by Php 5, but no increase in the succeeding kilometers. This makes the minimum fare for taxis and sedan-type TVNS Php 45, Php 55 for AUV/SUB types, and Php 35 for hatchback-type TNVS.
The decision of the Board to approve the fare hikes is based on the "continuing rise of oil prices" and their consultation with the National Economic Development Authority (NED) and the Department of Energy.
"In the decision released by LTRFB, the agency conducted a study thru its Franchise Planning and Monitoring Division (FPMD). The FPMD used the fare adjustment formula based on Memorandum Circular 2019-035, the opinion of different stakeholders, increasing operational cost of PUVs, and the opinion of the NEDA," LTFRB said in a statement. – WhatALife!
---
Also read: LTFRB approves new fare rates