With the world as it is now, many have had to tighten their belts. Nowadays, few people have money to burn on seemingly "frivolous" things like art. While this is true for many, art is never frivolous. While food and drink feed the body, art feeds the mind and soul. So while visiting art galleries is not something we can freely do in these times, the Mindanao art scene is still holding fast. Many of these emerging artists in Mindanao join Nonoy Estarte and many others as they display reflections on its culture!
The newest accomplished artists emerging in Mindanao!
Kublai Ponce-Millan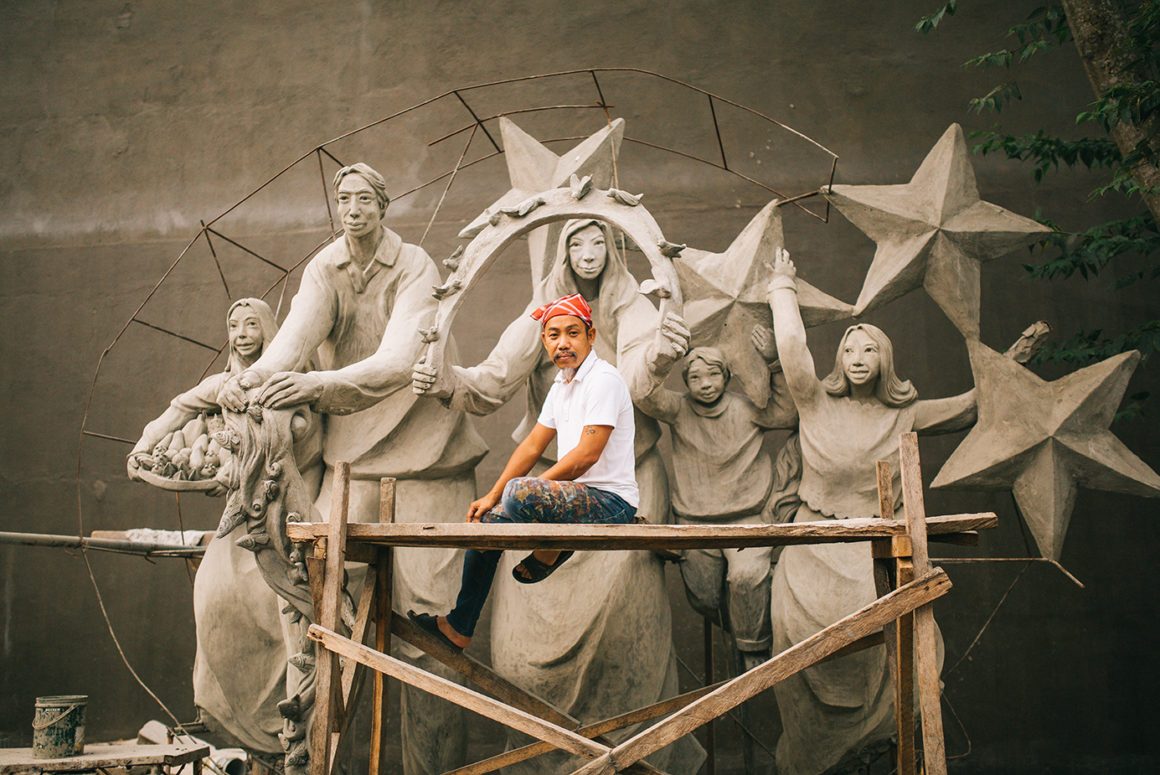 Rey Mudjahid Ponce Millan, or Kublai Millan, is an artist who doesn't limit himself to a canvas. He creates large sculptures, too! Not life-size ones, mind you, but even larger than that! He explained the size of his works: "Dahil walang pumapansin sa'kin, ginawa kong malaki ang art ko." ("Because no one noticed me, I made my art big.") The Cotabato-born Ponce-Millan graduated with a degree in Fine Arts from the University of the Philippines, Diliman.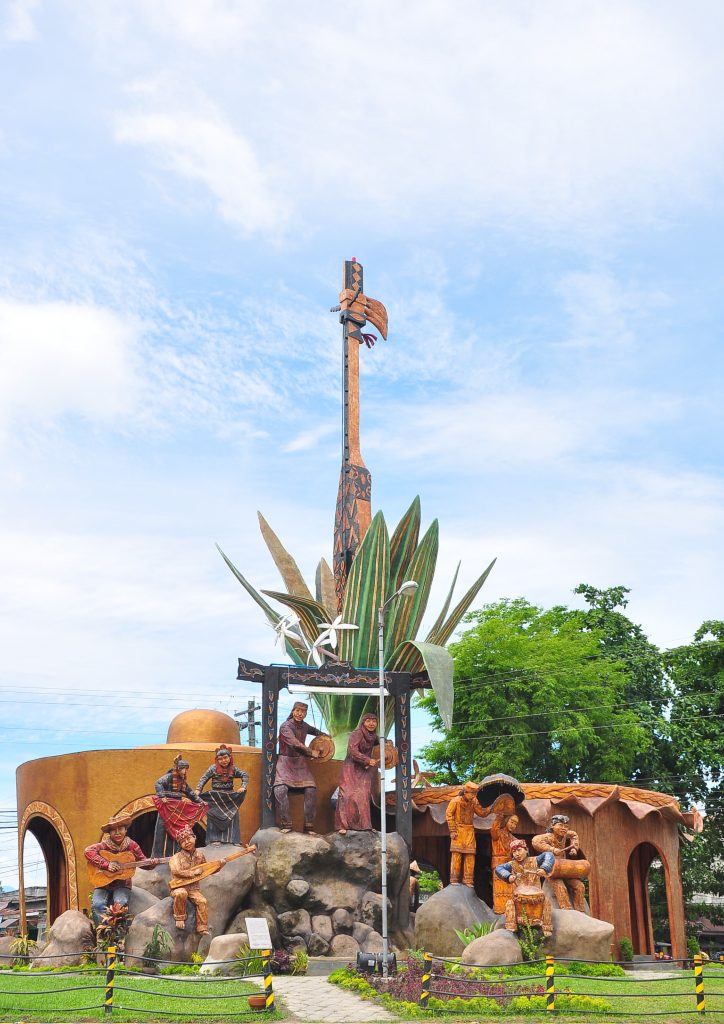 He is currently the co-owner of Ponce Suites, a family-run hotel that features a gallery! This gallery, of course, contains his art. Ponce-Millan is also responsible for creating many statues. Many of these statues are distributed all over Mindanao. However, Davao's Peoples' Park contains plenty of his gigantic artworks that involve themes of diversity in reflecting the indigenous peoples who live in the area. Most notably, he is responsible for the giant Genesis Lore durian statue at the Davao City International Airport. It's the first thing new arrivals see upon leaving the building.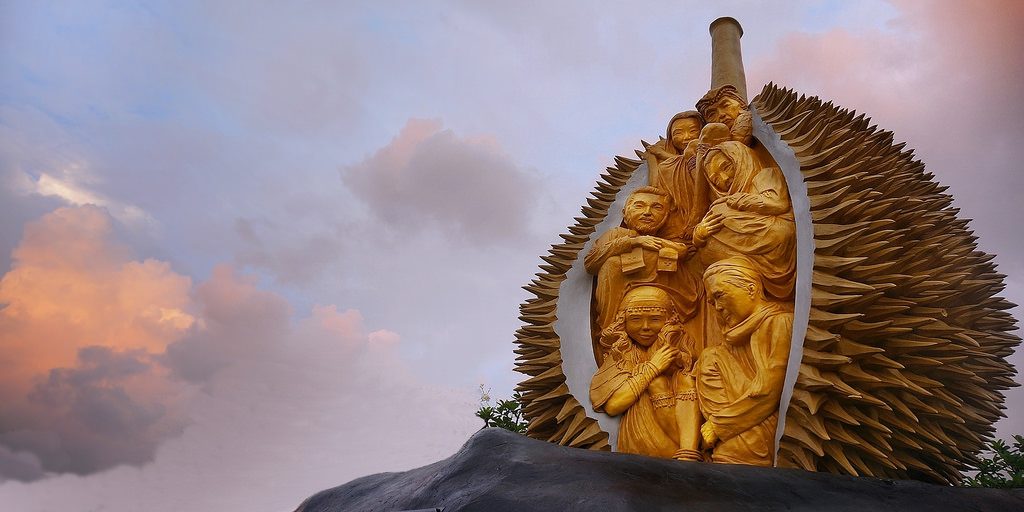 Ponce-Millan even designed and created the Malayan Colleges Mindanao mace! His art has gained him local and international recognition. Kublai Ponce-Millan is also a photographer, digital artist, and performer.
Jeff Bangot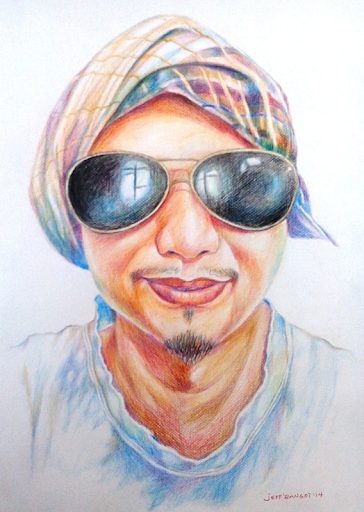 Jefferson Bangot is not only an artist but also an art teacher. Many pupils have learned from his incredible talent and experience. He graduated from Holy Cross of Davao College with a Social Studies degree, then later majored in Fine Arts – Painting at the Philippine Women's College of Davao.
His usual mediums are oil and acrylic. However, he has dipped (pardon the pun) into experimental mediums, such as excess printer ink. In addition, Bangot creates mixed media works and even sculptures, just as Kublai Ponce-Millan! Very fitting, considering Ponce-Millan mentored him. Jeff Bangot is known to create art in a series, such as his Breaking Free series:

Bangot has several activities and workshops under his belt as both artist and educator. This isn't even including the many group exhibitions he joined! He was the head artist of Mindanao Art 2020, displaying the artworks of his pupils. During 2021's Mindanao Art Fair, Jeff Bangot created the two giant murals behind the light-up butterfly installation.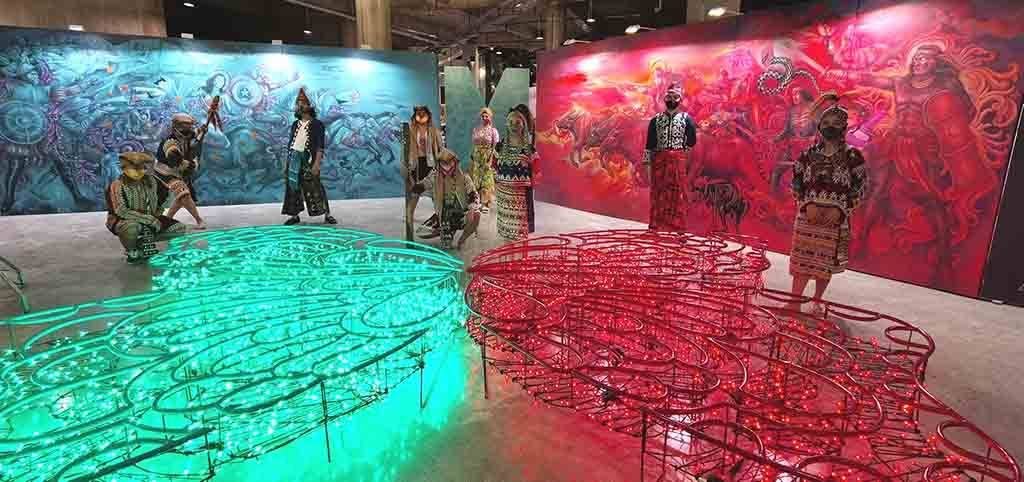 Jag Bueno
Jag Bueno is a Davao-based artist. He creates bas-relief sculptures and portraits, which require raising details from the flat background. In general, Bueno's sculptures focus on the realities of Mindanao, or more specifically, its people. One of his most striking pieces is Hybrid, which came out in 2020. It reflects the three main groups who call Mindanao home: the Catholics, the Lumads, and the Muslims.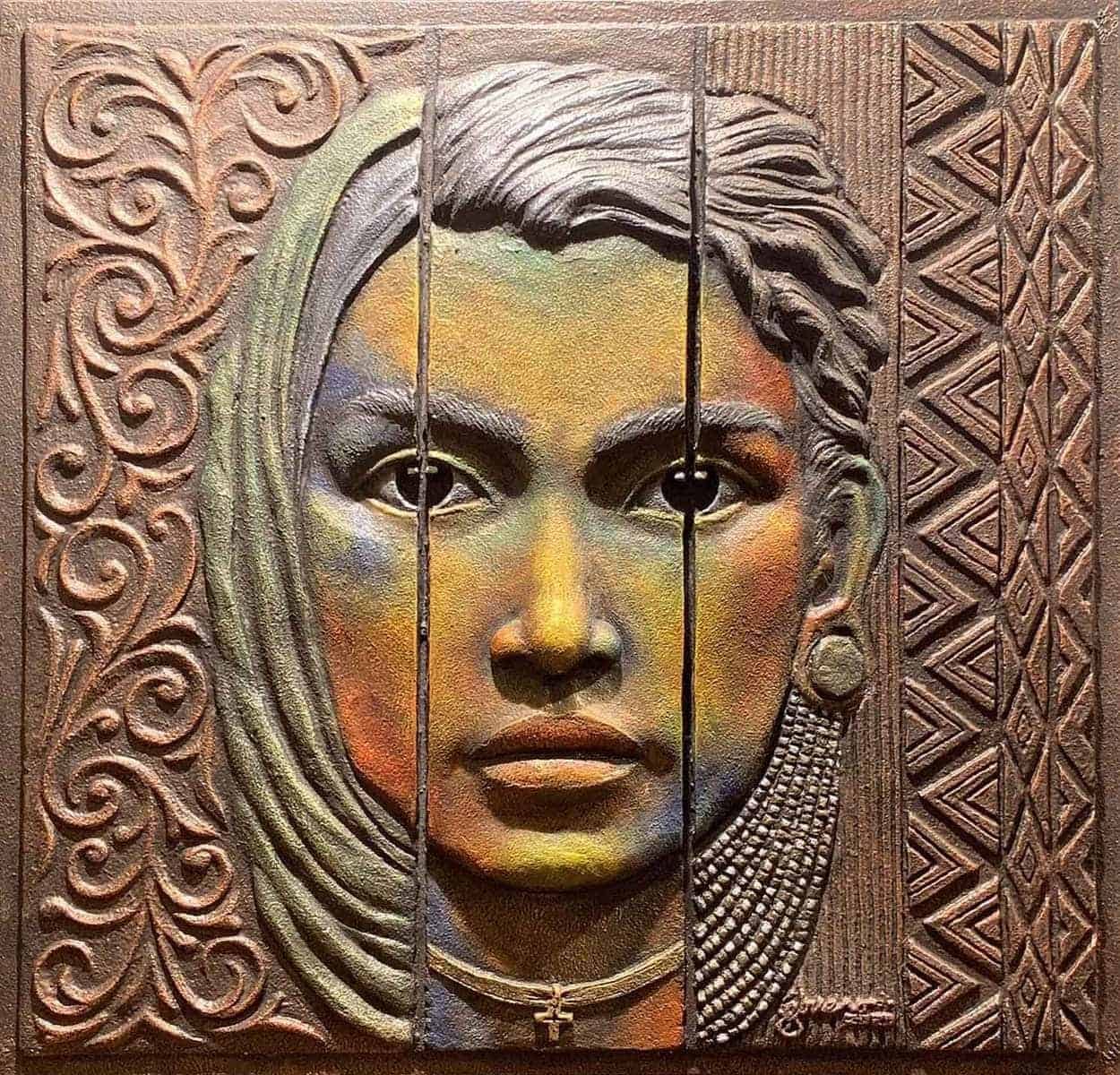 Jag Bueno also exhibited his art at the 2021 MindanaoArt fair!
Elenita Dumlao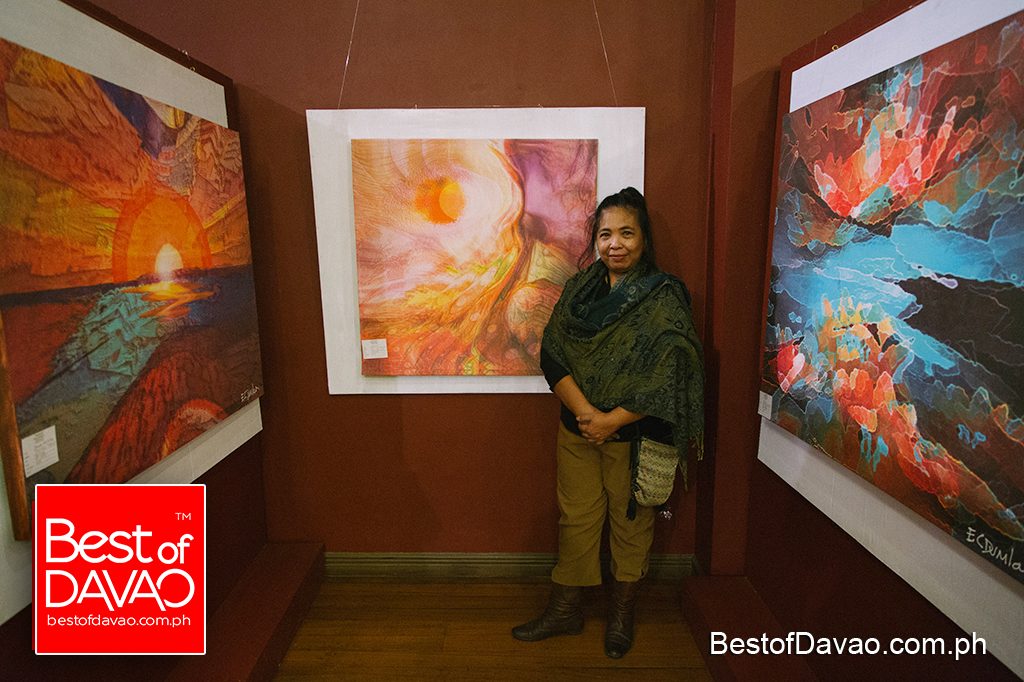 Elenita Dumlao joins the ranks of famed Filipina artists! When she was young, Dumlao learned the arts from her art teacher parents. She earned a degree in Psychology yet would go on to teach Arts and Music. Dumlao has gained many achievements throughout her career and has displayed her art in many solo and group exhibitions.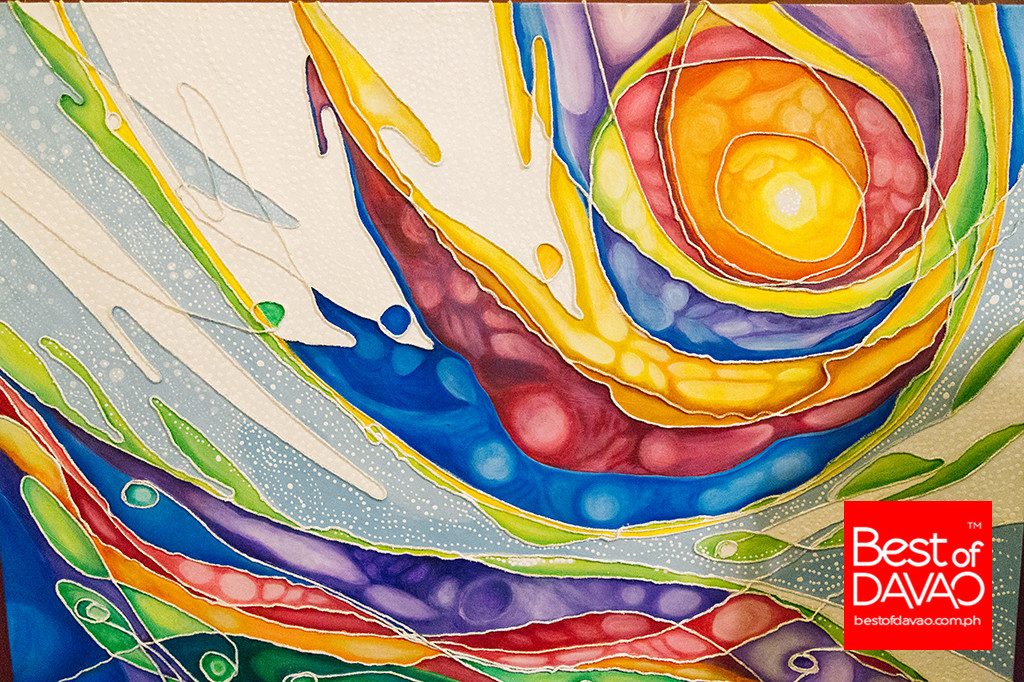 Dumlao favors color for her art. A lot. It's refreshing to see blasts of color across a canvas, elevating a single piece of work to a full-on experience! However, while majestic, the dynamism of her art doesn't sacrifice meaning, either. Her art still displays collective yet relatable feelings on multiple subjects like nature and family. Currently, Elenita Dumlao is the Artistic Director of a cultural company in Davao.
Lucas Rañola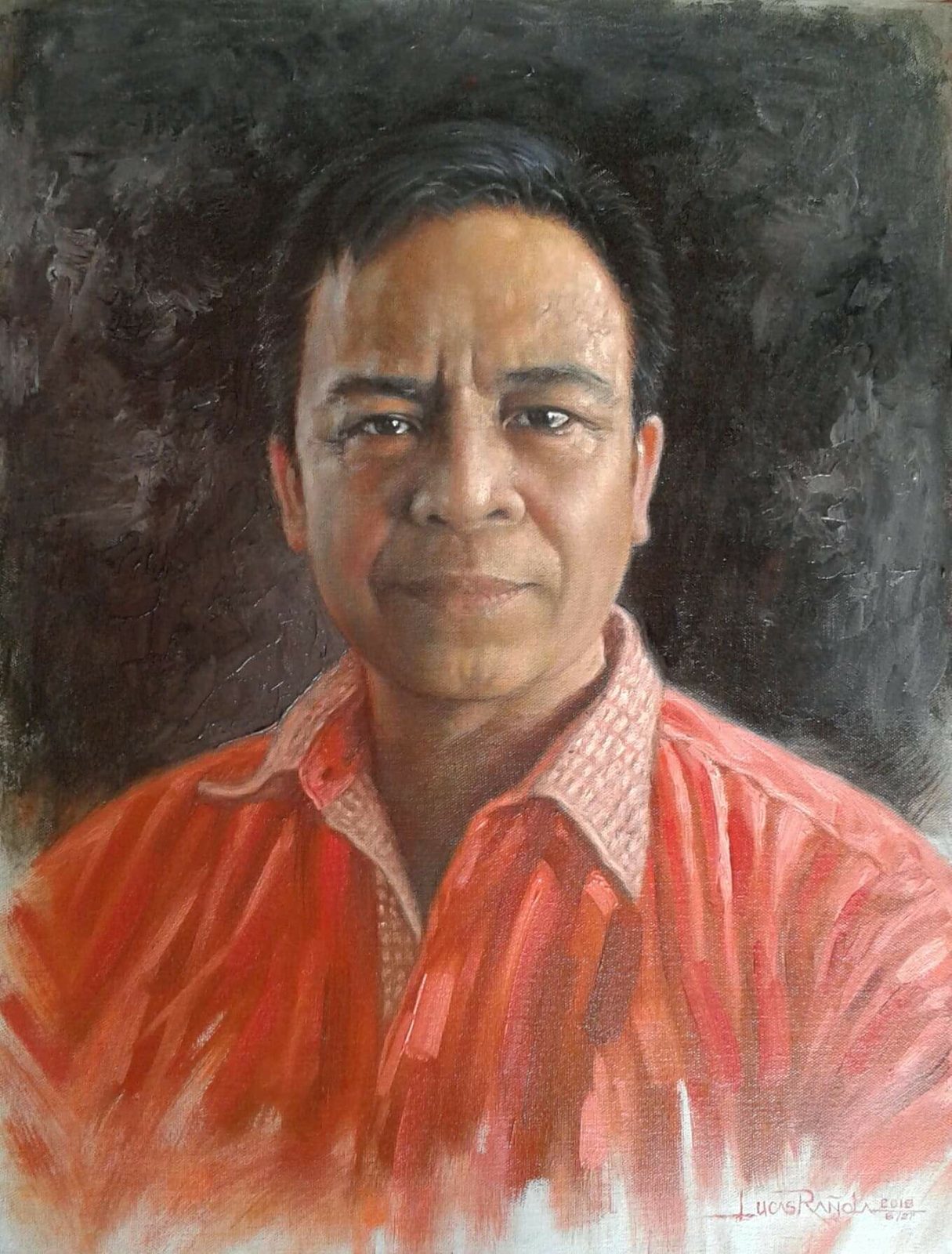 Born in Kidapawan City, Lucas Rañola has painted portraits since the seventies. (He even made a portrait for Kublai Ponce-Millan's family!) While such paintings went out of fashion with the invention of photography, many wealthy people made a habit of having them commissioned to show off their status. Rañola was born to art-aligned parents, which fueled his later art endeavors. He would paint cinema advertisements as a way of supplementing his school fees.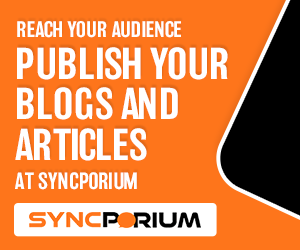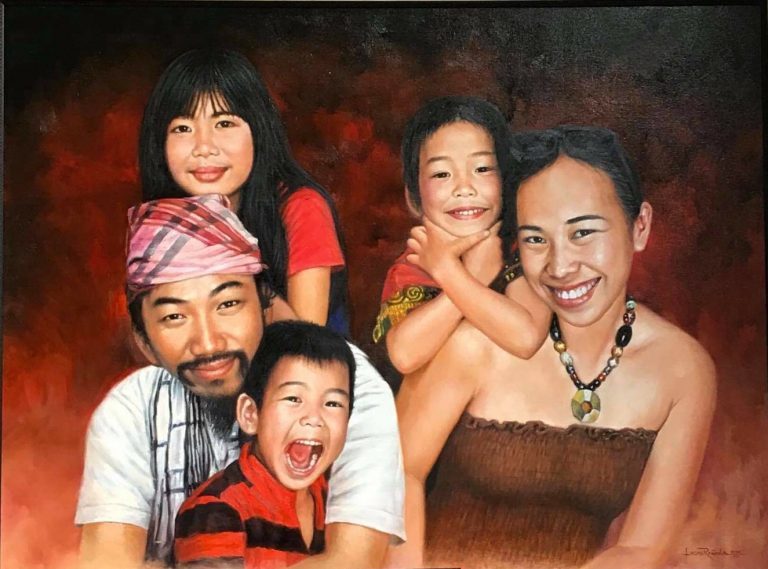 He graduated from the Ford Academy of the Arts. Rañola's go-to medium is oil paint, and he's been showing up to group exhibitions since 1979. At one point, Rañola had a solo exhibit of his own! Also, Rañola joined Tanya Lee, Elenita Dumlao, and Jag Bueno in the "4 Artists, 4 Mindanao" exhibit during the MindanaoArt exhibit last October 2021!
Tanya Gaisano-Lee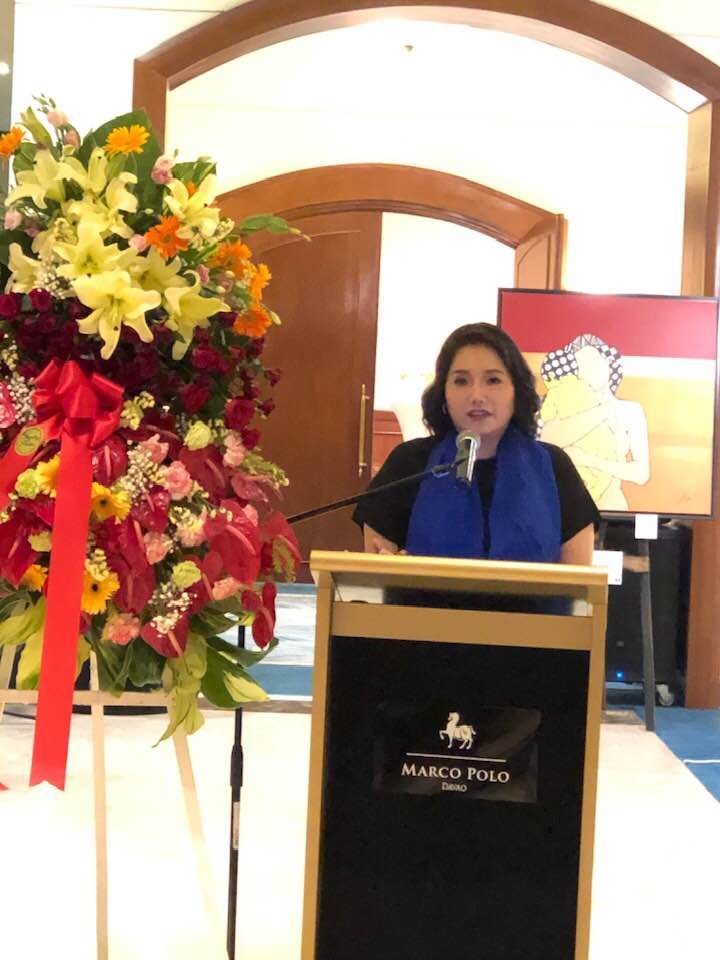 Katrina "Tanya" Gaisano-Lee is yet another artist who displayed her art at the Mindanao Art Fair. A contemporary artist, Tanya Gaisano-Lee, started without formal art education. So with pen and ink, she began her journey as a self-taught artist. As she progressed, she took on more mediums and techniques. Having art enthusiast Hans Gaisano for a father helped too, as she was exposed to many artworks throughout her life.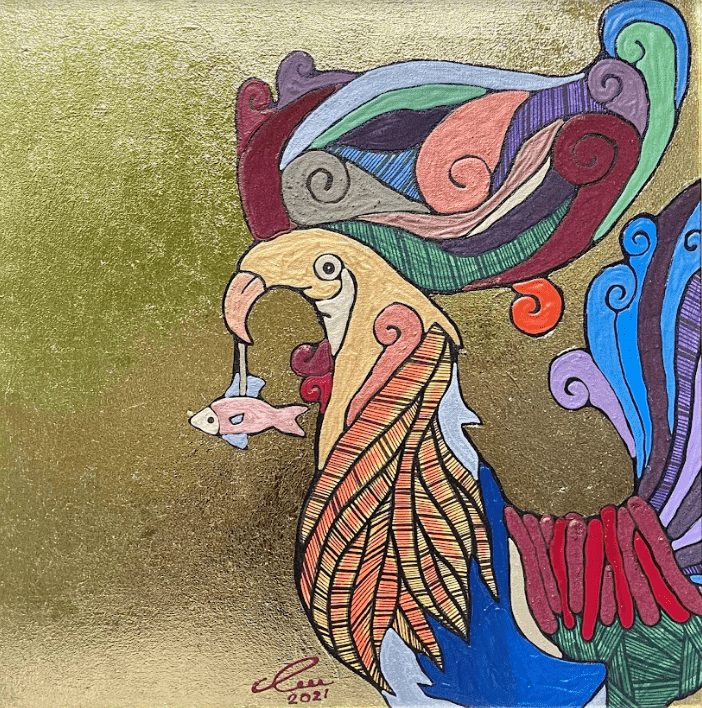 She favors bright colors and patterns inspired by indigenous tribes. Also, Gaisano-Lee put up an exhibition called "Beyond the Womb," which told her story as an expectant mother and wife. Additionally, she also took on the more taboo side of desire for her first solo art exhibit! Tanya Gaisano-Lee has made art on various life stages, so her subject matter will change and evolve, as all humans do. – Alex/WhatALife.ph
---
You Might Also Want To Read: Celebrate your pupper's birthday with dog-friendly cakes from Pupcakes CDO