Starting September 1, 2021, the Philippine Bureau of Quarantine (BOQ) will strictly require all arriving international travellers to present their ONE HEALTH PASS Quick Response (QR) Code prior to boarding their flights to the Philippines, particularly to Manila, Laoag, and Davao.
The Philippine News Agency reported that all information would be passed on to concerned government agencies such as the Overseas Workers Welfare Administration, Department of Tourism, Maritime Industry Authority, Philippine Coast Guard, and Overseas Shipping Service.
Who needs to get the One Health Pass QR Code?
All international passengers arriving in Manila, Laoag, and Davao
Returning overseas Filipinos, Non-OFWs, Balikbayans, and foreigners
All ages, noting that each child must have his/her own form.
Inbound passengers must first register to the Electronic Health Declaration Checklist (E-HDC) at least five (5) days before the flight to the Philippines to get the One Health Pass QR Code. Continue reading below for the E-HDC registration.
Secure your E-HDC Transaction Number
STEP 1: Go to onehealthpass.com.ph/e-HDC and click 'Ok'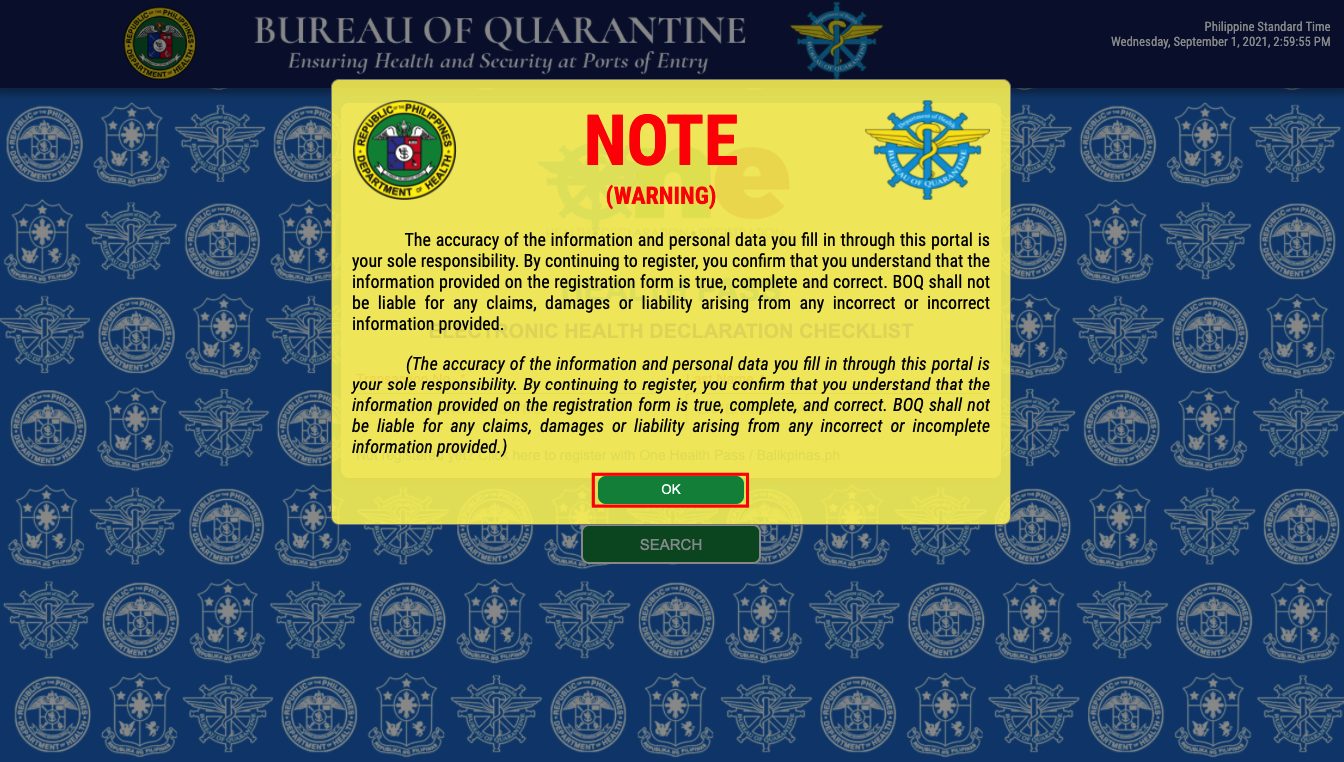 The following steps below will be intended for non-OFWs travellers. If you haven't registered with One Health Pass or Balikpinas.ph, click 'No'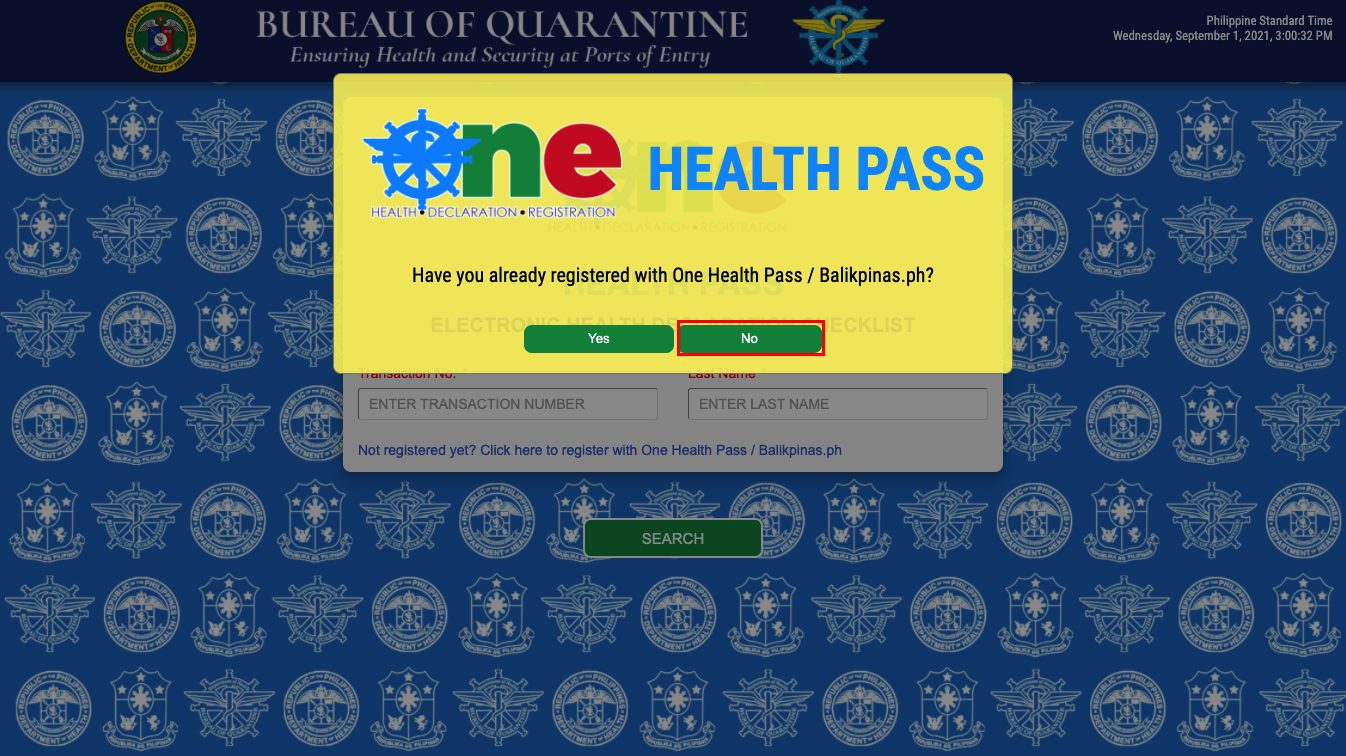 Click 'No' to proceed to the Registration Form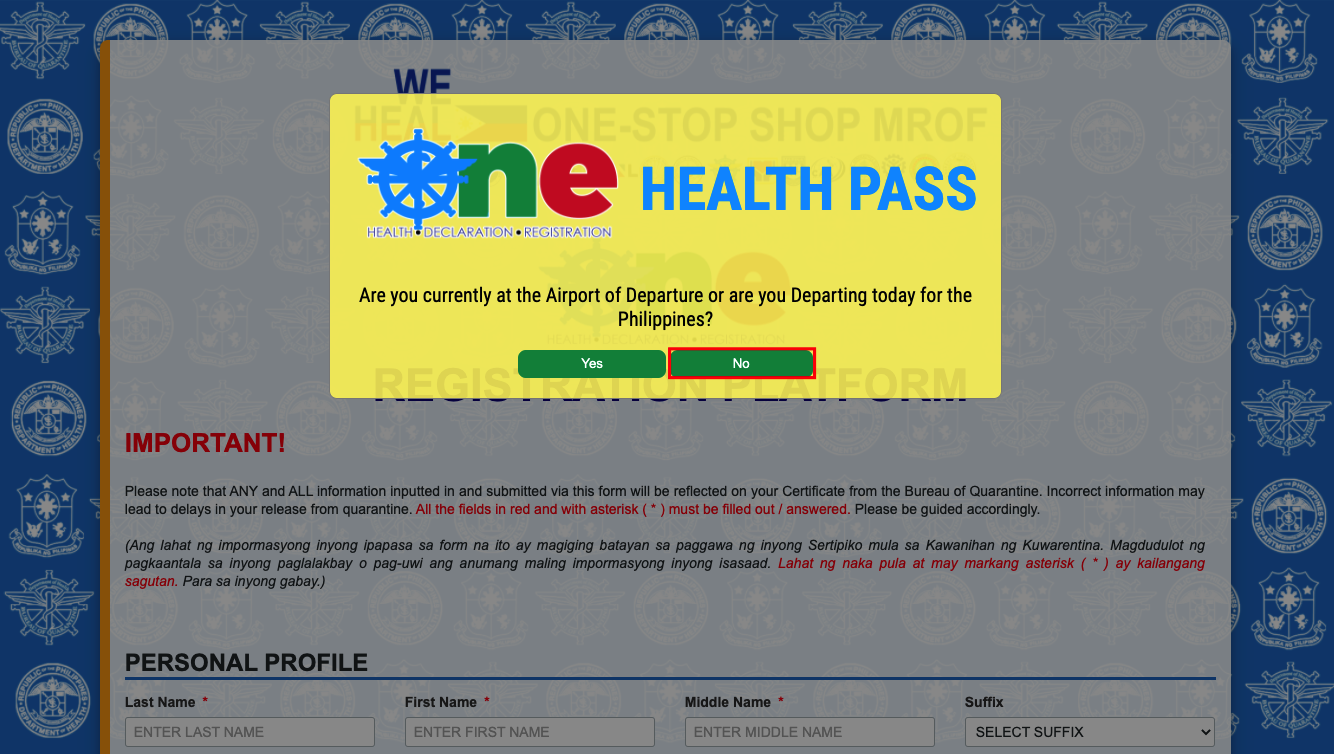 STEP 2: Fill out the One Health Pass registration form, including your personal information, residence details, travel details, and vaccine information. All the fields in red and with an asterisk (*) must be filled out or answered. Make sure to provide the correct information as "incorrect information may lead to delays in your release from quarantine."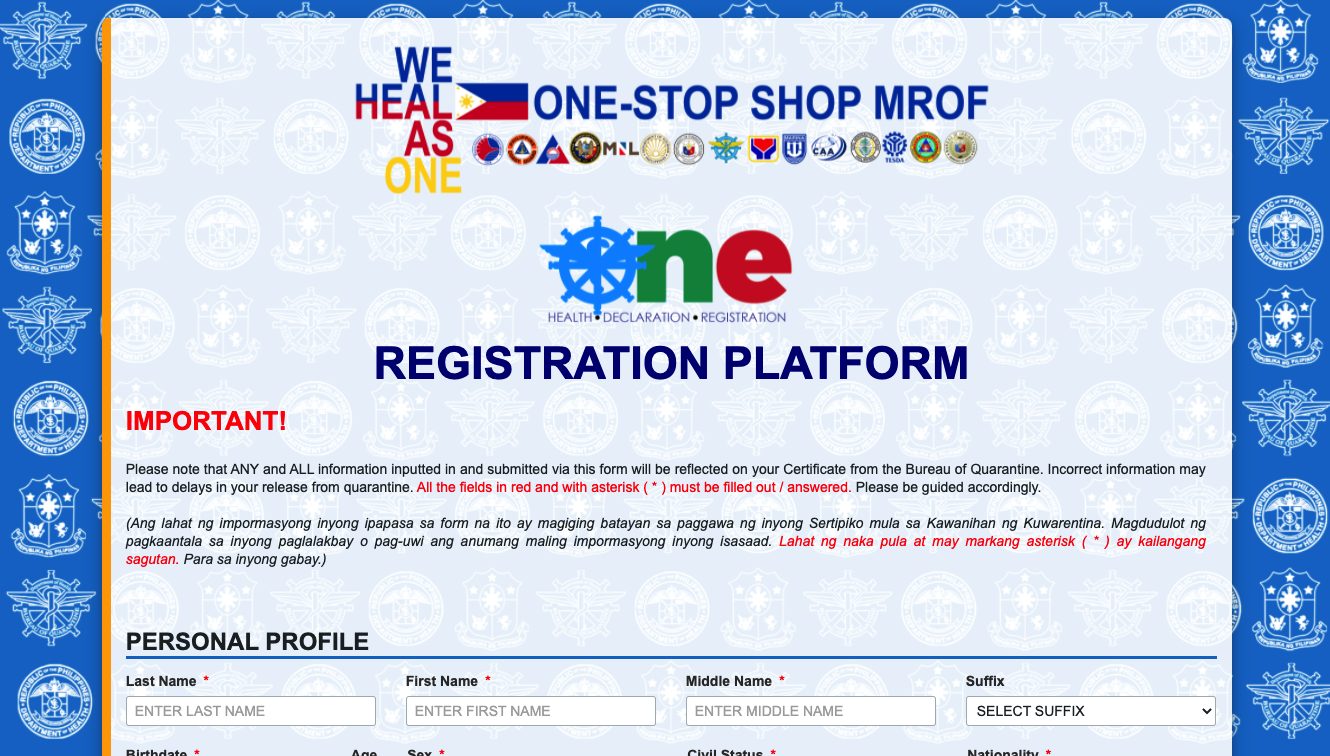 STEP 3: Tick the box after reading the 'Data Privacy and Affidavit of Undertaking' before clicking 'Submit'
IMPORTANT! Screenshot or take note of your Transaction number. This will serve as your reference number when you fill out your e-HDC again at the departure airport. However, in case you lost your copy, travellers may recover it via email.
Meanwhile, for those who haven't done their swabbed test yet, click 'Proceed To E-CIF Registration' to pre-register for the RT-PCR test in Manila.
Generate your One Health Pass QR Code
You may only generate your One Health pass QR Code on the day of your flight.
STEP 1: Go to onehealthpass.com.ph/e-HDC and click 'Yes' to the question 'Have you already registered with One Health Pass / Balikpinas.ph?'
STEP 2: Enter your Transaction Number and Last Name and click 'Search'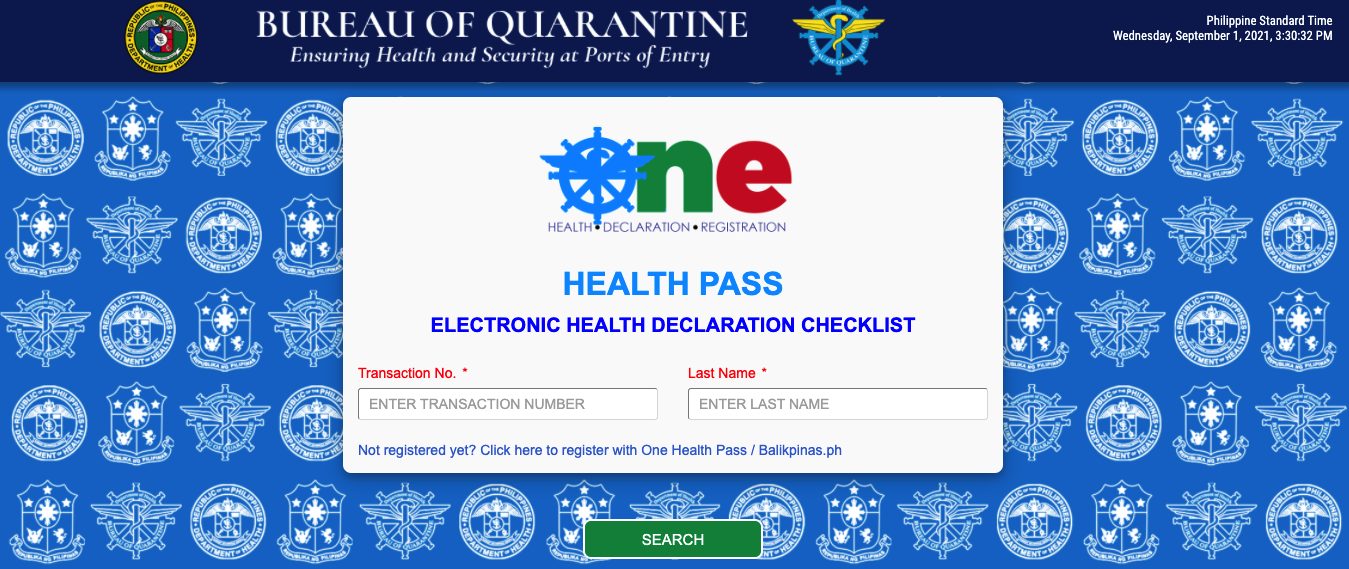 STEP 3: Once you access your E-HDC information, scroll down and check for unfilled or answered boxes. Some of these might be:
Flight No.
Seat/Bed No.
Countries worked / visited / transited for the last 30 days
COVID-19 Exposure history
Clinical information
Comorbidities
STEP 4: Don't forget to read and tick 'Agree' before submitting
STEP 5: Once done, your QR Code will now be generated. You may opt to screenshot the QR Code or print it for easy access. In case you lost it, you will have a copy via email. This QR Code will be required upon arrival in the Philippines.
To know more about the steps, you can check out this video tutorial.
– WhatALife.ph
---
Also Read: PH Bureau of Quarantine: Arrival Guide for OFWs, Non-OFWs, Non-Filipinos