During check-in at the airport, register to the Bureau of Quarantine (BOQ) e-Health Declaration Card — adults and children. This is a two-step process where travellers declare personal information, health status, and travel history: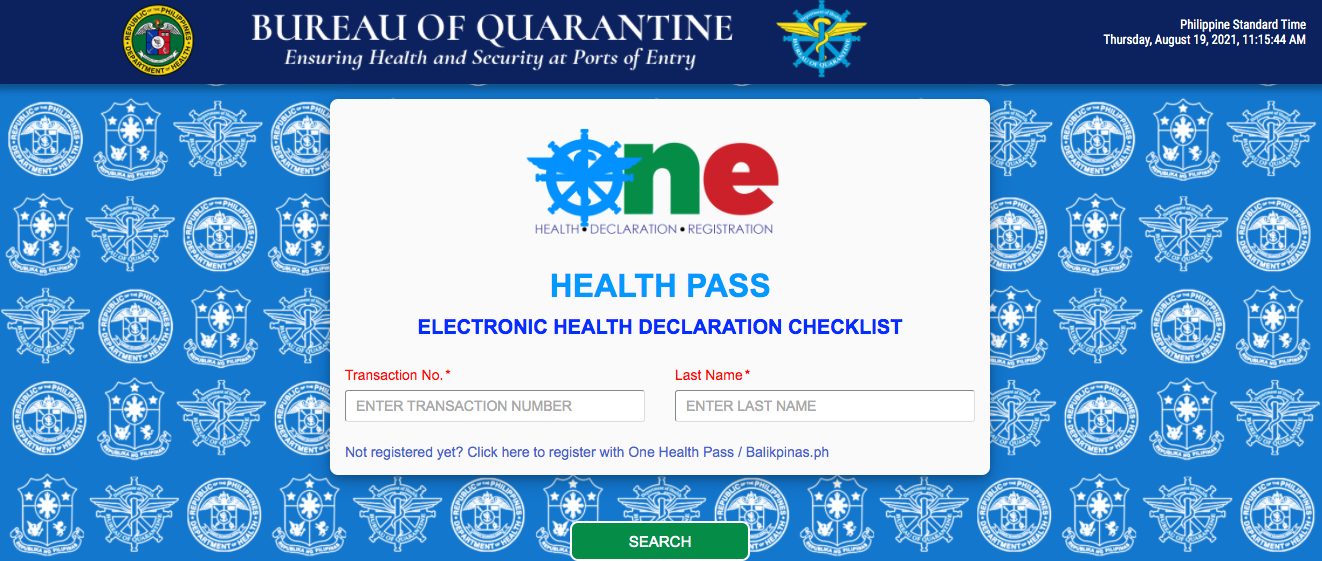 Go to the BOQ Health Declaration Registration and fill out all fields. Once done, save the unique transaction number assigned to you. It's vital for the next step;
Before boarding your aircraft, enter your transaction number at the e-HDC to retrieve your record. Once done, it'll assign you a unique QR code. Present this before boarding and once you arrive in the country. 
The Department of Health maintains that if any dependent isn't fully vaccinated or has a travel history from a Green List country or area, then strict quarantine and protocols will apply to the entire party (if travelling with multiple people), the family as well.
Below are the quarantine procedures to follow upon arrival.
Passengers from Green Listed countries:
They will undergo self-quarantine at their accommodations for a week. 
On the fifth day of that [isolation] week, they need to undergo Reverse Transcription – Polymerase Chain Reaction (RT-PCR) testing. Results will be sent to the Department of Health via the Department of Foreign Affairs.
Of course, foreign diplomats and dependents of those diplomats should be fully vaccinated.
Passengers should have stayed only in Green List countries or areas two weeks before their arrival.
Also, said passengers have an International Certificate of Vaccination (ICV), a government-issued vaccination certificate, or a vaccination card.
Passengers not from Green Listed countries who aren't covered by travel restrictions, or are from Green Listed countries but are noncompliant to conditions:
They must undergo 10 days of self-quarantine at their accommodations. 
On the 7th day, they must submit to RT-PCR testing. The results will, of course, be sent to the Department of Health via the Department of Foreign Affairs.
Passengers with travel history from non-Green Listed countries:
Foreign diplomats and dependents have to present negative RT-PCR test results. The test should have been taken at least 48 hours before leaving their previous country.
Upon their arrival, they are to undergo two weeks of self-quarantine.
RT-PCR testing will occur on the 8th day, and results will be sent to the Department of Health via the Department of Foreign Affairs.
In all cases, if the test results are positive, those carrying the virus should be transferred to an isolation facility. In addition, all close contacts in the same accommodation or quarters should be in strict quarantine for two weeks from the test date.
For any questions, concerns, or clarifications, you can contact Immigrations personnel by landline at (+632) 8465-2400 and (+632) 8524-3769. Also, you can reach them on Facebook at either immigration.helpline.ph or officialbureauofimmigration.
Visit www.immigration.gov.ph or email your concerns at either immigPH@gmail.com, binoc_immigration@hotmail.ph, or immigration.helpline.ph@gmail.com.
– Alex/WhatALife.ph
---
Also Read: LIST: Basic travel requirements for in-bound, transient PH travelers