ECCP Cagayan De Oro branch will be organizing the "Northern Mindanao Post-Pandemic: 2022 Outlook" on January 25, 2022.
Northern Mindanao boasts of self-sufficient agricultural value, which has enabled multiple businesses in the region. Unfortunately, the COVID-19 pandemic brought an unexpected economic downtrend in 2020, in comparison to 2019. However, the National Economic and Development Authority's recent reports have witnessed growth and recovery from different sectors.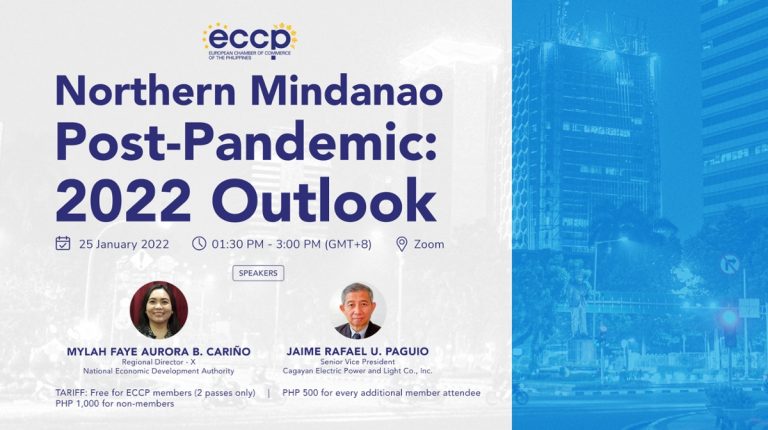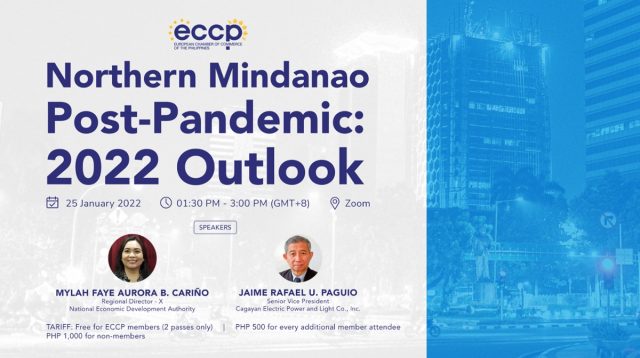 As a result of the recent developments post-COVID-10, the Cagayan de Oro branch of ECCP is holding the "Northern Mindanao Post Pandemic: 2022 Outlook" webinar, this January 25, 2022 from 1:30 PM to 3:00 PM. The webinar will feature guest speakers Ms. Mylah Faye Cariño, NEDA-X Regional Director and Mr. Jaime Rafael Paguio, CEPALCO Senior Vice President. Moreover, the webinar will focus on CDO and Northern Mindanao outlooks for 2022 in terms of business and economy.
ECCP members can register and get two (2) FREE complimentary passes, with a succeeding rate of P700/member attendee. Non-ECCP members can register for P1,000.
Zoom link will be sent to registered attendees via a separate email. For sponsorship and registration inquiries, please contact Joanne Natindim at joanne.natindim@eccp.com.
---
Also Read: An early lab study reveals Omicron variant may cause milder infections