The European Chamber of Commer of the Philippines will be holding the LEARN TO LEAD: Management Foundations for New Managers webinar on December 9, 2021.
ECCP will hold another webinar for professionals this coming December 9, 2021, from 9 AM to 12 NN via Zoom. This workshop is targeted towards new leaders and hopes to determine how to fill their gaps and preserve their integrity to lead.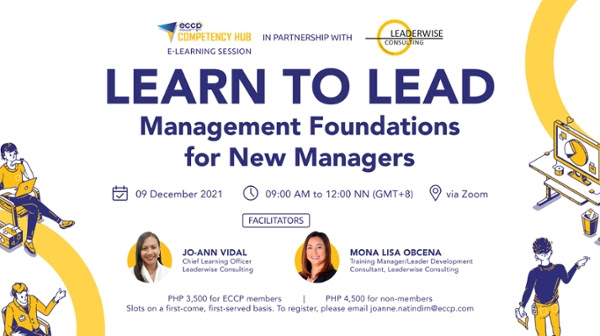 Furthermore, the ECCP highlights the importance of "holistic management and an open mind on how to project inclusive growth in the industry." The webinar will also tackle how new managers represent the organizations they lead and therefore must maintain their team's interests and uphold morale.
The webinar will be facilitated by Ms. Jo-Ann Vidal, Chief Learning Officer of Leaderwise Consulting, and Ms. Mona Lisa Obcena, Training Manager/Leader & Development Consultant of Leaderwise Consulting.
The fee for members comes at P3,500 per person, while non-members pay at P4,500 per person.
Interested participants may register by emailing joanne.natindim@eccp.com.
– Jessa/WhatALife.ph
---
For more events, click here.