Pulse Asia Research Inc. releases its latest survey findings on the May 2022 Elections
President Rodrigo Duterte and his daughter Davao City Mayor Sara Duterte lead the list of Filipino's top bets for president and vice president in Pulse Asia's 2022 National Elections survey.
Pulse Asia conducted its survey on 2,400 adult respondents using face-to-face interviews from June 7 to 16.
Presidential Bets
Sara remained the most preferred presidential candidate, with 28 percent or more than a quarter of Filipino adults. Meanwhile, 18 percent of Filipinos would vote for President Duterte for vice president.
Manila Mayor Francisco "Isko Moreno" Domagoso placed second, with 14 percent of Filipinos saying they would vote for him as president. Closely behind him are Ferdinand "Bongbong" Marcos Jr. (13%), Senator Grace Poe (10%), and Senator Manny Pacquiao (8%).
Vice President Leni Robredo ranked sixth (6%), followed by Senator Panfilo Lacson (4%), Senator Bong Go (3%), former Vice President Jejomar Binay (2%), and Taguig-Pateros Representative Alan Peter Cayetano (2%).
A small majority of Mindanawons (62%) would elect Sara if the May 2022 elections coincide with the conduct of the interviews for the present survey, Pulse Asia said. Sara is also the top preferred candidate of the poorest Filipinos or Class E, with 40 percent voting for her.
On the other hand, Moreno (23%) and Marcos (22%) closely dominate Metro Manila, followed by Sara (16%). The two gentlemen also top-ranked the Class ABC, garnering 21 percent and 17 percent, respectively.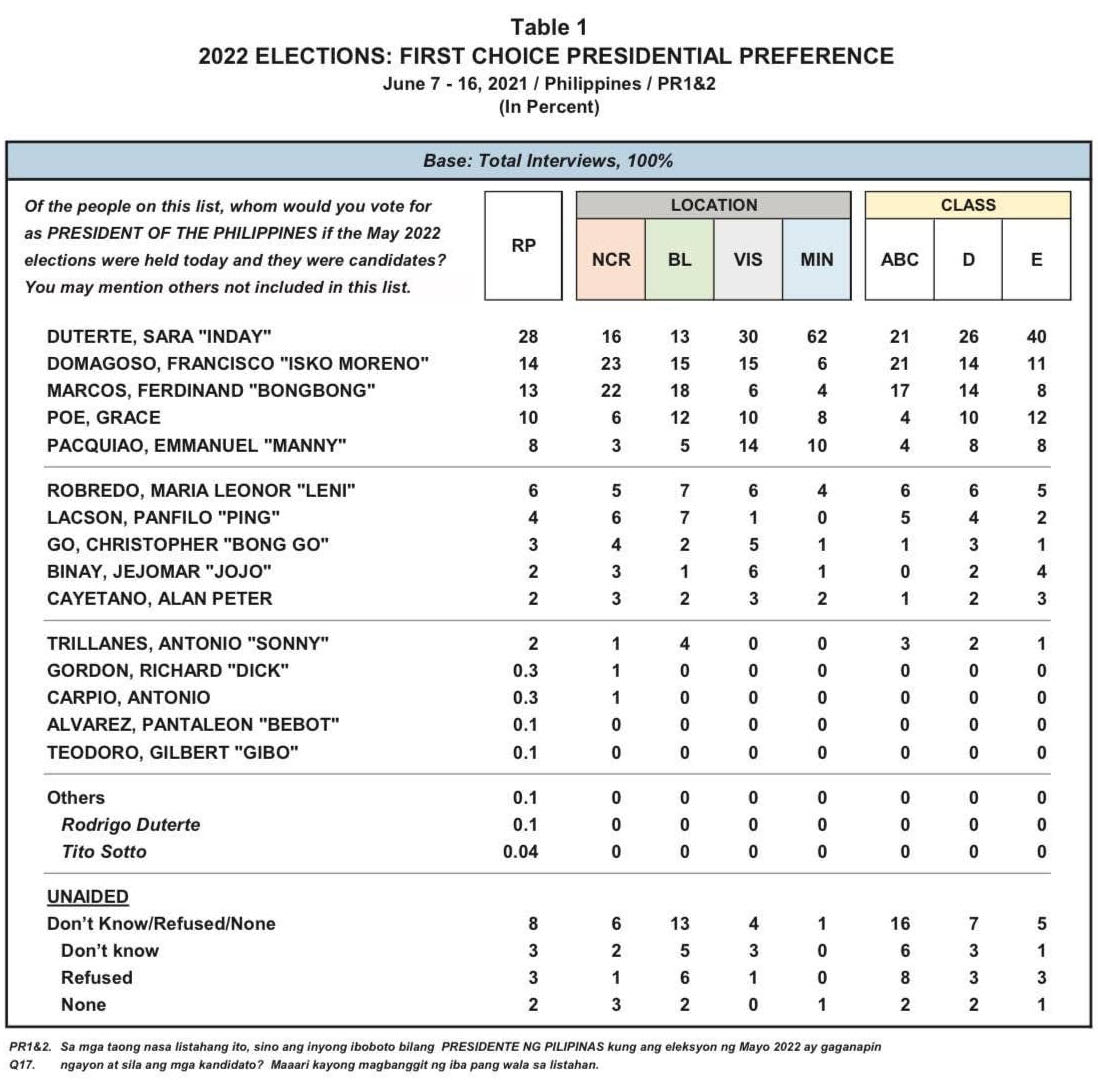 Nevertheless, about eight percent of Filipinos are either undecided, refused to name their favoured candidate, or doesn't support anyone.
Potential Vice President
President Duterte made his debut appearance on the vice president bets, looming in behind Moreno (14%), with 18 percent of Filipinos saying they would vote for him. Senator Vicente Sotto III (10%), Marcos (10%), Pacquiao (9%), Cayetano (8%), and Sorsogon Governor Francis Escudero (7%) all shared second place.
"The rest of the Filipino adults (6%) are undecided about whom to vote for as vice president or refuse to name or not inclined to support anyone for the post," the poll body said.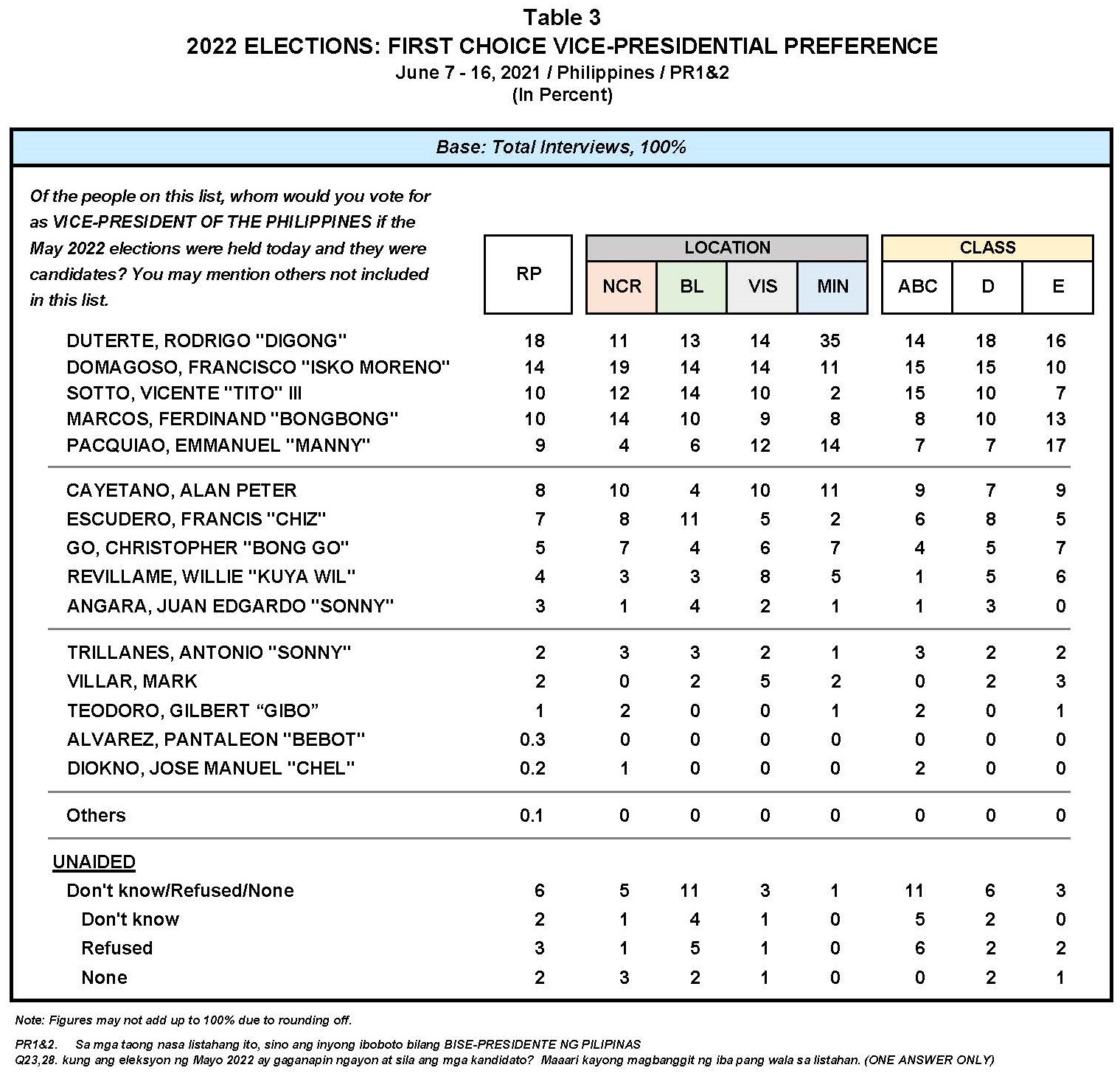 Like his daughter, President Duterte gained a lot of support from Mindanao, with 35 percent supporting him for the possible vice presidential bid. In Metro Manila, Moreno dominated with 19 percent of respondents saying they would vote for him over others, compared to 11 percent for Duterte. – WhatALife.ph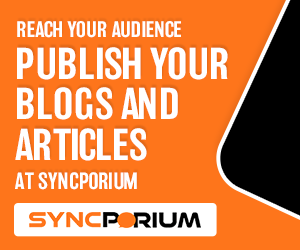 ---
What do you think about the latest survey findings? Would you vote for the top-preferred candidates too? Let us know your thought in the comments!
Also Read: Eid'l Adha 2021 Holiday in the Philippines: Official Announcement