With community quarantine gradually eases in the Philippines, establishments or individuals conducting and providing services are now allowed to operate at limited operational capacity.
To ensure the safety of the workers, especially those inside enclosed spaces, the Department of Labor and Employment (DOLE) has issued Department Order 224-21, signed by Labor Secretary Silvestre Bello II on March 3, 2021, which provides guidance for ventilation that should be observed for private establishments as well as public transport.
See below the following Ventilation Guidelines for Workplaces:
Ventilation Guidelines for Workplaces
DOLE Department Order 224-21
Non-Air-Conditioned Spaces:
Maximize natural ventilation through the use of doors, windows, and other openings.
If natural ventilation is not feasible or inadequate, mechanical ventilation shall be provided.
Exhaust fans should be kept continuously open as much as possible.
Conduct weekly (or as necessary) cleaning of windows, other openings, and ventilating fans.
Air-Conditioned Spaces:
Run the ventilation system/s for at least 30 minutes before and after spaces are occupied.
Keep the blinds or shutters of AC units in an upward position to prevent the air from flowing from one person to another.
Establish a regular cleaning and maintenance program for mechanical systems.
Local Exhaust Ventilation (LEV):
Must conform to the existing local code with its basic components of hoods, ductworks, air-cleaning devices, fans or blowers, and exhaust stack.
Must be equipped with a proper air cleaning device to treat, filter, and minimize airborne contaminants being exhausted to the atmosphere
Ensure that running hoods of LEVs are properly secured when not being used during a specific operation to avoid disruption
Restrooms:
Ensure exhaust fans are functional whenever the building is occupied.
Close the toilet bowl seat lid before flushing to minimize releasing droplets into the air caused by flushing.
Do not use hand blowers or jet dryers as it contributes to the dispersion of potentially contaminated air inside restrooms.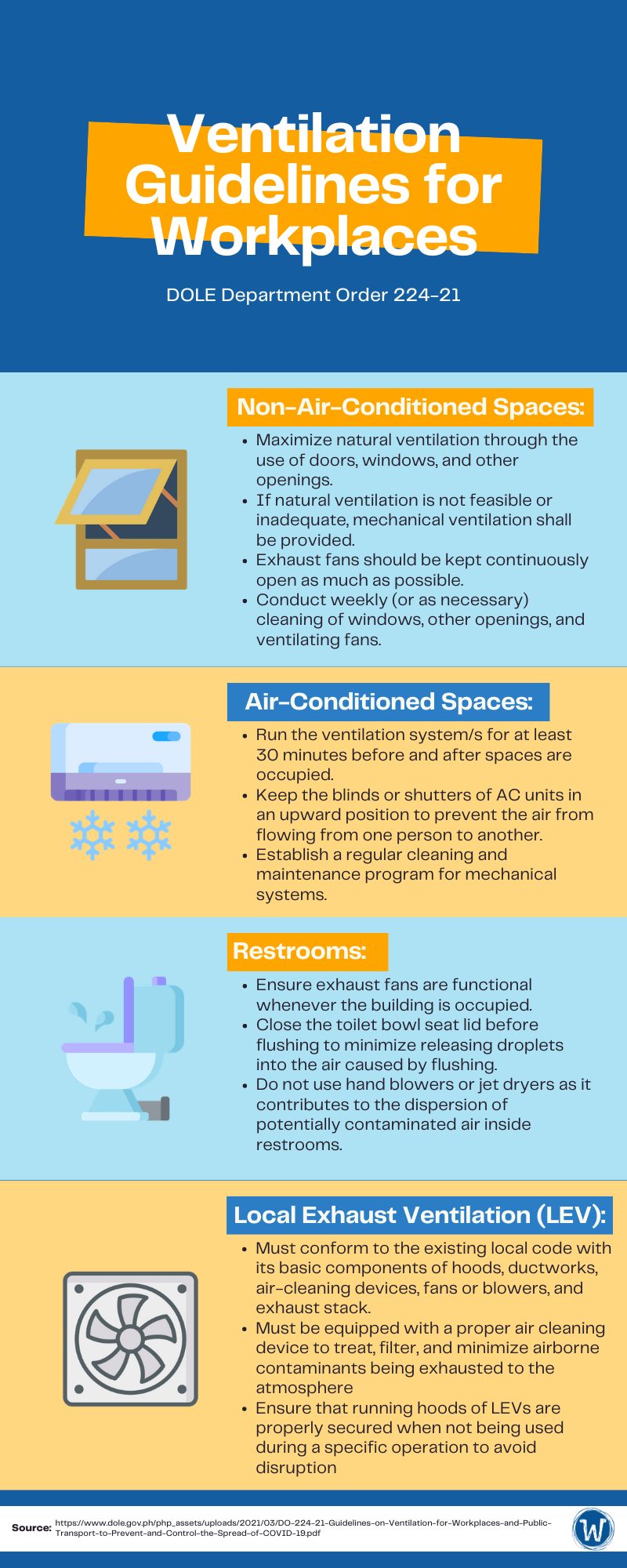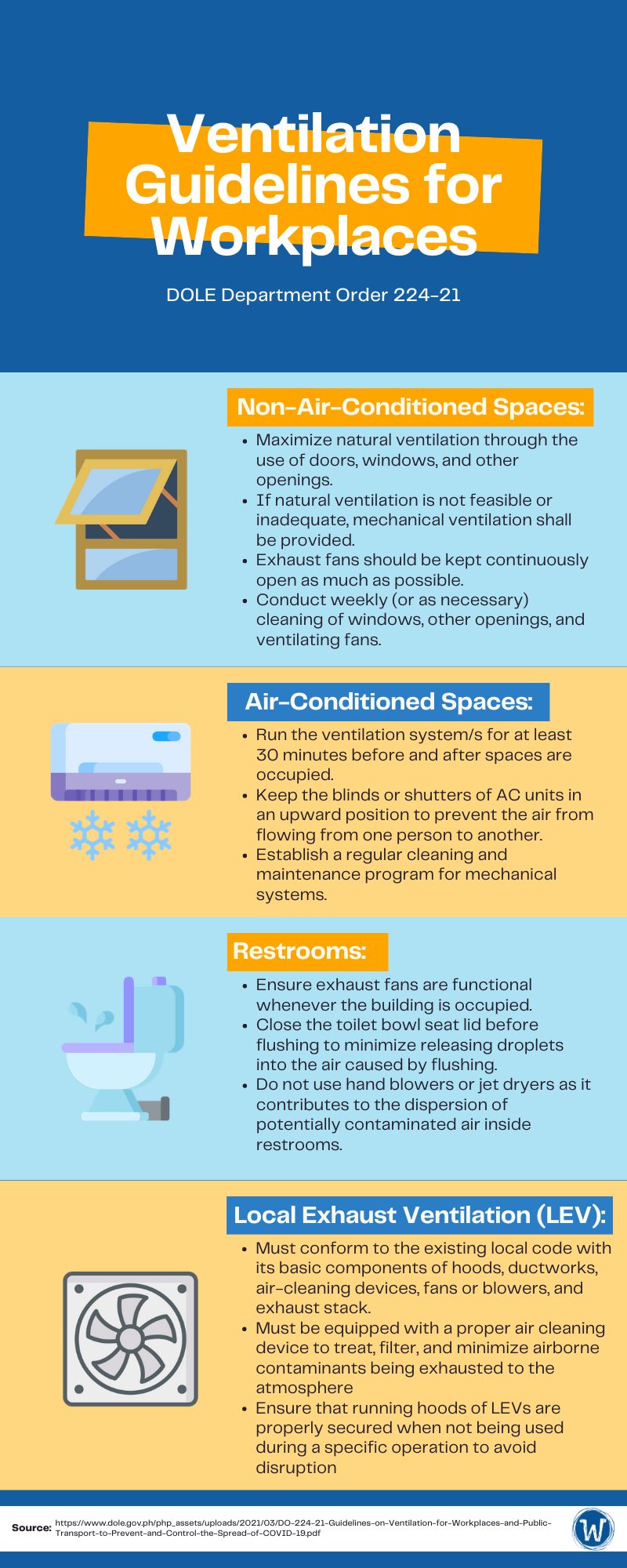 Meanwhile, check out below the Ventilation Guidelines for Public Transport
LTFRB MC 2020-061, s. 2020
Provide natural ventilation and access to open air.
Avoid using the recirculated air option for the vehicle's ventilation during passenger transport
Ensure adequate ventilation, if possible, by opening windows by at least (2) inches while in transit, provided that it is safe to do so.
Endure regular and proper maintenance of filters of the vehicle air-conditioning units, if applicable.
For rail and road transport, impose a minimum of fifteen (15) seconds for the opening of doors for passengers' exit and entry.
Ensure that the following minimum public health standards are being followed

Wear properly approved face masks and face shields at all times;
Follow strictly the proper and frequent disinfection, before and after completing a route;
Implement one-seat apart distance for passengers, disallowing passengers to sit beside each other, unless plastic barriers are installed between them;
Post updated COVID-19 information through IEC materials;
Avoid talking (answering phone calls or having conversations) while inside the public transport;
Prohibit eating and drinking while inside the public transport;
Prohibit symptomatic passengers on board.
(Source: DOLE)
Also Read: DOH, NTF: Vaccination pace expected to soar once supplies arrive