As the COVID-19 cases in NCR Plus gradually decrease, three other regions have been tagged as areas of concern with the spike in infection.
On May 8, The OCTA Research Group has tagged three cities outside of Metro Manila as areas of concern after concerning spikes in the infections of COVID-19 in the area.
OCTA has named three cities, namely, Cagayan de Oro, Puerto Princesa, and Bacolod.
Calamba, Laguna is also experiencing a 21 percent spike in cases from the previous week, despite being part of the NCR Plus bubble. Nevertheless, OCTA did not voice too much concern about the city.
"While the trend in the NCR is stable, the trend in Laguna is not yet stable. Specifically, there was an increase in new cases in Calamba. Outside the NCR Bubble, the following are considered areas of concern due to a rise in new Covid-19 cases: Cagayan de Oro in Misamis Oriental, Puerto Princesa in Palawan, and Bacolod in Negros Occidental," said OCTA in its bulletin.
OCTA's data analysis showed that Puerto Princesa had a 78% spike in COVID-19 cases. In comparison, Cagayan de Oro and Bacolod logged 75% and 19% increases, respectively.
See the complete OCTA Monitoring Report below as of May 8, 2021.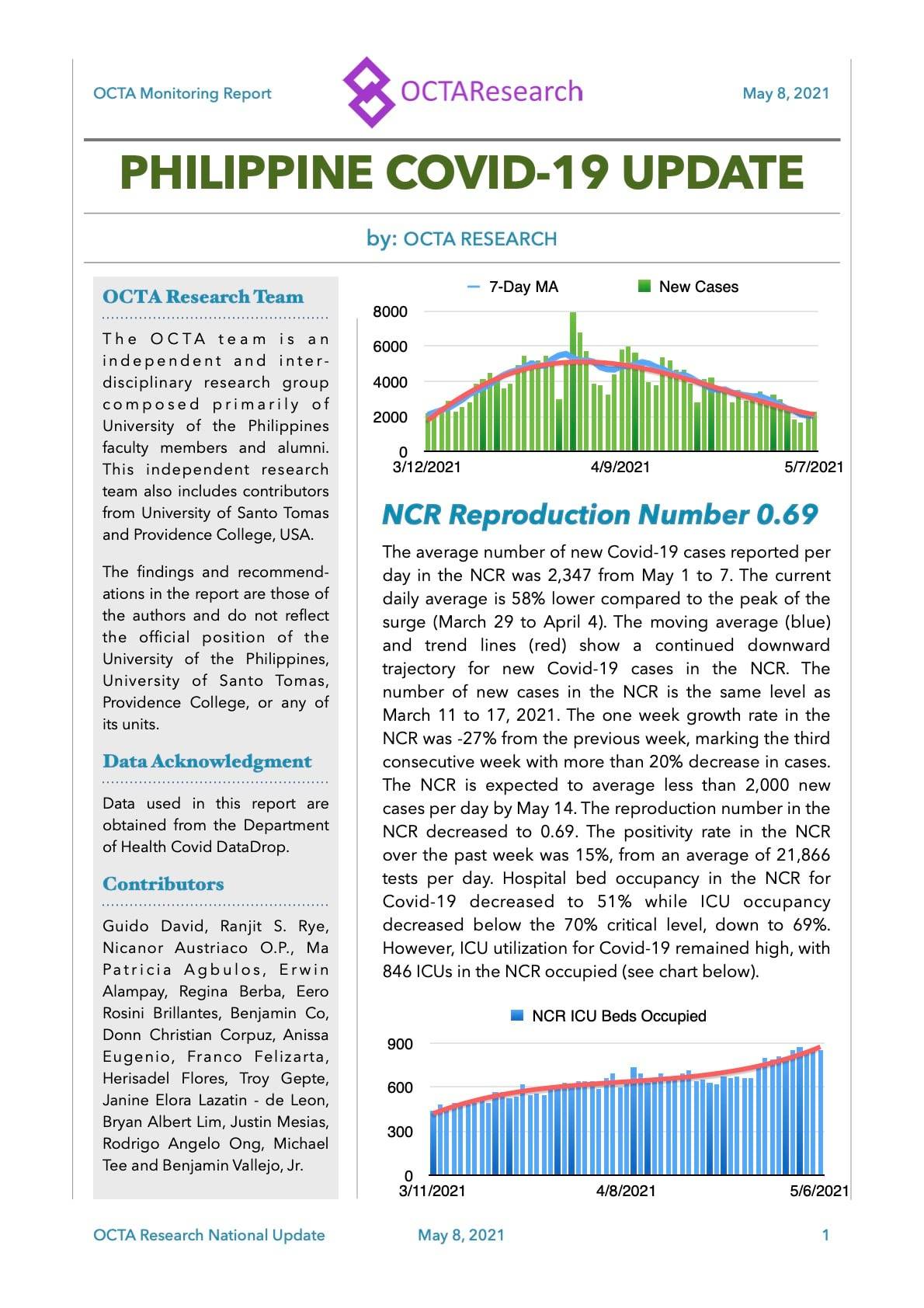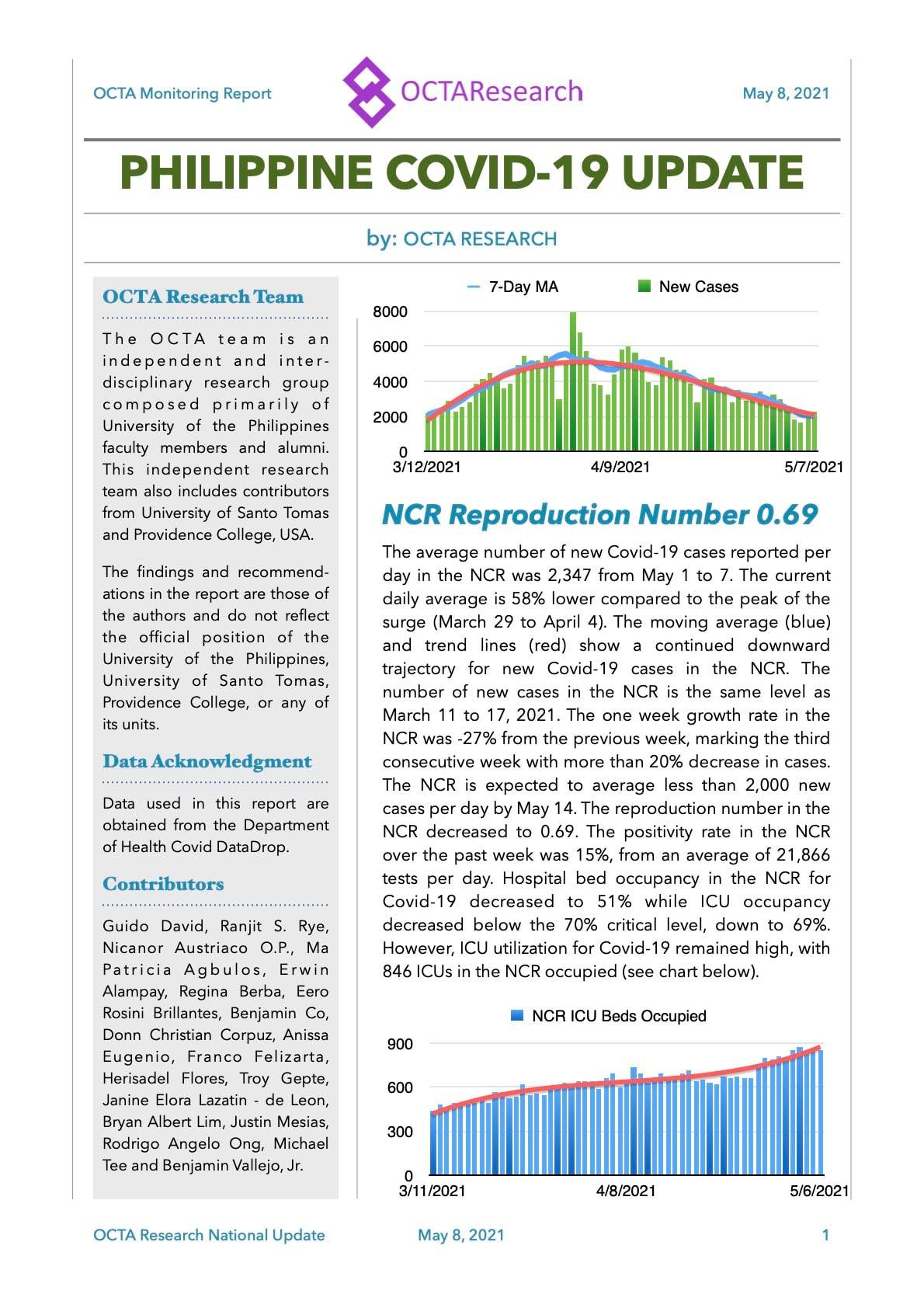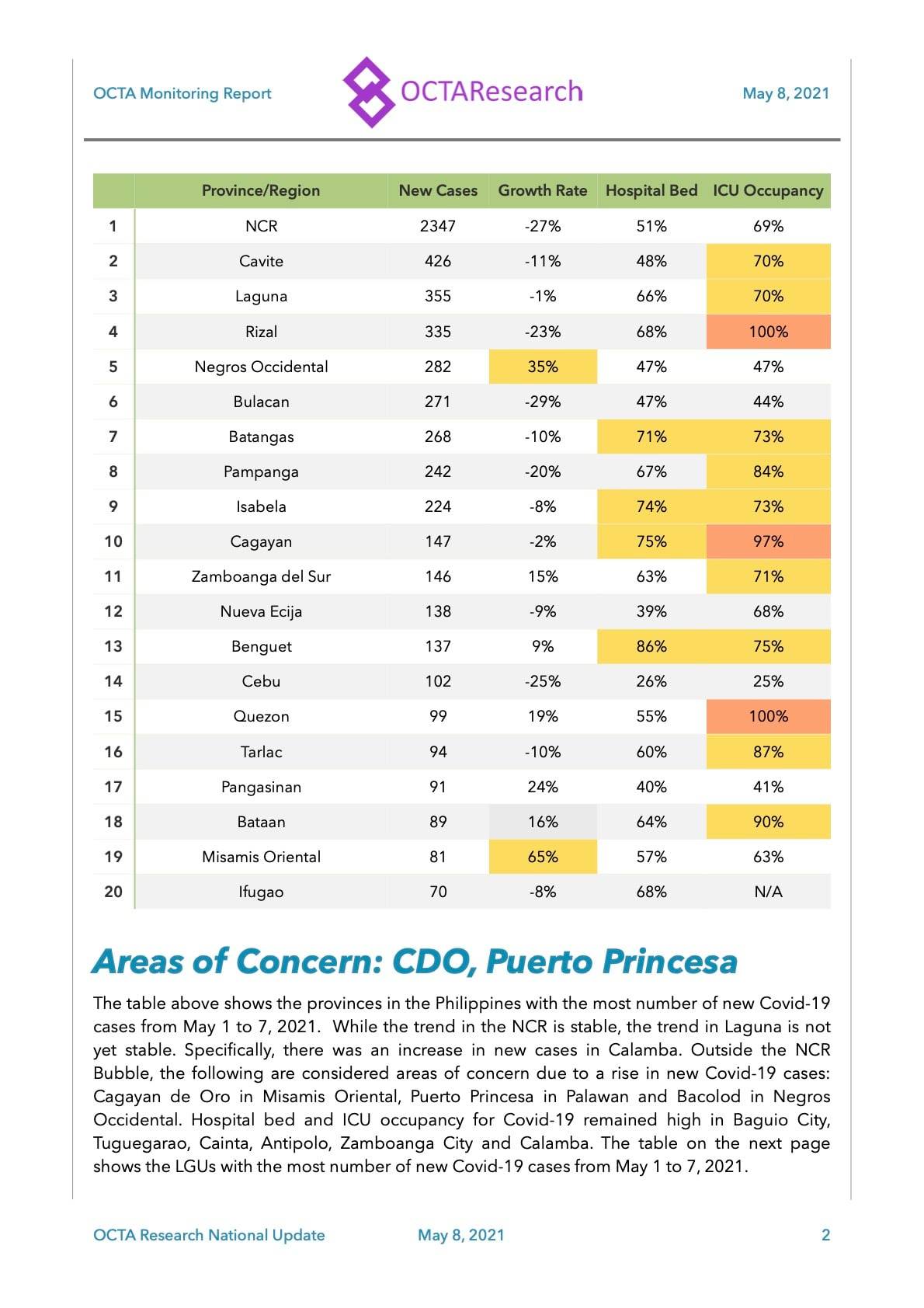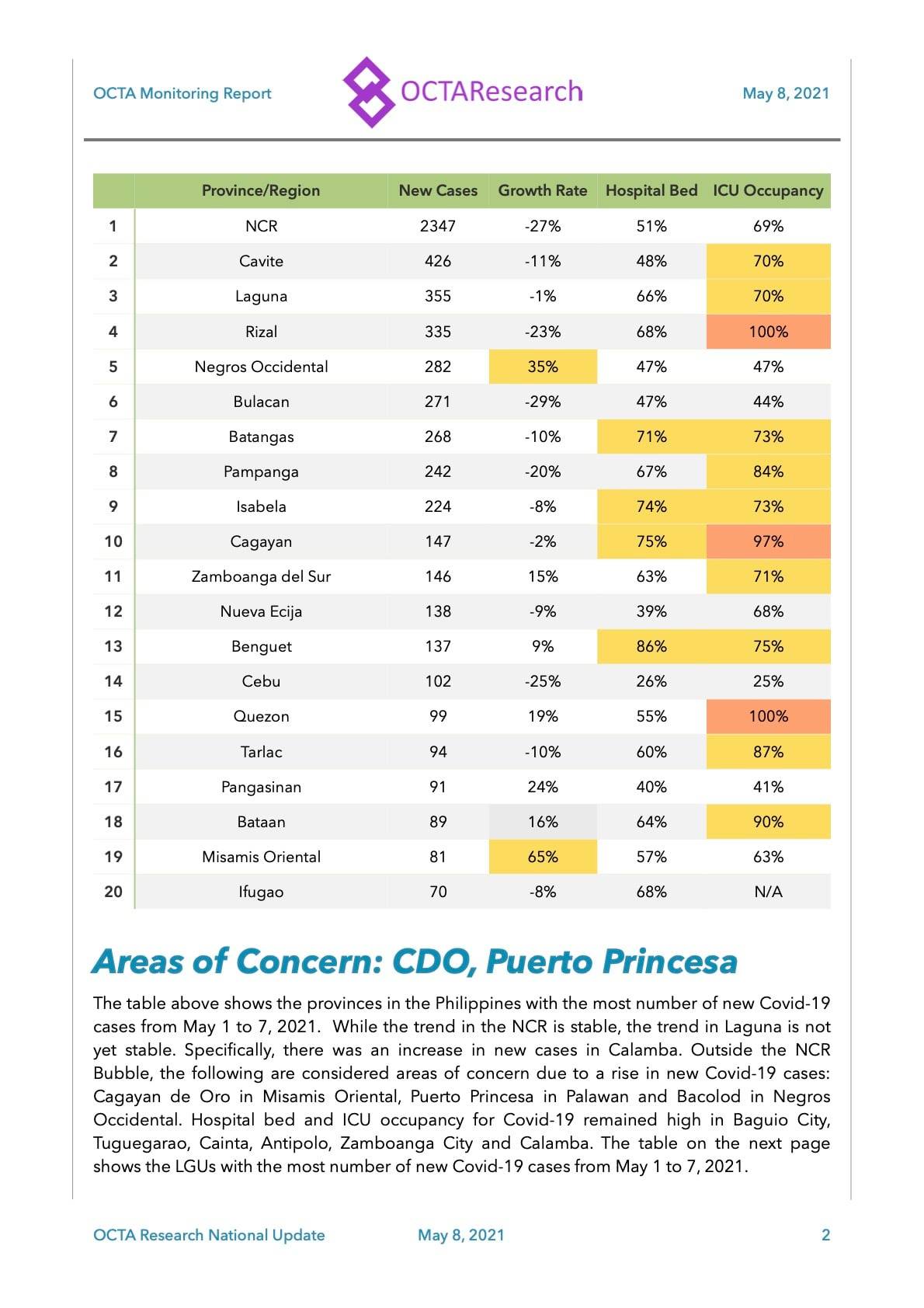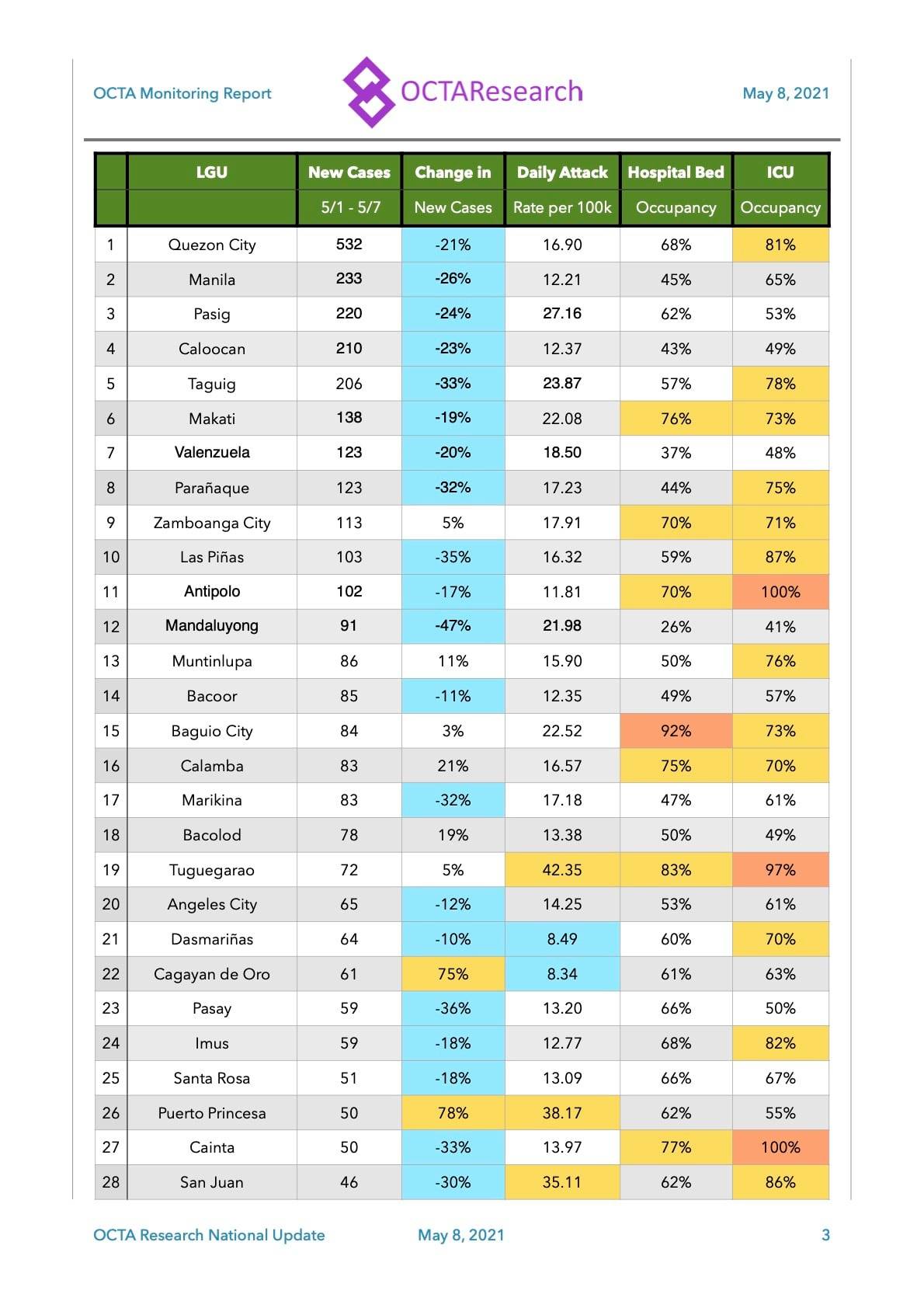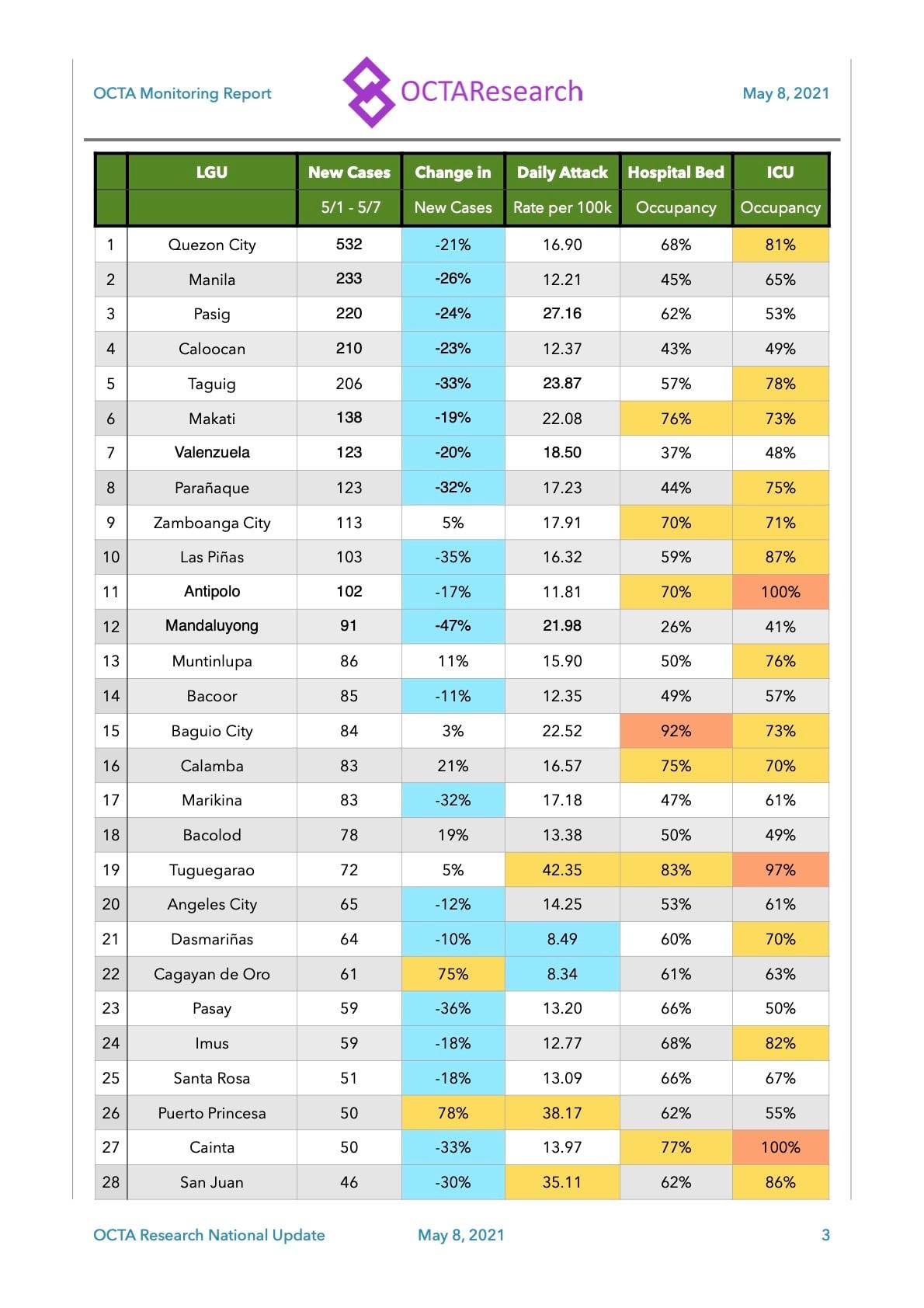 The growth rate of COVID-19 in Metro Manila is at -27%, the second-best among the 20 regions/provinces monitored behind Bulacan.
OCTA also expects that NCR will average less than 2,000 new cases per day by May 14.
The OCTA Research is an independent and interdisciplinary research group composed primarily of University of the Philippines faculty members and alumni. The independent research team also includes contributors from the University of Santo Tomas and Providence College, USA.
According to its Data acknowledgment, the team uses data obtained from the Department of Health COVID DataDrop for its analysis.
Everyone is encouraged to strictly follow the minimum health standards to protect themselves and their loved ones from catching COVID-19.
—(Source: Inquirer)
---
Also Read: CdeO logs 128 new COVID-19 cases over the weekend of May 8-9