The Inter-Agency Task Force (IATF) recently lifted the community quarantine classification of Cagayan de City from Modified Enhanced Community Quarantine (MECQ) to Enhanced Community Quarantine (ECQ) until July 31, 2021.
From its initial MECQ classification until July 22, Iloilo City and Iloilo Province, as well as Gingoog City, have shifted to ECQ until the end of the month.
Meanwhile, the General Community Quarantine (GCQ) with heightened restrictions classification of Antique has been extended from July 22, 2021 to July 31, 2021.
Misamis Oriental, previously under Modified General Community Quarantine (MGCQ) classification until July 31, has been placed to GCQ with heightened restrictions until the end of July.
The reclassification was made upon the recommendations of the Department of Health (DOH), its Technical Advisory Group, and the Technical Working Group on COVID-19 Variants, Presidential Spokesperson Harry Roque said.
Delta Variant detected in the Philippines
The DOH, alongside the University of the Philippines – Genome Center (UP-PGC), and the University of the Philippines – National Institute of Health (UP-NIH), has reported "the detection of 16 new Delta variant cases (B.1.617.20), including the first local cases, based on the latest whole-genome sequencing report."
In the press statement, DOH said five of the 16 cases are Returning Overseas Filipinos (ROFs): one case arrived in the country from the United Kingdom on April 26, while two others arrived from Qatar on June 15. Moreover, the department is currently verifying the arrival and quarantine status of the two other ROF cases.
"Eleven cases are classified as local cases, DOH continued. Six cases have been detected in Region 10 and are part of a large cluster of cases, with dates of onset between June 23-28."
All of these cases have also been tagged as recovered.
Meanwhile, two cases were detected in the National Capital Region (NCR): one was tagged dead after being rushed to the emergency room on June 28. The other was a recovered outpatient with an onset date of June 23.
DOH said the last two local cases were recovered patients from Region 6, with an onset date of May 27.
The department assured the public that it is closely coordinated with the Center of Health Development and Local Government Units to ensure that "all cases have been or are appropriately traced and managed. Likewise, the Bureau of Quarantine and the Department of Transportation are on high alert to implement strict border control measures."
Read the full document below.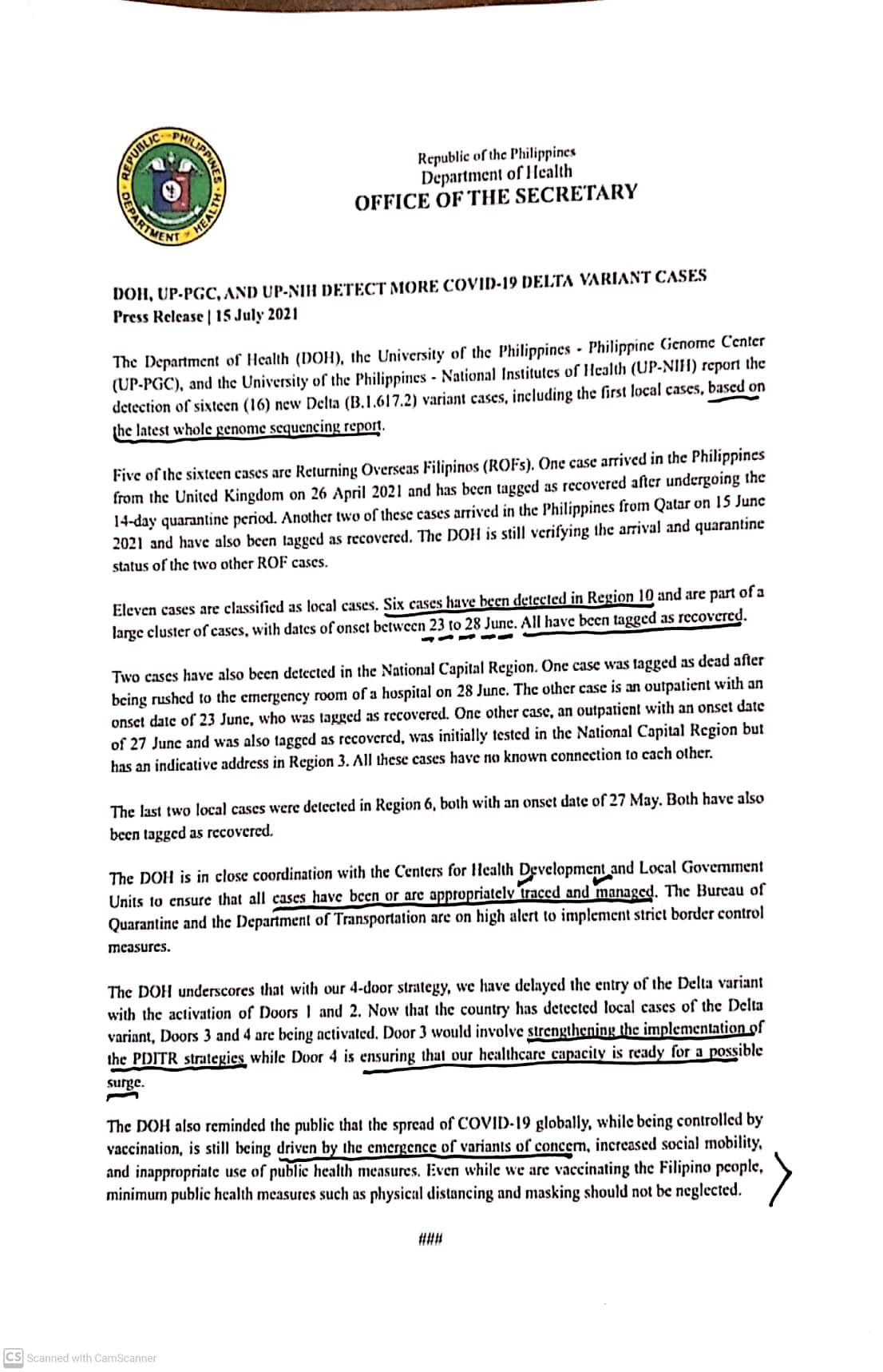 ---
Also Read: CdeO logs 93 new COVID-19 cases; total cases at 10,905