The nationwide SIM card registration began on December 27, 2022. Have you registered your SIM yet? Here's how you can register your Sun Cellular SIM card online through the registration link.
NOTE: Since Sun Cellular is under Smart Communications, the following steps are similar to that of registering your Smart and TNT SIM Card.
How to Register your Sun Cellular SIM for the SIM Card Registration Act?
Step 1. Visit the official Sun Cellular SIM Card Registration link at https://simreg.smart.com.ph/.
The same registration link is used for Smart and TNT subscribers. Make sure to only visit the official website and not spammy links sent by scammers either through email or text.
Step 2. Enter your mobile number, click the "Terms & Conditions" and "Privacy Notice" box, then tick the "SEND OTP" button.
The first step will verify if you own the number through a One-Time Pin (OTP).
If you missed the text, note that you have two minutes before you can ask to resend the OTP. So, be on standby.
Step 3. Enter the OTP and click the "VERIFY OTP" button.
If you enter the correct OTP, a "Success!" pop-up will show on the page. Click the "OK" button to continue.
Step 4. Provide the required information in the Customer Information page.
This includes:
Type of Registration, if you are registering a

Newly bought SIM
Old SIM
Newly bought SIM for a Minor
Old SIM for a Minor

ID Card, any of the following

Passport
Police Clearance
Voter's ID
Philippine Identification
Firearms License to Own and Possess ID
Senior Citizen's Card
Social Security System ID
Professional Regulation Commission ID
Unified Multi-purpose Identification Card
Government Service Insurance System E-Card
Integrated Bar of the Philippines ID
A person with Disabilities Card
Driver's License
Overseas Workers Welfare Administration ID
Other valid IDs with photo

ID Card Number
First Name
Middle Name (tick the "I have no legal middle name" if true)
Last Name
Birthday
Sex
Step 4A: Upload a photo of your ID of choice for Verification by clicking the "Upload" button.
Make sure to take a photo in a bright room so the information on the ID is clear.
PRO TIP: Choose the "Upload" option instead of the "Take a Photo" since it is easier and will not take many tries.
Step 4B: Upload a selfie to verify that you own the ID.
Take a selfie in a well-lit room to ensure that the photo is clear.
Step 5: Click "Next" then fill-in the Address Information page.
Other than your address, the page also asks for alternate contact information so Smart can contact you in case of further validation. Here, you may use other SIM cards from other telcos, and your email.
Step 6: Click "Next" and take the time to check all your input in the Summary Page.
If all information is correct, you may proceed to the next step. Otherwise, click the "BACK" button to change any wrong information.
Step 7: Tick the first box (recommended) attesting that the provided information is true and correct.
The second box is optional. You may click on it if you allow Smart to send you promotional messages.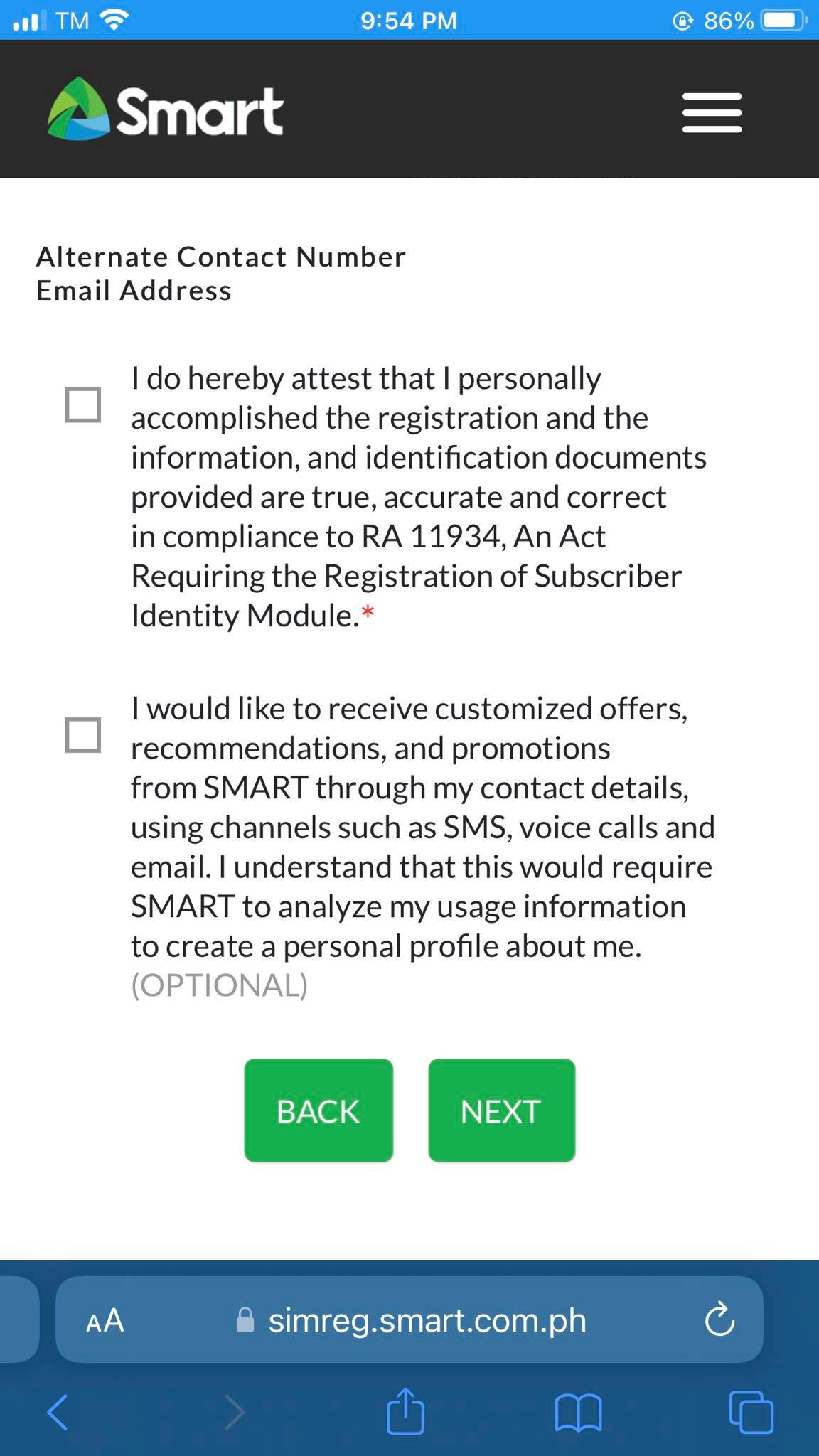 Step 8: Click "Next" and take a screenshot of the last page to keep a copy of your SIM card registration reference number.
The reference number will serve as your certificate of registration.
Step 9: Receive a confirmation SMS verifying that your SIM is registered.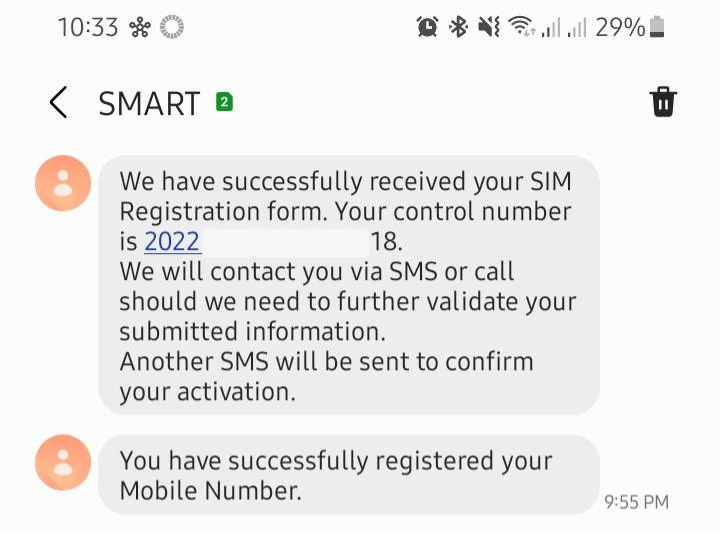 Congratulations! Your Sun Cellular SIM is officially registered under the SIM Card Registration Act. You may repeat the process for additional Smart SIM cards, including TNT.
SIM Card Registration FAQs
Can I register multiple SIM cards?
YES. One user can register multiple SIM Cards. You just need to repeat the registration process for EACH SIM card through their respective portal links.
So, if you have TWO or more Smart SIM Cards, you must register each through the registration portal, repeating the process until you have registered all SIM under your name.
On the other hand, if you have different SIM cards from other telcos, such as Globe, DITO, TM and others, you must register each SIM card under your name through the different registration portal provided by the telcos.
---
You may also read: NTC Declares SIM Registration July 26, 2023 Deadline Final
---
When will the registration end?
Registration began on December 27, 2022 and will end on July 26, 2023 after the DICT and NTC decided on a 90-day extension declared on April 25, 2023.
What happens if I fail to register my Smart SIM Card?
If you fail to register your Smart SIM card within the registration period, your SIM will be deactivated. This means you will not be able to use it for calls, text, data, and other mobile services.
To find out more about the SIM Card Registration Act, check out the following guides:
GENERAL GUIDE:
GLOBE SIM CARD REGISTRATION GUIDE:
SMART SIM CARD REGISTRATION GUIDE:
DITO SIM CARD REGISTRATION GUIDE:
TM SIM CARD REGISTRATION GUIDE:
TNT SIM CARD REGISTRATION GUIDE:
SUN CELLULAR SIM CARD REGISTRATION:
– WhatALife!
Source: (smart.com.ph)
---
Also read: GUIDE: How to Register your Globe SIM for the SIM Card Registration Act?