As scientists across the globe continue to work around the clock looking for a vaccine for the novel coronavirus disease (COVID-19), application and web developers contribute to this fight through collaborative work—creating effective contact tracing tools that would aid healthcare workers.
On April 7, the Philippine Red Cross (PRC) launched the "RC143" mobile app that uses wireless, geo-location, and sensory capabilities to trace contact events between people, preventing the spread of coronavirus disease 2019 (COVID-19) in the country. "For the past few weeks, Red Cross volunteers—seasoned veterans in mobile and Internet innovation in the Philippines, next-generation developers, and data scientists—remotely collaborated on the RC143 project, leveraging the latest technologies to aid our nation's war against Covid-19," PRC Chairman Richard Gordon said. The RC143 app is part of the Red Cross' end-to-end mobilization system that allows users to directly contact the agency, offering a more efficient, effective, and personal response to questions and concerns regarding the disease. "Data processed in the back-end will allow Red Cross frontliners to talk to the right people, ask the right questions, act to isolate and treat the infected, and at the same time get their families and communities out of harm's way," Gordon added. PRC expects to integrate the end-to-end RC143 system in its command center and rollout the RC143 app to its frontliners, as well as the general public. In partnership with local government units (LGUs) and the private sector, Red Cross pushes to increase the adoption of the app, which will progressively improve its intelligent systems as users increase. "With more and more people downloading and carrying the app, it can aid citizens in their cautious but purposeful return to essential economic activity, " Senior Consultant to the Chairman and former Governor of the Red Cross Dennis Mendiola said.
RC143, a COVID-19 Contact Tracing App
RC143 app uses a "wireless, location, and sensory capabilities of a smartphone" to help users trace back people that they have encountered and determine their likely levels of exposure to COVID-19. The app periodically gathers data. However, unlike the traditional contact tracing, the platform will not require and collect names, locations, or other identifying information. Instead, when two or more users use the system and have come into physical contact, their phones will swap anonymous identifier beacons using Bluetooth Low Energy (BLE). This so-called identifier, technical jargon for rolling proximity identifiers, changes roughly every 15 minutes to prevent wireless tracking of a device. Moreover, PRC actively monitors COVID-19 cases and will immediately contact those who they have identified to be at risk or link them to the COVID-19 Contact Center for further monitoring and medical assistance. They will also provide swab tests if deemed necessary. The latest version of the app was made available on April 13, 2020.
How does it work?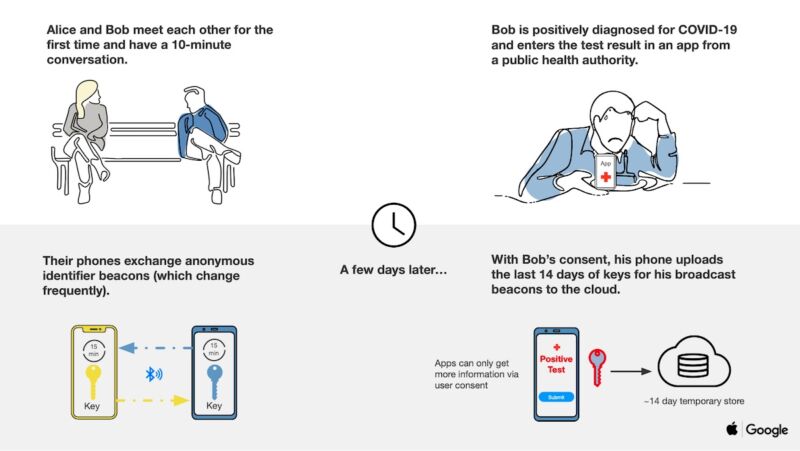 According to the official website of RC143, "as the users move about and come into proximity with others, their phones continue to exchange these anonymous identifiers." "Periodically, the users' devices will also download broadcast beacon identifiers of anyone who has tested positive for COVID-19 and has been in the same local region." Furthermore, "in the event someone reports to the system that she has tested positive, her phone will contact a central server and upload 14 days of her identifiers. Non-infected users download daily tracing keys, and because of the way each rolling proximity identifier is generated, end-user phones can recreate them indexed by time from just the daily tracing key for each day. The following two slides help illustrate at a high level how the system works."
RC143 requires Bluetooth and WiFi connectivity
Bluetooth is a requirement for the RC143 app. If Bluetooth on your device is OFF then the scanning of other devices and the monitoring of possible exposure will not work. If Bluetooth is OFF, you will also see that the status of the app is Inactive. Please also note that turning Bluetooth OFF once in a while will make the Exposure Risk Meter reading inaccurate. RC143 FAQs
In an inquiry received on April 28 regarding WiFi or mobile internet connection, the RC143 developers emphasized that the connection is a requirement for the app to work. Nevertheless, the team will try to reach out for collaboration with telecom companies to make the app accessible and available free of charge. "We are definitely thinking about ways to make this accessible even for those without mobile internet, so we have partnered with our local telcos to allow the use and access of the app for free. Currently, Smart subscribers are NOT charged extra for mobile access for RC143. We are also working with Globe for this," the statement reads.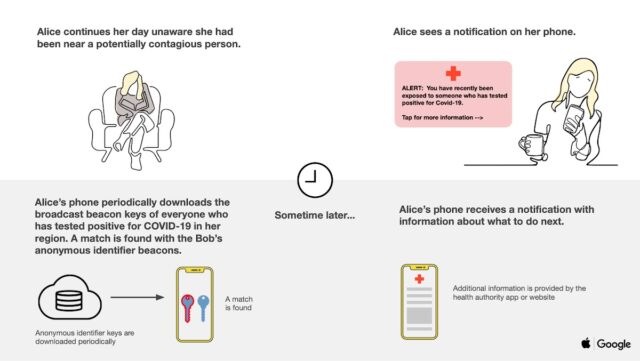 How to download and register?
To download the RC143 app, just go to
Google Play
and search for RC143, or visit this
link
.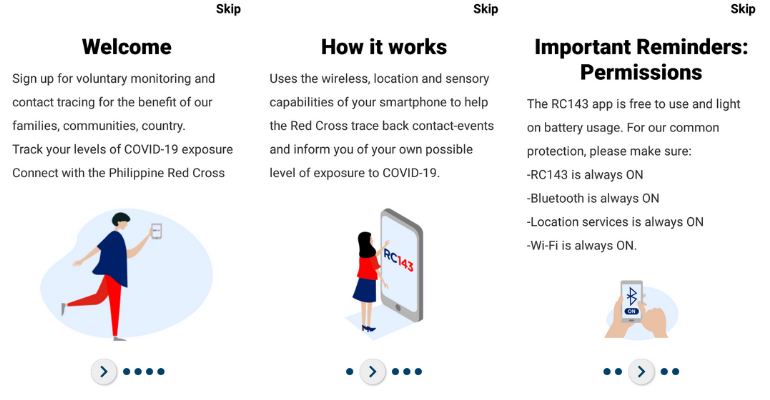 Note: It is important that your Bluetooth is ON or enabled and that you allow the app to Access your Location. If asked, please allow the app to use Bluetooth and Access your Location. To register, just enter your active Philippine mobile number (+63). This will allow you to validate your account. Red Cross ensures its users that mobile numbers will be kept confidential. Then enter the 4-digit One-Time Pin (OTP) that will be sent to your registered mobile number to confirm registration. Again, other personal information such as name, age, and address will not be asked by the platform.
Features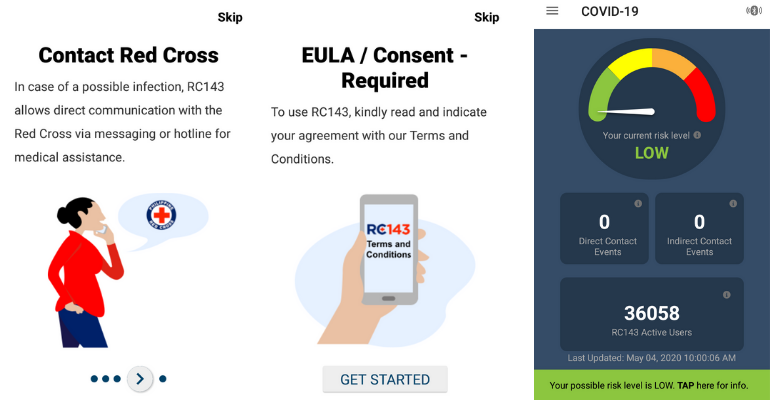 The main features of the RC143 include Exposure Risk Meter, Direct Contact Events, Indirect Contact Events, the total number of RC143 Active Users, and PRC contact for medical assistance.
The Exposure Risk Meter is a tool that shows your likely level of exposure to COVID-19. Your possible risk level is determined based on the activity detected, on the other users you came in contact with, and the official data monitored by the Red Cross. Initially, the Exposure Risk Meter feature won't be available upon registration of the app. It will only be enabled when enough contact event data has been gathered, and only with confirmation by the Philippine Red Cross. Those with high-risk level assessment results are encouraged to contact the Philippine Red Cross and seek medical assistance for actual COVID-19 testing.
The colors on the Exposure Risk Meter suggest the following:
Green – LOW exposure and is likely fine;
Yellow – MODERATE virus exposure and is likely at risk; with this, users are advised to immediately follow quarantine guidelines and social-distancing;
Orange – HIGH virus exposure and is likely to be exhibiting symptoms or is likely to be an asymptomatic carrier; at this level, strict quarantine guidelines must be followed and medical assistance must be sought as soon as possible;
Red – The user/patient is CONFIRMED POSITIVE by the Red Cross.
It also includes the PRC Viber Community, which users can join for more information and official announcements from the Philippine Red Cross related to COVID-19. Currently, the RC143 app is only available for Android users (version 6.0 and above). However, the team noted that it will soon release its iOS version. —
As of writing, the Philippines has a total of 9,684 confirmed cases, with 637 deaths and 1,408 recoveries.
SOURCE