Pulse Asia Research, Inc. released on Wednesday, December 22, its findings for the May 2022 Elections candidate bet survey conducted from December 1-6 using face-to-face interviews.
Pulse Asia sampled 2,400 representative adults 18 years old and above in the latest national survey.
Bongbong Marcos leads Presidential race
According to its findings, former Ferdinand "Bongbong" Marcos, Jr. continues to dominate the presidential race, with more than half of the Filipino adults (53%) expressing support for the former lawmaker.
"Across geographic areas and socio-economic classes, majorities in Metro Manila (61%), the rest of Luzon (51%), Mindanao (64%), Class ABC (53%), and Class D (54%) would vote for ex-Senator Marcos if the May 2022 elections were held during the survey period," Pulse Asia reported.
Many Visayans also back Marcos at 42 percent and a near majority of Class E at 49% percent.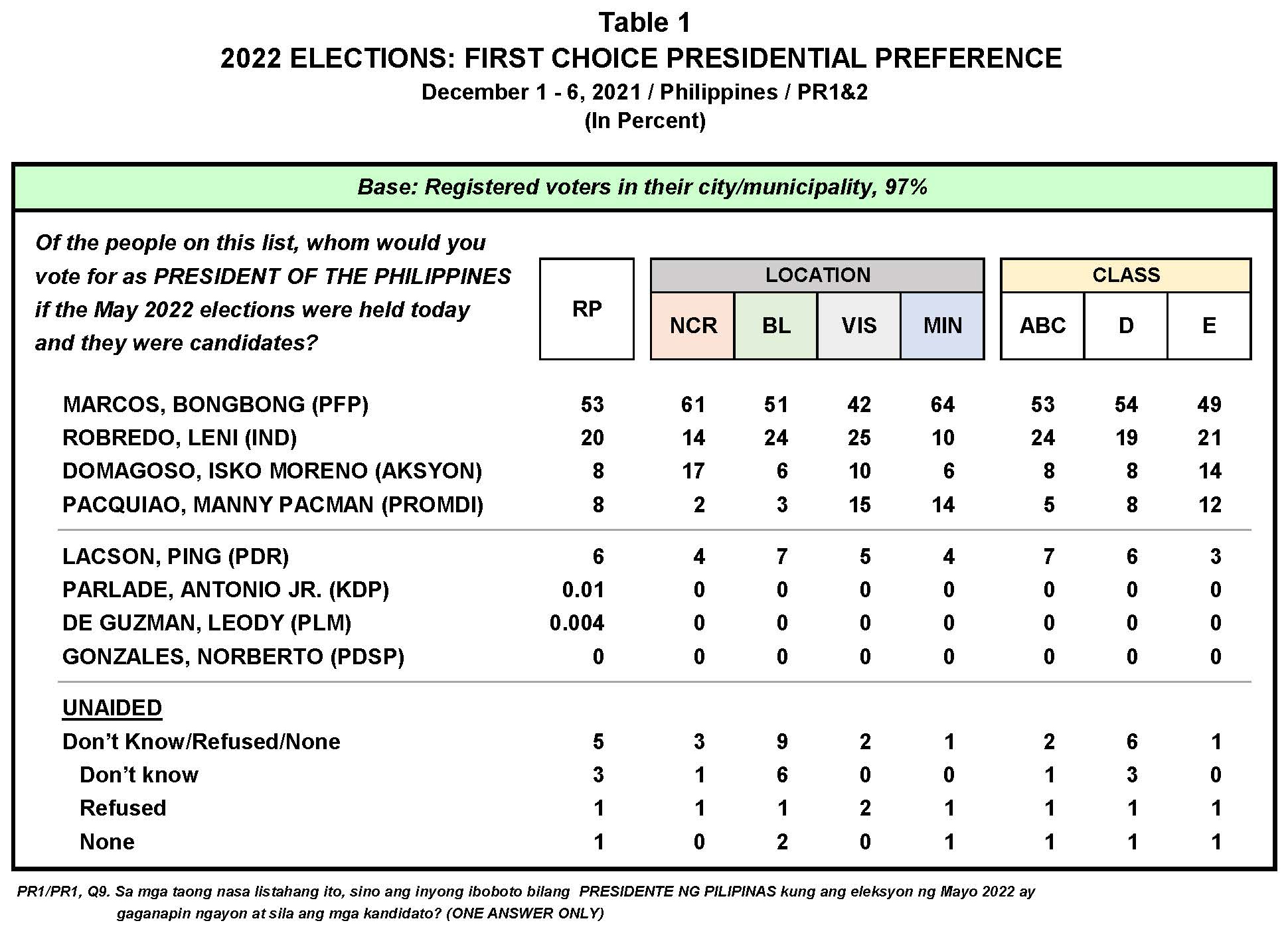 Coming in second is incumbent Vice President Maria Leonor "Leni" Robredo, who has a voter preference of 20 percent. 
Robredo has the highest number of supporters from the Visayas at 25 percent and the Class ABC at 24 percent.
Following behind are presidential candidates, Manila Mayor Francisco "Isko Moreno" Domagoso (8%), Senator Emmanuel "Manny" Pacquiao (8%), and Senator Panfilo Lacson (6%).
"On the other hand, the respective presidential bids of retired Lt. Gen. Antonio Parlade, Jr., Mr. Leody de Guzman, and former Department of National Defense (DND) Secretary Norberto Gonzales receive essentially no support from the electorate (almost nil to 0.01%)," Pulse Asia said.
On December 14, Senator Bong Go formally filed his withdrawal from next year's presidential race.
About 3 percent of Filipino adults fall under the undecided category, while 1 percent refuse to identify their preferred presidential candidate. Another 1 percent, on the other hand, express that they are not for any of the presidential bet.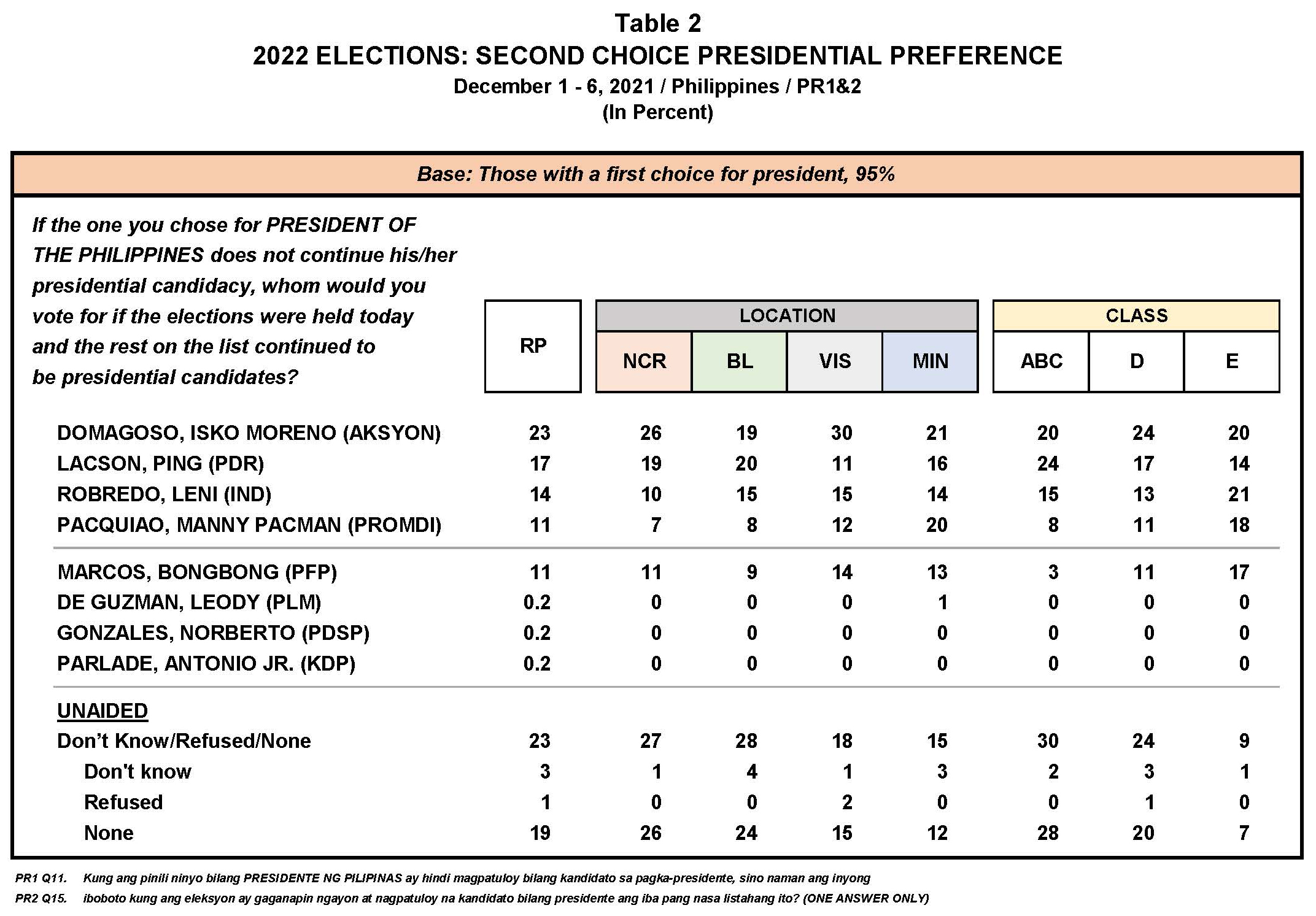 The poll body also includes the preferred alternative candidates in the December 22 report, with Moreno leading at 23 percent, followed by Lacson (17%) and Robredo (14%). Pacquiao and Marcos share third place garnering 11 percent.
"Less than 1% of Filipino adults name three (3) other presidential candidates as their alternative choice for the post – Mr. de Guzman, former DND Secretary Gonzales, and retired Lt. Gen. Parlade (all at 0.2%)," the poll body said.
Most Filipinos favor Sara Duterte as the next VP
Despite coming out later than the rest of the Vice Presidential candidates, Davao City Mayor Sara Duterte-Carpio leads the race on becoming the country's next vice president.
"45% of registered voters would elect Davao City Mayor Sara Duterte to replace Vice-President Maria Leonor G. Robredo," Pulse Asia reported.
The majority of the support for Duterte-Carpio comes from Mindanao at 82 percent and Class ABC (47%) and E (48%) with a 1 percent difference.
Following behind the Davao Mayor is Senate President Vicente Sotto III, with 31 percent of voters backing him, while Senator Francis Pangilinan has the support of 12 percent.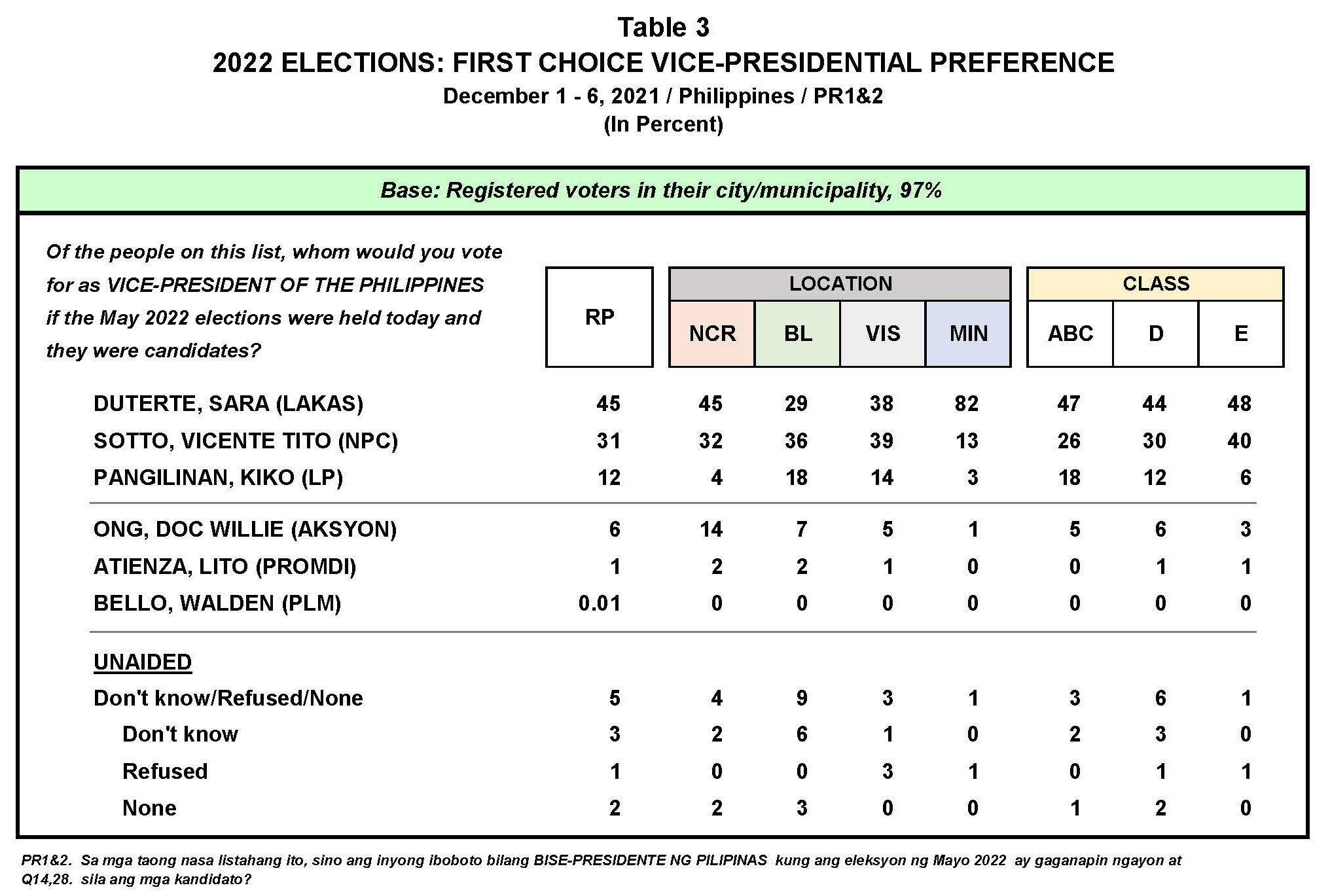 Dr. Willie Ong and Buhay Party List Representative Jose Atienza garnered single-digit voter preference with 6 percent and 1 percent, respectively. Former Akbayan Party List Representative Walden Bello records a less than 1 percent voter preference.
The rest of the Filipino adults still do not have candidate preference (3%), while 2 percent expressed that they are not supporting any candidate for the post. About 1 percent of the registered voters refused to name their favored vice-presidential bet (1%).
Meanwhile, Sotto scores the highest second-choice voting figure (32%), followed by Pangilinan(16%), Duterte-Carpio (13%), and Ong (10%).
Atienza (4%) obtained a single-digit second-choice voter preference, while Bello (0.4%) garnered less than 1 percent second-choice preference.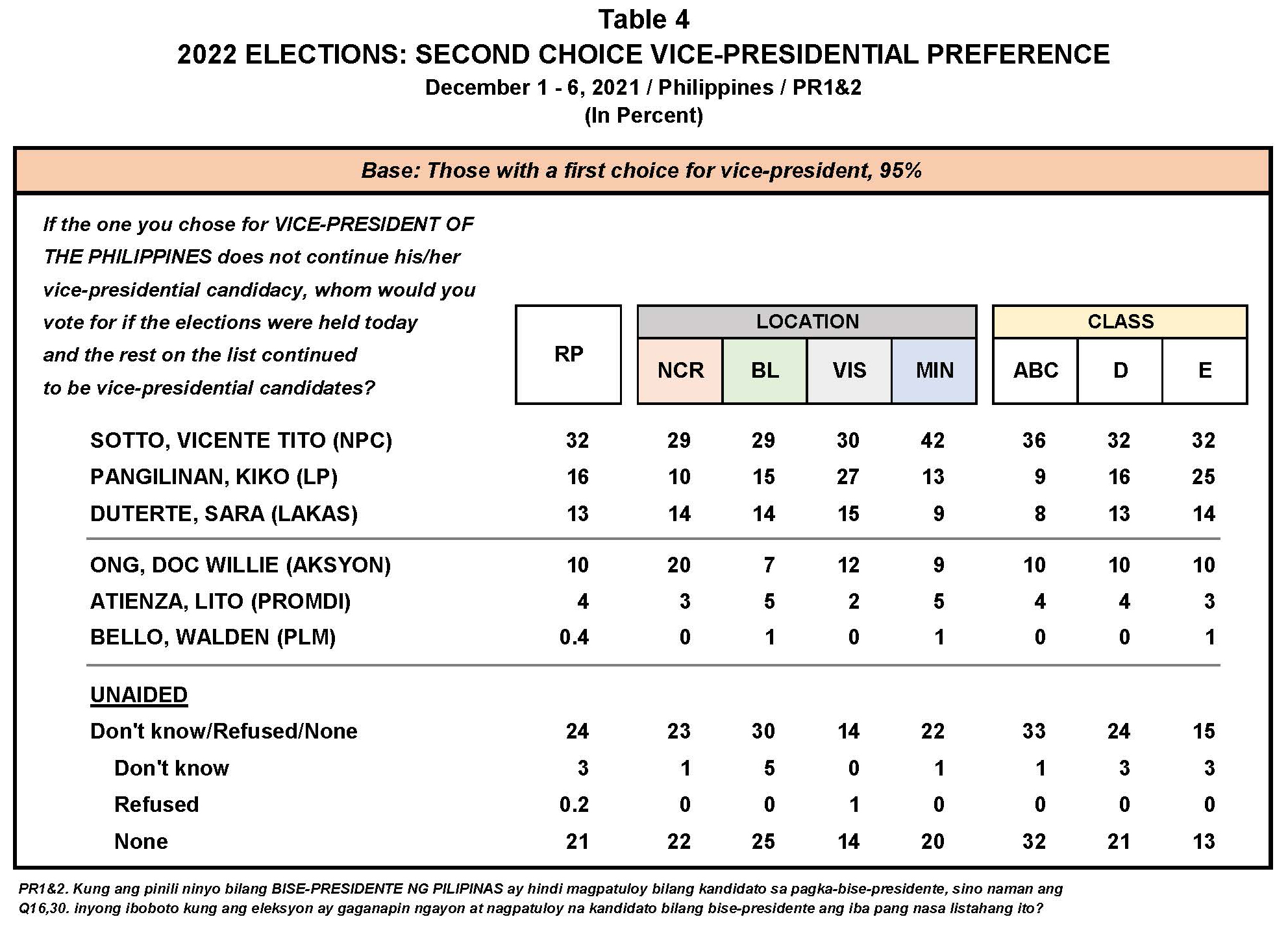 "Additionally, 21% of registered voters are not voting for any alternative vice-presidential candidate while 0.2% refuse to name their second choice for the post," Pulse Asia stated in its findings.
Cayetano ranks first in the senatorial race
"A bare majority of registered voters (51%) have a complete slate for the May 2022 senatorial election," the poll body reported.
It continued: "Among the 48 candidates included in the senatorial list for the present survey, 14 have a statistical chance of winning."
While most of the registered Filipino voters expressed their bet for the president and vice president positions for the May 2022 elections, only 51 percent are naming 12 of their preferred candidates for senator (i.e., out of a maximum of 12).
In the recent Pulse Asia survey, the majority of its gathered figures came from the Visayas (70%), Mindanao (77%), and Class E (69%). Likewise, nearly half of Classes ABC and D have a complete senatorial slate at 49 percent.
Only about a third of those in Metro Manila (35%) and the rest of Luzon (33%), on the other hand, express support for 12 senator candidates.
Taguig City-Pateros Representative Alan Peter Cayetano is leading the senatorial race securing a 64.1 percent voting preference.
Raffy Tulfo and Antique Representative Loren Legarda are close behind Cayetano, with 60 percent and 58.7 percent, respectively.
Sorsogon Governor Francis Escudero gained the support of 53.9% of voters. Department of Public Works and Highways (DPWH) Secretary Mark Villar (51.3%) and Senator Juan Miguel Zubiri (49.5%) complete the top half of probable winners.
The following senatorial candidates obtained a statistical chance of winning, including former Vice-President Jejomar Binay (44.7%), Senator Joel Villanueva (41.6%), Senator Sherwin Gatchalian (40.1%), President Rodrigo Duterte (35.8%), Robin Padilla (35.6%), Senator Risa Hontiveros (35.5%), former Senator Jinggoy Estrada (34.4%, 10th to 14th places), and former Senator JV Estrada Ejercito (32.1%).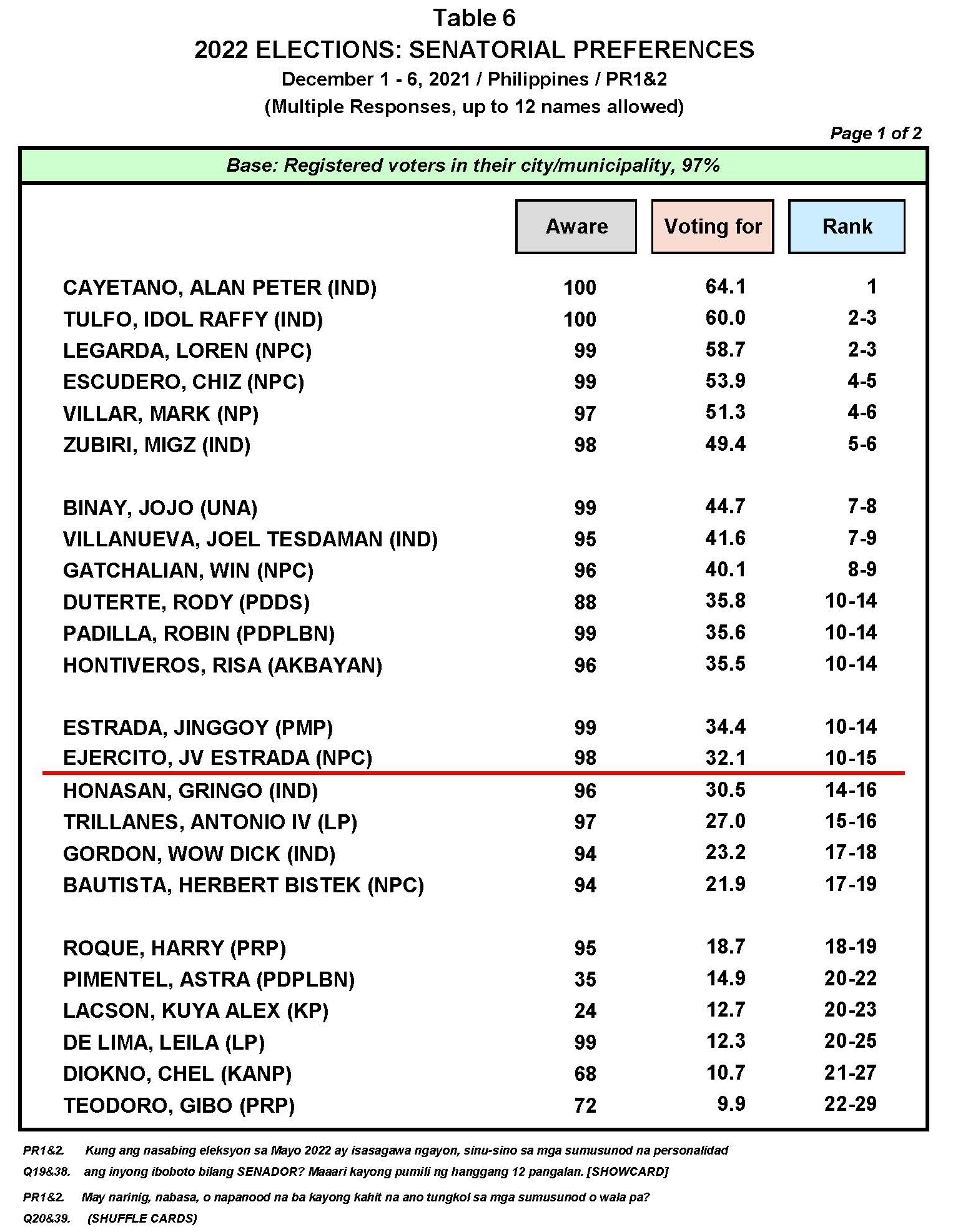 Incumbent President Duterte, however, formally withdrew from the senatorial race on December 14.
"The rest of Filipino registered voters are still undecided as regards their senatorial picks for the May 2022 elections (3.2%), are not voting for any senatorial candidate (1.2%), or refuse to name their preferred senatorial bets (0.3%)," Pulse Asia said.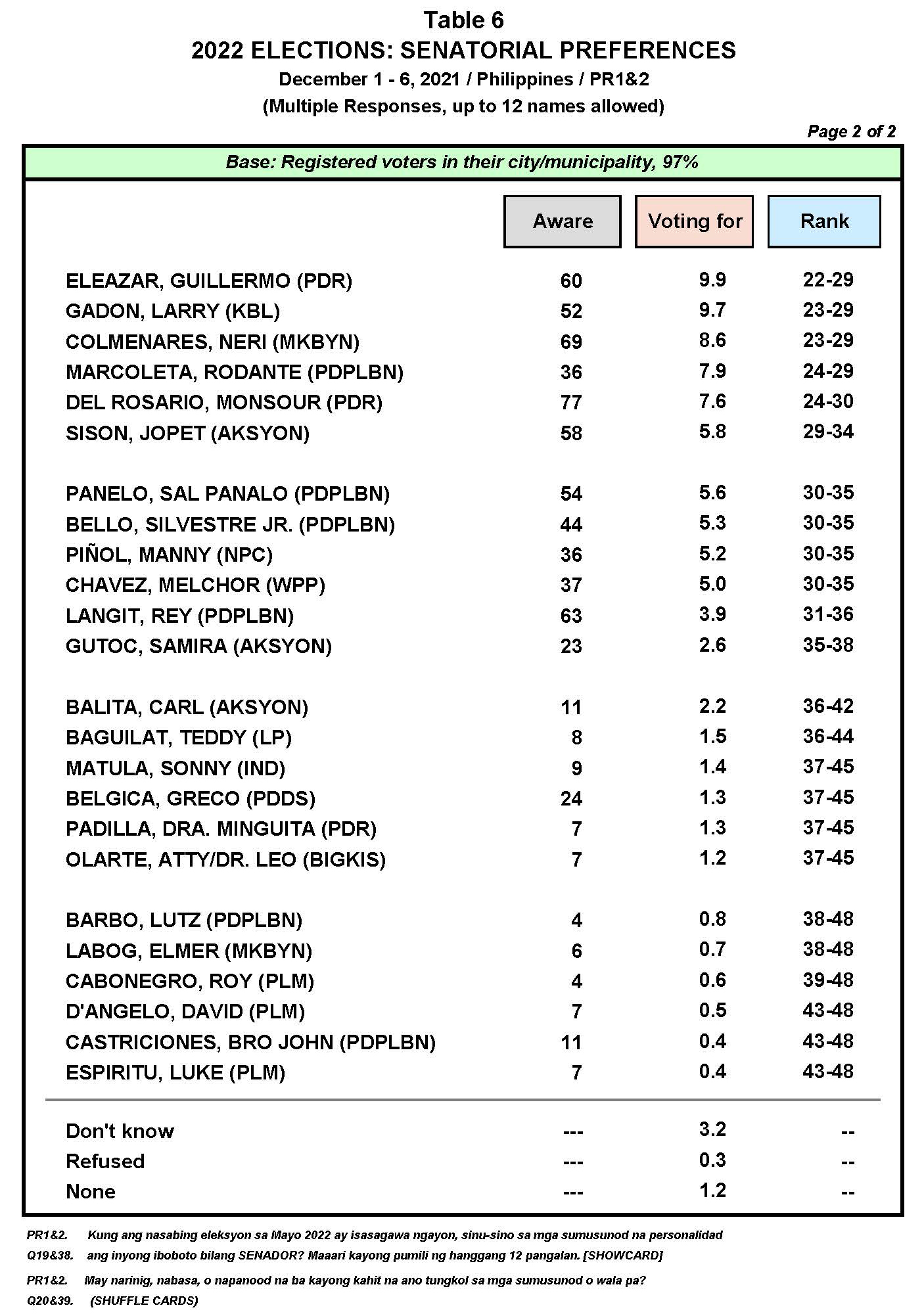 – WhatALife.ph
Source: (1)
---
What do you think about the latest survey findings? Would you vote for the top-preferred candidates too? Let us know your thought in the comments!
Also Read: Philippine Presidential Election 2022: What Qualities You Should Look Out For