As temperatures rise and rain clouds disappear, the Philippines braces itself for another potentially damaging dry season. With many regions already experiencing water shortages and crop failures, it's important to be informed and prepared for the impact of drought conditions. This blog will detail the drought advisory in the Philippines from May to October 2023 provided by the Manila Observatory.
Climate Monitoring
The onset of El Niño weather patterns and climate change have contributed to the worsening of droughts in recent years. The Philippine Atmospheric, Geophysical, and Astronomical Services Administration (PAGASA) has already issued a warning for below-normal rainfall in the coming months, indicating that the dry spell is likely to persist from May until October 2023.
This means that the country is on El Niño advisory, with a greater than 90% chance of El Niño (EN) happening within the next six months. This puts the country at a high risk of water shortages, crop damage, and other adverse effects that come with droughts.
Current Conditions
The latest Drought Index shows severe to extreme drought conditions in the following regions:
The Cordilleras
Central and Southern Luzon
Western Visayas
Western Mindanao
This severe to extreme drought conditions will inevitably lead to significant impacts on water, agriculture, fisheries, energy, and health. The index classifies the drought level into eight categories, from extremely wet to extreme drought, based on March 2023 data from the Global Precipitation Climatology Centre (GPCC). However, the eastern coast and Northwestern Luzon are still mildly wet, indicating that the drought has not yet affected these areas.
What to Expect in the Coming Months
The Multi-model ensemble (MME) forecasts indicate that there is a high probability of above normal temperatures in the next six months from May to October. This means that the country can expect to experience higher temperatures than the usual range during this period.
Moreover, the APEC Climate Center's data also reveals that there will be below-normal rainfall over Mindanao for the same period. Meanwhile, above normal rainfall over Luzon and Visayas can be expected in May, June, and July.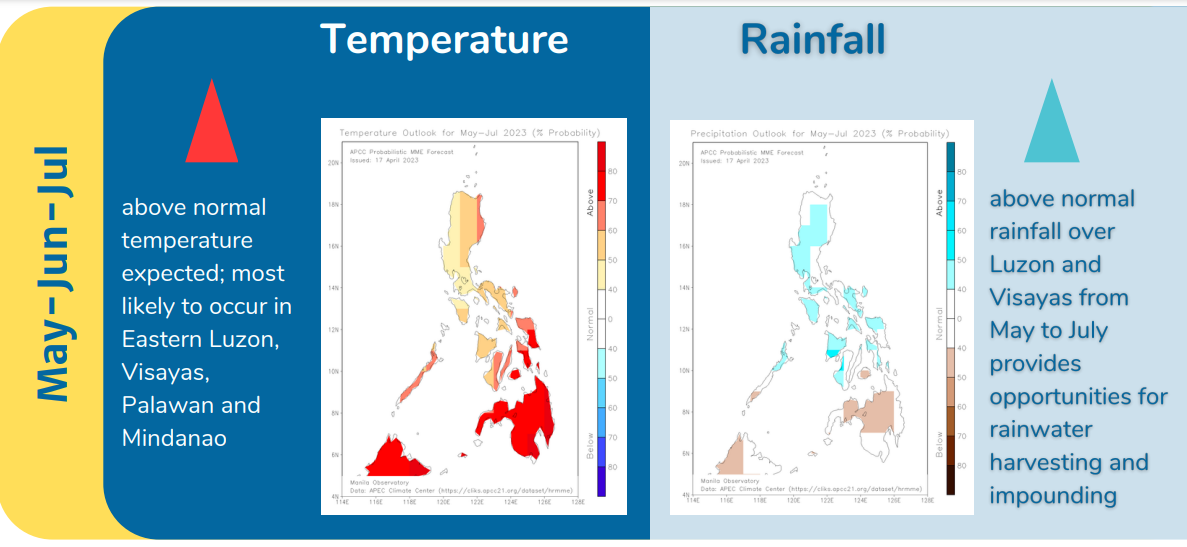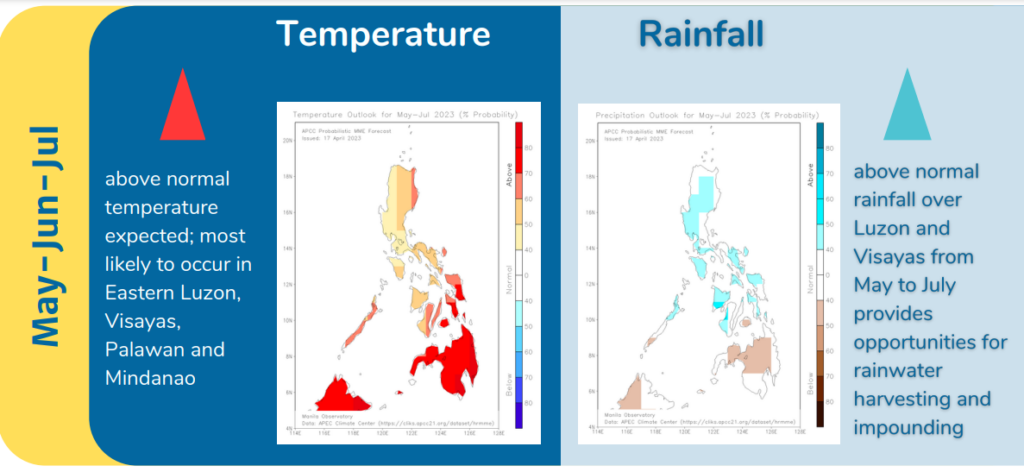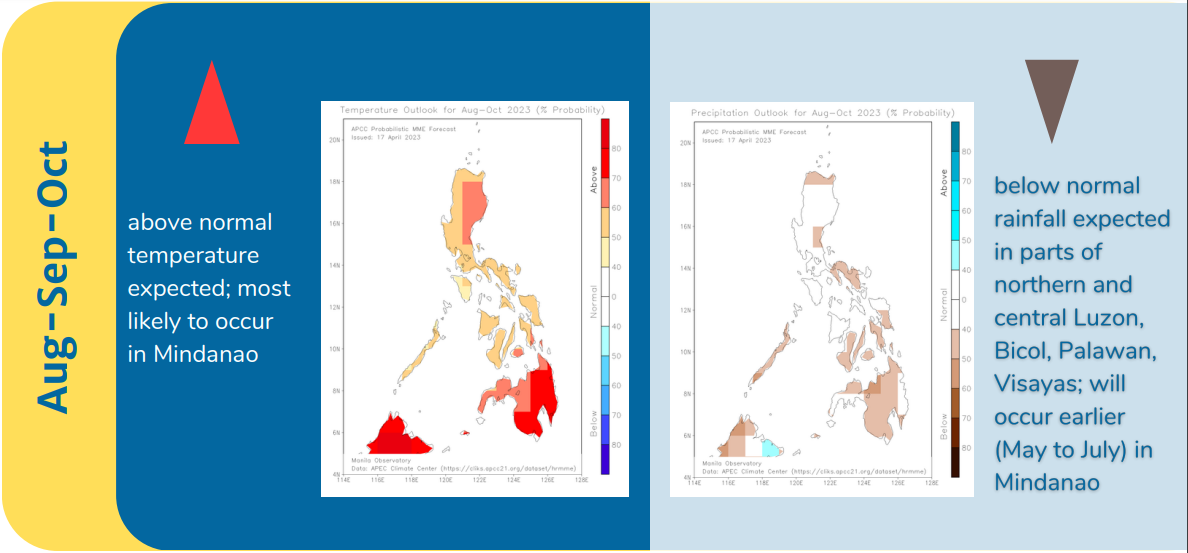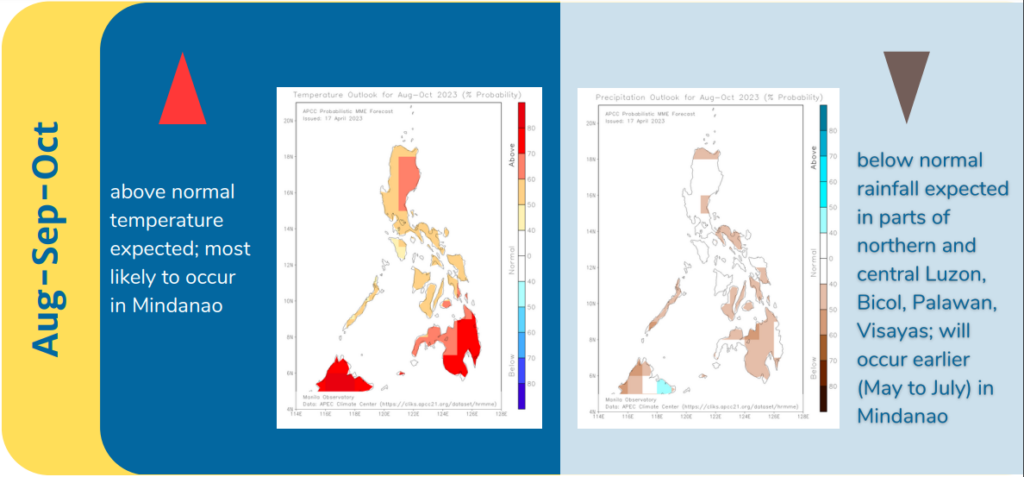 The forecasted above-normal temperatures can have several adverse impacts on the country, including heat-related illnesses and an increased risk of wildfires. The below-normal rainfall over Mindanao may also exacerbate drought conditions in the region, affecting agriculture, water supply, and energy production.
Provinces with High Risk of El Niño-related Drought
| | |
| --- | --- |
| Abra | Surigao del Norte |
| Nueva Ecija | Agusan del Norte |
| Sorsogon | Agusan del Sur |
| Aklan | Misamis Oriental |
| Dinagat Islands | Misamis Occidental |
| Camiguin | Bukidnon |
| Zamboanga Sibugay | Davao del Norte |
| Davao Oriental | Davao Occidental |
| Davao del Sur | Lanao del Sur |
| Maguindanao | Sarangani |
| Zamboanga del Sur | |
Areas that are expected to experience decreased rainfall earlier and for a longer period, from May to October, are considered at higher risk of drought than those that are expected to have decreased rainfall later, from August to October. This is because the earlier and longer period of decreased rainfall can significantly affect the water supply and agricultural production in the affected areas.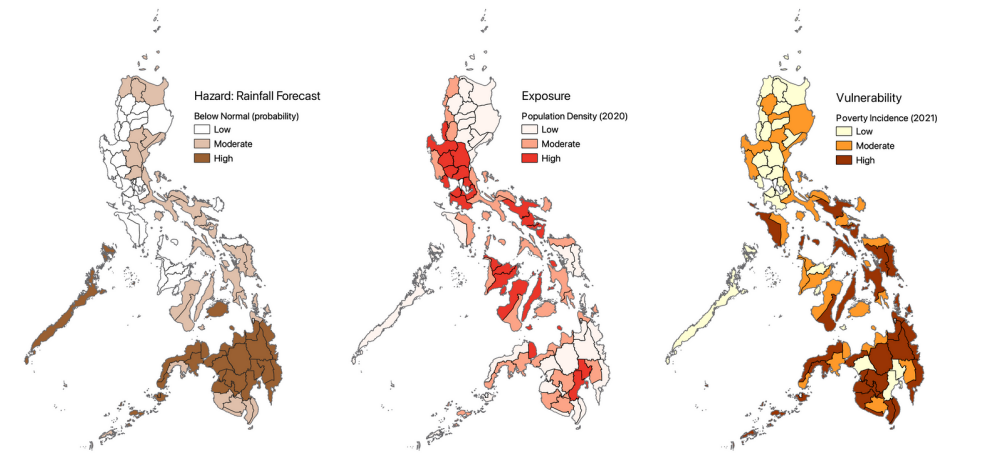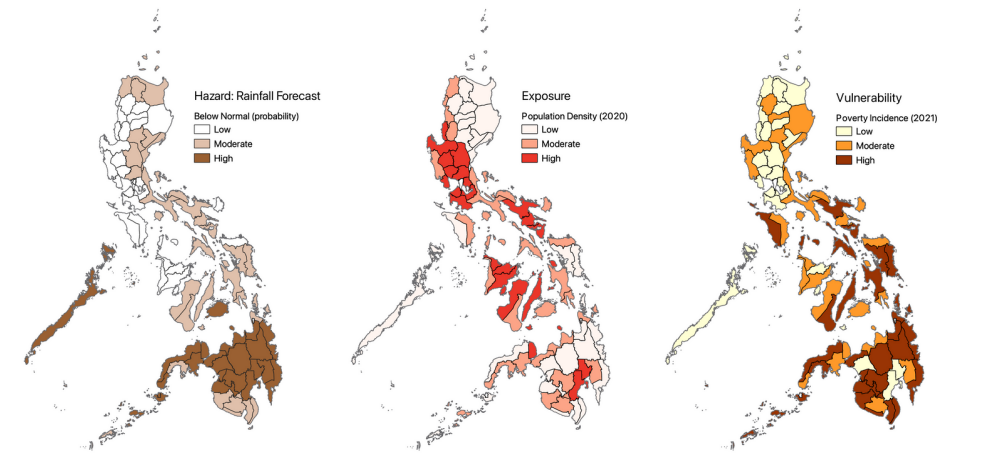 Moreover, people living in cramped and poor conditions are more vulnerable to the impacts of decreased rainfall, such as water and food shortages, power blackouts, and hot living spaces. This is because they often have limited access to alternative sources of water and food, and their housing may not be equipped with proper ventilation or cooling systems to mitigate the effects of heat waves. 
Impacts of Historical Droughts
In 1911-1912, the Philippines experienced a severe drought that lasted for eight months, from October 1911 to May 1912. The rainfall during that period was less than half of what was expected, leading to a water shortage that affected a large area from Central Luzon to Northern Mindanao and from Eastern Visayas all the way to Palawan. Fr Jose Coronas SJ reported it as an "Extraordinary Drought in the Philippines" in 1912.
The high temperature recorded during that period was also remarkable, with a maximum of 100.9°F (38.3°C) occurring on May 19, which had not been recorded since May 1889. This event is a reminder of the impact of extreme weather conditions on the Philippines and how crucial it is to be prepared for the possible effects of drought.
1818 Drought in Manila
In 1818, Manila experienced a drought that resulted in water shortage and arid conditions unfavorable for transplanting rice, prompting an agreement for the funding of three days of public prayer and masses in the morning and afternoon.
1938 Drought in the Philippines
In 1938, the Philippines experienced a severe drought that resulted in a significant increase in the price of rice, prompting the assemblymen to ask The Commonwealth to import 400,000 cavans from Vietnam and 40,000 cavans from America. The drought affected the lowlands of Western and Central Luzon, which are rice-producing districts. Although there were storms and an LPA in April and May, there were no near typhoons in the following months of July-September.
El Niño is Coming!
Be Prepared
To prepare for the possible impacts of drought conditions, it is important to learn about best practices in response and identify weaknesses in water and food storage, and waste disposal at home and in the community.
Act Now
Developing contingency and continuity plans can help anticipate disruptions. Taking action to conserve and ensure potability of water, working with the community and leaders, and strengthening critical facilities and services that rely on water are all important steps.
Keep Watch
It is also crucial to stay informed by keeping watch and updating oneself constantly on El Niño and dam water level conditions through PAGASA advisories and updates. – WhatALife!/Jayve
Source: (Manila Observatory)
---
Also read: Department of Agriculture Prepares for Potential Impact of El Niño