In 2022, how do you obtain a PSA Birth Certificate? What are the most recent procedures and requirements?
In this blog, we're providing step by step procedures for getting a PSA birth certificate (previously an NSO birth certificate) with requirements in the Philippines, both online and in person. 
What is a PSA Birth Certificate?
The Philippine Statistics Authority (PSA) issues and authenticates PSA Birth Certificates to Filipino nationals, which document their live birth information including birthdate, place of birth, parents' data, birth attendant, local civil registry number, and birth registration number.
Requirements for PSA Birth Certificates in 2022
Application Form (this form is provided by the PSA)
Certificate Fee (P155)
Valid ID for both the owner and requester of document
Authorization letter and ID of the document owner together with the ID of the requester are required if the requester is not the following: document owner, parent, spouse, direct descendant, legal guardian / institution in-charge, if minor
How can you obtain a PSA birth certificate?
In the Philippines, there are three ways to obtain a PSA birth certificate:
At the PSA branch office
At PSA Accredited Centers.
Get PSA Birth Certificate Online
Procedures for Obtaining a PSA Birth Certificate at a PSA Branch
The PSA established an online appointment system in response to the pandemic (CRS Online Appointment System). As a result, obtaining a PSA birth certificate from any PSA location will now require a scheduled appointment.
Step 1: Use the PSA Online Appointment System to make an appointment
Make an appointment with PSA Civil Registration Service Appointment System to get your verified birth certificate.
Click agree at the end of the Appointment page.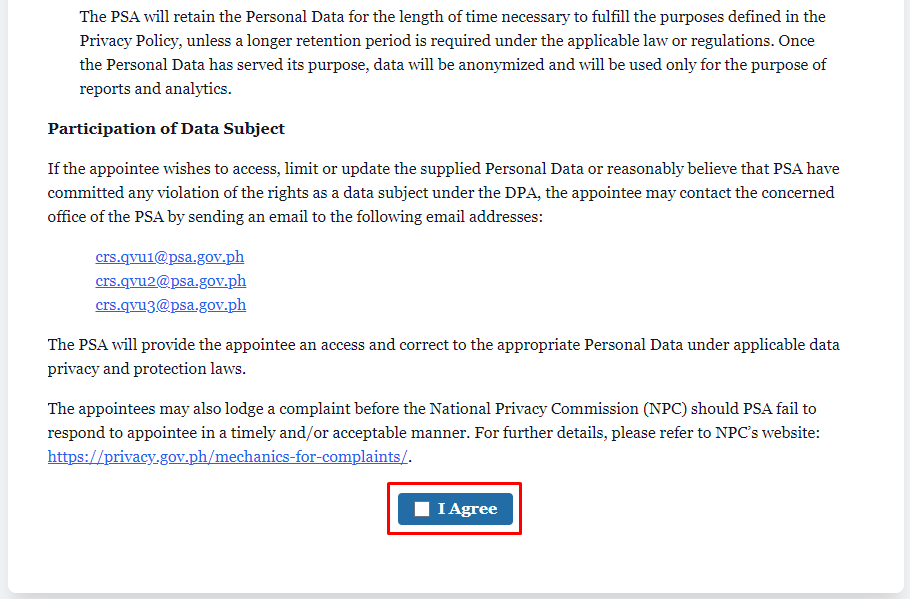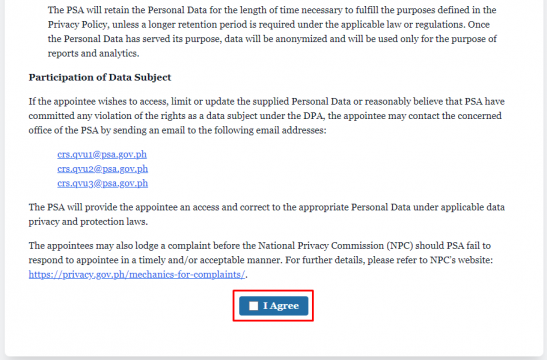 Minors are not permitted to make appointments, according to the Philippine Statistics Authority.
The original copy of the authorization letter and a valid ID must be presented if the inquiring party is a duly authorized representative.
Step 2: Choose a PSA outlet or branch
Select the PSA location where you want to make an appointment. Select your PSA branch and region, then click the "next button".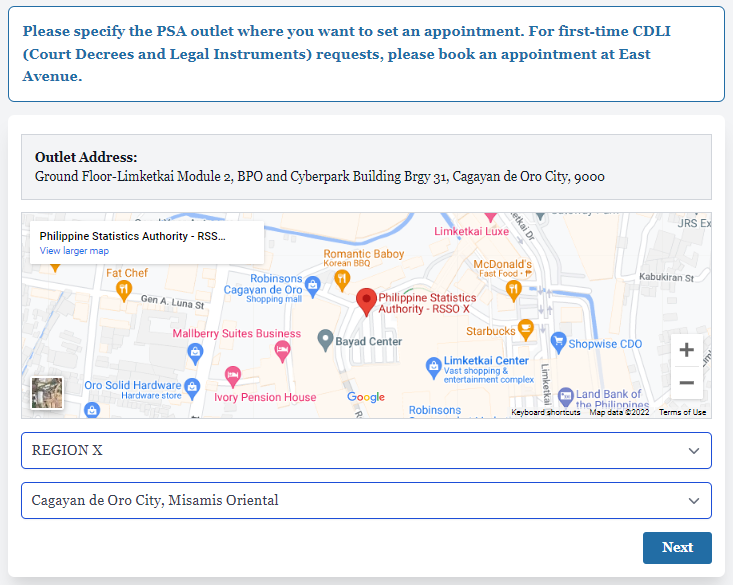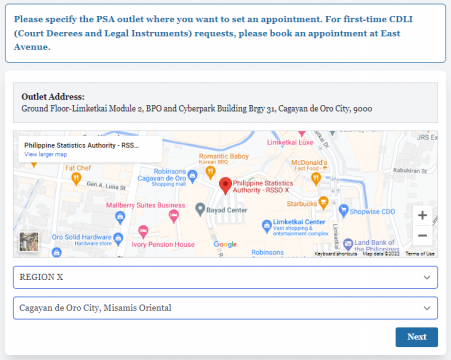 Step 3: Provide your contact information for your appointment
Fill out the online form with your name (first, middle, and last). Make sure you have a valid email address and a working phone number. Then, click the checkbox.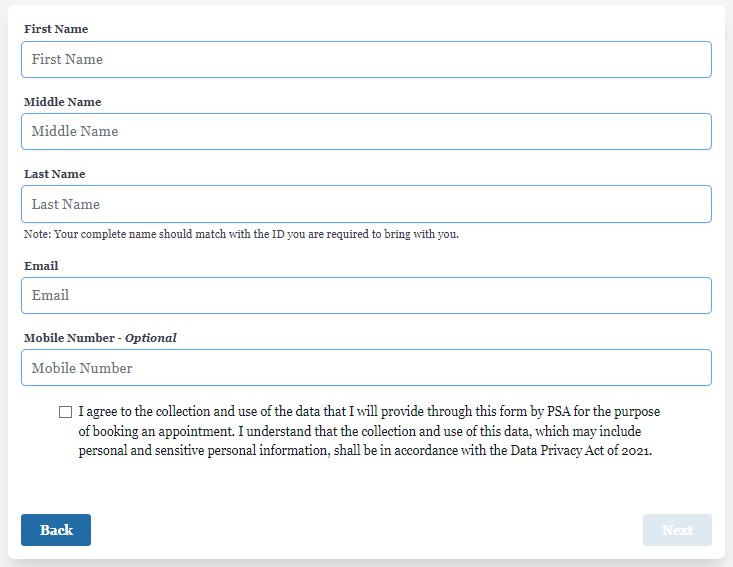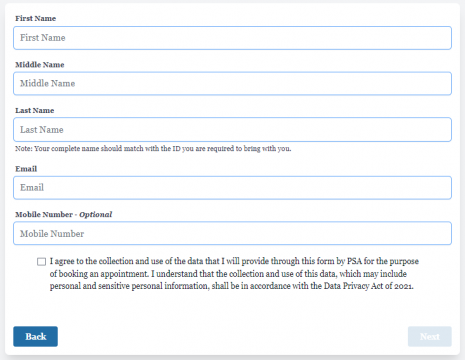 If you're creating a schedule for someone else, include their contact information and keep in mind that all of the reminders and requirements will apply to them as well.
NOTE: Use your own personal information and contact information if you're requesting someone else's birth certificate.
Step 4: Confirm your OTP
PSA CRS will issue you an OTP code to authenticate your identity through email. Proceed to the next stage by typing or copying the OTP number.
Step 5: Complete the birth certificate application form
Fill out the application form and choose the type of certificate you require (in this case, Certificate of Live Birth).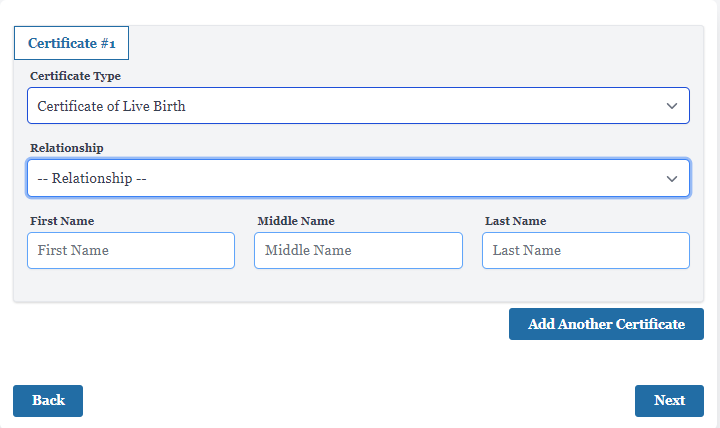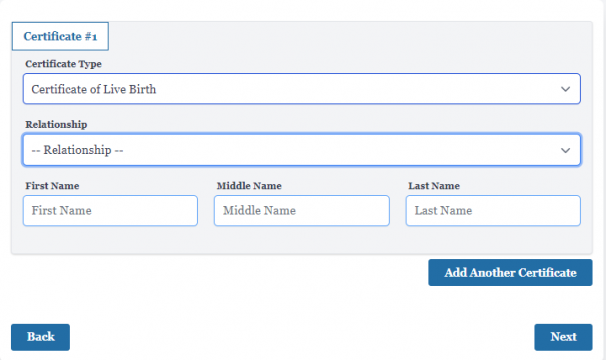 You can also make another request for a certificate (including a different type) for another person. After you've completed your document requests, move on to the next field.
Step 6: Select your preferred appointment day and time
The page will now show a calendar where you may choose your preferred appointment day and hour. Some available slots will be indicated by the dark colored boxes. When you select a date, the time and available slots will be displayed.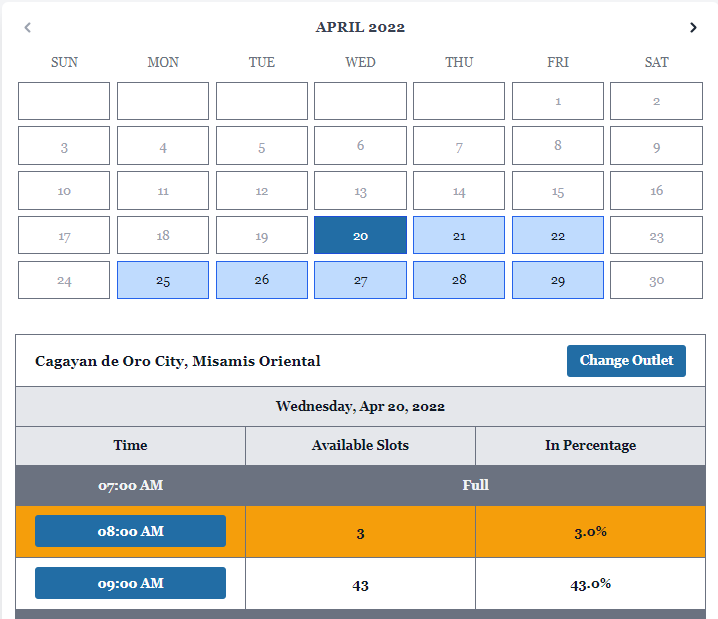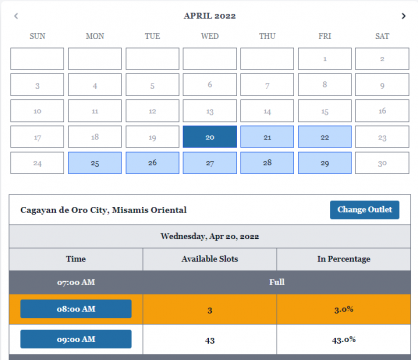 Step 7: Confirm the details of your appointment
Your birth certificate request and schedule will be displayed on the page.
Before you confirm your appointment, take a time to review the details of your appointment. Please be aware that your reservation is non-transferable.
Step 8: Keep a digital copy of your appointment slip
Your Civil Registration Service Appointment Slip, which includes your confirmed booking and QR code, will arrive shortly. You'll need it when you go to your appointment, so save a digital copy or print it off.
Here's a list of application forms for the different type of certificates you're requesting:
To speed up your visit to the PSA outlet, you may print out these forms and fill them before going to your appointment.
Step 9: Go to the PSA outlet for your appointment
Fill out a Health Survey Form and present your CRS appointment sheet. Obtain a copy of your PSA birth certificate application form (AF) as well as your queue ticket number (QTN).
Step 10: Pay the processing fee
The following step is to pay the application fee at the cashier. The current price of getting a PSA birth certificate is P155 per copy.
Step 11: Get a copy of your Birth Certificate
Wait for your certificate to be released on the PSA branch's planned release date. To the Releasing Section, present your valid ID and official receipt (OR). Before you leave the area, double-check your certificate for any errors or corrections.
How to Obtain a PSA Birth Certificate through Online?
The following websites, all of which have been accredited by the Philippine Statistics Authority, are the most legitimate places to receive your certificate online. We recommend dealing with them only if the PSA has authorized them. Learn more about them. These are the following websites:
Online Procedures for Getting a PSA Birth Certificate in 2022
Step 1: Go to a PSA-accredited online website
Visit any of the above-mentioned certified PSA online websites. Select the ORDER button and fill out the form to get your PSA issued Birth Certificate.
Step 2: Pay the processing fees
The processing fees must be paid.
The price for a PSA birth certificate via online transaction is P365 per copy. It's worth noting that the online birth certificate pricing is higher because it includes shipping and service fees.
You can pay with your credit card online or through an ATM. GCash, ECPay, PayMaya, 7-Eleven shops, Palawan Express, and Dragonpay are also accepted as payment methods.
Step 3: Receive your document
Your document will be sent anywhere in the Philippines within 3 to 4 working days after payment confirmation inside Metro Manila and 3 to 8 working days outside Metro Manila.
How to obtain a PSA Birth Certificate at PSA accredited centers?
Procedures in Getting a PSA Birth Certificate in SM Business Center.
Step 1: Fill out a PSA birth certificate request form
To request a PSA birth certificate, fill out the application form. The form will be given to you by the receptionist or security at SM Business Center.
Step 2: Pay the service fees
Pay the required fees. The price of PSA issued birth certificate requests through SM Business Center currently cost P155 each copy plus a P25 service fee per request.
Step 3: Get your certificate on the day it's supposed to be released
SM Business Services' releasing part is where you can claim your document. If you have a representative, remember to bring the receipt, your valid ID, and an authorization letter. – WhatALife!
Source: (philpad.com)
---
Also Read: Duterte appoints new chairman, commissioners of Comelec