The Commission on Higher Education (CHED) once again open its doors to all incoming college freshmen to apply to the CHED Scholarship Program 2021.
All incoming first-year college students set to graduate from Senior High School can apply to the program. (Continue reading below for the list of qualifications and requirements)
The application starts TODAY until August 15, 2021.
What are the Qualifications?
Must be a Filipino citizen
Graduating high school student or high school graduate with general average;
General Weighted Average (GWA)

For Full State Scholarship Program (FSSP) and Full Private Education Student Financial Assistance (FPESPA), GWA must be 96% or above;
For Half-SSP and Half-PESPA, GWA must be 93% but not more than 95%.

Must have a combined annual gross income of parents/guardians, which does not exceed PHP400,000. In the case where the income exceeds PHP400,000, an applicant must present written certification or medical findings of illness of a family member, or school certifications of two or more dependents enrolled in college;
Avail of only ONE government-funded financial assistance program
Applicants under the Special Group category may attach their valid certification proving that they are:
Person with Disability (PWD) under RA 7277
Solo Parent and/or their dependents under RA 8972
Underprivileged and homeless citizens under RA 7279
Senior Citizen under RA 9994
Indigenous People under RA 8371
What are the Requirements?
Duly certified true copy of Birth certificate;
Duly certified true copy of High school report card for incoming first-year students eligible for college;
Duly certified true copy of Grades for Grade 11 and first semester of Grade 12 for graduating high school students;
For Financial documents, applicants may submit any of the following:

Latest Income Tax Return (ITR) of parents or guardian;
Certificate of Tax Exemption from Bureau of Internal Revenue (BIR);
Certificate of Indigence either from their Barangay or Department of Social Welfare and Development (DSWD);
Case Study report from DSWD; or
Latest copy of contract or proof of income may be considered for children of Overseas Filipino Workers (OFWs) and seafarers.
Again, the deadline for the application submission is on or before August 15, 2021.
CHED Scholarship Program Stipends
See figure below for the updated financial assistance covered by the CHED Scholarship Program as of July 2021 via CHED Memorandum Order No. 11, series of 2021.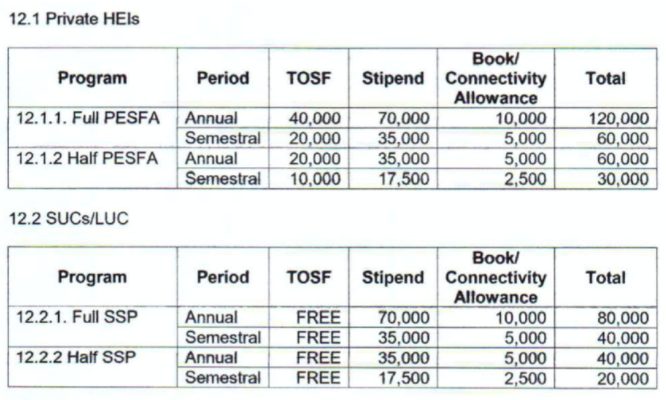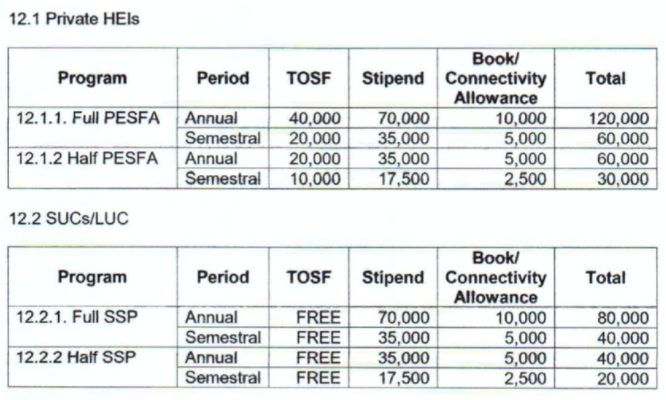 CHED Scholarship Program: Apply Online
Eligible applicants may now apply and submit their requirements online. Noted below is the list of online CHED scholarship application links per region. Refresh this page for updates!
—(Source: governmentph.com)
---