Her Sweet Harvest started with husband and wife, Ayi and Belle Hernandez, supporting local farmers in 1991 for agricultural productivity, land reform, policy advocacy, and rural development. As NGO workers, they helped the local communities such as farmers, fisherfolks, indigenous people, rural women, and youth.
Their passion for empowering these communities led them to establish the Kalagunoy Hills Development Corporation in 2021. With a focus on agroforestry, local economy, and sustainable environment, they have dedicated their time and resources to planting fruit trees and contributing to the growth and development of rural areas.
Inspired by the ample and greatness of nature, Her Sweet Harvest wanted to add value to agricultural products as they also promoted the industry to create opportunities for people in rural areas.
The brand of Her Sweet Harvest: Farm-To-Table "Goodness" is about "recognizing mother nature's bountiful harvest (Her harvest), recognizing women (empowering Her), and indulging in goodness, sweetness, and happiness, not just in taste but also in the feeling of love and passion for caring.
The brand is very selfless and caters to helping others. They reflect the appreciation of mother nature and remember it as their commitment to empowering women. The owners considered the brand very carefully when naming it and implying the importance of "mother" nature and women's empowerment.
The specialty product of Her Sweet Harvest is the Makapuno Pie. "A taste of Goodness in every pie, Sweetness in every slice, happiness in every bite." Like its branding, Her Sweet Harvest puts sweetness, happiness, and goodness as pillars of its brand and a motto for its products.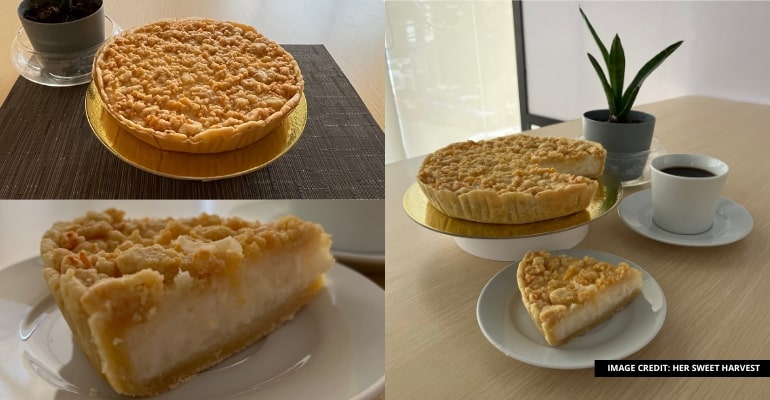 They are proud of their high-valued homegrown Makapuno from Mindanao. It is sourced from the plantation of Global Mindanaw Agri-Ventures (GMAV) Corporation in Misamis Oriental.
Besides their specialty, Her Sweet Harvest also offers homemade jams, preserves, bread rolls, ice cream, and gelato, which are still under development but will soon give sweetness, goodness, and happiness to people willing to buy them.
Makapuno, also known as "coconut sport," was termed by Philippine Coconut Authority (PCA). It has a soft endosperm that is not similar to a regular coconut. The Makapuno is more of a gelatinous coconut with almost no liquid.
With the brand already supporting smaller agricultural businesses in the rural area, they would also like to invite others to support their intention of increasing the value of agricultural products to build a strong sector in the country.
You can contact Her Sweet Harvest at 0917-7227033 or 0918-8987777.
Make sure to follow them on their Facebook page to get notified of their latest updates. – WhatALife!/Zain
---
Also read: Titanic Viewing Submarine Gone Missing with No Contact