The post-pandemic era has highlighted the importance of online shopping. As a result, many businesses are reevaluating their retail strategies and digital presence. In the Philippines, Lazada is a leading online shopping site and eCommerce platform, along with Shopee, Amazon, Carousell, and Alibaba. As many Filipinos opt for shopping from home, the online shopping site provides an opportunity for businesses looking to expand their selling options via the Internet. In this guide, we will discuss how to become a Lazada seller.
How to be a Seller in Lazada?
To become a Lazada Seller, access the sign-up page first by going to the Lazada Seller Center website or downloading the Lazada Seller Center app on App Store or Google Play.
Decide which type of seller you want to be. You can register as the following:
Local Marketplace Seller
LazMall Seller
LazGlobal Seller
Below are the Lazada Seller requirements according to type:
Local Marketplace Seller
You should sign up as a Local Marketplace Seller if your store is based in the Philippines, and you do not have a Brand Trademark certificate or other proof of bran authenticity (i.e., brand letter of authorization, purchase invoices from authorized sources).
If you met this requirements, you can follow the following steps to sign up: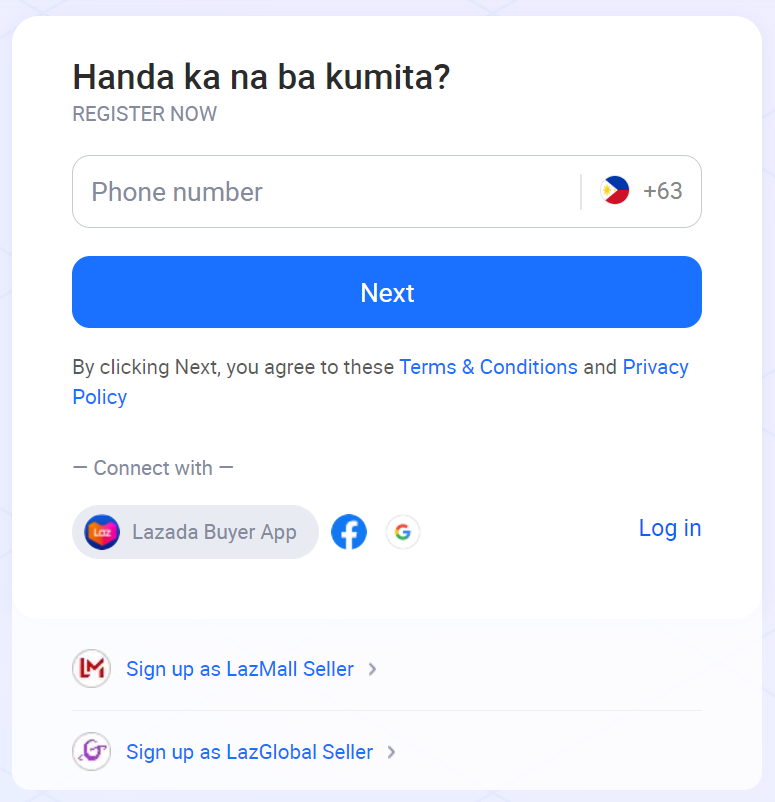 Provide your mobile phone number and OTP that you will receive:
Afterwards, decide if you want to sign up as a Corporate or Individual Seller:
| | |
| --- | --- |
| Corporate Seller | Individual Seller |
| For companies and BIR-registered businesses | For sellers without BIR-registered businesses |
| Requires BIR 2303, Business Permit/Certificate of Registration, and a corporate bank account | Requires valid government-issued ID, bank account information, and proof of bank account |
After selecting your account type, set your store name, email address, and password: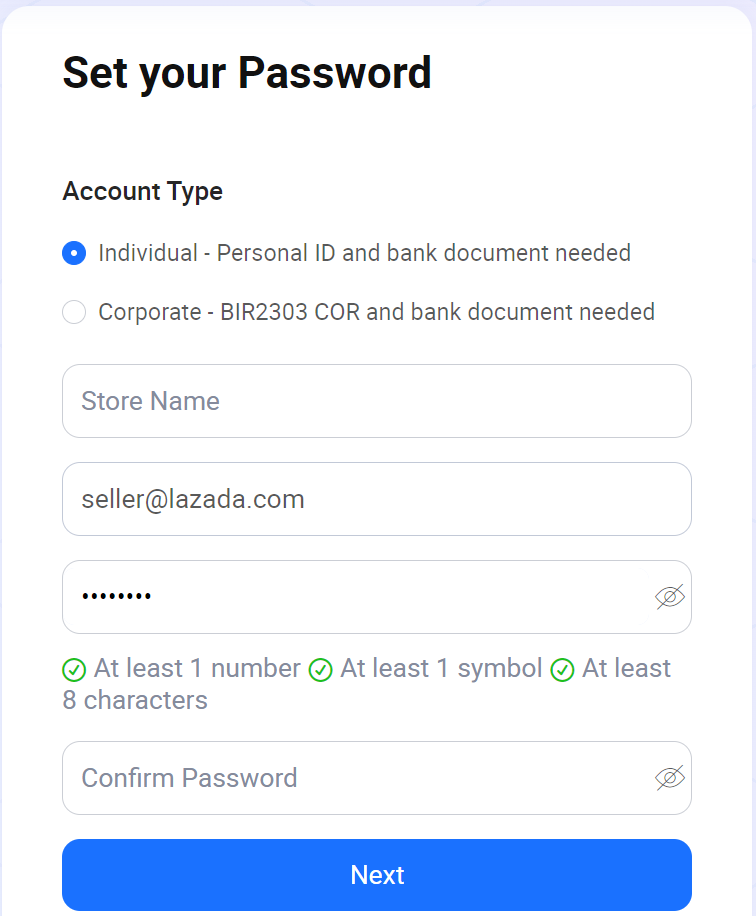 After you have finished signing up, you will be taken to the Seller Center. This is where you will handle your Lazada online shop. Complete the given tasks to get verified and begin your selling journey on Lazada!
Learn more about the requirements for Marketplace sellers by clicking the following links:
Requirements for Individual Sellers
Requirements for Corporate Sellers
LazMall Seller
You can sign up as a LazMall Seller if you meet the following requirements:
You are a brand owner, brand distributor, or verified reseller/retailer, and
You have a business registration document (BIR 2303).
If you meet these requirements, you can learn more about becoming a LazMall Seller here.
LazGlobal Seller
You can register as a LazGlobal Seller if you are not based in the Philippines, and you have a registered business.
Learn more about becoming a LazGlobal Seller here.
The Lazada Seller Center
Becoming a Lazada seller offers numerous benefits including 0% commission fee on sales, access to advanced technology, nationwide reach, and top-notch support. Sellers can learn from others on the platform and grow their businesses. Lazada also offers LazMall, an official platform for selling original items.
How to create a Lazada Seller account? The Lazada Seller Center app makes it easy for aspiring sellers to sign up and create a Lazada Seller account.
Selling in Lazada Philippines
Become a Lazada Seller in the Philippines in four easy steps! Just follow the instructions below:
Click "Sign-Up Now"
Choose your seller type (Marketplace, LazMall, or Lazada Fresh)
Input your details in the registration form
Enter your mobile number, email address, and store name
Input business information and seller requirements
Input your address, your product shipping & returns, and bank account info for payouts. Don't forget to upload a photo of 1 valid government ID (for Individual) or BIR 2303/Certificate of Registration (for corporate).
Upload your first product and happy selling!
Upload your product image and details like size, color, price to give your customers the information they need.
How to Delete a Lazada Seller Account?
If you want to deactivate your Lazada Seller Account, simply follow these steps:
Select "Other Request"
Select "How can I update my Seller Center Profile"
Fill up the form then "Submit"
However, if you want to delete your Lazada Seller Account, you can request Lazada to delete your account from the Lazada database.You need to email Lazada first. Here are the steps on how to delete Lazada Seller account:
Open the email account that is registered with the Lazada application.
Compose a new email and enter help@Lazada.com in the recipient field.
In the subject field, type "Request To Delete My Account".
Write an email requesting Lazada to delete your account from their database and remove all your information, if any.
Wait for Lazada's response.
Once your account is deleted, you won't be able to use it again.
Becoming a Lazada seller provides Filipinos with an opportunity to showcase their entrepreneurial skills and earn a living through the online eCommerce platform. Perks include learning and understanding the market, reaching customers nationwide, reliable seller support, timely deliveries, and the chance to promote a diverse product line.
---
Also Read: GUIDE: How to Avail Credit Card Installment in Lazada?