MANILA, PHILIPPINES — Maynilad has announced a water interruption for customers in Manila, Makati, Parañaque, and Pasay on March 5, 2023. The water interruption may last from 20 to 57 hours.
Around 580,000 customers are advised to conserve water in preparation for the March 5, 2023, water interruption that may last up to two days. The interruption is caused by the repair of a large pipe leak seen at Osmeña Highway cnr. Zobel Roxas in the city of Makati.
Maynilad has announced that it will set up seven stationary water tanks and 30 mobile water tanks in the affected areas, particularly those that will experience longer water interruption.
See the list of affected areas below.
MANILA (From 3pm March 5 to 11 am March 6)
Brgy. 719, 726-731, 732-734, 745-762, 769, 803, 807 (Malate and San Andres)
MAKATI (From 3pm March 5 to 9 pm March 7)
Bangkal, Magallanes, Palanan, Pio del Pilar, San Isidro
PARANAQUE (From 3pm March 5 to 9 pm March 7)
Don Bosco (Magdalena St., Hemandez Ave., Remanville Subd.)
Marcelo Green (Greenwood, Maharlika, Moss, Phase 5)
Merville
Moonwalk
San Antonio (Don Aguedo Subd., Hernandez Ave., Jestra Village, Lakandula St., Malacañang Village, San Antonio Valley 189, Sta. Lucia Ave., San Gabriel St.)
San Isidro (Greenheights Subd.)
Sun Valley (Annex 41, Cul De Sac Road, Edison Ave., Marimar Village 1&2, Park View, Sta. Ana Drive, Sun Valley Subdivision)
PARANAQUE (From 3pm March 5 to 11:59 pm March 7)
Don Bosco (Aeropark Subd., Annex 135 and 1618 Subd., Bolivia St., Better Living Subd., Camella Homes, Doña Soledad Ext, France St. Levitown Subd., Saudi St., Scienceville Subd., Somalia, UN-Don Bosco Ave., Zambia St)
BF Homes (Enclaves along Presidents Ave. and Aguirre Ave., Goodwill 2 Subd., Massville Village, Sampaloc Ave.)
Marcelo Green (ACSIE Road, Sampaguita Ave., Severina Ave. – Left & Right, WSRIMarcelo Ave.)
San Antonio (4th Estate Subd., Goodwill 3 Subd., Meliton St., Soreena Ave.)
San Martin De Porres (Makati South Hills Townhomes, United Parañaque Subdivision 1-3, United Hills Subdivision)
Sucat (Posadas Village)
PASAY (From 3pm March 5 to 2am March 7)
Brgy. 1, 3, 7, 9,14-15, 18, 20, 23, 33, 37, 41-49, 51-52, 56- 59, 64-68, 71-75, 80-81,84-86, 89, 91, 93-99, 101, 104, 106- 110, 112-115, 118, 122-123, 125-126, 128, 130, 131, 133, 135-137, 142
PASAY (From 3pm March 5 to 9pm March 7)
MAYNILAD WATER INTERRUPTION MARCH 5, 2023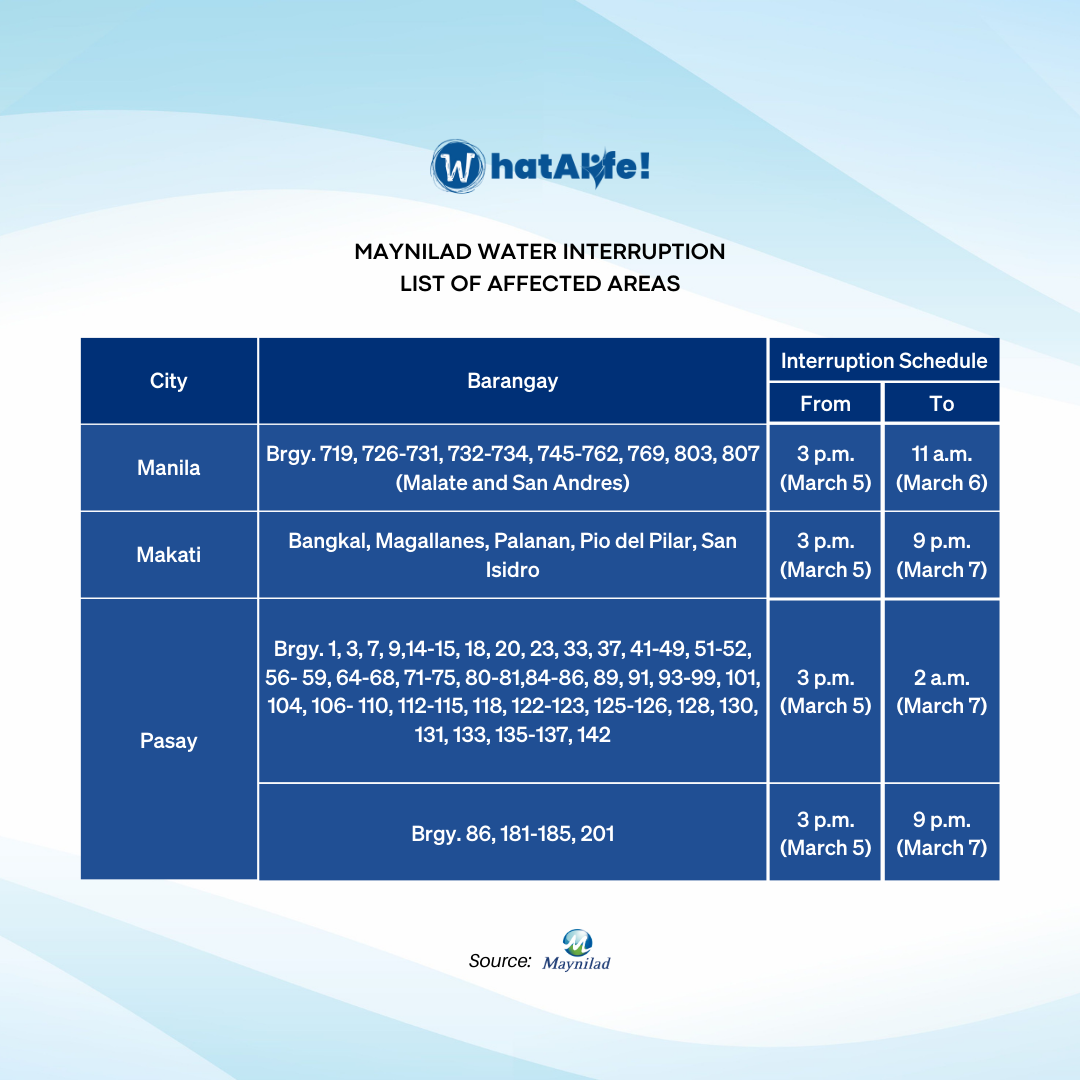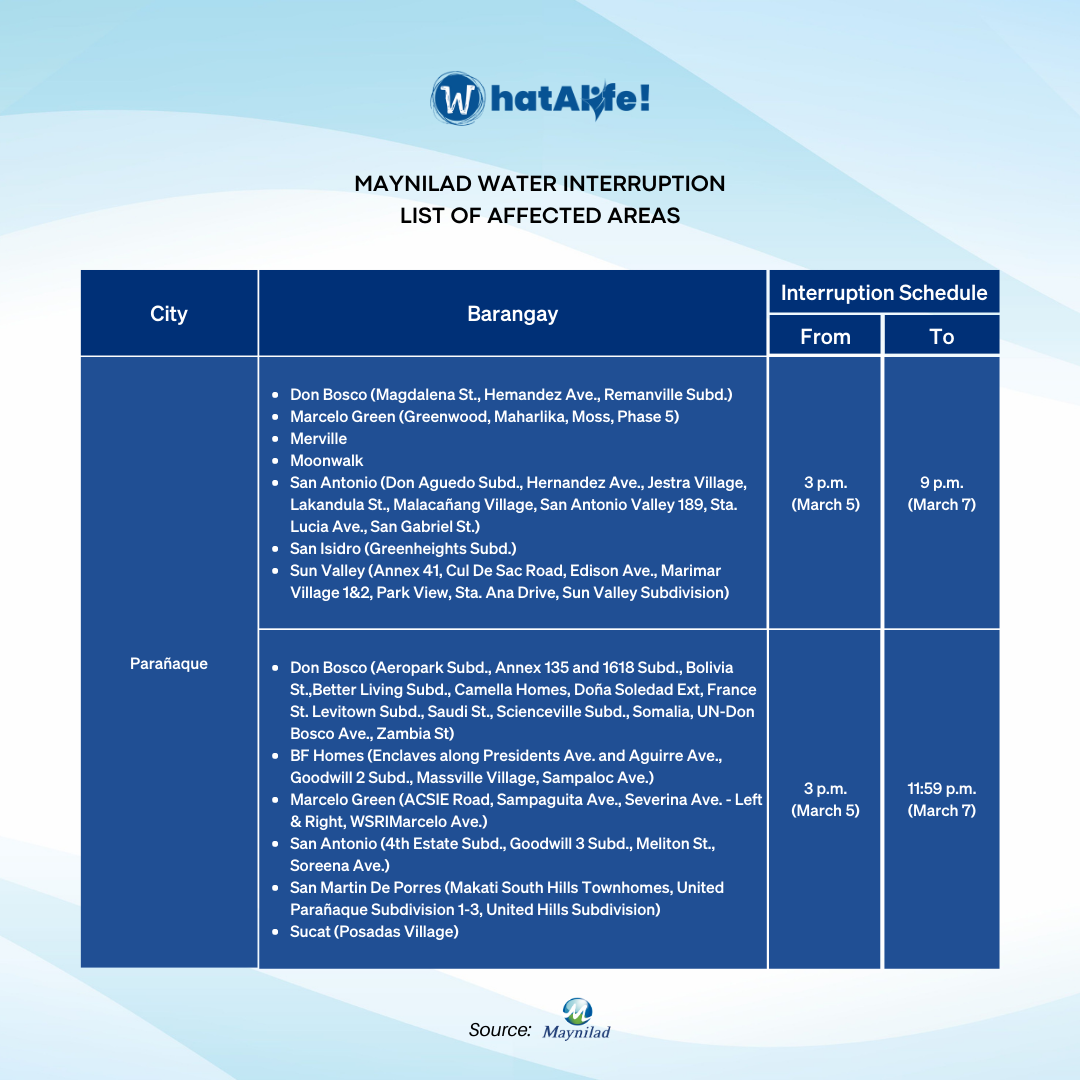 –WhatALife!
Source: (1)
---
Also Read: PAGASA: Mostly fair weather for the rest of the day