Vaccination record not found in the vaxcertph system? Don't have access to gadgets or the internet? Here's how to obtain your digital vaccination certificate in Davao City.
VaxCertPh is a free, self-service portal where vaccinated citizens may acquire an authenticated copy of their vaccination certificate, a collaboration project between the Department of Information and Communication Technology (DICT) and the Department of Health (DOH). The system was initially released in September and was made available for domestic use in October.
Davao City residents can get their vaxcertph certificate 48 hours after getting fully vaccinated.
READ: VaxCertPH: How to get your digital vaccination certificate
Visit https://vaxcert.doh.gov.ph and provide the required details. In case 'No Vaccination Record Found' pops up upon registration, click 'Continue' to upload your photo/scanned copy of your vaccination card and government-issued ID.
For assistance and other option of registration, continue reading below.
Davao City VaxCert Booth Issuance Guide
Follow the step-by-step process below for those who would like to claim their digital vaccine certificate on the designated VaxCert Booths.
STEP 1: Go to the designated booth located at Davao Teen Center, Pelayo St., Davao City (Beside Brgy. 4 – A Brgy. Hall), and presents their Davao QR Code.
STEP 2: Provide vaccination details for encoding by presenting an LGU-issued vaccination card
STEP 3: Answer the validating questions and presents gov't issued ID and vaccination card.
Step 4: If a vaccinee's record is missing or has a discrepancy, they must scan and upload their vaccination card and a valid ID. Fill out entry details of the request and proceed to STEP 5.
If no discrepancy, please proceed to STEP 6.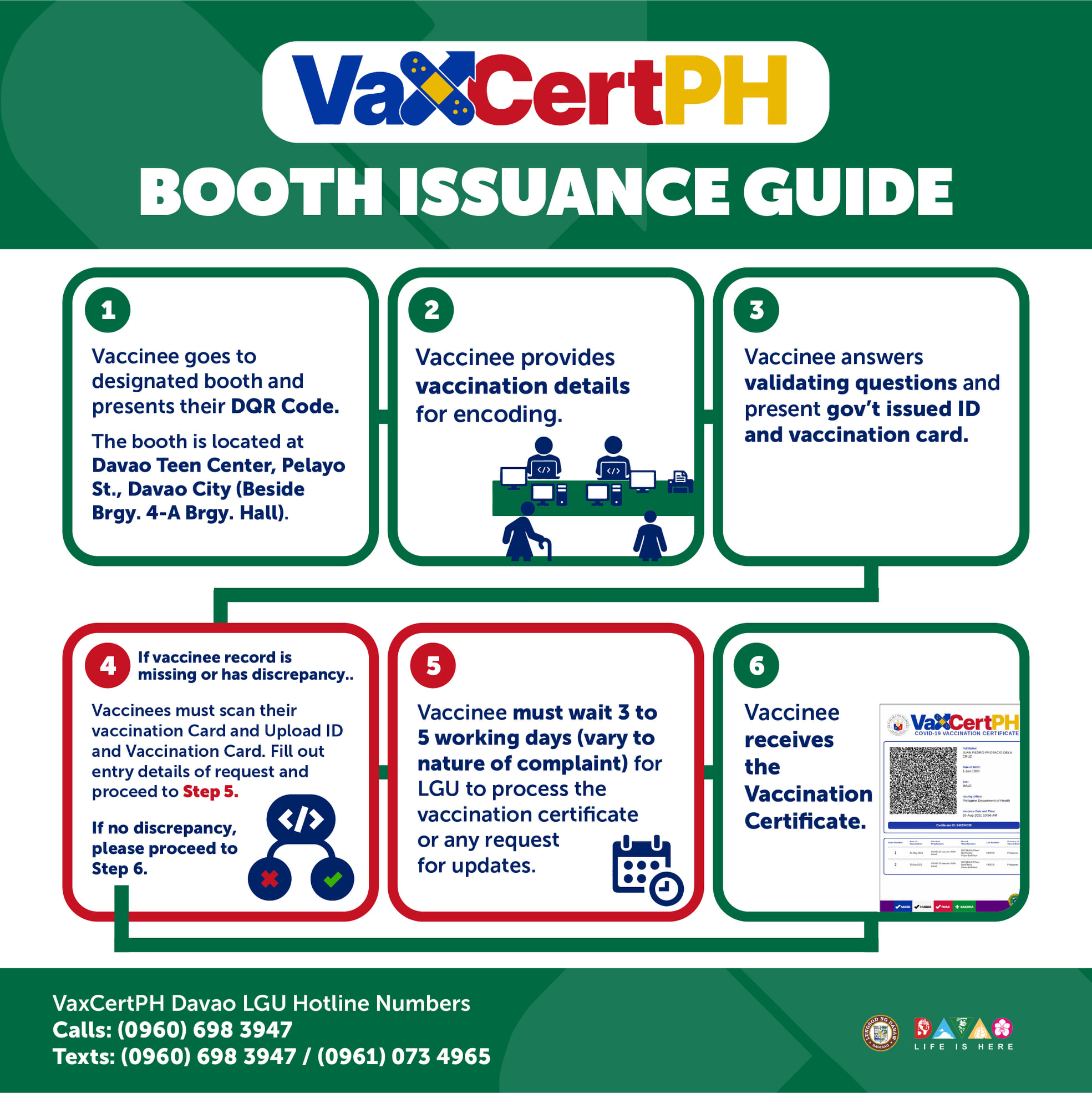 STEP 5: Wait for 3 to 5 working days (vary to nature of the complaint) for LGU to process the vaccination certificate or any request for updates.
STEP 6: Vaccinee receives the Vaccination Certificate.
For more inquiries and assistance, contact the VaxCertPH Davao LGU Hotline Number at:
Calls Only: 0960-698-3974
Text Only: 0927-022-9087 / 0961-073-4965
You may also reach the VaxCertPh Support hotline at 88-7614-88 or email vaxcertsupport.doh.gov.ph.
– WhatALife.ph
---
Also Read: BOQ to issue vaccination 'yellow cards' to OFWs; Learn how