On April 29, 2022, Royal Panda Restaurant was a gracious host to WhatALife! as we visited their branch at Caltex Station, Kauswagan Highway, Cagayan de Oro City.
In this blog, we'll share our experiences during our visit, the food, the space, and recommendations!
Location: Caltex Station, Kauswagan Highway
Price: PHP 250.00 for adults, PHP 170.00 for kids 4 to 6 years old, PHP 170.00 for kids 7 to 9 years old
Theme: Asian Eat-All-You-Can Buffet
The Location
There are 2 branches of Royal Panda Restaurant. The main branch is located at Manticao, while the other is located at Cagayan de Oro, along Kauswagan Highway at Caltex Station. This branch was established in 2020, during the height of the pandemic.
Since it's by the main road, the restaurant is very easy to find and offers good parking space. If you're commuting, just ride on a jeep that will make its way along the Kauswagan Highway. For example, the Iponan-Cogon route jeep, or the Bulua route jeep.
The Space
From the outside, you'll already see that East-Asian theme of the restaurant. It's filled mainly with bright red colors, the symbol of luck in Chinese culture, with lanterns adorning the ceiling.
The venue itself is spacious, and with the Alert Level of Cagayan de Oro at the lowest, each table can accommodate its full capacity. But, while there are plenty of tables available, we recommend reserving your seats before you visit the place. Royal Panda can be full as many customers visit during meal times.
Fortunately, there's a conference room available when the main area is full. There's also the second floor, intended for another business under the Royal Panda management, but can be used for guests when necessary.
Royal Panda is also available for reservations for events, not only for receptions but also for events such as Civil Weddings and the like.
The Food
"Chowking Max Pro" was how Royal Panda was described by a team member part of WhatALife's visit to the establishment.
It couldn't be more true! Both chains have the same theme, but when it comes to food, Royal Panda offers more variety and in larger portions (depending on your appetite).
They have two types of rice, regular and Yang Chow. They are placed with all the other Filipino food in the buffet area. See images below for reference.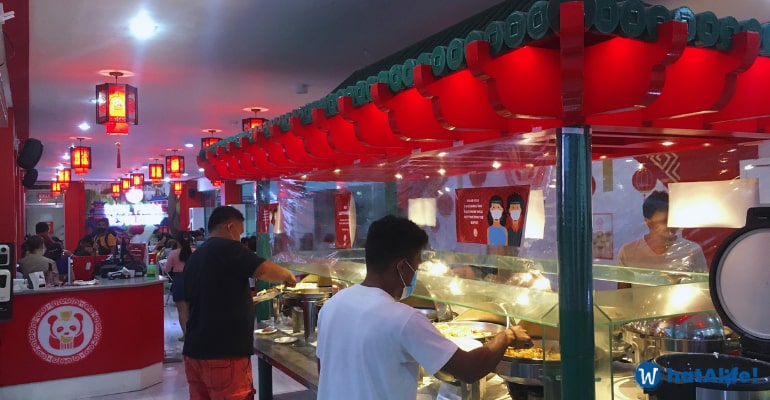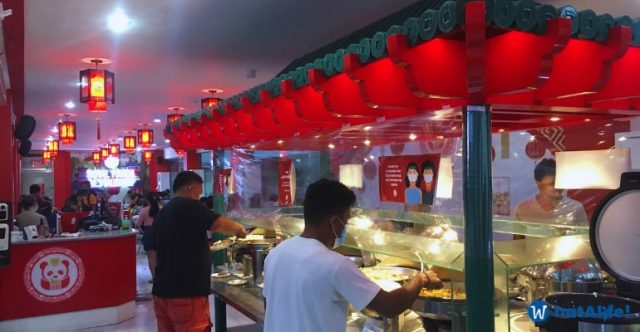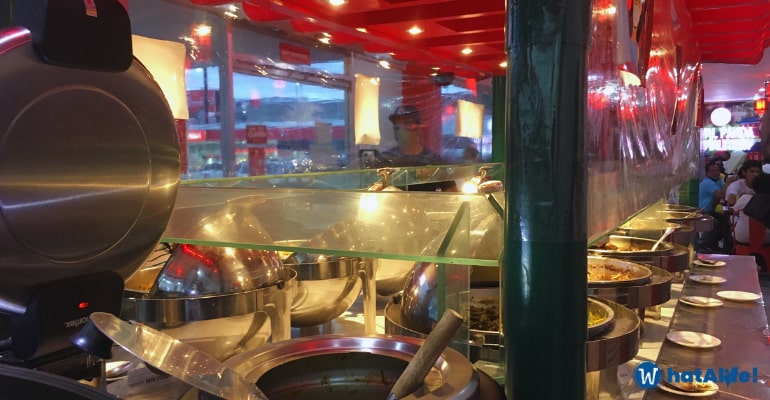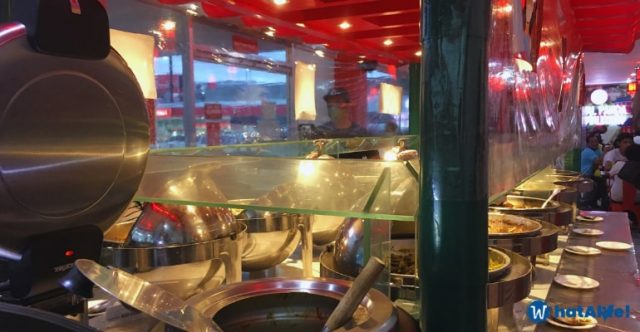 You can choose your main course, per se, by going around the buffet section. There, you will see traditional Filipino foods that are sure to fill your hunger. Other than traditional Filipino foods, they also have a wide selection of sushi and dumplings.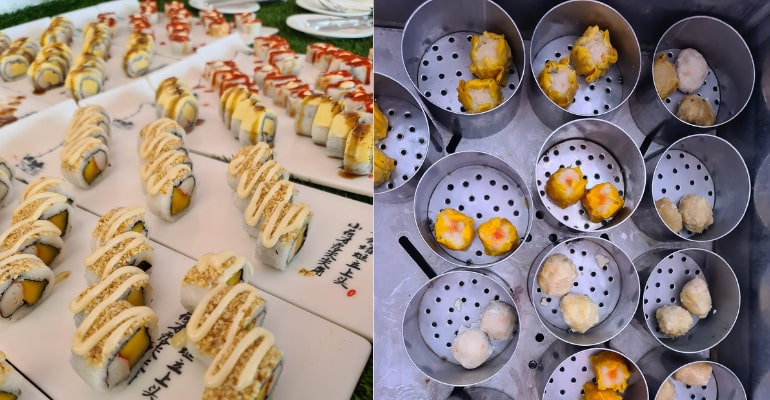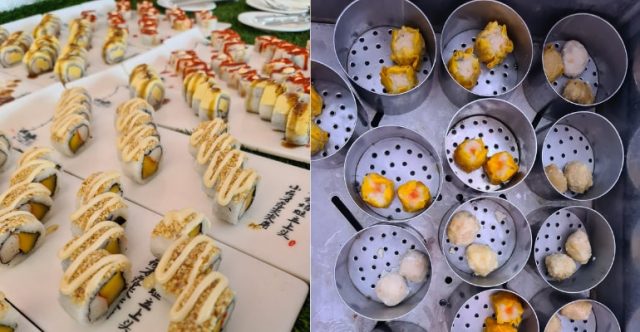 When you visit the place, we recommend trying the sushi with a large chunk of cheese in the middle. It's definitely a must-try!
Dessert-wise, there are fruits and salads you can choose from. The drinks are also unlimited at the counter.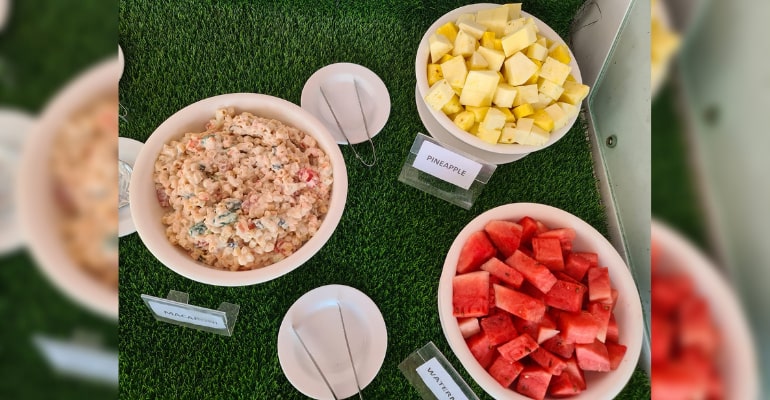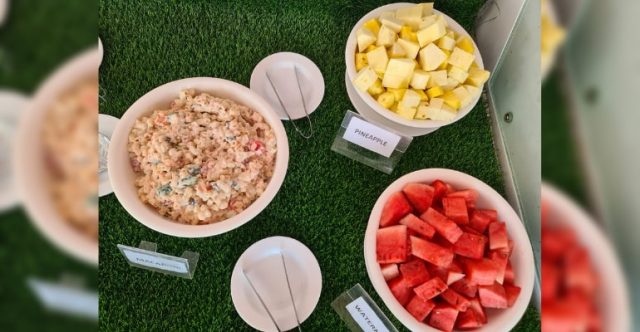 Since it's an eat all you can buffet, there's really no limit on how many times you'll stand to get another serving. However, keep in mind to only get what you can consume to avoid paying double for leftovers.
WhatALife! Recommendations
As expected, Royal Panda is busy during meal times. Fortunately, we had the time to interview the management to ask for a few tips when visiting their establishment.
Royal Panda is open all week. Opening time is around 9 AM and closing time at 9 PM. The best time to visit, to avoid the crowd and get all the fresh food to yourself, is around 1 PM to 3 PM.
It's best to reserve early on, but the staff still allows walk-in clients, confident with their additional space in the conference room or upstairs.
And while there are staff responsible for cleaning the tables, we still recommend to follow CLAYGO, leaving the table clean as a thank you to the hardworking personnel.
Additionally, the 2nd-floor space (Kamtuna) is a bar and dining area open from 7 PM to 11 PM. So, if you're full from the food below, you can come upstairs and enjoy a chill evening with friends and family. We were also told that they have guest DJs every night!
If you're ready to try Royal Panda, you may contact their team for reservations over on Facebook or Instagram. You may also order take-out and delivery.
Tune in for more WhatALife! Visits blogs in the future! – WhatALife!
---
Also read: The Café by Benrose Hotel: An aesthetic nook in the heart of the city