The June 2023 Occupational Therapist Licensure Exam results are released by the Professional Regulation Commission (PRC) three working days after the exam. RESULTS ARE OUT. See them below.
PRC testing facilities for the June 2023 Occupational Therapist Licensure Exams are located in NCR, Baguio, Cebu, Davao, Iloilo, Legazpi, Pampanga, and Rosales. The exams were conducted on June 15 and 16, 2023.
The exam is headed by the Board of Physical Therapy is headed by its Chairman, Eduardo R. Peregrino, and its members, Raul G. Agustin, Bernadette M. Reyes, Delia R. Pabalan, and Rolland Lyle D. Duque.
June 2023 Occupational Therapist Licensure Exams Results
June 2023 Occupational Therapist Licensure Exams List of Passers
Seq. No. N a m e
1 ABANGAN, KENDRA MARIE LEGASPI
2 ABANTES, EDWIN JR BALINAS
3 ABUCAY, JOHANN CHRISTINE FERRER
4 ALIGSAO, MAJIAH FREDJA LYKA SALANA
5 ALISWAG, ATTILA MATISSE BARRETTO
6 AMBION, DANIELLE ANGELI PAU
7 AMPER, JEANEVA MARIE AREOLA
8 ANG, ALYSSA MARYGAYLE TABIGNE
9 ANGELES, JANEEN POBRE
10 ARELLANO, MA LOURDES MENDOZA
11 ATUEL, KARIELLE MARIE JAVIER
12 AUXTERO, ANGELICA ANNE NARCISO
13 BAES, DIANA MARIE BERBERABE
14 BAYONETO, EUGENE REY CHAVEZ
15 BENITO, DENISE ANDREA VILLARRUZ
16 BERAD, MATTHEW LUIS LUBOS
17 BERCEÑO, MARIA PATRICIA JOSEFINA REYES
18 BIGORNIA, NEO JEZRELLE ARANAS
19 BUCOG, ERIKA FAYE MONTEBON
20 BUENAOBRA, ALEC ANDRE ALBA
21 BURGOS, LORAINE MARIE CAÑETE
22 CALANOY, CARL MARK CIRUJALES
23 CALIGAGAN, IVY JANE CERON
24 CALSA, ANGELIKA PAULINE
25 CAMACHO, MARIA ANGELA TANTEO
26 CAMELOTES, KARYL FAYE GENTILES
27 CANDELARIA, GEUJAINA CRISTOBAL
28 CANO, LOUISE CLARE CABAÑERO
29 CARANDANG, CIARA MARIELLA ARICAYOS
30 CAUSAPIN, CHRISTINE JOY VICENCIO
31 CAÑA, SHEENA ONDANGAN
32 CIRUJALES, MAR VINCENT BELBIS
33 CONSING, NICOLE VIANNA MARTINEZ
34 CORDERO, KYLE CYPRIL TACUBAN
35 CUETO, MA. KATE NOVALES
36 DAMASO, MA. ERIKA JOELLE ZAPANTA
37 DE CASTRO, KARA FAYE DE LEON
38 DEL ROSARIO, SOPHIA NICOLE BUNGAY
39 DELA CRUZ, MATTHEW MARCUAP
40 DELA CRUZ, PIA CLARISSE ABACAN
41 DIONGCO, ALYANNA FERNANDEZ
42 DUENAS, CHARLES LYNDON REMO
43 DULAY, FRANCIS ALLEN DELA CRUZ
44 ESCALA, LOUISE ALLIAH BIANZON
45 ESTIPONA, RAINIER FAJARDO
46 FALDAS, ANGEL MARIE RIMPON
47 GADISTA, MARIA MEKAELLA RAMOS
48 GAGAM, MELANIE MAYO
49 GALLOFIN, ROCHELLE NUEZ
50 GANAL, MICA BIANCA DAHILOG
Page 17 of 18
Roll of Successful Examinees in the
OCCUPATIONAL THERAPISTS LICENSURE EXAMINATION
Held on JUNE 15 & 16, 2023 Page: 18 of 19
Released on JUNE 20, 2023
Seq. No. N a m e
51 GARSUTA, KYLA NICOLE ANDALAJAO
52 GERONIMO, MICHELLE AGAD
53 GLODO, GAYL AMBULO
54 GRAVINO, JOHN EADCYLLE MENDEZ
55 HERNANDEZ, MICHAELLA SOPHIA LOUISE ANN
56 ILANO, RONAN SYRYL DAYRIT
57 JUAN, ROSELLE ERIKA VICTORIO
58 KING, JOHN MICHAEL TORRECHILLA
59 LABRADOR, RON IAN JAMINAL
60 LABUNOG, GEM ANDRAE ORITO
61 LASTIMOSO, KIANA REESE GWYNETH MONTEJO
62 LIM, MARGAUX
63 LIM, MARIA DIANA VANICA ZAMBRANO
64 LLEVA, VIALENE ELOISA WHIGAN
65 LOPEZ, ANGELI SEARES
66 MAAÑO, MIRIAM FLORES
67 MAGAWAY, KELSY BRANT LUAYON
68 MAGCALING, KHRUSHCHEV CREUS
69 MALLARI, JOMIN ALPHAEUS PINEDA
70 MANDAWE, STELLA MARIE VILLEGAS
71 MARCELO, MARIA ANGELICA PEREZ DE TAGLE
72 MONSANTO, CLIVE JUDE II LARENA
73 MONTAÑO, AMARIE JOY TAJARAN
74 MORON, MARILEX ROARING
75 NANTES, STEFFI REMINA RUIZ
76 NERI, KEENA ANDREA FABULAR
77 OCOMEN, REIMON NIEL ALORA
78 OIGA, CEDY BUTUYAN
79 OROPEL, ANGEL CLAIRE NAVARRO
80 PACIS, MA. ANGELA CARDANO
81 PADILLA, PORTIA MARIE ABEJUELA
82 PANGILINAN, NEIL JOSHUA PEÑALBA
83 PANTIG, NIKKI GILBUENA
84 PAPA, JERUS RUPERT PANAL
85 PARAS, DANIELLE ANNE DELA CRUZ
86 PARUNGAO, KRISTINE NANA
87 PASILAN, JENNECA JANE SILVA
88 PECSON, MARIA FIDES VARGAS
89 PICARDAL, SAMUEL JOHN HERNANDO
90 PILAPIL, TRISTINE ALISON QUILANTANG
91 PRIETO, PATRICIA ALCANTARA
92 RAMOS, CARLOS YMBONG
93 RAMOS, VANESSA MIKAELA DOMINGO
94 RAY DEL VAL, MARIELLE DE REGLA
95 REMOLLINO, MIGUEL ANTON JULIANO
96 RESIDUO, MARY JANE ZABALA
97 REYES, MARI FRANZENE PUBLICO
98 REYES, NADINE FRANCES YAP
99 ROBLES, SOPHIA KATRINA SERRA
100 ROYO, JESSICA RAVEN ANDRES
Page 18 of 18
Roll of Successful Examinees in the
OCCUPATIONAL THERAPISTS LICENSURE EXAMINATION
Held on JUNE 15 & 16, 2023 Page: 19 of 19
Released on JUNE 20, 2023
Seq. No. N a m e
101 SAGARAL, MICHELLE GECALE
102 SAMSON, JUDY MARIE CUYAG
103 SANCHEZ, LIANNA MICAH PARDIÑAN
104 SAPUTIL, GABRIELA LOUISE MONDEJAR
105 SEGURA, MIKO SANDOVAL
106 SILAN, REINALYN FERANIL
107 SILVOSA, ANNE BERNADETTE AGUSTIN
108 SY, LANCE MATTHEW ABIOG
109 TAGLE, CHRISTINE VARQUEZ
110 TAGLUCOP, TRISHA DONN ALBEOS
111 TAN, ANGELIKA RACADAG
112 TAN, CATHERINE ANNE PANGILINAN
113 TENERIFE, JEWEL JOY LAO
114 TOLEDO, NIKKA DOMINIQUE RIVERO
115 TOLENTINO, FAITH DANIELLE SALINAS
116 TORRES, CAMILLE FRANCESCA CABISUDO
117 TRINIDAD, SHAMICA TORRES
118 VERDADERO, MADELEINE VICENTE
119 VERGARA, JENNEFER ALFECHE
120 VICTOR, MA FATIMA MICAELA CORDERO
121 VILLALUZ, GABRIEL INOCENCIO IV DINALAGAN
122 VILLAREAL, MARIAH JARIAN COLLETTE GONZAGA
123 VINCULADO, JEL CAIRA ALBAÑO
124 WONG HIN, JUSTINE FAYE QUE
125 YAMBAO, NADINE ANDREI BANTUG
126 YBAÑEZ, SHEILA MAE NADONZA
127 ZAPATA, KARLA CHANTELLE GOMEZ
128 ZOLETA, MARIANELA MARTINEZ
Top 10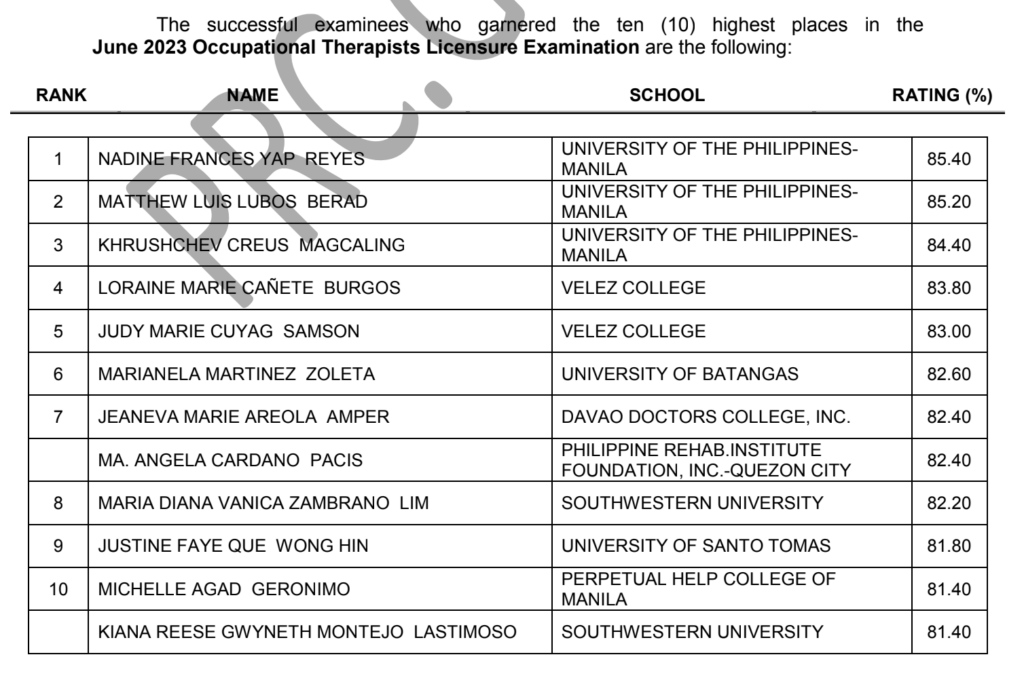 School Performance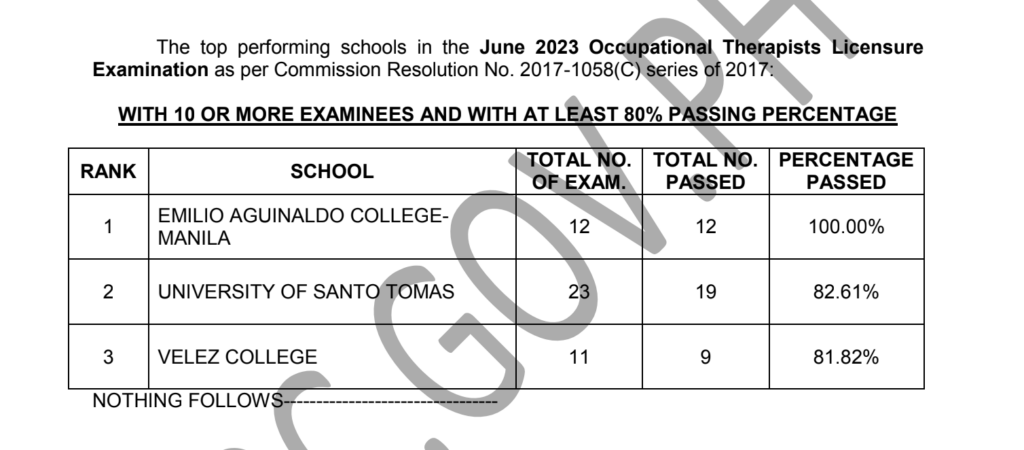 Additional Information
When is the registration for the Professional ID and Certificate?
The schedule of registration for the Professional ID and Certificate for the new Physical and Occupational Therapists has yet to be announced. Please refer to the official PRC website for more information.
What are the registration requirements?
Successful examinees must sign and register in the Roster of Registered Professionals in person.
Below are the list of registration requirements:
Notice of Admission/NOA (for identification purposes only)
Duly accomplished Oath Form or Panunumpa ng Propesyonal
Two (2) pieces of passport-sized ID photos in white background and with complete name tag
Two (2) sets of documentary stamp
One (1) piece short brown envelope
Congratulations to the new therapists! – WhatALife!
Source: (1)
---
Also read: Full List of Passers — May 2022 Certified Public Accountant Licensure Exam Results