Aside from its Regular Savings program, Pag-IBIG Fund also offers Modified Pag-IBIG 2 (MP2) Savings. It is a special savings program that matures in 5 years, designed to help members who wish to save more and earn even higher dividends, in addition to their Pag-IBIG Regular Savings.
Under MP2, pensioners and retirees who were former Pag-IBIG Fund members may also apply for the program with at least 24 monthly savings before retirement. And unlike the regular savings, MP2 has a minimum of Php 500 monthly contribution requirement. There is no limit as to the amount a member can save under MP2. They can regularly save, as well as have the option for one-time savings over the minimum monthly contribution.
MP2 also allocates at least 70 percent of its investible funds in housing finance, as its Charter requires. It also invests in government securities and corporate bonds. However, since this is a voluntary program, it earns a higher dividend rate than the mandatory Regular Savings.
Below are the MP2 Savings Dividend Rates over the past nine years.
2020 – 6.12%
2019 – 7.23%
2018 – 7.41%
2017 – 8.11%
2016 – 7.43%
2015 – 5.34%
2014 – 4.69%
2013 – 4.58%
2012 – 4.67%
2011 – 4.63%
According to the fund agency, members enrolled under MP2can choose to receive their MP2 dividend through any of the following options:
Upon full withdrawal of your MP2 Savings after its 5-year maturity period with your MP2 Dividends compounded annually;
Through annual pay-out with your MP2 Dividends credited to your savings or checking account enrolled in any of Pag-IBIG Fund accredited banks, such as the Land Bank of the Philippines (LBP), Development Bank of the Philippines (DBP), or other banks that the Pag-IBIG Fund may accredit in the future. For members who opt for annual dividend payout but have no Philippine bank account, especially in the case of overseas members, MP2 Dividends shall be released to them in the form of checks.
And if you're wondering, YES, you can re-apply for a new MP2 Savings Account as long as the first one reaches its 5-year maturity period.
Meanwhile, MP2 Savings will continue to earn dividends for two more years based on the dividend rates of the Pag-IBIG Fund Regular Savings Program if unclaimed. However, it will no longer earn dividends after the said period and must be withdrawn or claimed.
Step-by-Step Guide: Enroll in MP2 Savings Program
Before jumping into the MP2 enrollment guide, make sure that you're already a member of the Pag-IBIG Fund. Click here if you're not yet a member to learn how to register online! Detailed below are the five easy steps to enroll for the MP2 Savings.
Step 1. Go to https://www.pagibigfund.gov.ph/index.html and click MP2 Savings Enrollment under the E-Service menu tab.
Step 2. Fill in the required details, including your Pag-IBIG MID No., Name (last, first, middle), and Date of birth. Next, enter the CAPTCHA code, then hit 'Submit.'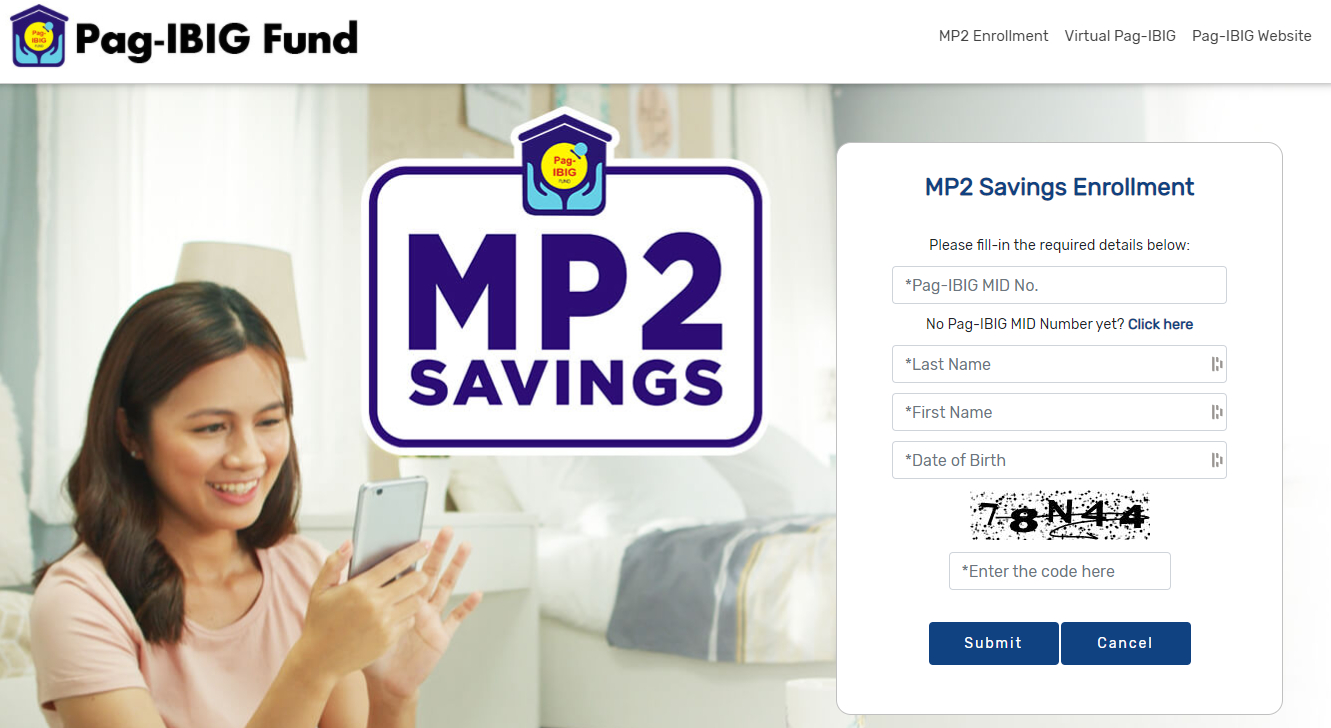 Step 3. Provide the following information, including your desired monthly contribution (minimum is Php 500), preferred dividend payout (annually, five-year), mode of payment (salary deduction, over-the-counter, thru any accredited Pag-IBIG collecting partners), and source of funds (employment income, savings/deposit, property sale, etc.). Once done, click 'Submit.'

Step 4. The system will create a PDF file with your enrollment details and your 12-digit MP2 Account Number located on the upper right. You can save and print this form as your copy.
You may also submit a duly accomplished Modified Pag-IBIG II Enrollment Form to Members Services Office (MSO)/ Branch servicing counter to enroll for the MP2 Savings program.
Step 5. Start your MP2 term by paying for your monthly or one-time contribution. Note: Your 5-year period will start on the day of your first payment.
Payment contributions for formally-employed employees are made by their employer. Meanwhile, self-employed and overseas Filipino workers (OFWs) may pay at any Pag-IBIG Fund branch or through any of the fund agency's authorized collecting partners. READ: How to pay Pag-IBIG contribution online 2021: A Complete Guide
For further assistance or concerns, contact the Pag-IBIG Fund Hotline at 8-724-4244 (8-Pag-IBIG) or email them at contactus@pagibigfund.gov.ph. – WhatALife.ph